DONUT 1: The Incomparable
It's not Kelly Olynyk's fault that he's not Dirk; who is? Before we move onto tonight's visit from Minnesota (a 7:30 start on FSSW), we swim back through Dallas' OT win over visiting Boston on Monday, a game in which Nowitzki completely took over, in vintage fashion ... 
 ... Separating himself from other 7-footers, other good shooters, other guys in need of haircuts, other guys who wear No. 41, other guys who are white ... heck, almost all the other guys who have ever played.
But tonight, there will be no Dirk. An injury update covering his status, and Felton and Zaza's, too, here. And yeah, "knee effusion'' means something. ...
DONUT 2: The Cap And Roster Future Of The Mavs
It's another must-read from the best in the business, David Lord, a DB.com exclusive on the juicy opportunity that is ahead -- what with a massive increase coming in the salary cap, allowing lots of spending, and plenty of name free agents to consider -- but the cautions and roadblocks, too. 
So here we go, with just how much spending room the Mavs might have to work with, and a few questions that might change that number. ... with "$26.8 million'' a big figure to work with and "Five Major Decisions'' facing Dallas. The exclusive analysis from D-Lord is here. ... and trust me, you'll be among the smartest Mavs followers in the land after you gobble it all up.
DONUT 3: Cuban On Fantasy
Mark Cuban on Fantasy sports:  "The only people who think it's gambling, as opposed to skill, are people who haven't played or people who have other political agendas, because that's also very important these days."
The Mavs owner expressed this view last week at a convention and again this week on 105.3 The Fan and while his position might be fueled in part due to the fact he's got skin in the Fantasy game, his belief that politicians arguing otherwise simply must not understand is sound.
https://twitter.com/mcuban/status/689535774761455616
A game of chance, in its purest form, is a coin flip. No skill involved. No odds. No nothing. A game of skill? Well, sports itself is that -- and yet "chance'' is still a component of actual sporting events.
"It's not gambling, it's not gambling, it's not gambling," Cuban said, opining that anyone with an opposing view is an "idiot.''
Actually, anyone with an opposing view likely wants to legislate Fantasy sports as gambling so there is a profit to be made by people who have that opposing view.
DONUT 4: Minny In
I hesitate to suggest that the struggling Minnesota Timberwolves are good for what ails the Mavs because:
a) Relatively speaking, not that much ails the Mavs, who at 24-19 remain among the positive surprises in the NBA West;
and
b) The Mavs aren't good enough to take even Minny for granted ... though at 13-30 and T'Wolves seem, well, vunerable.
DONUT 5: Streaking Numbers
The Mavericks' do add up here, though. Dallas will be shooting for an eighth win in 10 home games and has won four straight meetings with the T'Wolves. In those meetings, Minny has managed to score just 85.3 points per game and in the last three, has shot just 20.5 percent shooting from beyond the arc. Overall, the Timberwolves have lost 14 of their last 16 games -- and seven straight on the road.
DONUT 6: Deceiving Numbers
The reason those who decline to embrace even the least advanced of the advanced stats will fall into a trap if they analyze Dallas' recent work simply based on scoring. Specific example? The Mavericks are in the last three games giving up a whopping average of 113.0 points!
But wait. That includes the aforementioned Boston win, which went into OT, and it includes a 117-116 double-OT win over Sacramento back on Jan. 5.
This isn't an argument that Dallas is "good'' defensively. In reality, Wesley Matthews' ability to keep opposing wings from going crazy (and, in a lesser hat-tip, Chandler Parsons' willingness to take on the challenge of talents like LeBron) is about as "good'' as it gets around here. But what the Mavs did in Chicago on Friday can, in theory, be as "real'' in statistical reflection as any other number.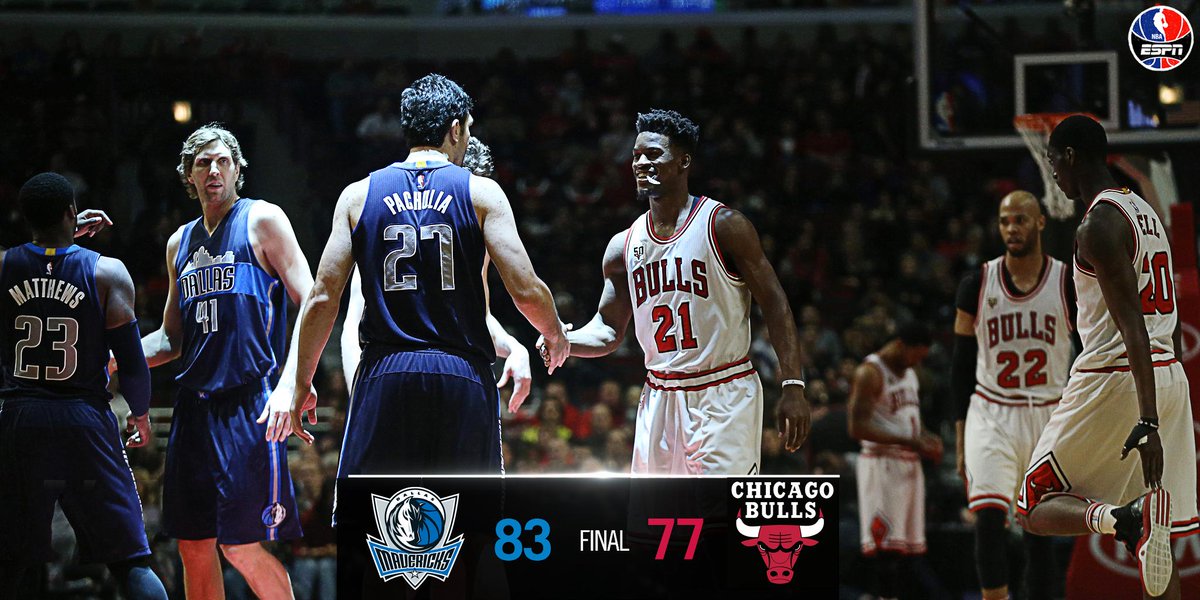 Or, at least, I can hope it is so.
DONUT 7: Dirk's Digits
Our man Mark Followill with a pair of Dirk notes: Nowitzki now has 112 30-point/10-rebound games and is the NBA active leader in that department. Meanwhile, he's also made 6,885 free throws, moving him to No. 7 in NBA history in that department.
DONUT 8: Down On The Farm
The Texas Legends have gotten their record turned around thanks to top-grade performances in the D-League Showcase and last weekend's sweep of the Warriors. Here's the latest from Frisco's best ... and a reminder that the Legends are at home on Thursday with yours truly joining RJ Choppy providing the fun, smart TV coverage on Channel 47.
You come for the basketball ...
But you stay for the "Romantic Movie Lines'' foolishness.
DONUT 9: Stat O' The Day
J.J. Barea has been a Mav, then a Timberwolf, then a Mav again. He's won with Minny (a little) but has never lost to Minny, his NBA record a pristine 19-0.
DONUT 10: "Take It Easy''
"The Eagles'' have their DFW connections so it touched folks locally as well as internationally when Glenn Frey passed away this week ... and J.A. Adande takes us back to their in-band feuds, circa 2003, and how they paralled the conflicts of Lakers hotshots-at-the-time Kobe Bryant, Shaquille O'Neal and Phil Jackson.
DONUT 11: Slipping To Sixth
Memphis has gotten hot, with three straight wins vaulting the Southwest Division rival Grizz to the No. 5 spot in the West ... shoving Dallas down to No. 6.
Dirk's review of the slippage:
"I think the Cleveland game is tough. We were right there. We had a shot in regulation to win it. And then we obviously went to OKC, rested some guys and got housed. It was a good win in Chicago against a tough team. They had some injury problems, but that's still a good win for us. And (Sunday at San Antonio) was tough. ... They haven't lost in 30-something games at home, they're a great team, and we were right there for like a quarter-and-a-half. And then we kind of folded there, and that was a tough one from the end of the second quarter on out, so we had to swallow that one and regroup. And that's what we did."
And now a chance to re-regroup.
DONUT 12: The Final Word
"He just makes the game so easy." Deron Williams complimenting Dirk Nowitzki.