DONUT 1: Not Uber
With The UberMan riding the pine with swelling in his knee, the Mavs were left without their leader and go-to guy against the Minnesota Timberwolves on Wednesday night. For the Mavericks, any one player can miss a game, and the guy who takes his place can lessen the negative impact. The "One Guy Rule,'' though, does not apply to Dirk Nowitzki.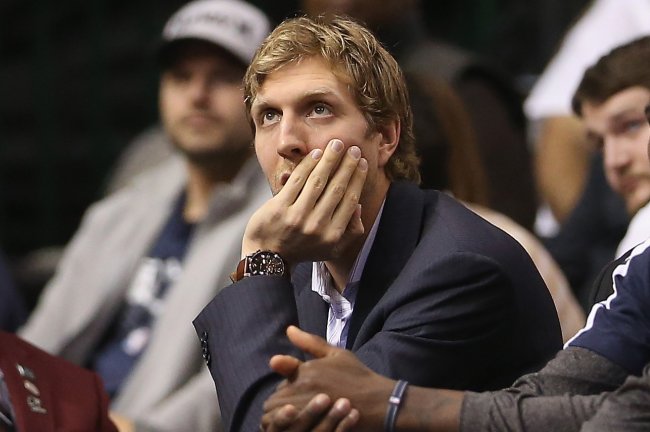 Dirk brings more to a game than The One-Legged Euro FadeAway; he brings a mentality and aura of excellence to his team each and every night. The Mavericks go as far as Dirk carries them, even at his ripe old age of 37. 
Luckily for the Mavs, Chandler Parsons showed up ready to carry a Dirkesque load on Wednesday.  ... and Matt Galatzan and I break it down ...
DONUT 2: The Simple Answer
Coach Rick Carlisle was asked before the game about the impact of being without Dirk (and Raymond Felton).
"Let's see,'' Rick answered snarkily. "One guy's scored 29,000 points ...''
DONUT 3: The Detailed Answer
Dirk, at the 1:07 mark of this video from Monday's win over Boston (yes, that was OT, too, which we'll get to shortly) seems to get his right knee in an awkward state. (Good find by AtomicAnt on DB.com Boards.)
As a result? 
The fears surrounding Nowitzki are equally, if not more so, warranted. Nowitzki's injury was described to DB.com on Wednesday morning as "right knee effusion.'' Effusion is simply fluid or swelling surrounding the knee joint capsule. As Mavericks radio announcer Chuck Cooperstein pointed out, the term should sound familiar to Mavs fans, as it was exactly the way the team described Nowitzki's knee injury that ultimately required surgery and cost him the first 27 games of the ill-fated 2012-13 season.
However, pressing the panic button just yet would be a bit premature.
While effusion can be result of a serious underlying problem, it can also develop following overuse and be associated with other less threatening ailments like osteoarthritis or bursitis. The Mavericks are well aware of Nowitzki's importance, obviously, and as our athletic-training expert Jeff Stotts notes, will likely send him for further testing and images under the guidance of the extremely capable Casey Smith.
An important read (and a great reason to be a Mavs Premium subscriber at just around a dime a day): "Dirk Nowitzki's 'Knee Effusion' - And What It Means To The Mavs.''
DONUT 4: The Rough Start
Without Dirk (and Raymond Felton) on the floor, the Mavs got off to a rough start, trailing 33-23 at the end of the first quarter. It was almost predictable; add the trappings of a "trap game'' (check out Dallas' history of drubbing Minny here, along with all of Minny's recent struggles) to the emotional suckage of being Dirk-Less and, well ... Andrew Wiggins was unstoppable in the quarter, scoring 13 points on five-of-six shooting. Ricky Rubio contributed seven assists in that span, while Karl-Anthony Towns scored nine points and grabbed five boards for the Wolves. 
The Mavs were able to close the gap in the second, outscoring Minnesota 26-16 and evening the score at 49 apiece going into the half. Dallas was able to hold Wiggins and Towns to a combined two points in the frame, which was a big key to their comeback success. With the Mavs' outside shots not falling, they were able to get into the paint and cash in a lot of high-percentage shots in the second period as well.
But some of the numbers stayed ugly.
Dallas went on to shoot 43 percent from the field, but that  included an atrocious 20 percent from beyond the arc. Minnesota won the rebounding battle 52-46 and closed the gap on the Mavs first-half domination in the paint. Towns led the way for the Wolves, with 27 points, 17 rebounds and six blocks, showing why the Timberwolves took him No. 1 overall in last years NBA Draft. 
But despite all that, the Mavs found a way to get it done in clutch time. Again.
DONUT 5: DNA
Ultimately, Dallas took control of things in the fourth quarter and overtime periods, and took advantage of the young and inexperienced Minnesota lineup on the way to a 106-94 victory at the AAC. The simple answer of "how''? For this team, with all its blemishes revealed on the way to a surprisingly good 25-19 record that bobs Dallas back up to fifth in the West, "clutch'' is in this team's DNA.
"We tend to really hone in and get stops towards the end of the game and that puts us in transition,'' Wesley Matthews said. "We're a pretty good transition team. We have guys that have a good 'clutch gene' and don't fear the moment."
https://twitter.com/sportblogg/status/690095349604696064
"Clutch'' was there especially for Chandler Parsons, who may never live up to the "Dirk's Heir'' billing that he initially arrived with but certainly, with increased health following last spring's knee sugery, put on display here the idea that he can carry the Mavs in Dirk's absence ... in the very short term, anyway.
CP scored 30 points on 13-of-20 shooting and grabbed eight rebounds. More than ever, in what was his best game of the season, Parsons was on the attack, not so much the "go-through guy'' trying to faciliate others but rather the "go-to guy,'' a winner of almost every matchup Minny tried to throw at him.
Said Parsons:  "It just depends on the time and place and what's going on in the game. If I get it going, I feel like the next shot I'm going to take is going in no matter what. I've always been a pass-first player. That's what I play for and I feel like I have to step up."
Parsons said his shooting success is in part the result of work with Dirk (including a lot of "s---talking'' from Nowitzki). But Carlisle is issuing a caution with all of this.
https://twitter.com/TheKevinCasas/status/690028534828503040
"Let's not assume that, 'Hey, this is the guy whose back we're going to jump on every time in crunch time,''' Rick said. "That's not fair to him."
DONUT 6: Big Picture
If the Mavs are going to compete in the West, they have to win games like this one at home, with or without Dirk in the lineup. 
Despite the win, a big problem looming for the Mavs moving forward is what they are going to do offensively to improve if Dirk is forced to miss extended time. Charlie V in the starting lineup as Dirk's replacement is duct-tape-level stuff. (Though we're not complaining about his 14 points and six rebounds.) If Dirk does miss more than just Wednesday night's game, the Mavs' season may be on the brink, but with a veteran roster and a coach like Rick Carlisle, it would be foolish to count Dallas out just yet. 
And hey, maybe Dirk's rosy optimism is justified.
"The good thing is I really didn't have any pain with it," Nowitzki said after the game. "Just the swelling there."
He seems to not agree about the aforementioned 1:07 mark of that Boston video, saying, "I had no issue at all. I'm thinking something had to have happened, whether I fell on it or somebody kicked me. There was no indication whatsoever of anything." ... and he's tentatively planning to play Friday against OKC.
But just in case, Dallas needs to dial up ways to fill voids. Of course, "remaining competitive'' means having all the other hands on deck ... and Zaza Pachulia seems a bit "on the brink,'' too.
DONUT 7: Zaza's Achilles
Just as Dirk's knee is an echo from the past, Zaza's Achilles is a scary reminder, too.
Pachulia's injury is listed as right Achilles soreness, an ailment that forced the veteran out of last week's loss to the Thunder. Achilles soreness is common in NBA players, especially amongst veterans with extended career workloads. However digging into Zaza's injury history reveals his soreness may require extra attention. Pachulia battled reoccurring Achilles tendinitis in his right foot throughout the 2012-13 season. Pachulia, then the starting center for the Hawks, ultimately opted for surgery to address a partial tear in the area and would miss the final 24 games of the regular season and all six of Atlanta's postseason outings. He made a full recovery and was available to start the following season after signing with Milwaukee. Unfortunately another issue emerged in early December and Pachulia would miss 28 games with a fractured calcaneus, the bone that serves as the anchor for the Achilles. He would be fine down the stretch though a minor calf strain in the area would cost him six games the following season. 
Given this lengthy history, it's not surprising to see a soon-to-be 32 year old averaging the second most minutes per game of his career develop soreness in the area. ... but all involved are downplaying this thing, and Zaza -- despite some early-day questions regarding his availability -- not only played, but played well, with 12 points, four rebounds, a team-leading three steals, an assist, and a bang-around total of four fouls.
Carlisle sincerely suggested this is no biggie. But we will monitor.
DONUT 8: Who Deserves 'The Dirkie'?
Dallas got nice work from some backcourt guys here. Wes Matthews scored 15 points with six boards, four assists and two steals while chasing around Wiggins. Deron scored 12 points with seven rebounds, four assists and a steal -- a big one late on Rubio.
https://twitter.com/dallasmavs/status/690021193211052034
And Devin Harris was a tempo-setter, with 15 points (working his way to the line well) and a "great'' (Rick's words) game as the sixth man.

Still ... It seems obvious ... but we run a democracy around here. So you and Mavs fans just like you hang out at DB.com Boards and you vote on the Player of the Game ... who deserves "The Dirkie''?
DONUT 9: The Stat O' The Night
It's an easy call, and an historically notable one. As Rick Carlisle noted,  "We got down 10 with six minutes to go'' and then ... OT.  "Four consecutive overtime games, from what I'm understanding, had never happened before, so that's an NBA record.''
Indeed, Dallas has gone to OT at home against Sacramento, Cleveland, Boston and Minnesota. Since the 1951-52 season, only one other NBA team has gone to overtime in four consecutive home games. That team? The 1984-85 Mavericks.
By the way: the Mavs are 11-1 in overtime games over the last two seasons.
Again, that "clutch DNA.''
DONUT 10: Quoteboard
"I'm not lowering expectations; I'm creating a situation where he's allowed to achieve at the right pace, at the proper pace. He and Wesley Matthews are some percentage of the way to where they're going to be eventually, but those guys aren't there yet. I've been through season-long injuries and tried to come back. I understand this is a long process. I remember when Dirk [Nowitzki] was out for 27 games. It took months for him, and it's going to be the same way here. Tonight shows you how hard Parsons has worked. He's worked his butt off. He's worked harder than he ever has – he'll tell you that. I think he appreciates the game more than he ever has because of the struggle that you go through when you go through a surgery like this. I'm really happy for him. It's great. It's going to give him huge confidence, but let's keep our eye on the ball here. This is a process." -- Rick Carlisle on Chandler Parsons.
See the entire Mavs-Minny Quoteboard here.
DONUT 11: Tonight In Frisco
If you want to hang out with us in Frisco tonight, or find yourself by a TV, get to Channel 47 at 7 p.m. for the D-League Texas Legends game. RJ Choppy and I have the telecast and the Mavs "JV'' provides the fun ... Get your tickets here and then swing into The Maverick Bar at 1616 Hebron for some postgame celebration! Live music on the weekends at The Maverick Bar, and next Thursday our one-year anniversary party featuring the live "Ben & Skin'' show on 105.3 The Fan, plus tons of celebrity guests and live music all night! Join us!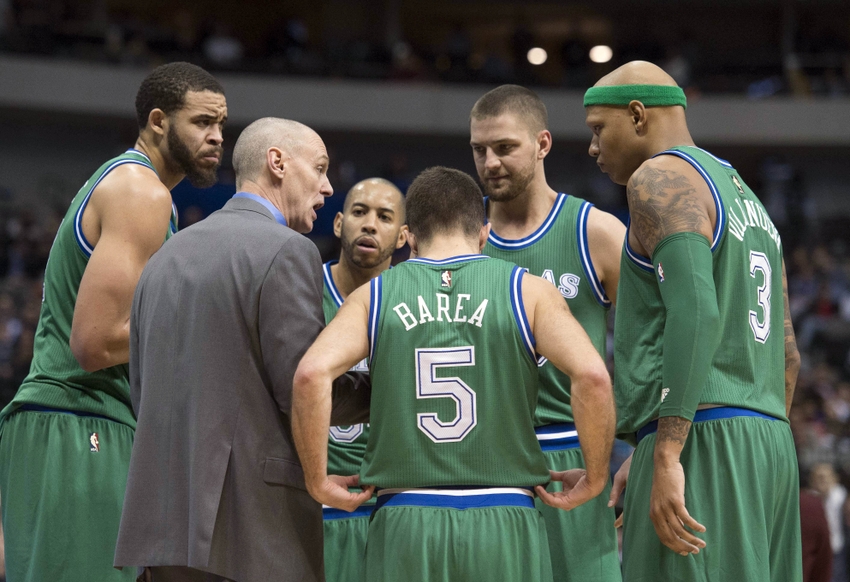 DONUT 12: The Final Word
"We'll find a way and that's credit to our team. Looking on the other side of it, we need to find ways to avoid overtime. Sometimes, they're inevitable, but we still have enough in the tank and enough fight to pull it out." -- Wesley Matthews.