WARRIORS 127, MAVS 107
Coming off of a Dirk-led last-second victory in Los Angeles on Tuesday night, the Mavs walked into Oracle Arena looking to make it two straight against the Warriors. ... A lot easier said than done to be sure, especially when the best player in the history of your franchise is resting on the bench, and your opponent has won 39 straight at home. 
Dirk is impossible to replace, but with the way Chandler Parsons has been playing/scoring over the last few games, the Mavs had to be confident that they could at least find a way to lessen the blow of the TheUber Man's absence. 
Save that confidence for another day.
"Any other night it's fun to watch them play,'' CP said after the 127-107 loss. "But when you play against them, it's annoying."
Things didn't start well for the Mavs as they trailed the hot-shooting Warriors 32-22 after the first quarter. Golden State shot over 50 percent from the field, while the Mavs shot under 40 percent, including two-of-seven from three. Klay Thompson led the way for the Warriors in the first, scoring 12 points on four-of-six shooting in the process. ... and this would be a sign of things to come.
Thompson's unconscious play continued in the second period, where he would score 16 points, giving him 26 in the first half alone. The Mavs attempt to go small and match the Warriors' speed and playmaking on the perimeter backfired, allowing Thompson to take full advantage. Despite the struggles of Steph Curry, the Mavs just couldn't find a way to make a dent in the Warriors' lead. 
Curry wouldn't stay quite for long, however, as he went on to score 11 points in the second half. 
Parsons would do his best to keep pace with the 'Splash Brothers' with his 23 points, even helping the Mavs to cut the lead down to just one midway through the third. But frankly, the Warriors had just too much firepower for the Mavs defense (or really any other team's defense) handle. ... and really, Mark Cuban's silent F-bomb marks the turning point that demonstrates that ...
https://twitter.com/brianhaberly/status/692600070798061568
For the game, the Mavs shot over 50 percent from the floor, including 36 percent from three. But it just wasn't enough, with Golden State hitting shots at a 58-percent clip, including 48 percent from three and knocking down 19-of-21 from the line en route to a 127-107 win.
Ultimately, this was Klay Thompson's game and nobody was going to change that. He finished things up with a season-high 45 points on 14-of-20 shooting, including an insane seven-of-12 from three.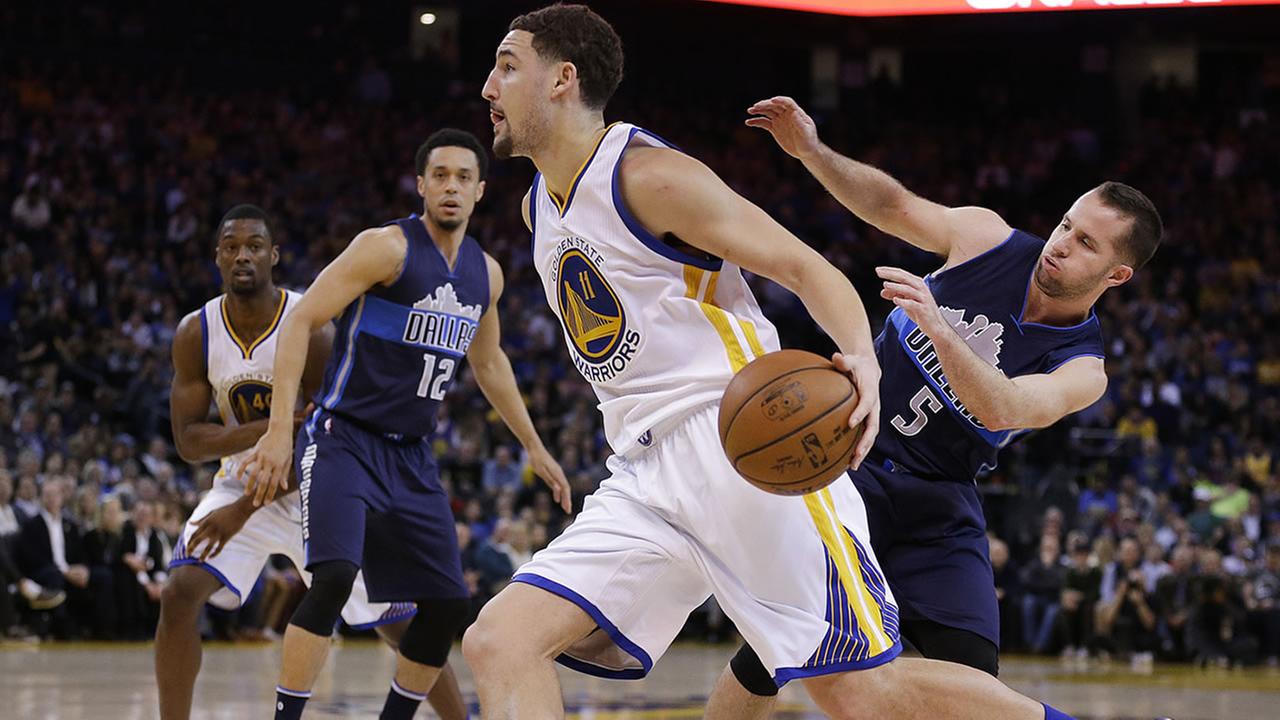 ''They have so many good shooters, so many good cutters and movers,'' Parsons said. ''You almost have to pick your poison with them.''
Lets face it, even with Dirk and Zaza and Devin on the floor, the Mavs were more than likely in for a tough night on Wednesday. And thats OK. Dirk took the rest, Zaza is nursing his leg and Devin is getting his toe healthy ... and while we say "white flag'' because those three didn't play, the Mavs who did participate went at Golden State hard. Barea scored 14. Dwight Powell, bound for Toronto for All-Star Weekend, played 25 minutes and scored 11 with five rebounds and three assists.
"I thought we battled them hard," Mavs coach Rick Carlisle said. "They got off to a very fast start, and we circled the wagons and fought back. We were very close a lot of the game. And as great as their outside shooting is, they hit us with too many layups on the inside on cuts and other things. Yeah, it's disappointing to lose, but there's some things we can build on."
Yes, against second-teamers or first-teamers, the Warriors, now 42-4 and tied for the the best record through 46 games in NBA history, are a very very tough team to beat. Heck, Mavs Nation should take some pride in being one of the teams responsible for that "4.'')
Moving forward, the Mavs (26-22) return home to face a couple of struggling teams in Brooklyn and Phoenix. And with a very tough five-game stretch after that before they head into the All-Star Break, Dallas needs to make those games count. 
DOWN ON THE FARM
The Texas Legends' three-game road win streak came to an end in Los Angeles on Wednesday night as they fell to the D-Fenders 114-98. The Mavs' D-League club will be back in Frisco next week. Get more Legends and D-League info here ... And stick with Matt Galatzan and FishSports on Twitter for Mavs updates and plans to make assignments from Dallas to Frisco ... coming up.
THE FINAL WORD
"It just puts more pressure on Friday against Brooklyn and Sunday against Phoenix, so we'll just take it game-by-game and try to make these games back up at home." - Chandler Parsons.