Deron Williams' time in Brooklyn closed badly ... and now he's among the closers in Dallas.
"I wish things were different, I wish it would have worked out differently but I can't control that and I just move forward," says Williams of his time with the Nets, which featured All-Star-level work as a 20-point-type scorer (and the above 57-point game!) before a decline lowlighted by injuries and the continuation of a "coach-killer'' rep.
Things are different for D-Will now, as his exit from New York (fueled by a buyout of the final two years of his $98.5-mil contract) has allowed him a fresh-start (and cheap) one-year deal with the 26-22 Mavs. Due to injury he didn't play in the teams' previous meeting (a 119-118 OT Mavs' win at Brooklyn on Dec. 23 that was all about slings and arrows).
But he should be able to go tonight in the 7:30 tip at the AAC (DB.com Boards GameThread here) ... and hopefully he'll again look like the three-time All-Star he once was.
Meanwhile, Dirk Nowitzki was not selected for his yet another All-Star appearance. (The West reserves here.) And while Mavs owner Mark Cuban is displeased ...
https://twitter.com/mcuban/status/692868970097963010
... I'm relieved. Hey, I'm pretending I'm the guy who voted 10,000 time for LaMarcus Aldridge, thus freeing Nowitzki from going to Toronto (hopefully) and freeing him to take his family to the beach for the weekend.
The Mavericks have struggled of late, in large part because of the level of competition -- witness their road-trip-closing 127-107 loss at Golden State in which Dirk rested and did not play. Dirk's knee seems to be OK. Zaza Pachulia's injury issues deserve watching. (I expect him to play tonight; Devin Harris is listed as questionable). And Chandler Parsons continues to ramp up, as he's averaging 25 points per over the last five Mavs games.
"We'll just take it game-by-game and try to make these games back up at home," said Parsons after the loss to the Warriors, pointing to a pair of home games that start with this Nets team that is 12-34 and is just 4-16 on the road.
Williams should be central to Dallas attempting to continue its solid home streak; the Mavs have won eight of the last 11 here. Over the course of the last 23 Dallas games, his scoring has dipped to 12 per -- but that's largely due to nagging injuries that have kept Williams from playing in six of those games. Maybe the injuries are among the reasons Mavs Nation wants to look at trades, for guards, like, say, Atlanta's Jeff Teague. (A great discussion here on DB.com Boards, with me wanting to add that I really think Dallas lacks the assets to pull off much.) 
A healthy Williams will also help on defense, where Parsons is trying to help Wesley Matthews carry a heavy load. In the previous Mavs-Nets game, Thaddeus Young finished with 29 points, 10 rebounds and four steals. Brooklyn's leading scorer Brook Lopez (19.6 points per) also figures to cause problems for the Mavs inside.
Weirdly, while Brooklyn seems to have so little going for it, the Nets have won four straight at Dallas. Here's hoping Deron Williams -- a native of The Colony who knows his way around both cities -- is vengeance-minded enough to change all that tonight.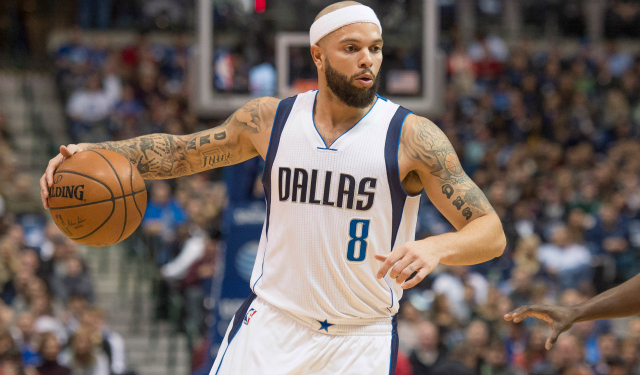 "The way this team operates, it's going to be 'equal opportunity,'" Williams said. "It's going to be plenty of games when (Nowitzki) is going to have the ball at the end of the game, (or) Wes and Chandler. You know, I think we're still searching for that and still figuring that out. ... And so I'm sure, as a point guard and someone who facilitates, I'm going to have the ball in my hands a lot. So, whether it's making a play for myself or others, we'll see as it goes on."