DONUT 1: The One-Trick Pony
No, Kareem Abdul Jabbar isn't "jealous.''
https://twitter.com/DwainPrice/status/695122792841240576
No, no, no.
This is an issue that leaves the LCD in the dust, one that invites deeper thought.
No, Kareem isn't "jealous'' or "stupid'' or "racist'' or "trolling'' or "angry'' or motivated to remark that Dallas Mavericks icon Dirk Nowitzki "dod not have a dominant career'' but rather "was a one-trick pony.''
Kareem is actually -- brace yourself -- absolutely right in a general regard. And absolutely wrong as it relates specifically to Dirk.
DONUT 2: Kareem's Visit
During a far-ranging videoed interview (see the entire visit above and read the transcript of the entire conversation here) the legendary Abdul-Jabbar -- recognized over the course of his entire life as a provocative thinker -- discusses race and segregation, religion and Islam, politics and sports. He almost certainly prepared mental notes on these subjects that he could guess would be discussed. He probably could not guess that an audience member would toss at him the following question ... a fun question, really ... that puts Dirk and Kareem in the same conversation.
Question from the audience member: "Has there been an unstoppable move in the NBA since the skyhook? And I bring up Dirk's one-legged fadeaway?
Answer from Kareem: "You asked about Dirk Nowitzki. Dirk's shot is very hard to block, but I don't think that he was able to have a dominant career because he couldn't do other things. If he could have shot like that and rebounded and played defense and blocked shots, then he would have been all-around, and he would have gotten more credit. He was like a one-trick pony.
"You want guys that can shoot like that on your team. I'm not saying that he lacked value, but he would have been considered at a higher level if he had done more on the court other than just shoot the ball.''
Outrageous, right?
DONUT 3: Where He's Right
He is right about Dirk in the same sense that we are all right about any athlete who "could've been better.'' If Dirk was a better defender, a better ball-handler, a better passer, a better rebounder ... well, yes, Dirk would be a better player.
The same is true of all of them, and all of us. Kareem would've been a better player had he been better. Jordan would've been a better player had he won a seventh title. Bill Russell would've been a better player had he not shot a measly 56 percent from the line.
In this sense, Kareem's opinion isn't at all controversial. It's self-evident. "If Dirk was better, he'd be better.''
Well, yeah. I suppose so.
DONUT 4: Where He's Wrong, A
Well, every single place else. To wit:
"I don't think that he was able to have a dominant career because he couldn't do other things.''
This anti-Dirk argument can be crushed via the simplicity of The Eye Test or via advanced stats. Nowitzki was by far the best player every year -- a perennial All-Star -- on a team that perennially won 50 games and advanced to a pair of NBA Finals.  None of that puts him at the level of Bill Russell, a player who defined "dominance'' (an important point, I think, that I make in Donut 7). But if you are by far the finest player in the history of a franchise that achieves success, you are "dominant'' enough.
And stats? And advanced stats?
Dirk is the No. 8 all-time defensive rebounder in NBA history -- and is, according to Nellie, the only NBA player he ever saw who arrived in the league and then taught himself to rebound. Dirk usage and efficiency ranks with any big man to ever participate in the sport, especially key because Nowitzki is essentially worthy of credit for inventing his position as a 7-foot stretch-4, one of the matchup nightmares of all time.
As Tim Cato points out, Dirk's rebounding percentage of 21.6 percent is virtually identical to the 21.7 percent of Abdul-Jabbar -- who played the center position in a way that one would think would allow him to be "dominant'' as a rebounder.
And then there's our Michael Dugat, who compared the playoff advanced-stat numbers of Dirk and Kareem, head-to-head:
https://twitter.com/mdug/status/695275079815421952
So Kareem, teaming first with Oscar Roberson and later with Magic Johnson, didn't really separate himself from Playoff Dirk, who was teamming with Jason Terry?
Hmm.
DONUT 5: Where's He's Wrong, B
"If he could have shot like that and rebounded and played defense and blocked shots, then he would have been all-around, and he would have gotten more credit.''
This isn't complicated, and Kareem -- who did a wonderful job parodying his reputation for in-game lethargy as "Roger Murdoch'' in the clever "Airplane'' ...
... should better recognize the pitfalls of being portrayed in a lazy meme-driven way. 
Instead, here is how Dirk has earned the right to be portrayed as an "all-around.'' (ht @mejia922)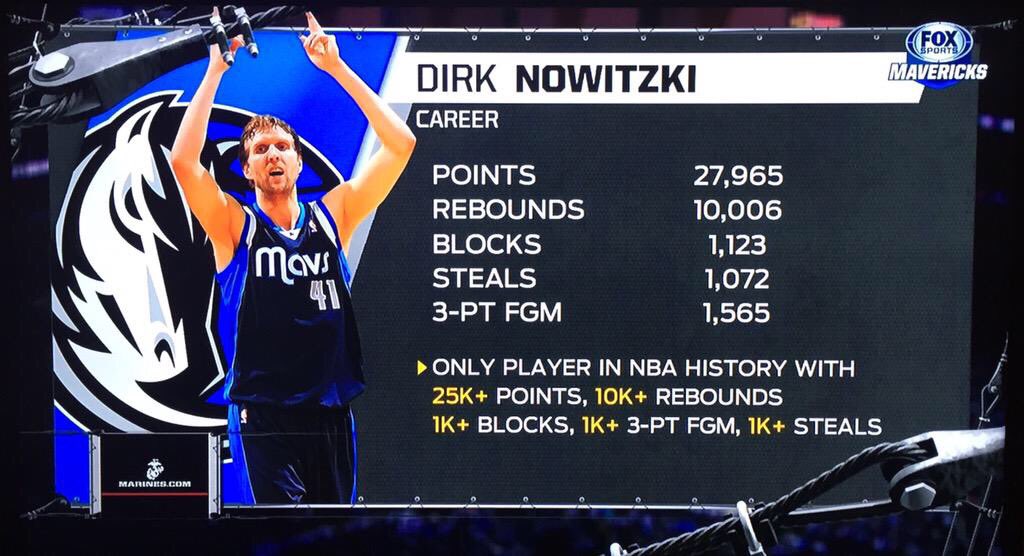 Oh, and one of Dirk's most "dominant'' traits: Bigger the game, better the Dirk. There are only four players who in the playoffs have averaged 25 points and 10 rebounds. Baylor, Olajuwon, Pettit and Nowitzki.
No, Abdul-Jabbar is not on this list.
DONUT 6: Where He's Wrong, C
"He was like a one-trick pony.''
Again, as the same thing was wrongly said about Kareem, he should know better. Nowitzki has "one trick'' that is his signature, just as Dr. J and Cousy and Jordan and Kareem himself had. But consider the words of Chandler Parsons, presently in the middle of the battle (hopefully not with his own coach, by the way, due to some errant button-pushing in Wednesday's loss to Miami) and therefore knee-deep in how difficult it is to achieve greatness:
"Carried franchise for almost 20 years, Finals MVP, regular season MVP, 6th all-time (scorer in NBA history)? I wish I was a one-trick pony."
DONUT 7: What About Context?
In Kareem's defense (because again, the LCD gets left behind here and to understand the highly-intelligent Kareem, it helps to try to think like him): If you watch the video, you see Kareem is telling tales about Bill Russell, using the word "dominant'' as he does so. It's clear that at the moment, the bar of "dominance'' has been placed at the height of Russ. Then comes a mention of Kobe and Duncan and Dirk.
I can make the case that Abdul-Jabbar, fully unprepared to discuss Dirk the way an expert Dirkologist (like you, Dear Reader) would discuss Dirk, and rattling through the filing cabinet of his mind, with the "Russell File'' lodged next to the "Kobe File'' which was leaning up against the "Duncan File'' left the "Dirk File'' looking ... thin.
I'm trying to be fair. I could be just irate ... but I'm trying to understand.
DONUT 8: What is that 'One Trick,' By The Way?
"You want guys that can shoot like that on your team.''
The usually eloquent Kareem loses me here -- and indeed, it's a central point that has been lost in all the justifiable Mavs Nation huffing and puffing -- when he never quite gets around to exactly what the "one trick'' is. Has he scooted over from the initial question regarding the one-legged leanback (a "one trick,'' in a sense, just as the skyhook was) to the broader thought that Dirk's "one trick'' is that he can shoot?
I believe Kareem knows that shooting a basketball isn't "one trick.'' In the case of Nowitzki, it's a different trick to be a 3-point marksman as a 7-footer, not only for what it does to benefit your team but also what is does to befuddle your foe. It's a different trick again to be an all-time great as a free-thrower, to be an ambidextrous finisher, to be a post-up weapon, to be a rip-and-run rebounder leading the fastbreak (remember?), to be arguably the last great mid-range shooter on the planet, to be able to shoot from a variety of release points because you've practiced each of them, meticulously, over and over and over again in a gym that is dark but for the light that shines on you.
To reduce Dirk to "just a shooter'' is a basketball crime. For Kareem to suggest that he does indeed have some begrudging respect for "just-a-shooters'' because you "want some guys like that on your team'' reduces Dirk to being, say, 2011 Peja, when he was pretty much "just-a-shooter.'' Dirk is Kyle Korver? Dirk is Matt Bonner? Dirk is Tim Thomas? Dirk is Steve Kerr?  
Yup, you would "want some shooters like Dirk on your team'' but for one problem: There is, in the history of the game, pretty much no such thing.
DONUT 9: Dirk Doesn't Deserve This!
My classy friend Mark Followill comes to the classy defense of Dirk when he tweets: 
https://twitter.com/MFollowill/status/695296269711835136
And yet ... Kareem was asked a question. Arguably not fully-armed to answer properly, KAJ fired away anyway. And that's OK because Dirk can endure this. I often say that in this social-media age, folks wrongly believe, "Well, that's my opinion and I'm entitled to it.'' In fact, you really aren't "entitled'' to have a stupid opinion unless you are stocked with facts, know-how and experience. Kareem escapes my wrath here is large part because while he is clearly wrong, he has also clearly spent a lifetime earning the right to be wrong.
DONUT 10: When I Get Off The Merry-Go-'Round
"I'm not saying that he lacked value, but he would have been considered at a higher level ...''
Mavs Nation has been suckered into playing this game for a decade-and-a-half. "How are we considered?'' Why isn't Dirk more respected?'' Why won't SportsCenter play our highlights?'' "Oh, cool, Sports Illustrated put Jason Terry's foot on the cover!''
I officially exited this merry-go-'round last week, when the eminently hate-able Kobe Bryant allowed Dirk to kiss his ring ... and then kissed Dirk's ring in return.
https://twitter.com/BleacherReport/status/692226420576239616
We wrote about this phenomenon here. NBA people who are thoughtfully plugged into the scene DO respect Dirk, DO honor Dirk, DO consider him to be one of the greatest players (not to mention people) in the history of the sport. 
And that's it. I'm done defending Dirk because if you cannot see it after 17 years, you will never see it. Nowitzki is beyond defense, above defense ... unless he's like to come to the defense of his own self ...
DONUT 11: Dirk His Own Self
"It's actually not the first time he said some stuff," Nowitzki told ESPN.com. "I'm not sure why. I guess he's not a big fan of my game, which is OK. But I like to think I was dominant at some point -- especially on the offensive end -- of my career, in my prime.
"It is what it is. People have opinions. He's one of the greatest ever to play the game, so I'm not going to get in a war of words. I respect his opinion. I don't necessarily agree with it, but it is what it is."
"I don't want to get into throwing stats around, because his are obviously way better than mine. But I don't think you can average 25 and 10 over your playoff career and not be dominant. I don't think you can get to sixth in scoring in this league over 18 years and not be at some point at least somewhat dominant."
DONUT 12: The Final Word
Greatness can be a stifling, crushing burden.
There's a terrific line in the movie "Broadcast News'' (no, Kareem didn't act in this one) in which Holly Hunter's character -- always sharp, always right -- is verbally assaulted by her boss. ... or, at least, he thinks that's what he's doing.
"It must be nice,'' he growls, "to always believe you know better, to always think you're the smartest person in the room.''
"No,'' she replies, innocently. "It's awful.''
Do you think Dirk Nowitzki -- the "smartest person in the room'' in an all-time basketball sense -- thinks of all of this as an "awful'' weight to bear? Nope, me neither. So if Kareem's errant and uninformed but well-earned opinion doesn't burden Dirk, it needn't burden us.