DONUT 1: Ultimate SmallBall?
There have been media hints that the Dallas Mavericks could approach free agency and the 2016-17 season with an Ultimate SmallBall plan: 
Retain Dirk Nowitzki and play him at center. (Oh, by the way, Happy Birthday to That Dude.)
Retain Chandler Parsons and play him at the 4.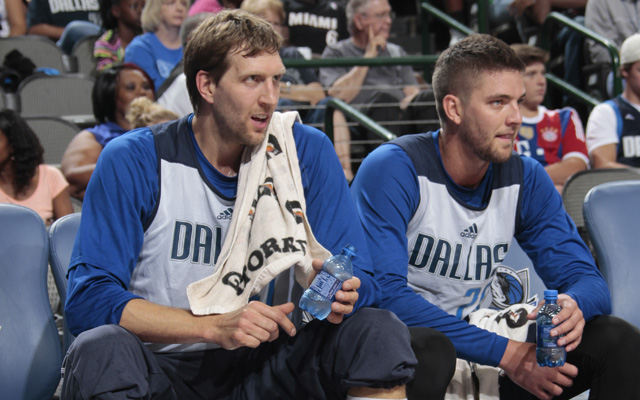 Chase Harrison Barnes or Nic Batum and play that new signee at the 3, thus creating a highly-offensively-explosive and interchangeable-pieced front line.
But before you spent too much time debating whether it's a sound Mavs plan, know this:
DONUT 2: Big Is Better
It's NOT the Mavs plan.
Oh, SmallBall is a "thing'' right now and positional interchangeability is absolutely a Dallas roster-building ideal as management shuffles its $92 mil worth of puzzle pieces. And, Dirk playing more center in a pinch is a possibility. And Parsons as a matchup advantage on a given night at the 4 can work, too.
SmallBall is a thing in part because the Warriors have had such success with it. But ... It can be argued that the reason the NBA Finals is going to today's Game 7 is because Golden State -- once up 3-1 -- refused to bench its "DeathBall'' lineup (small) and play to a possible advantage over the Cavs (big).
I acknowledge that the perimeter game's value is at an all-time high. But a great big is better than a great little. ... and that's especially so when there are so many littles and so few bigs.
DONUT 3: Mavs Clarity Here
When Mavs sources suggest to me aspects of the Summer-of-2016 Building Blueprint, there are tucked inside the suggestions (see a ton of them stacked up here, MFFLs!) two bits of clarity as it pertains to Barnes and Batum:
I'm told they will not prioritize Barnes because they don't think he's superior to Chandler Parsons. (An important note here: I was told this BEFORE these NBA Finals, during which much of the basketball world probably shares Dallas' shrinking opinion of the struggling Barnes.)
And I'm told they will not prioritize Nic Batum because his skill set too closely replicates what CP gives them … and they'd prefer to add a "different'' sort of player than Parsons than Parsons Redux. (Which in a sense applies to Barnes, too.)
DONUT 4: Question Away!
Now, this line of thinking bears critiquing on a number of fronts. To wit:
*Is Parsons really better than Barnes?
*Just because you have Parsons, why can't you also have Barnes?
*If Batum is really a replication of Parsons … why is that a bad thing?
*Can beggars be choosers?
DONUT 5: Won't Get To 'Settle'
At some point, if Dallas had to "settle'' on adding another starting small forward, I'm sure Mavs management would change its tune here. Of course, you won't get to "settle'' on Barnes and Batum; they are very close to "big fish'' in the eyes of some teams (or, in the case of Barnes, "was'' that) and won't be sitting on the shelf for very long after July 1.
Indeed, word from Charlotte is that the Hornets — with $40 mil in cap room — plan on securing Batum as quickly as possible.
And Barnes? The Warriors will surely attempt to "keep the gang together'' even if he still asks for a max deal, as we're sure was his intent as of a couple of weeks ago. … all of which could get sidelined if Golden State opts to let him go because they are chasing Kevin Durant.
DONUT 6: Cuban On Cash
Mavs owner Mark Cuban issued an interesting quote the other day about the bulging salary cap and how players think it will be spent. From Tony Cubes:
"Every player thinks it's going to be a money train this year. There's a lot of money but there's not THAT much money.''
Yes, interesting. But at the same time, every time I talk to Donnie Nelson about money matters, he suggests that moves like paying max money for a guy like Chandler Parsons (who the team is absolutely planning to bring back, though it'd be nice to get a reduced rate here) is "the cost of doing business.''
So I think the money train will be carrying some "crazy'' money. As it always is. Wasn't Parsons' first deal in Dallas "crazy''? Wasn't Wes Matthews'?
If Dallas wants to be better, Dallas must be a bidder.
DONUT 7: Monetary Musical Chairs
Now, where I agree with Cuban is the way in which the money will move ... and push players to move. Take the case of Kevin Durant.
Dallas will make its KD "courtesy call'' there, as DB.com reported a month ago. And he will probably stay in OKC. But what if, say, the Warriors can lure him? In that case, the Warriors might not be able/willing to keep center Festus Ezeli … which could put him into free-agency play around the NBA. And now you've got a "traditional center'' hitting a market in which such a commodity is rare.
DONUT 8: Traditional Proof
And a traditional center — even in the SmallBall era — still has value. If the Mavs didn't think so, they wouldn't have semi-secured DeAndre Jordan last year, wouldn't have bridesmaided their way to Dwight Howard before that … and would be far more interested in small forwards like Barnes and Batum than they presently are.
The Mavs are in the market for a center (but one more reliable than Howard). I was in on the interviewing of Jason Terry when Jet said Dwight-to-Dallas would make the Mavs a true contender, but trust that "reliable'' link; the Mavs only like Dwight at one-third of his retail price.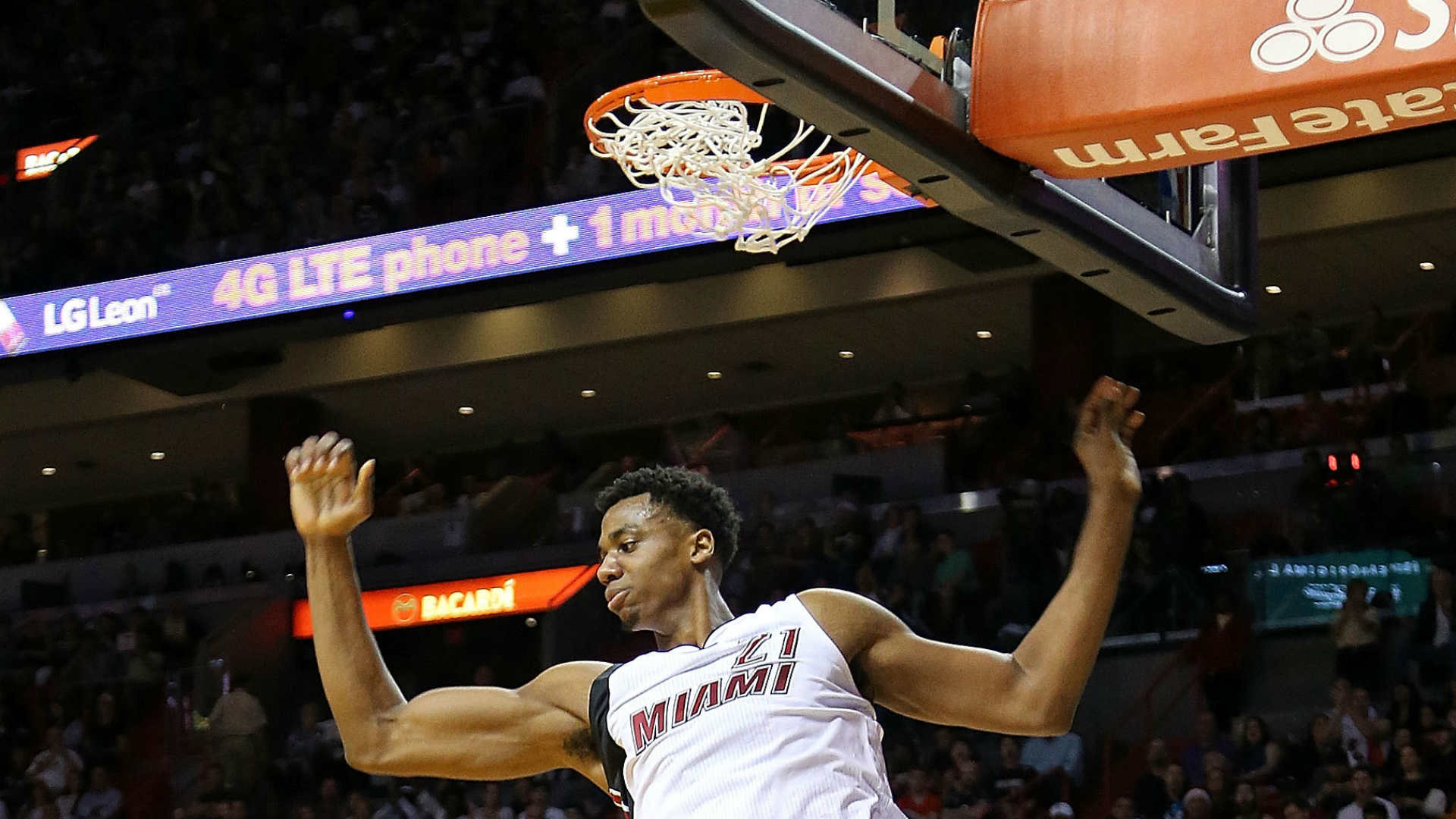 How about Dallas convincing itself that a younger guy might grow into "reliability''? Like, say, Hassan Whiteside? Yes. Say Hassan Whiteside. A month ago, Whiteside and "reliability'' were not words used together in the same sentence. DB.com is reporting that Dallas is now warming to the concept ...
DONUT 9: Also, Small
A point guard (starting with, say Mike Conley) in free agency? Again, click the link to get the Mavs scoop there. Conley checks off a lot of boxes here. Versatile and interchangeable and two-way-talented ... all goals for all Dallas "gets,''  if possible.
DONUT 10: The Many Avenues
Annually, for the last 17 years, DB.com has spent a great deal of effort on NBA free agency. It's our favorite time of year (outside of being truly competitive in the playoffs) and judging by our readership in late June and through July, it's your favorite time of year, too. But we don't want to ignore all the other avenues to improvement, so, know these links and storylines as well:
*Mavs pre-Draft coverage leading up to Thursday's NBA Draft. We've got centers listed here who could help at pick No. 46, with upcoming stories on the other positions as well.
*Mavs veteran camp invitees. The most intriguing name? Thanasis Antetokounmpo, and only DB.com has the interview with Donnie Nelson that details Dallas' thoughts here.
*Our exclusive Dirk "Min/Max'' contract idea ... it's never been done before but would be a game-changing way for Dallas to beat the cap now.
*The admission that Dallas needs not ONE "wildly successful summer'' ... but actually needs TWO.
DONUT 11: The Best In The Business
All this information is available to the serious Mavs fan for just a dime a day, as our incomparable staff is on the Mavs beat 24 hours a day. A Premium subscription costs about as much per month as a cup of fancy coffee and with it you get access to all your other favorite teams in all the other sports, too, college and pro. 
Please take our free 7-day trial, explore the benefits and support DallasBasketball.com ... at whatever level you choose, as thousands of Mavs fans have done every day for 17 years! Thank you!
DONUT 12: The Final Word (Especially On Parsons, Barnes And Batum)
The idea has been thrown around inside Mavs HQ, yes. But Dirk at center is not a premium plan. Having Parsons at the 4 and a Parsons replica at the 3 is not this team's premium plan, either.                           
So more "Chandler Parsonses''? Nope, not as Job One; Dallas likes the Parsons-type it already has. ... and knows it needs other types to help in other ways.