DONUT 1: No Headline Porn
The MFFL will notice that I haven't yet written a story based on my visits with Mark Cuban or Donnie Nelson, or based on Cubes' visits with the local radio stations, headlined, "Cuban Promises Mavs To Be Active At The Trade Deadline.''
I haven't written that story because -- pending some flip in the coming hours as the .. deadline approaches -- it's not a story, and you are welcome.                               
DONUT 2: The Dwightmare Now
I believe there is smoke and fire elsewhere, though, smoke and fire that very much interests Dallas. The prime example is Dwight Howard. You already know our scoop here: as of the last time we checked, Dallas hadn't even made a Dwight-related phone call. Who has? What are the possible trade destinations? Boston? Miami? Stay in Houston? Maybe Dallas would prefer the latter, because the disgruntlement might therefore continue, leading to his summer opt-out and exit to ...
Dallas?
DONUT 3: The Dwightmare Then
Here's our David Lord (on DB.com Mavs Premium Boards) on why the Mavs aren't interested in Dwight now, but will re-investigate on July 1:
While the Mavs' answer in Fish's story is to point us to their lack of the proper assets to make an offer, supposedly, I think the real obstacle to trade talks between Dallas and Houston is that the Rockets can't trade the player that Dallas would want.

The Mavs don't want to get the Howard that's only committed for two months, looking for a new home in the summer with a $30-mil max deal, and able to shop elsewhere and see if he can find that deal. They want the one who is ready and willing to sign for much less, and commit to Dallas and no one else, and be committed for four seasons. 

The only way they can get THAT latter guy is to wait until the summer. Indeed, he may not even exist, but there's no sense in paying for him now, until you see if you're paying for what you want. 

And Howard's year with the Lakers demonstrated that there's really no value in bringing him on board as a rental and then trying to use that as a springboard to keep him afterwards. Now, it seems Charlotte feels differently, as they have reportedly dangled Big Al in trade.
https://twitter.com/FisolaNYDN/status/700296713689505792
But I think Dallas' words here are fairly clear and Dallas' feelings here are extremely clear.

So while I don't think the Mavs would ever say it this way, I think their more candid answer on trading for Howard is, "We don't want him. (At least, not now.)" Words like that would get misconstrued in a million ways, and are wise to leave unsaid, but in my opinion, that's their real answer.
Now. 
DONUT 4: The Goal: Clippers?
Before we flip back to player procurement, the deadline and what Donnie likes to call "The Talent Acquisition Business'': What can Dallas realistically hope for in the final 27 games? Well, the answer is probably the Los Angeles Clippers. The Clippers are currently in the fourth spot in the West and in all likelihood, aren't slipping past the fifth spot.
It's the most enticing playoff matchup out there, and it's up to the Mavericks to make it happen. Here's our breakdown of how Mavs-Clippers  can -- must? -- happen.
DONUT 5: Stay in Touch!
We're on the beat 24/7, as you can see by hanging out with us on DB.com Boards (membership is free!), or here on Facebook, or on Twitter, where you can get me at @FishSports. And if you wish to become a Mavs Premium member? Please look into the 7-day free membership and then the 10-cents-a-day deal ... it's just a dime to you but it pays for my gas money to the AAC! ... and to Frisco, where on Friday and Saturday the Texas Legends are back home. (I'll have the TV call with R.J. Choppy on Channel 47.) Catch up with the D-League goods here. ... and c'mon up and see us!
DONUT 6: Quotable
"It's going to take sacrifice ... It's 27 Super Bowls for playoff posotioning.'' - Mavs coach Rick Carlisle on Dallas' final 27 games.
DONUT 7: Our Friendly Sponsors
We can't do what we do without the support and friendship we get from the good people at LS Wealth Strategies, The Maverick Bar and PM Standley Motorcars. Get to know 'em - click or call or swing in - and you'll benefit from their friendship as well!
DONUT 8: Down In The Basement
At the conclusion of the Mavericks' first practice following the All-Star Break on Wednesday, guard Devin Harris  playfully tried to dodge the throng of reporters waiting for him ... and an update on his sprained toe.
But Devin eventually complied with the media, of course. And expressed optimism, of course.
But I don't think there is yet any "of course'' when it comes to his return to the court.
Want an inside look at how Mavs practice looks? And what you get when you go 10 cents a day with Mavs Premium?
Here goes ...
*"I tested it pretty well (over the Break)," said Harris said, who went through non-contact drills in the lengthy workout. "I had some good days, had some bad days. Today was a good body of work, the first kind of practice action I've seen in a while. It ended on a good note and we'll see tomorrow and kind of go from there."
So does Devin plan on playing Friday at Orlando?
"It depends on (Thursday),'' he said, "talking with the trainers and seeing what else I need to do. I am optimistic. I haven't been, but I am optimistic. It is progress."
The Mavs list Harris as "day-to-day'' and all I know for certain is that he looked fairly healthy while mock-dodging the media.
*Zaza Pachulia is asked to do a lot of things in this offense. He's a brawler with passing touch, an intense competitor who keeps things light. And he's got some handles -- and works to keep 'em.
Zaza spent most of Wednesday's practice with his right shirt-sleeve hanging higher than his left one, as if he wished to keep that shooting arm unencumbered.
Not a Mavs moment goes to waste when Chandler Parsons is experimenting with fashion ...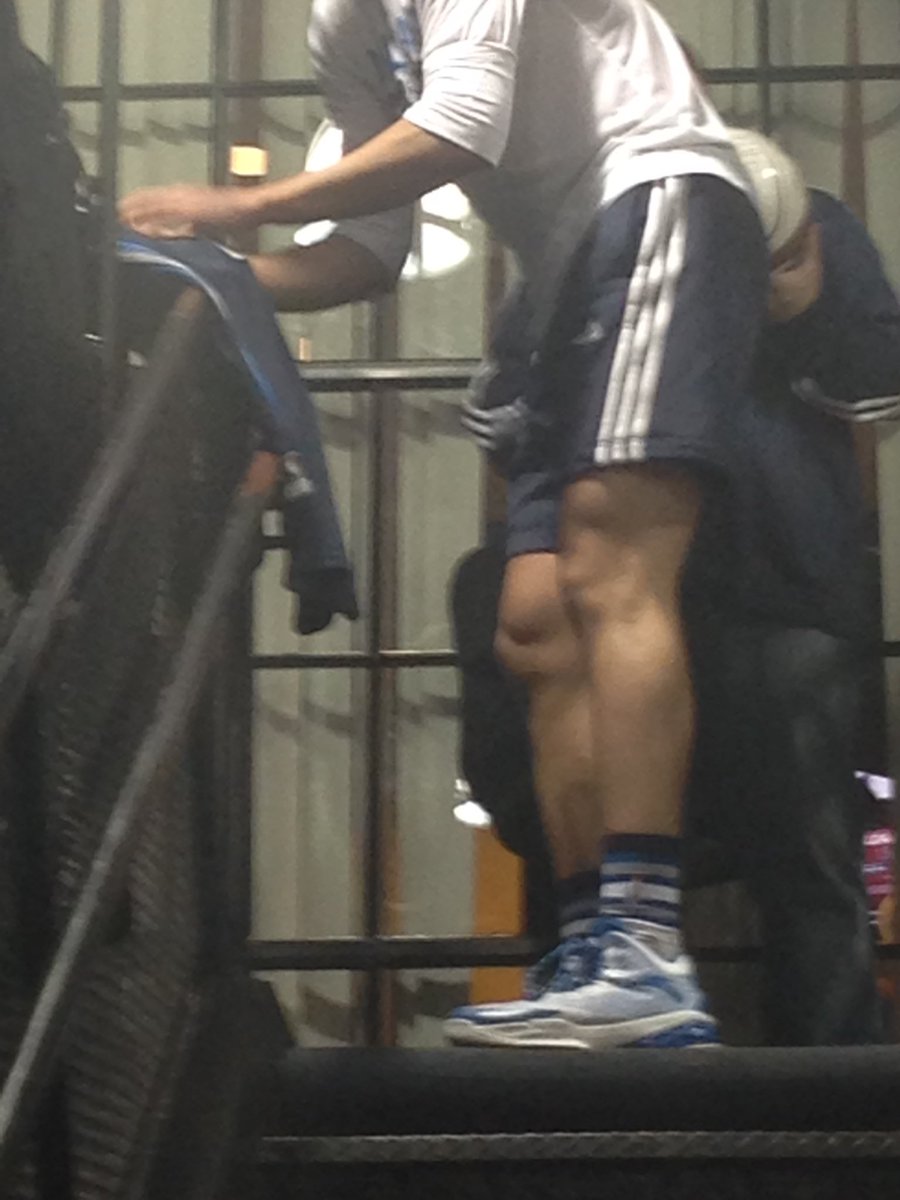 Yes, some of the other fellas made fun of Parsons' short-shorts. Yes, he seemed to enjoy the goofy attention.
*Carlisle spoke glowingly of this team's "heart.'' If you take that as a purposeful comparison to last year's club and its lack of "soul'' ... you are a very insightful Mavs fan.                      
*Rookie Justin Anderson spent a great deal of time, post-practice, sitting with team psychologist Dr. Don Kalkstein. After a time, Dirk approached the pair ... reached down ... and playfully tugged on Anderson's beard.
Why? It's just another Dirk vignette of the sort that makes this SI profile of The Uberman such a fun read.
*The mid-range jumper is not dead! At least not when John Jenkins shoots it. He can't find a way to get into games, but on Wednesday he was almost literally perfect as a mid-range shooter. I sense that this is a common happenings; nobody went nuts over it. It's just what he does as one of Carlisle's "Be Ready'' guys.
*Meanwhile, Wes Matthews is trying to find his 3-ball range ...
https://twitter.com/fishsports/status/700320590603812864
And then there is Dwight Powell's ball-rack range ...
DONUT 9: "That Is All!''
Dwight Powell is back from his fun stint at All-Star Weekend (details here) and while it took him a few shots ... if I generously edit my video, he looks like a ball-rack sharp-shooter:
https://twitter.com/fishsports/status/700322029157781504
Before the make, Dwight says, "OK, one more.'' Because you always do that when you haven't close with "the one.'' And afterwards, he is moved to bark "That is all!'' in Dirk's direction ... a hint of how Nowitzki taunts teammates when he outshoots them in fun-and-games games.
DONUT 10: Trade Deadline! The Talent Acquisition Business
From David Lord on DB.com Mavs Premium Boards regarding today's trade rumors:
They are everywhere. And there's a reason for it.

With all the money in free agency this summer, almost every team expects to have cap room ...which means that Bird rights are kinda meaningless ...and there is widespread expectation that Billy Basketball is signing elsewhere. So Mr GM is thinking he might as well see who is ready to offer him a sweet set of goodies for his player.

But on the other end of the phone, the buyer doesn't want to pay much, knowing the same player is available for free in the summer. 
Lots of selling, screaming from the rooftops to "consider my player, you want him, you need him, you know you do" and  looking for that one truly desperate buyer. ... But mostly, just lots of screaming.
If you are looking for Mavs transaction action, you should look here. That's our original story on the Mavs' thoughts on buyout candidates, which starts cooking after today's 2 p.m. (Dallas time) trade deadline.
Want our Mavs-angled scoops on other specific names? Like Lance Stephenson, Andrea Bargnani, Caron Butler and even, for fun, Carmelo Anthony, in addition to Dwight Howard, of course? Jump in here to the DB.com Mavs News Archives. It's all individually stacked for your enjoyment!
DONUT 11: The Week That Will Be
Immediately at hand: what the Mavs must accomplish in the West Playoff Chase, starting this week. We have that analysis here. Orlando and Philly. The launching pad to the finish of the season, with the Mavs a bunch of games behind the No. 4 Clippers and with a handful of clubs in Dallas' class giving chase. Get caught up on The Week That Will Be by clicking that link.
DONUT 12: The Final Word
Fresh from the beach, and the cardio, and the weightlifting, and the late-night "getting shots up in the gym'' on Tuesday after his arrival back in DFW, guess who was the last Mav on the court following a practice that went about an hour longer than expected?
https://twitter.com/fishsports/status/700125222242951168
Yeah. That dude.