I'm joined by DB.com's Matthew Postins to review "The Mavs Deadline Trades Not Done'' ...
If you're the fan of a contending team in professional sports you welcome the in-season trade deadline as an opportunity to make your team better. The Dallas Mavericks, like many NBA teams, seemed to avoid making any deals on Thursday. 

If you're considering the Mavericks' long-term health, no news on deadline day was good news. 

That's our thesis and our explanation for why Dallas didn't pull the trigger on a handful of deadline-day discussion items ... And some trade discussions that occurred in the media but not at Mavs HQ. To wit: 

*The Dwight Howard talks never happened. Houston had serious conversations with a trio of teams, but the Mavs, sources tell DB.com, were not among them. Howard, an unhappy camper in dysfunctional Houston, doesn't want to opt in now  while accepting a trade. And Dallas doesn't want to rent a player now that it might try to buy, more cheaply and more long-term, on July 1.
Put it this way: The Mavs don't want "this Howard at somebody else's price'' now. They want "that Howard at their own price'' then.

*Dwight Powell and Justin Anderson. The Mavs got calls here, and received what we're told were non-lottery first-round picks. Dallas' declining of those offers is central to their philosophy (and to our thesis): The Mavs believe the "reality" of Powell and Anderson of rotation prospects tops the "maybe" of getting better players than them in the 20s of the draft.

You don't have to agree with the philosophy. But now you know it.

*Ben McLemore of the Kings was a discussion item that "never got much traction," a source tells DB.com.
*Randy Foye? The media brought the name up but the Mavs never got into the bidding for the OKC-bound scorer.

*Thaddeus Young? He was mentioned as a trade topic by SI. Sources close to the Mavs and Nets tell us no such trade talks occurred.

*Anderson Varejao? Put him on the same investigative list with Joe Johnson, Kevin Martin and others in what might be a (good-for-Dallas) flooded buyout market. (Read up on the Mavs candidates, and how the buyout process works, here.)

*Lance Stephenson and Andrea Bargnani both got strong "no's" when we mentioned their names to Mavs officials. No on trading for them. No on pursuing them as buyout guys.

The Mavericks are a good team right now. Not great, but good. Competitive. They'll be in just about every game the rest of this season. They could climb into the Top 4 in the Western Conference, though some things have to break their way for it to happen. 

But as the Mavericks approached the trade deadline it was clear there was no transformative trade, no deal that suddenly would have made them competitive enough to beat Golden State, San Antonio or Oklahoma City in a best-of-seven playoff series. And if that deal didn't exist, there was no reason to pull the trigger. 

"We like this group and we want to give them a chance to grow together," Mavericks general manager Donnie Nelson said Thursday. 

The expectation of an explosion of the NBA salary cap — to $89 million in 2016-17 and to $108 million in 2017-18 — drove some of this. If you're not a true contender, why trade away assets for a rent-a-player if you can throw the max (or near-max, in what might be Dallas' case) contract at them in a few months? Makes no sense. 

But even if the salary cap was jumping to a more reasonable number, the Mavs suffered from a lack of assets to make a deal.

Dallas basically has two personnel assets — Dirk Nowitzki and Chandler Parsons. Nowitzki could actually fetch a nice haul from a contender, if the Mavericks made him available. But everyone appears committed to letting Nowitzki play out his career in Dallas. Owner Mark Cuban considers Parsons part of the team's future. Parsons could opt out of his deal this offseason, but there are all good vibes on him coming back. (There are, however, $21.1 million issues of complication to this Parsons-in-Dallas future, as we detail here.)

The Mavs aren't carrying any toxic contracts they need to get out of, nor did they have the need to take one on, which is another popular trade deadline pastime.

The only other asset the Mavs held were draft picks. But for a team eying a rebuilding period straight in the face, those picks are precious — and somewhat spoken for.

The Mavericks actually have three picks in the 2016 NBA Draft, but they won't use two of them. The first-round pick is promised to Boston from the Rajon Rondo trade, and it's Top 7 protected, meaning the Mavs only keep the pick if they end up with a Top 7 pick, which isn't going to happen. The only way to change that?

First, build a time machine. 

Second, put Cuban and Nelson in it and send them back to December of 2014.

Third, don't make the Rondo trade.

Like we said, that pick is toast. So is one of their second-round picks. The Mavs must hand over the higher of the two to the Celtics, which will either be their own or a pick they acquired from Memphis. 

So Dallas, at the moment, has no first-round pick until the summer of 2017, which is when Nowitzki's contract expires. If the Big German chooses that moment to retire, the Mavs will be looking to draft a young, impact player to go along with Parsons, Wesley Matthews and Justin Anderson, assuming Anderson grows into something special. 

The opportunities to replenish this team's talent are precious commodities right now for a team that has swung and missed so often in free agency since the championship season. It can be argued that throwing more picks away in pursuit of an unrealistic playoff run would be foolish. ... Especially, again, when you think the players you have are superior to the picks you get. And especially when buyout time might net you s better player than, say, McLemore.

Dallas can take its swing in free agency once again this July, when, as we have illustrated here, the Mavs can craft $48 million in cap space -- that really becomes $26 million when the logical moves are made. (The exclusive explanation of the Mavs and the cap is here.)  It's questionable whether Cuban and Nelson actually land a "big fish" or not, but by standing pat on Thursday they've ensured that they haven't further hampered the franchise's ability to improve down the road. 

That restraint made the Mavs see themselves a winner of sorts this trade deadline.  The "Do-Something" Club doesn't love that view but as we turn to coach Rick Carlisle's "27 Super Bowls'' and the home stretch starting tonight with Mavs at Orlando (DB.com Boards talks about it all here) it must accept this fact regarding the Mavs and this year's trade deadline: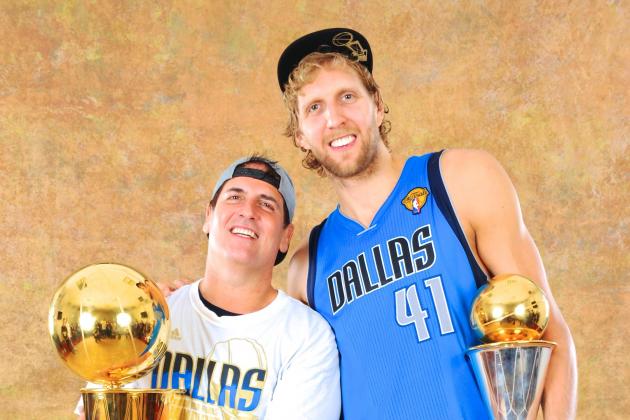 There was nothing to do.