The Golden State Warriors and the San Antonio Spurs are the two best teams in the Western Conference. So, naturally, they started the post-All-Star Game schedule with confusing losses.
San Antonio fell to the Los Angeles Clippers by 19 points. No Kawhi Leonard might have had something to do with that.
Golden State fell to Portland by 32 points, a score so ridiculous it sounds like the teams traded uniforms before the game.
Those losses did nothing to hurt the Spurs and Warriors. But they did quite a bit to help the Clippers and Trail Blazers, both of which are fighting for space in the always-tough Western Conference.
The Dallas Mavericks, meanwhile, remain in sixth place, but are likely kicking themselves after a 1-1 weekend.
Each Monday we'll take a look at how the Western Conference race is unfolding, starting with the No. 4 seed, and see how the Mavericks are fitting into the race.
4. Los Angeles Clippers (36-19 as of Sunday night, 3 1/2 games behind Oklahoma City; four games ahead of Memphis)
Last week: def. San Antonio, 105-86; lost to Golden State, 115-112.
This week: vs. Phoenix (Monday), vs. Denver (Wednesday), at Sacramento (Friday).
Status: Hard to argue with a split when you play two of the Western Conference's top three teams. But the Clippers have to be kicking themselves for letting the Warriors off the mat. The Clippers probably helped themselves in trading for Jeff Green and getting rid of Lance Stephenson. It gives them more ammunition to ride out the injuries of Blake Griffin and Austin Rivers.
What to expect this week: If the Clippers are truly the No. 4 team in the West, they should produce a clean sweep of these three lottery-bound teams.
5. Memphis Grizzlies (32-23 as of Sunday night, four games behind the Clippers; three games ahead of Dallas)
Last week: def. Minnesota, 109-104; lost to Toronto, 98-85.
This week: vs. Los Angeles Lakers (Wednesday), at Los Angeles Lakers (Friday), at Phoenix (Saturday).
Status: Center Marc Gasol remains out indefinitely. Curiously, the Grizzlies moved Jeff Green and Courtney Lee in separate deals at the deadline. In return they received Lance Stephenson, Chris Andersen, P.J. Hairston and a bushel of draft picks. Theoretically Andersen will pick up some of Gasol's minutes. A split coming out of the All-Star Break is a solid beginning.
What to expect this week: If Gasol were healthy I would take the Grizzlies in all three games. But back-to-back games with the Lakers could be worrisome. Let's assume they'll go 2-1. At some point the lack of depth in the frontcourt is going to be an issue. I can still see the Mavs catching this team at some point.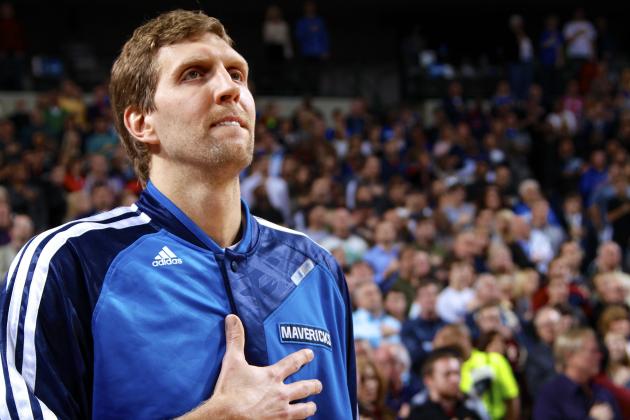 6. Dallas Mavericks (30-27 as of Sunday night, three games behind Memphis; 1 1/2 games ahead of Portland)
Last week: lost to Orlando, 110-104 (OT); def. Philadelphia, 129-103.
This week: vs. Oklahoma City (Wednesday), vs. Denver (Friday), vs. Minnesota (Sunday)
Status: That was a dumb loss to Orlando, especially for a Mavericks team that has a good record against the Eastern Conference. They've shaken out the cobwebs from the All-Star Break because they bounced back with a win over Philadelphia. Based on what happened ahead of them, the Mavs are still in the hunt for the No. 5 spot.
What to expect this week: The Mavs are 0-3 against OKC. I don't like their chances. Denver should be a win. Minnesota will be tricky. The Timberwolves pushed the Mavs to overtime in their last visit to Dallas last month. Based on the past few weeks, the Mavs will have trouble because they're struggling with teams built around young lineups. It could be a 2-1 or a 1-2 week. The Mavs have their deal with David Lee (and he's got jersey No. 42), which will help their rebounding significantly. The Mavs play eight of their next nine at home. It's time to take advantage of it.
Jaime Valdez-USA TODAY Sports
7. Portland Trail Blazers (28-27 as of Sunday night, 1 1/2 games behind Dallas; 1/2 game ahead of Houston)
Last week: def. Golden State, 137-105; def. Utah, 115-111.
This week: vs. Brooklyn (Tuesday), vs. Houston (Thursday), at Chicago (Saturday), at Indiana (Sunday)
Status: Somebody find a fire extinguisher for these guys because they are just red-hot right now. The Trail Blazers spanked the Warriors, then outlasted the Jazz and have now won 10 of their last 12. If you're looking for a team in the bottom half of the playoff race that is surging right now, here's your team. The Trail Blazers picked up Brian Roberts at the deadline, along with Anderson Varejao (whom they promptly waived) along with two draft picks.
What to expect this week: A 3-1 week isn't out of the question. A road trip to Chicago is going to be their big hurdle this week, though it's possible Jimmy Butler will still be out with his knee injury.
8. Houston Rockets (28-28 as of Sunday night, 1/2 game behind Portland and tied with Utah -- Houston would get No. 8 seed based on number of wins)
Last week: def. Phoenix, 116-100.
This week: at Utah (Tuesday), at Portland (Thursday), vs. San Antonio (Saturday)
Status: Well the Rockets did not trade Dwight Howard at the deadline, as I thought they might. They basically stood pat. With the lightest schedule of the teams listed, they eased away from Phoenix.
What to expect this week: A tough week. Utah will be motivated to win a key tiebreaker game. Portland will be a tough win on the road, and returning home to face San Antonio will be no picnic. I could see 2-1 or 1-2.  
Outside Looking In
9. Utah Jazz (27-27 as of Sunday night, tied with Houston, four games ahead of Sacramento)
Last week: def. Boston, 111-93; lost to Portland, 115-111.
This week: vs. Houston (Tuesday), vs. San Antonio (Thursday), vs. Brooklyn (Saturday)
Status: You knew that the Celtics are the No. 3 seed in the Eastern Conference right now, right? That's how good the Western Conference is at the moment. As hot as the Trail Blazers are, a split at home is nothing to cry about.
What to expect this week: The Jazz need a win over Houston, given how close the race is for No. 8 and given how unlikely it is they'll beat San Antonio. Brooklyn is a win the Jazz need. I'll say 2-1 for the week, with the Jazz eking out a win over Houston at home.