DONUT 1: DBcom's Flash Sale!
We've had a lot of fun with our "Dime-A-Day'' promotion of DallasBasketball.com Premium Mavs ... but what if it's a dime-a-day for a month ... but you get DB.com Premium for eight months? Eight months for the price of one?!
The sale is over, but here's what you got in this one day at DB.com work ... and how it'll continue to work ...
In those 24 hours at DallasBasketball.com we gave you eight months of Mavs Premium for just $5.95 (click here!) so you could get ...
*12:01am: Mavs Donuts: Tons of Mavs News And Views and Videos in One Click!
*6:00am: What Do The Spurs Coaches REALLY Think of 'Mavs Culture'?
*9:00am: Talking With Wesley Matthews About Being Healthy For OKC
*12:30pm: Mavs Shootaround Notebook from the AAC Featuring Chandler Parsons
4:30pm: Exclusive: The Cap And Keeping Zaza
*5pm: Mavs-OKC GameThread Fired Up on DB.com Boards!
*705pm: Mavs Pregame Notebook from Carlisle, Cuban and the Locker Room
*10pm: Rapid Fire: Takes on the Results of Mavs-OKC.
*11:30pm: Fish Premium Column from Mavs-OKC.
That's one day. You got eight months. That adds up to costing you one-billionth of a penny a day, or something like that! Many of you took advantage, supported the site and the Mavs and now get the deepest coverage available - plus get all the other Premium sites on the Scout Network! 
Your All-Access Pass to practices, your exclusive interviews with players, staffers and coaches, your understanding that DB.com's "75-Member Staff'' is on this 24/7, as we have been for 17 years ... and oh, along with Premium Mavs, that same price gets you Premium access to all your other favorite teams via the Scout Network. You like the Mavs and the Cowboys? You get in free at CowboysHQ.com. You're a Longhorns guy? Chip Brown is the best in the country on your beat. We've got the same with Texas A&M and Alabama and Texas Tech and Oklahoma and, well, you name it. Same thing across the entire NFL and Major League Baseball, too.
 I give you my personal pledge to serve you in every way I can, all as your reward for pitching in about five bucks. (And then, hey, a bunch of us end up hanging out postgame at The Maverick Bar and I end up giving you your five bucks back in free beer anyway!)
Below, just a sampling of the sort of info and insight you get from being a DB.com Premium Mavs Fan ...
DONUT 2: David Lee's Role
We suggested here in DB.com Premium Boards that while David Lee is thought of primarily as a 4 and therefore as Dirk's backup, Dallas' issues at the 5 might cause him to play some center, too.
Consider: Behind the workhorse Zaza, Salah Mejri's minutes have been inconsistent, Dwight Powell also is at the back of the rotation (and isn't exactly a center) and JaVale McGee has suddenly faded from the floor altogether?
So how about David Lee (who equipment boss Al Whitley tells me will be wearing No. 42) giving Dallas help right away? And advancing in the postseason? a few minutes at center, where he can hold his own as a rebounder and theoretically cause matchup problems as a shooter for the opposition?
The Lee Q-and-A:
https://twitter.com/dallasmavs/status/702207531842740225
Lee on Minutes
"As far as minutes and stuff, we'll let Coach figure that out. More than anything, they've been emphasizing rebounding the basketball and being ready in coming off the bench and playing with energy. We'll figure the rest out aa we go along.''
On the Mavs System
"It's learning the system on the fly. This is not a simple system to learn. So the biggest thing is just the first couple of weeks making sure I get my extra work in learning the plays with Coach and the young guys, and more than anything else just focusing on keeping it simple while I'm out there.''
On Conditioning
"The other part of it is I haven't played in a game in over a month, so it's going to be getting that conditioning back and getting that rhythm back. But I'm confident I'll go out there and be able to help us tomorrow night just by playing hard and doing what I know how to do.''
On Changing Teams
"The real challenges are getting all my stuff moved and getting everything there taking care of on a quick basis!''
Why He Wanted Dallas
"Obviously it's a first-class organization. I've been playing against them for years and years now, and it's always the home crowd and the Mark Cuban Effect. And the guys on the team. You can see the chemistry from playing against them. That's something I want to be a part of. I've been in the league long enough ... I've been lucky enough to win a championship, and from this point forward, I'm not looking to play with a team that doesn't have good chemistry, if I have a choice, that's very important to me.''
On the Mavs Contending
"I think we're in a great spot to make a run here. Hopefully I can be somebody who helps out with that.''
Meanwhile, we are also fascinated with Lee's money.
The Celtics are the ones who created a settlement to allow him a buyout and to s
remove his $20-million-plus cap hold for the summer. The 
Mavs are only on the hook for the $2.1 million room-MLE used on him ... but wait? Why not just the veteran's minimum of $1.4 million -- which is more standard in these cases and, Mavs officials told me, was the original plan?
When we learned about the MLE deal, we wondered: It's so unusual to offer any of these post-deadline-buyout guys more than a rest-of-season prorated minimum salary that we considered whether it could imply any number of other branches on this tree. For instance, one possible reason to offer more is to be able to get a multi-year string attached somehow, like a team option for next year, or even tie him up for several with a starting number in the $2-mil range. 
A Mavs exec's response to our theory: "You're over-thinking this.''
Which of course, we do a lot of around here.
DONUT 3: Shuffling the Deck
Why was John Jenkins the odd-man out when Lee was brought in?
Know that coach Rick Carlisle has tremendous respect for Jenkins, the marksman who never quite worked his way off the Dallas bench but was nevertheless very much a part of the "Be Ready'' Club. Also know that as I'm watching last Wednesday's practice with the team coming off the All-Star Break, Jenkins almost literally never missed a shot. I mean, "marksman'' is right.
But he's the guy who wasn't playing, and wasn't likely to play, on a team that has a great deal of depth in the backcourt but it struggling for stability in the forecourt. Jenkins will clear waivers and then his minimum salary will be charged to the Mavs' cap this season, and the future cap hit is 0, because at this point none of his future salary was guaranteed. (Our David Lord suggests that Jenkins would be a financial-plus move for the Sixers, and it's complicated, but dig this:
If he is claimed by Philly, for financial reasons to partly replace Joel Anthony's cap hit (whose trade to them was voided). It's a cash-saving angle for the owners that has nothing to do with the players, and claiming Jenkins' salary would actually make about $700-800,000 for the Philly owner out of a currently empty roster slot.
So the behind-the-scenes machinations (something DB.com has been all over for 17 seasons now) are always part of the product you eventually see. Another example of why Jenkins, and not, say, Jeremy Evans (who will be the second-best sketch artist tonight at the AAC)?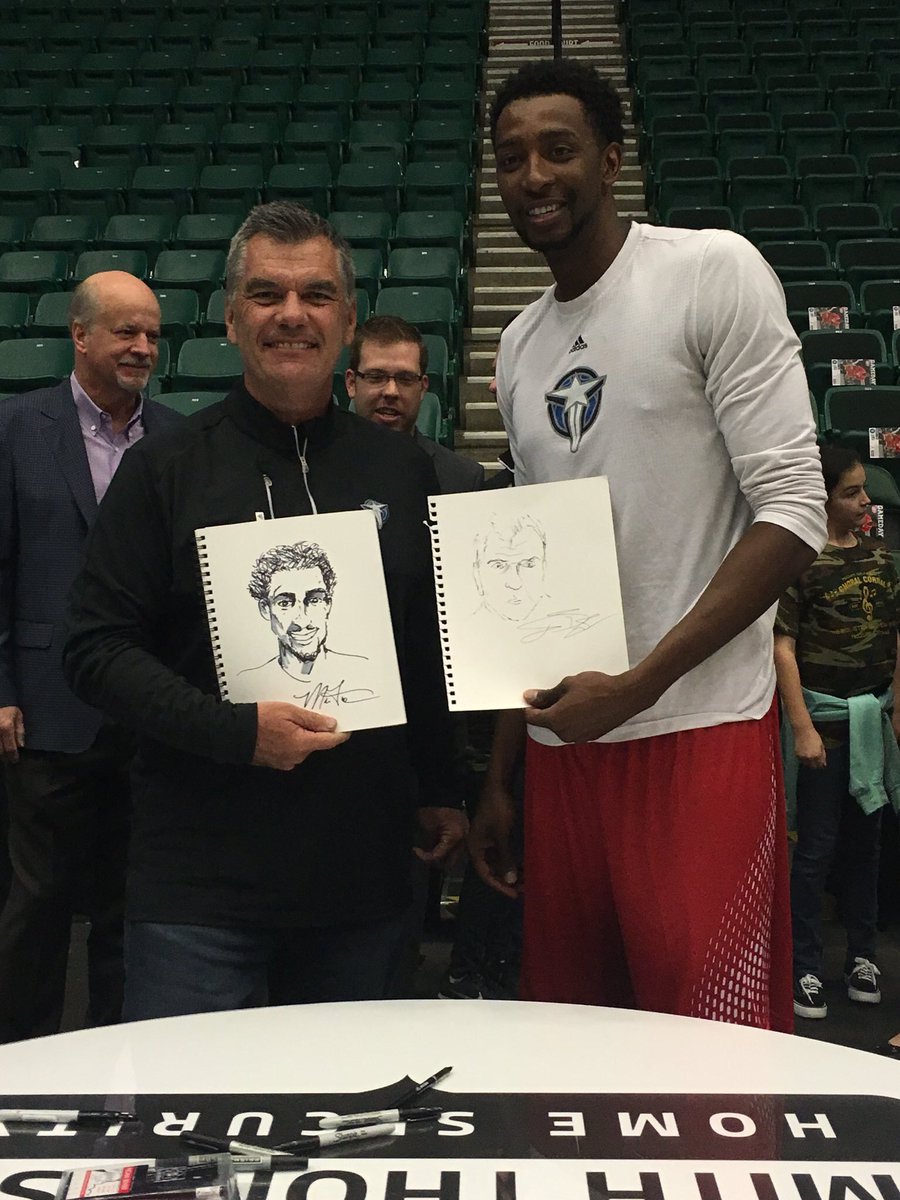 Jeremy Evans' agent is Mark Bartelstein. David Lee's agent is also Mark Bartelstein.
You think Mark Bartelstein would've agreed to ship one client to town in a way that causes another client to lose his gig?
DONUT 4: Dirk's Story Behind The Story
Sports Illustrated's work in a recent feature piece as a tag-on to the published final piece contains so many wonderful anecdotes that provide a glimpse into who he is.
But it goes deeper than that.
Can you be politely goofy and painfully competitive and wrap it all into the same 7-foot package? And if you somehow succeed at that, can you be the tone-setter for a locker room, a franchise, even an entire fan base?
Yes. Yes. With Dirk, it's all "yes.'' (Or, as he would say it, semi-mumbling with that faded Germanic accent, "Of course. Obviously.''
A lot of Mavs fans who've read DB.com for years already know the "Hasselhoff'' story and that the way it was originally portrayed is bogus. As Dirk recalls now, via SI:
"In the middle era of Nowitkzi's career, at the recommendation of mentor Holger Geschwindner, Dirk began humming songs at the free-throw line to calm his nerves. Most famously, he sang "Mr. Jones," by Counting Crows, a tune he still loves. During the team's run to the Finals in 2006, reporters caught wind of the humming and, as Dirk recounts, began asking questions: "One guy was trying to be funny and he said, 'What about David Hasselhoff?
'And I said 'For sure, Looking for Freedom!'"
Now again, MFFLs here in DFW and readers of DB.com knew Dirk was kidding. But the more casual observers did not get the joke. Among them: Hasselhoff himself, the former TV show star and recording artist.
From SI:
"And he showed up!" remembered Dirk. "Hasselhoff showed up in Phoenix to the game and I kind of revived his career."
Did Nowitzki tell Hasselhoff the truth when they met, letting him down easy?
"No, no," Dirk said. "I said, 'Big fan, Dave!'"
And that is your Dirk. Polite ... to a fault, some morons would argue, because when Tim Thomas called him a "p----'' or when David West tapped him in the face, why didn't The Uberman bark back or slap back?
Ah, but he did. Or at least he tried.
I'm proud to say that ESPN actually quoted me at length in my DallasBasketball.com coverage of the West conflict. (You can read that here.) What Nowitzki did in retaliation to West is to try to beat him on the floor. He failed in a 2008 first-round playoff series. That's basketball ... which is what this sport is, right? As opposed to wrestling. Dirk's retaliation was basketball. ... 
The same approach he took against Thomas and the Suns in 2006, when history will say Thomas "blew a kiss'' at Dirk when actually he said a naughty word ...
And again, Nowitzki did not respond by punching Thomas, just as he would later not respond by punching West. Because an ejection and a broken hand isn't "manly,'' it's "selfish.'' What Dirk did instead that day in 2006 is score 22 of his franchise playoff-record 50 points in the final period to power the Mavericks to a 117-101 victory over the Suns in the pivotal fifth game of the West Finals. ... and then power on beyond that to the NBA Finals. And a few years after that, back to the Finals, for the 2011 title.
You can't accomplish those things by being ejected. Dirk has accomplished all of these things by being politely goofy and painfully competitive and wrapping it all into the same 7-foot package.
One of my best-ever Dirk stories is here, and it's about me being on the receiving end of that polite goofiness. It's called "Politely Ruthless: The Two Hands of Dirk Nowitzki.'' It dovetails nicely with SI's work. Read it and then circle back here to come to the realization of what Nowitzki's legacy truly is.
There are all the accolades and all the milestones (a nice DB.com look here at 29,000 points) but that's Dirk's legacy. When we erect that bronze statue on Victory Plaza outside the AAC someday showing Dirk executing the famous One-Legged Euro LeanBack ... that's what should be most-remembered.
DONUT 5: Stay in Touch!
We're on the beat 24/7, as you can see by hanging out with us on DB.com Boards (membership is free!), or here on Facebook, or on Twitter, where you can get me at @FishSports. And if you wish to become a Mavs Premium member? Please look into the 7-day free membership and then the 10-cents-a-day deal ... it's just a dime to you but it pays for my gas money to the AAC! ... and to Frisco, where the Texas Legends are vying for a D-League playoff berth. back home. Catch up with the Legends and the D-League goods here ... and again, for the price of a one-month subscription - a dime a day foe a month! -- you get eight months of the best Mavs coverage in the land! Hit it!
DONUT 6: Quotable
"We didn't get him to sit him.'' - Mavs coach Rick Carlisle on David Lee.
DONUT 7: Our Friendly Sponsors
We can't do what we do without the support and friendship we get from the good people at LS Wealth Strategies, The Maverick Bar and PM Standley Motorcars. Get to know 'em - click or call or swing in - and you'll benefit from their friendship as well!
DONUT 8: Delonte's Troubles
Delonte West has, in my observation, always been on the precipice of trouble, and whether you think that is the result of a difficult upbringing or his issues with bipolar disorder or his irresponsibility, the trouble has always lingered. Now the ex-Mav - who was given multiple chances to rediscover his career both with Dallas and with the Texas Legends -- appears to be "on the street'' in a sense as he's recently been spotted in Houston, dishelved and shoe-less. 
Here's a thoughtful examination of the latest Delonte problems. ... and a DB.com Boards discussion.
DONUT 9: Stat O' The Day
The Mavs play eight of their next nine at home. This is as "soft'' a portion of the schedule, in that sense, as you will get all year. For Dallas, at 30-27, it's time to take advantage of it.
DONUT 10: Kevin Durant to The (Fill In The Blanks)
The speculation about Kevin Durant's future beyond OKC is natural. He's a superstar free-agent-to-be, and even if he is completely devoted to staying with the Thunder (yes, that's a possibility) you can't blame his hometown Wizards for hoping for a homecoming. You can't blame anyone who wants to speculate about KD to the Warriors. (A scary thought, examined here.) Along the same lines, there is nothing wrong with speculating about a big free agent-to-be from the ensuing summer, Blake Griffin in 2017. Will he stay with the Clippers, as the CBA is constructed to urge him to do? How about a homecoming for him back to his native Oklahoma? What about ESPN floating a rumor of Blake-to-Dallas?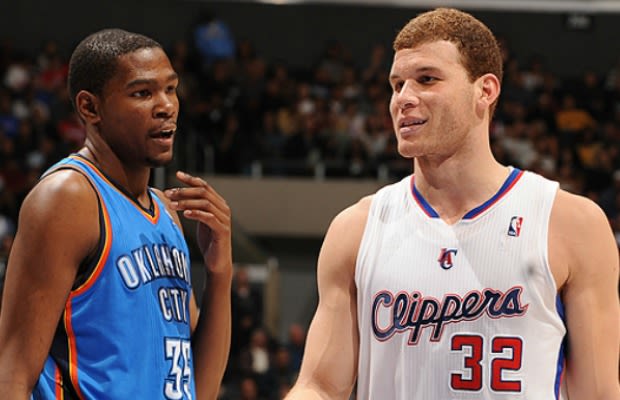 And heck, why wait for 2017? Why not just do Kevin Durant to Dallas?
DB.com has taken some abuse over the years because we've been able -- with generous guidance from the Mavs themselves -- to calculate the cap ramifications of such "One-Percent Possiblities.'' That's how we were first to the idea of Dwight Howard to Dallas (not to mention Dwight AND Chris Paul at the same time!) and the Mavs' LeBron Pipedream and the DeAndre Debacle and ... our connections and our cap knowledge allows us to do the same here.
Blake Griffin to Dallas in 2017? Some of the people closest to him live in this area. And Chandler Parsons would -- by reputation, anyway -- "brother him up'' there. So it's a fun guess. But no more fun than KD to Dallas in 2016. 
A pipedream? Yup. Hey, even a downsliding Dwight Howard to Dallas in 2016, an idea the Mavs will surely entertain, is no more a "done deal'' here than it is in 29 other cities.
But again, to speculate about any of this you need background, facts, numbers and philosophies. We're proud of our best-in-the-business work in this regard and consider this must-reading for serious Mavs fans: "The Mavs Cap And Their Summer of 2016 Options'' ... including the $26.5 million of room that will get awfully tight awfully soon. Please read it ... and you'll be the smartest Mavs fans on your block!
DONUT 11: OKC at Mavs
The Mavs are 0-3 against OKC. ... and here we go again, tonight at the AAC. ... where KD is still Thundering.
Later in the week, if you are the sort to circle calendar dates and guess at W's and L's, Denver should be a win. And then Minnesota? The T'Wolves might be more tricky than they seem. The Timberwolves pushed the Mavs to overtime in their last visit to Dallas last month. Based on the past few weeks, the Mavs will have trouble there because they're struggling with teams built around young lineups. ... and OKC, despite having some skins on the wall, can also call its group a "young lineup.''
We could be looking at a 2-1 or a 1-2 week for the sixth-place Mavs ... but a somehow-win over OKC tonight could entirely flip this week's script. The defensive challenges go to Wesley Matthews (in a slump on both ends of the floor) and Chandler Parsons (a hot go-through guy on offense who will be expending lots of energy tonight on the other end.)
And when in doubt on Westbrook? 
The Mavs can always sic JJB on him, I guess.
DONUT 12: The Final Word 
Dirk has said repeatedly that he wants no part of a "farewell tour'' when it's all over, owner Mark Cuban's quote to SI is laden with the word "b-----!'' as Tony Cubes playfully calls out his friend and star.
"Yeah, he loves that little wave when he comes out and passes a milestone,'' Cubes says. "He loves it. LOOOVES IT! I don't care what he says. 'I don't like going to the All-Star Games. I don't want a farewell tour.' He loves it!"
We love it, too. And have for 17 years here at DallasBasketball.com ... and we invite you to join us for the ride with our one-day FLASH Sale, eight months of Premium Mavs coverage for just a few bucks. C'mon in!
null