Brett Brown Looks Back on a Decade and A Half of Dirk and Dallas
The middle of an NBA season usually lends itself towards focusing on the near future rather than the distant past. There's an intrigue on postseason basketball, first-round matchups, even July free agency. For the Dallas Mavericks, the future is undetermined in all those regards. A new chapter is most certainly on the horizon for Dallas in coming years. 
The past has been cemented for Dallas though, and with Dirk Nowitzki recently passing 29,000 points while just about all of his peers are smiling and waving their way through retirement tours, it's worth taking a moment to gain some perspective on the past 16 years of Mavericks' basketball. 
What better way to do that than to hear things from an outsider's point of view? From 2002-2013 Brett Brown was an assistant coach for the San Antonio Spurs before taking the head coaching position with the Philadelphia 76ers. His associate head coach is Mike D'Antoni, who famously coached the Seven Seconds or Less Phoenix Suns from 2003-2008.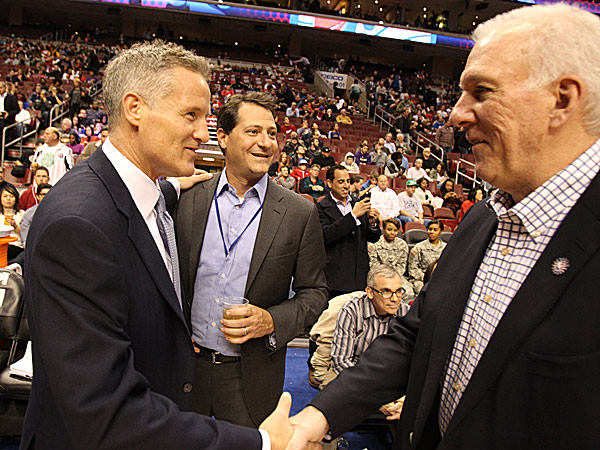 At the Sixers' shootaround before Sunday night's game between Philadelphia and Dallas, Brown talked about what being in the American Airlines Center still meant to both men.
"We were just talking about it with Mike [D'Antoni]. With Mike it's the same thing when you come back here. Almost every year, you had to get through Dallas to go where you wanted to go with San Antonio."
The Mavericks' played against each of the Spurs and Suns in the Conference Finals during Brown and D'Antoni's tenures. Dallas also faced both teams in Conference Semi-Finals matchups. One of the most notable matchups was a 2004-2005 semi-finals series in which the 62-win Suns took down the 58-win Mavericks in six games. Steve Nash had won the MVP and Nowitzki had finished third in voting. 
"So you walk into the locker room and you get flashbacks of the Nellie days," Brown continued. "We (San Antonio) were down 3-1 against Dallas and ended up bringing it back to 3-3, and then we're down 25 in San Antonio and then Manu ended up fouling Dirk for the thee-point play and we ended up losing that series."
Brown was referring to the 2006 series, which was actually after the Nellie days when Nowitzki completed a three-point play to send game seven into overtime. The Mavs would advance and go on to play… you guessed it, the Suns and eventually reaching the NBA Finals before losing to the Miami Heat. 
"So you remember so many things," Brown went on. "The Avery days when Avery had them rolling. Then Rick [Carlisle] has come in here. They've really had some really, really great coaches. My history with San Antonio and the memories, coming into this building and brings back all of them. There's been a lot of great games with great players in this building."
Brown was right about an era of three great coaches and a lot of great players that have passed through the American Airlines Center, but there has been one constant throughout it all: Dirk Nowitzki. When Brown was asked about how he game planned on for last Sunday night's game (our coverage of that Dallas win over Philly is here), he said it wasn't much different than it's been for the past 16 years.
"I mean, it's always Dirk," Brown said. "I'm assuming of the other coaches would tell you when you play Dallas it's Dirk and it's pick-and-roll defense. Then life sort of moves into the obvious areas after that."
Popovich himself says essentially the same.
"He's still as tough to game-plan for as anybody," Popovich said of Dirk. "He's a terrific competitor and arguably the best pure shooter we've seen. He worked himself into position where he was impossible to defend. And he's still pretty much the same."
If anybody is forced to live in the moment, if for nothing else but for their own sanity, it's an NBA coach. But Brett Brown walks into the visitor's locker room and can't help but look back on things in Dallas. ... and his view typifies what "the other guys'' think about a Dirk-led culture that has the respect of opposing coaches.
TODAY ONLY on DallasBasketball.com as we give you eight months of Mavs Premium for just $5.95 (click here!)so you can get ...
*12:01am: Mavs Donuts: Tons of Mavs News And Views and Videos in One Click!
*6:00am: What Do The Spurs Coaches REALLY Think of 'Mavs Culture'?
*9:00am: Talking With Wesley Matthews About Being Healthy For OKC
*12:30pm: Mavs Shootaround Notebook from the AAC Featuring Chandler Parsons
4:30pm: Exclusive: The Cap And Keeping Zaza
*5pm: Mavs-OKC GameThread Fired Up on DB.com Boards!
*705pm: Mavs Pregame Notebook from Carlisle, Cuban and the Locker Room
*10pm: Rapid Fire: Takes on the Results of Mavs-OKC.
*11:30pm: Fish Premium Column from Mavs-OKC.
That's one day. You get eight months. That adds up to costing you one-billionth of a penny a day, or something like that! Please take advantage, support the site and the Mavs and the deepest coverage available - plus get all the other Premium sites on the Scout Network — and c'mon in!
Let's do this. Your All-Access Pass to practices, your exclusive interviews with players, staffers and coaches, your understanding that DB.com's "75-Member Staff'' is on this 24/7, as we have been for 17 years ... and oh, along with Premium Mavs, that same price gets you Premium access to all your other favorite teams via the Scout Network. You like the Mavs and the Cowboys? You get in free at CowboysHQ.com. You're a Longhorns guy? Chip Brown is the best in the country on your beat. We've got the same with Texas A&M and Alabama and Texas Tech and Oklahoma and, well, you name it. Same thing across the entire NFL and Major League Baseball, too.
(The 8-for-1 is for not-presently-subscribers only. Existing subscribers can upgrade to the annual during the same time period and get 3 months free. That's for our flash sale day only, as you as an existing subscriber can call into the call center and re-up your annual early and get 3 free months!)
When you as a new subscriber sign up: Just choose the monthly option, and when you are billed for the first month, I'll comp the following months! In total ... You get the Mavs for about five bucks ... and then you get all the rest of it, too, free, for eight months. And all you do to get started for the best coverage of the Mavs on the planet is click here!