THE PARSONS GO-TO
A few months ago, Chandler Parsons was devastated. Sitting on the bench in Round 1 of the playoffs against his former team, the Houston Rockets, Parsons was helpless; watching the Mavs implode against their in-state rival, and nursing a knee injury that would force him into months of intense and frustrating rehab for the foreseeable future. 
"I've never had an injury. I never really missed a long period of time due to injury, so it's been frustrating," Parsons said during Mavs Media Day back in September. "Obviously missing the playoffs last year playing Houston was frustrating and pretty devastating for me." 
According to Parsons however, the effects of the injury may have been a blessing in disguise. 
"Like I've said many times its something I never really had to go through, but in a way I'm kind of glad I did," Parsons said. "It allowed me to slow down and work on things this summer that I never really had the time to work on."
Flash forward to today, and the work that CP put in may finally be paying the dividends he envisioned back in the offseason. 
Since January 18th, Parsons is averaging 17.6 points per game, and shooting 53.2-percent from the floor, including 42-percent from three – all vast improvements from up to that point in the season. More importantly however, Parsons seems to have finally settled in as a Mavs' go-to-guy, as he has been the Mavs leading scorer and most efficient shooter over that time period. ... and will be heavily-relied-upon tonight in the OKC visit to the AAC. (A 7:30 start and DB.com is all over it ... including here on DB.com Boards!)
It's a welcome sight for Mavs fans, who have been critical of Parsons from the start of his tenure in Dallas. Many have accused Mavs' brass of overpaying the young star instead of (somehow) adding additional ammo to the Dallas lineup. 
While some criticism of Parsons play pre-January 18th may be warranted, the truth of the matter is, Chandler Parsons was as frustrated as anybody during the first half of the season. It is that frustration that has pushed CP to work harder, and that hard work is finally started to pay off. 
Parsons's new-found success is coming at the best possible time for the Mavs, who have been struggling mightily to put together a consistent offensive attack since late January, with Parsons being the notable exception. 
However, it's not just on the offensive end that Parsons is making strides, but it's his defensive play that is making impact, too. This week against the Philadelphia 76ers, Jahlil Okafor was feasting on the Mavs, scoring 18 points in just the first quarter, and dominating the Mavs' interior defense. At that point, Rick Carlisle made a switch, and put Parsons on Okafor, with Parsons going on to hold Okafor to just 13 points for the rest of the contest. The switch changed the trajectory of the game for the Mavs, helping them to earn a much-needed win in the process. 
"I love where Parsons is,'' said coach Rick Carlisle. "Who would have thought Parsons and Matthews (with the Achilles rehab) would be this far along at this point in the season? Nobody. Those guys have been busting their asses.''
Needless to say, the Mavs need to make some adjustments in the midst of a crucial six-game home stand, their longest of the season. And the Mavs know they need to make it count. 
"We have to turn it up.  We have to work.  We can control our own destiny," said Wes Matthews, "It's tight on the bottom and that's not anywhere where we want to be.  We let a couple of games get away from from us and we have to correct that moving forward." 
With CP playing at this level, the Mavs have a fighting chance. He's a player that has the ability to make everyone around him better, as well as the talent to be the main man in Rick Carlisle's offense. (Even as Rick guarantees nothing regarding his closers beyond Dirk and D-Will.) Maybe he is overpaid, maybe he's not ... and DB.com has the scoop here on the $21.1-million Parsons decision to come ... but the fact remains that, alongside Dirk Nowitzki, he is one of the two most important players on the Mavs roster right now, and they are going to go as far as he can carry them. 
THE OKC CHALLENGE
The Mavericks are 30-27 and then can argue an "almost'' from a 117-114 loss at OKC in November. And on Jan. 13, they can argue that they endured a "scheduled loss'' on the second night of a b-2-b. But then the Thunder - now 40-16 - managed a 109-106 win over Dallas about a week later ... and the writing seems on the wall.
https://twitter.com/dallasmavs/status/702207531842740225
"Too many lulls,'' Wesley Matthews says in trying to pinpoint the 0-3 problems.  "I think we can beat this team. ... But we just have to put together a 48-minute game."
Maybe Dallas comes with some feisty JJB against Westy (as you see above, though Matthews seems like the guy who was hired for such a job). Meanwhile, OKC will throw a changeup tonight as Andre Roberson will start at shooting guard.
"It has less to do with Dion (Waiters being benched) and more to do with Dre," says Thunder coach Billy Donovan.
HAUNTED SKERVIN
Kyrie Irving of the Cavs says his flu-like symptoms during their trip to OKC were caused by "bedbugs'' at the OKC hotel that visiting teams stay at. He even showed at bite on his face as medical evidence.
https://twitter.com/royceyoung/status/702561486212767744
"I don't know where that stuff's coming from,'' KD says.
He means the "bedbug'' thing. Not the "haunted'' thing. Because where that comes from is "ghosts.''
THE DAVID LEE Q-AND-A
We suggested here in DB.com Premium Boards that while David Lee is thought of primarily as a 4 and therefore as Dirk's backup, Dallas' issues at the 5 might cause him to play some center, too.
Consider: Behind the workhorse Zaza, Salah Mejri's minutes have been inconsistent, Dwight Powell also is at the back of the rotation (and isn't exactly a center) and JaVale McGee has suddenly faded from the floor altogether?
So how about David Lee (who equipment boss Al Whitley tells me will be wearing No. 42) giving Dallas help right away? And advancing in the postseason? a few minutes at center, where he can hold his own as a rebounder and theoretically cause matchup problems as a shooter for the opposition?
Lee on Minutes
"As far as minutes and stuff, we'll let Coach figure that out. More than anything, they've been emphasizing rebounding the basketball and being ready in coming off the bench and playing with energy. We'll figure the rest out aa we go along.''
On the Mavs System
"It's learning the system on the fly. This is not a simple system to learn. So the biggest thing is just the first couple of weeks making sure I get my extra work in learning the plays with Coach and the young guys, and more than anything else just focusing on keeping it simple while I'm out there.''
On Conditioning
"The other part of it is I haven't played in a game in over a month, so it's going to be getting that conditioning back and getting that rhythm back. But I'm confident I'll go out there and be able to help us tomorrow night just by playing hard and doing what I know how to do.''
On Changing Teams
"The real challenges are getting all my stuff moved and getting everything there taking care of on a quick basis!''
Why He Wanted Dallas
"Obviously it's a first-class organization. I've been playing against them for years and years now, and it's always the home crowd and the Mark Cuban Effect. And the guys on the team. You can see the chemistry from playing against them. That's something I want to be a part of. I've been in the league long enough ... I've been lucky enough to win a championship, and from this point forward, I'm not looking to play with a team that doesn't have good chemistry, if I have a choice, that's very important to me.''
On the Mavs Contending
"I think we're in a great spot to make a run here. Hopefully I can be somebody who helps out with that.''
TODAY'S MAVS MENU
TODAY ONLY on DallasBasketball.com as we give you eight months of Mavs Premium for just $5.95 (click here!) so you can get ...
*12:01am: Mavs Donuts: Tons of Mavs News And Views and Videos in One Click!
*6:00am: What Do The Spurs Coaches REALLY Think of 'Mavs Culture'?
*9:00am: Talking With Wesley Matthews About Being Healthy For OKC - With Help from Kobe and 'Nique
*12:30pm: Mavs Shootaround Notebook from the AAC Featuring Chandler Parsons
4:30pm: Exclusive: The Cap And Keeping Zaza
*5pm: Mavs-OKC GameThread Fired Up on DB.com Boards!
*705pm: Mavs Pregame Notebook from Carlisle, Cuban and the Locker Room
*10pm: Rapid Fire: Takes on the Results of Mavs-OKC.
*11:30pm: Fish Premium Column from Mavs-OKC.
That's one day. You get eight months. That adds up to costing you one-billionth of a penny a day, or something like that! (Actually, I guess is 70 cents a month. Crazy!) Please take advantage, support the site and the Mavs and the deepest coverage available - plus get all the other Premium sites on the Scout Network — and c'mon in!
Let's do this. Your All-Access Pass to practices, your exclusive interviews with players, staffers and coaches, your understanding that DB.com's "75-Member Staff'' is on this 24/7, as we have been for 17 years ... and oh, along with Premium Mavs, that same price gets you Premium access to all your other favorite teams via the Scout Network. You like the Mavs and the Cowboys? You get in free at CowboysHQ.com. You're a Longhorns guy? Chip Brown is the best in the country on your beat. We've got the same with Texas A&M and Alabama and Texas Tech and Oklahoma and, well, you name it. Same thing across the entire NFL and Major League Baseball, too.
(The 8-for-1 is for at-this-time-non-subscribers only. Previous subscribers can get re-involved. Existing subscribers can upgrade to the annual during the same time period and get 3 months free. That's for our flash sale day only, as you as an existing subscriber can call into the call center and re-up your annual early and get 3 free months!)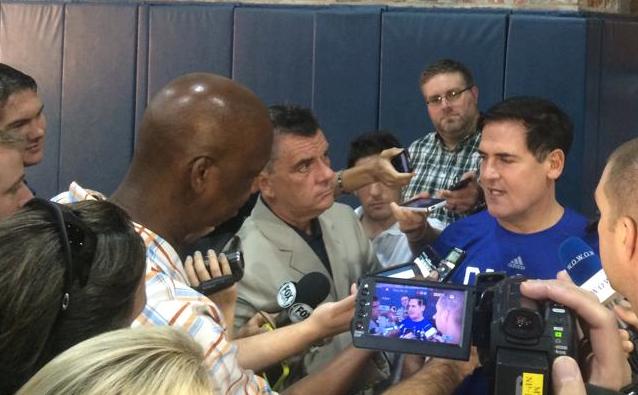 When you as a subscriber sign up: Just choose the monthly option, and when you are billed for the first month, I'll comp the following months! In total ... You get the Mavs for about five bucks ... and then you get all the rest of it, too, free, for eight months. And all you do to get started for the best coverage of the Mavs on the planet is click here!
THE FINAL WORD
"He's very smart, he's very experienced, and he's changed teams before. We have a bit of an abbreviated menu of things that we've given him. But as our season has gone along, we've scrapped some of the things that we're doing that we've tried to simplify anyway, so this is all coming at a good time for us." - Mavs coach Rick Carlisle on Lee.