DONUT 1: Cavs 99, Mavs 98
1. Wednesday night, the Mavs were afforded an opportunity that most teams in the NBA opposing Cleveland have not been given this season: No LeBron.
With a resting LeBron James out for the Cavaliers for just the third time this season, the playing field was suddenly evened for Dallas, which has struggled against teams above .500 this year. Unfortunately, the Mavs struggles against the NBA's elite continued, even without arguably the world's best player on the floor for the opposition, and the Mavs lost their sixth game in their last seven tries, 99-98.
DONUT 2: Quarterly
The first quarter was an offensive track meet, with Cleveland holding a 31-28 lead at then end of the frame. Kyrie Irving led the Cavs in scoring with 11 points, while the Mavs were led by David Lee and J.J Barea, who scored nine and eight points respectively.
The second quarter was nearly a disaster for the Mavs, who let Cleveland get off to an early 19-2 run to start. The Mavs battled back from a 20-point hole, however, thanks to a combined 30-point effort from Lee and Nowitzki, and trailed just 57-51 heading into the locker room. 
"The first quarter was just tough overall,'' Dirk said, "but I loved how we competed back in the second quarter."
The disaster that almost was in the second quarter reared its ugly head in the third, with Cleveland taking an 84-68 lead into the final frame. The Combo of Kyrie Irving and Kevin Love just seemed to be too much for the Mavs to handle through the first 36 minutes. 
And in the fourth?
Justin Anderson and Zaza Pachulia played integral roles in the Mavs comeback bid in the fourth quarter. They provided energy and tough nose play on both ends, helping the Mavs stay in it until the end.  J.J. Barea was also a huge part of the Mavs push in the final quarter, scoring nine points and dishing out three assists in the quarter. J.J. has played big in big-time situations in the past, and he was able to do that again here. 
But an ugly turnover for the Mavs would ultimately doom their chances at a comeback bid in the fourth, when Devin Harris threw an errant pass to Dirk with 2.3 seconds to go in the game.
https://twitter.com/WFNYScott/status/710276004162445314
Dallas might like to argue that there was a foul somewhere in that mixmaster. But this team is now losing games even by not being able to complete late-game inbounds and entry passes. That needs to be fixed just as badly as ref Danny Crawford's historic biases. Though those are worth a mention here ...
https://twitter.com/fishsports/status/710284852893868032
To their credit, the Mavs made a serious push, outscoring Cleveland 30-15 in the quarter, but would ultimately fall to the Cavs, 99-98. 
"We didn't end the game the way we wanted to, but I'm proud of the way the guys fought back," Harris said. "We've just got to execute a little bit better."
DONUT 3: Simple Shooting
When David Lee is your leading scorer through out the majority of a game, things are not going to go well. The Mavs continue to struggle from beyond the arc (just 31.8 percent for the night), and shot 46.8 percent from the field for the game. 
This is supposed to be a strength. But it comes and goes ... as shooting often does.
DONUT 4: Simple Rebounding
This was not supposed to be a strength for Dallas. And indeed, the Cavs dominated the boards from the early going, winning the overall battle on the glass 48-32. Despite the addition of David Lee, Dallas is still an average rebounding club at best, and with the waiver period over, there isn't much help waiting in the wings for the Mavs.
Perhaps Zaza deserves his minutes back? Perhaps other options need to be explored. Either way, rebounding is a big issue in Big D. 
DONUT 5: And Speaking of Lineup Changes
In the recent win over Charlotte, Rick Carlisle elevated Raymond Felton into the starting lineup. A "shake-up,'' he called it. In Premium Mavs, our Jonny Auping proposes more shake-ups ... but not involving the roster's old-timers.
"When I say that it's time to go with the young guys,'' Auping writes, "I don't mean that it's time to give up on the season. Justin Anderson ... shouldn't be getting minutes for the sake of their development; they should be getting minutes because they might help the Mavericks win games.''
"Time For A Major Lineup Change.'' Get it here.
DONUT 6: Robbed Of A Showcase
Unfortunately, NBA fans didn't get their Dirk vs LeBron matchup, that is always one of the NBA's best shows. Now, we will have to wait until next season for the next chapter in this rivalry, when hopefully the Mavs will have a more competitive lineup to field against The King and company. 
However, even when LeBron takes a night off, the cupboard is far from bare in 'America's Comeback City.' We all know about LeBron, but putting him aside, Cleveland has an extremely versatile and exciting lineup, especially on the offensive end. They can shoot, attack, rebound and have elite defenders on the perimeter.  
Kyrie Irving for example, has turned into one of the NBA's elite guards. Outside of that Curry guy over in the Bay Area, it could be argued that Irving is the most exciting guard in the league to watch on a nightly basis. On the season, Irving is averaging 19.6 points and 4.6 assists per game on 46-percent shooting. He's only played in 40 of Cleveland's 66 games so far this season, but has performed well when healthy.
And then there is forward Kevin Love, who did exactly what he was brought into Cleveland to do in this game. He rebounded at a high level, and was efficient on the offensive end as well. He was able to play his more traditional role without LeBron in the lineup in this one.
DONUT 7: Fast or Slow
Once again the Mavs were outgunned on fast-break points, and it is quickly becoming a trend in their losses. The Mavs want to be an offense that gets out and runs at times, but they just can't keep up with teams as athletically gifted as the Cavs are in that area. (As Auping suggests in the link in Donut 5, maybe more Anderson, Evans and Powell could change that element.)
We might also argue that if SmallBall is "the way,'' your team must be able to run. (Mavs fans do not love SmallBall, as you see here on DB.com Boards.) 
So the Mavs couldn't run ... meaning they relied on the halfcourt game. An, but Dallas just isn't going to win very many games when Wes Matthews, CP and Deron Williams combine for 15 points. The Mavs rely on CP in particular to compliment Dirk on the offensive end, and when he's not on, the Mavs usually find themselves in big trouble. 
"Any time you get down that far against any team, it's tough to scrap and fight your way back in," Parsons said. "I thought we did a great job of doing that and not completely giving in and getting blown out. With what we're playing for, that would have been a shame. Especially with LeBron out, that would have been a good opportunity to steal one here. But we gave guys opportunities on their end."
DONUT 8: Mavsellaneous
As noted above, the Cavs eviscerated the Mavs on the glass by a mark of 48-32. Also worth noting: That's including a 16-4 mark in the third quarter. ... Irving finished the game with 33 points on 13-of-28 shooting. ... Dirk scored 20 points but played nine minutes in the fourth quarter and scored only two points, on 1-of-4 shooting ... Lee totaled 20, and was good enough early to be in the second-half starting lineup but wasn't a factor in the fourth ... Love's total:  23 points and 18 rebounds. ... The Mavs are 34-34 and sit in eighth place in the Western Conference, 1.5 games in front of Utah, a tiebreaker behind Houston, and a game behind Portland.
DONUT 9: Basketball Madness!
The Maverick Bar -- yeah, Fish's place and I recommend the Texas Burgers! -- is ready for you and your Basketball Madness! An early lunch today, live music on the weekends, 30 HDTVs to help you see it all ... and St. Patrick's Day to boot!
https://twitter.com/TheMAVERICKBar/status/710258606701056000
Swing in to The Mav today!
DONUT 10: Down On The Farm
An interesting story brewing for the D-League Texas Legends as 11-year NBA vet Josh Childress has joined the Mavs' "little-brother'' affiliate. Check that out here ...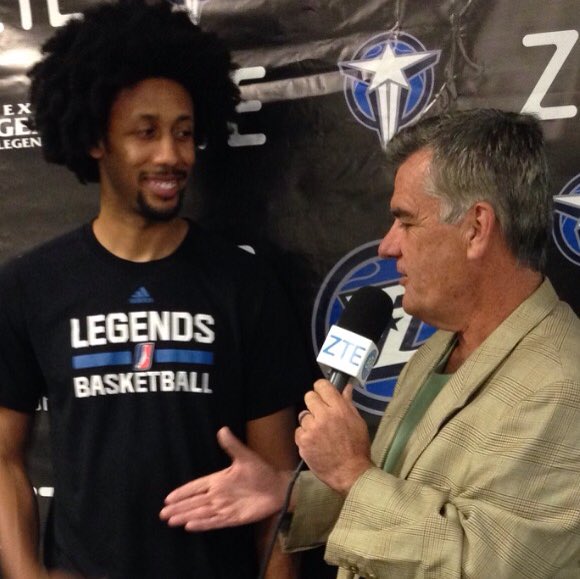 ... and check out Fish's telecasts of the Legends home games, too!
DONUT 11: What's Next?
The Mavs are off today, no practice. And then they welcome the defending-champion Golden State Warriors to the American Airlines Center on Friday night at 7:30. The Mavs were the victims of yet another one of Klay Thompson's offensive explosions in their last matchup, with the Warriors cruising to a 127-107 win at Oracle Arena. And the Warriors are ... well, the Warriors.
Coop notes that the Mavs have lost their last four at home and that they've never had a five-game losing streak since the AAC opened in 2001. ... and again ... the Warriors are the Warriors.
DONUT 12: The Final Word
"I'm proud of how we hung in there and got that close. The play involving Harris and Dirk was unlucky." - Carlisle.
null