Wednesday's game in Portland against the Blazers is the Mavericks' most important game of the season. 
We can't quite label that as fact, but calling it a "theory'' would be downplaying how clear all of this is: It's possible that only one team will have any relevancy a month from now. The other one might be the loser of tonight's game. 
The Situation: 
Portland: 36-35 (Sixth Seed)
Dallas: 35-35 (Seventh Seed)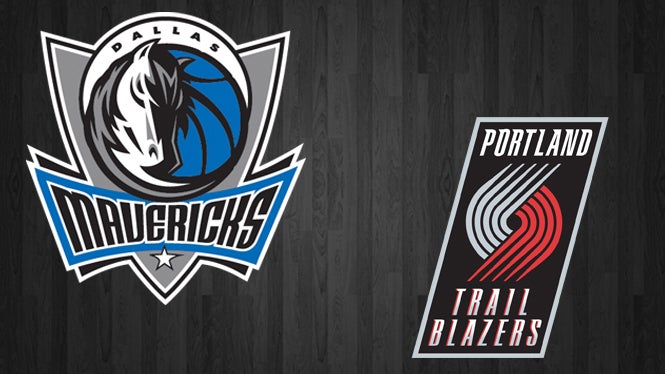 -As things stand now, both teams are in the playoff picture with Houston (losers to OKC on Tuesday so now in eighth) bunched up in the pack. But Utah still lurks behind Dallas for the final playoff spot, and have the young legs to finish strong. So much as a three-game losing streak from any of Dallas, Houston, or Portland may well be enough to get their postseason spot taken from them by Utah.
-On the other hand, there's a big difference between a sixth seed (which Portland is currently holding onto) and a seventh or eighth seed. Facing Russell Westbrook and Kevin Durant is hardly a reward, but it is ultimately a better prospect than trying to go up against the historically dominant Warriors or Spurs. For as good as the Thunder are, they'll go into the playoffs with question marks. Their bench is unpredictable, their defense is weak, their coach is inexperienced, and Westbrook and Durant have occasionally (though not often) taken each other out of rhythm with their own shot selection. 
-Portland might well go 5-5 after their matchup with the Mavericks. Looking at their schedule, they'll likely be favored to win five and be considered an underdog in the other five. Maybe they'll go 6-4 or 4-6. Any other scenario is obviously possible, but expect them to win about half of their remaining games. 
-Dallas might well go 6-5 after their matchup with the Blazers. Penciling in a Mavericks' win or loss is a fool's game. They blow games they should win and win games they shouldn't. But if we assume they can beat the Nuggets, Kings, Knicks, and Timber Wolves, then they may have the fortune of finishing the season against a Spurs team that rests a few key starters. That would require them to win one tough game against perhaps the Pistons or Grizzlies in order to finish 6-5. (We've got the West Week in Preview here.)
-In other words, Portland and Dallas are likely to finish with an extremely similar record. Their matchup Wednesday could certainly make up the difference. 
The Game:
-The Mavericks beat the Blazers 132-120 behind in overtime behind 40 points from Dirk Nowitzki (more on that later). Deron Williams scored 31 points and dished out 16 assists.  It was probably the best game of the season for Nowitzki and Williams who stepped up in a crucial home game. The reality, though, is that neither of them are likely to repeat these performances. Dame Lillard, on the other hand, put up 26 points and eight assists, and could definitely do it again. In fact, he missed a couple open looks that he regularly knocks down. 
-Chandler Parsons is now done for the season with an impending knee surgery ... unless he's not. (We'll keep you posted on that with @FishSports and @JonnyAuping on Twitter ... and check out the Mavs-Blazers GameThread on DB.com Boards, too, as the 9 p.m. Dallas-time tip approaches.)
-Portland is the type of team that could kill Dallas, and actually they did just that Sunday on the offensive end. They have terrific three-point shooters and bouncy offensive rebounders that can expose a lineup that puts either Nowitzki or Salah Mejri at the center position. The Blazers made 18 three-pointers on Sunday and grabbed 22 offensive rebounds compared to just eight by Dallas. 
-Look for Justin Anderson to make an impact. Anderson played just under six minutes in Sunday's game, but he has earned his spot in the rotation. Dallas made up for Portland's athleticism with stellar shot-making and play-making by Williams and Nowitzki, but if you can't depend on that you need the athletic hustle. Rookies need to bring energy to see the floor if they're on Rick Carlisle's team, and the energy that a guy like Anderson can bring goes a long way. He's big, strong, fast, and grows in confidence depending on the game's momentum. You can't rely solely on execution. The rookie is much harder to game plan for than much of the Mavericks' rotation if he's making an impact. (We're proud to say Mavs Premium called for more of the kid and happy to see the Mavs reap some rewards here.)
What's the Point?
Dirk Nowitzki's historic 40-point performance on Sunday was a reminder of what this season is about. It's about him, as it quite frankly, always has been. It's one thing to see the 37-year old Nowitzki waste efficient and unfathomably deadly performances in losses to apathetic lottery teams. But if Dirk can still do what Dirk just did, then the Mavericks owe it to him to give him relevant moments to keep trying. (See Fish's column here on Nowitzki's "All-Timer/Old-Timer'' performance.)
Even if the Mavericks' playoff berth is ultimately just a footnote to the Warriors path to history, it's still worth pursuing because Nowitzki deserves to be included in as many footnotes as the NBA will allow him. 
As coach Rick Carlisle said, "We've all got to enjoy whatever time we have left to watch him, whatever number of years it is, because it'll go by quickly. You won't see another one like this – ever."
Perhaps it might be one final showdown between Nowitzki and Duncan, and who could complain about the perfect symmetry of that? 
Maybe the Mavericks would have no chance against the Thunder. But a team with Dirk can win possessions, for certain, and the simplest way to explain basketball is that winning enough possessions is how you win games. 
All of this might be short-lived. It might be frustratingly hopeless. But it's better than the alternative, because either the Mavericks, Rockets, Blazers, or Jazz are going to miss the playoffs entirely. It will just end. 
As nihilistic as being a non-contender might feel at times, we watch the games because we get to see the best players in the world compete. Dirk Nowitzki is still one of those players, and in the very near future he will be watching the playoffs as a former NBA player. The Blazers, Rockets, and Jazz want it just as bad as Dallas, but the Mavericks can add another chapter to a book that we're going to really miss when we reach the last page.