DONUT 1: Standings Upset
Houston did what Dallas could not do. And the two West second-tier contenders' relative nights in Cleveland are now the difference in the standings.
As the Mavs watched (or went to a Ludacris concert, either way), the Rockets tipped off in Cleveland on a night when LeBron opted to sit.
The Rockets somehow recorded a 106-100 win for their largest comeback (they were down 20) of the year. Oh, and this is their 12th double-digit comeback of the season.
Beat the Cavs in Cleveland in the final weeks of the season while The King observes? Yeah, Dallas tried that on March 16. Didn't work out well.
In fairness, Dallas came back in that game, in a big way, and was victimized by a game-costing call involving a non-whistle on Dirk. (The NBA later issued its "apology.'')
But ... no whining.
So the Rockets are a half-game up on 36-38 Dallas in the Race for Eighth.
By the way: This is also a "No-Whining Allowed'' Zone when it comes to what the other clubs do with playing time, rest, trying and tanking. Sacramento used Rondo to beat Dallas and now sits Rondo to improve their ping-pong balls? Dallas sits Dirk at Golden State so he can rest for an upcoming back-to-back? LeBron rests himself in Cleveland whenever he damn pleases?
That's each club's right. No-Whining Allowed.
DONUT 2: The Kids Are Alright
On Sunday in Denver, Mavs coach Rick Carlisle -- shorthanded due to the injury absence of Parsons and D-Will -- opted to not only move Dwight Powell and Justin Anderson into the rotation ... he vaulted both of them all the way into the starting lineup. And they were each pivotal down the stretch in a must-get win.
See our game-story coverage of that important Mavs event in Denver by clicking here. ... while we ponder whether this is permanent, whether this truly helps Dallas' chances, and whether its the sort of "catnip of hope'' (to paraphrase our friend Ben Rogers) that the fan base (and maybe some of the veteran Mavs themselves) need in order to remain plugged in here.
DONUT 3: 'No Question'?
So the kids will be alright, right? And part of the final eight games?
Carlisle is infamously guarded when it comes to giving lineup tip-offs. And I still say that no matter what the coach says on the record, nothing is etched in stone. (I mean, wasn't Salah Mejri going to get himself locked into the rotation or even the starting lineup a week ago, only to get a DNP in Denver?) But we'll take Rick at face value here ... I think ... when he says:
"Well, if you're having an energy problem and you're having a problem defending, then you need to get more energetic and better defenders in the game. You've got to make the point, and I felt right now we've got to make the point that anything other than your best effort and your best energy is unacceptable. These two guys are going to go hard unconditionally, and they delivered. … You're going to see some of these guys going forward. There's no question about it."
DONUT 4: Dirk's Scouting Report
Dirk Nowitzki lockers next to Anderson and clearly likes the kid -- as does pretty much everyone in the organization. Here's Dirk's playful-but-factual scouting report on the kid: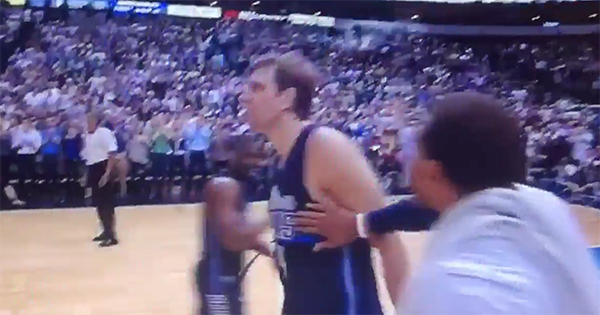 "I think you can see that the game has slowed down for him a little bit. He doesn't move at 200 miles-an-hour; it's only 150 now. He still plays hard, but he makes good decisions now. I like how he's aggressive and looking for his shots, and defensively he's just a beast. He's strong, he's quick and he's quick up for rebounds. And he's definitely improved already in a couple of months."
DONUT 5: Lakers Leadership
The Lakers are secretly taping one another's private thoughts trying to get teammates in sex-scandal/girlfriend trouble and yes, Kobe Bryant's form of leadership" seems to be taking hold.
DONUT 6: Bad-Weather Note
The AAC doors will open early tonight (5:30) due to potential weather conditions. Getbuckle in out of the rain, get a seat and buckle up for a visit from the Knicks, who have lost 13 of 15 visits to Dallas since 2000. Of course, this season especially, we've learned not to count on historic trends like that, agree?
DONUT 7: Previewing The Knicks
 The Knicks are 30-45 and are riding the offensive tandem of Carmelo Anthony and Kristaps Porzingis. In his last four games, 'Melo is averaging 25 points. During that same span, Porzingis is at 21 points per. over that span. The sort of D Dallas played in Sacto on Sunday (a crushing loss in which the Kings shot 62 percent) won't do; work similar to what Dallas did in Denver -- forcing 21 turnovers that freed Anderson and Powell and company to run the floor -- should.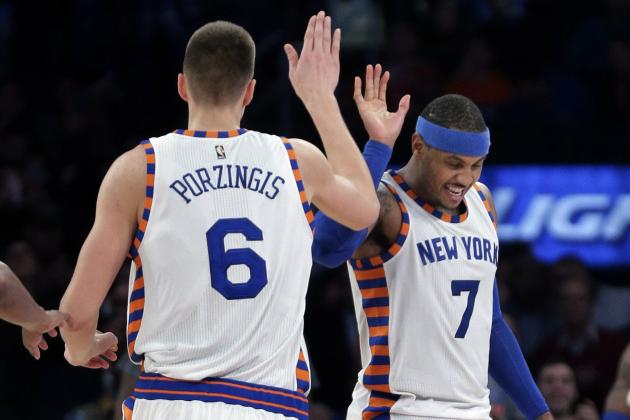 In the previous meeting, back on Dec. 7 in New York, Dallas won 104-97 as the rookie Porzingis had 28 points in a breakout game while 'Melo was held to 6-of-18 shooting. Of course, the makeup of the teams change from that time. For Dallas? In addition to no Parsons (out for the season after knee surgery), Deron Williams -- who had 20 points and seven assists for Dallas in that first meeting -- is expected to miss a fourth straight game with an abdominal strain.
DONUT 8: Stat O' The Day
A magic defensive number for Dallas: When the Knicks are held below 42-percent shooting, their record is 2-27. So tonight ... do that.
DONUT 9: The GameThread
Follow along with tonight's action via our guys on Twitter (I'm at @FishSports, and also check in with @PostinsPostcard, @JonnyAuping and @MattGalatzan) and also here on DB.com Boards with the Mavs-Knicks GameThread.
DONUT 10: Down on The Farm
Tonight in Frisco, RJ Choppy and I have the telecast on Channel 47 as the Texas Legends -- the Mavs' D-League little brother -- play host to the Los Angeles D-Fenders. Josh Childress is part of the Legends roster as their season winds down. If you're in the neighborhood, come see us by getting your tickets here!
DONUT 11: Mavs New Home
Mavs owner Mark Cuban is involving Texas A&M grad students as the franchise works to design and build its new state-of-the-art facility.
The full story from A&M is here. And as you visualize it, keep in mind what I was told would be important about the facility: Not that it would be an "entertainment destination'' as much as an "advanced biotech research destination.''
DONUT 12: The Final Word
Dirk is coming off an uncharacteristically bad night in Denver (where he shot 4-of-17) but usually feasts against the Knicks. Nowitzki's 24.2-point average against them is the second-highest of his career against any team, with his 26 vs. Boston ranking No. 1. Hopefully for Dallas and Dirk, the Knicks roll in at just the right time.