1. With a trip-salvaging road win in their pocket, the Mavs returned home to face Carmelo Anthony and the New York Knicks with their sights set on a second straight win. Battling for the eighth spot in the Western Conference playoffs, the Mavs could ill-afford to get off on the wrong foot against a sometimes-scrappy Knicks team that has 'Melo, for the last couple of weeks, playing at the top of his game.
In the end, Wednesday at the AAC would be the stuff that dreams are made of. (That's Bogart in "The Maltese Falcon.'' You young punks go look it up.)
We mean, before we even get to the actual game, we've got owner Mark Cuban talking about Chandler Parsons' season-ending knee surgery not being season-ending.
"If we make a run and get to the second round,'' Tony Cubes said, "there's a chance."
Wait ... what? A chance at what? "Making a run''? "Getting to the second round''? "Chandsome's Chance''?
And, while we're at it ... let's replace the AAC in 14 years or so by breaking ground on a new facility, oh, say, seven years from now. And Mark Cuban, what should it look like?
Cuban says his dream is to construct an arena 20 stories high, so Mavs fans can glance around the structure while at the game and have grand views of Dallas.
This is all lovely and dreamy but, hey, can we beat the Knicks first?
Yes. Yes, we can. Fortunately, the Mavs were able to find a way to come out with a victory when the desperately needed it, edging the Knicks 91-89 at the not-20-stories-high American Airlines Center.
2. Justin Anderson, who was coming off of his best game of the season in Denver, made yet another start on Wednesday night. His quick development since the injury to Chandler Parsons has been extremely encouraging for the Mavs fans and the front office to watch. Anderson was able to make a slew of big plays late in the game when it really counted, and it was instrumental in the Mavs late-game success. (That's right; the rookie didn't just start -- he was allowed by coach Rick Carlisle to be part of a wild and winning finish.)
An injection of youth and energy is exactly what this lineup needed, and will continue to utilize moving forward in their playoff hunt.
3. That bad start that the Mavs seemingly couldn't afford hit them right in the face in the first quarter. After the first 12 minutes of action, the Mavs trailed the Knicks 30-24 thanks to a combined 14 points from Melo and Derrick Williams. The Mavs were led by the Big German who had six points of his own. ... but this all seemed so ... ominous.
4. Whenever the injury bug hits Mavs starting point guard Deron Williams, J.J. Barea has had a knack for stepping up when the Mavs need him most. After a solid game against the Nuggets on Monday in which Barea led the team in scoring, JJB -- called upon due to D-Will's abdominal strain -- once again sparked the Mavs on offense, finishing with 26 points and seven dimes.
https://twitter.com/dallasmavs/status/715358835679092737
"I'm tired,'' JJB said, "but I'm happy with my team and proud that we got this win."
5. It's an obvious statement that the Mavs miss Chandler and Deron on both ends of the floor each and every night, but since they were lost to injury, some of the Mavs have at least tried to perform admirably in their absence. A lot of credit can go to the young pair of Anderson and Dwight Powell (who also started a second straight game), but the leadership from the veterans has been equally strong over in the last two outings.
https://twitter.com/dallasmavs/status/715346651762679808
We wish we could say that "strength'' extended back three games, but the stench of the loss at Sacto remains.
6. The second quarter meant a much better showing from the Mavs on both ends of the floor, as they took a 51-48 lead into the locker room after Dirk nailed a three as time expired in the frame. The Mavs locked down defensively, holding the Knicks to just 18 points, while scoring 27 of their own. Barea took over the quarter, scoring 12 points on five-of-seven shooting, and was the only Maverick to score more than one field goal in the period.
7. Despite what their record indicates, we say the Knicks are a dangerous bunch to take on when they decide to play. They are a very skilled offensive bunch led by Carmelo Anthony and Latvian wunderkind Kristaps Porzingis. Though Porzingis was unavailable to the Knicks in this one, they still possess a good deal of offensive weapons. They are also improved on defense, with Robin Lopez protecting the rim on that end of the floor.
8. Anthony is still the straw that stirs the Knicks drink on offense, and don't let anybody tell you otherwise. Porzingis is most definitely the future of the franchise, but Melo still packs a powerful punch on the offensive end, and has averaged around 25 points per game over the last five contests. When Melo is on, he's a very tough matchup for any defender, and right now he's on in a big way.
9. It's really unfortunate to see the decline of Zaza Pachulia down the final stretch of this season. He was instrumental in the Mavs success before the All-Star Break, but now, he's little more than a role player off the bench in this rotation. Once upon a time, it seemed clear that he'd be able to use this one-season Mavs effort as a springboard to a contract maybe double the $5 mil he makes now. But upon further review? Not so clear.
10. Take Melo out of this game and the Knicks would have been in real trouble, but that is what makes him an All-Star. For years Melo (31 points on 11-of-22 shooting here) carried a mediocre Nuggets team to playoff appearances, and though the Knicks are nowhere near playoff-bound right now, you have to at least respect the way that he continues to produce at a high level as a scorer, especially lately.
11. The third quarter was a disaster for Dallas, as they were outscored 26-16 in the period. Dallas shot just 17.4 percent from the field in the quarter, while the Knicks shot around 40 percent. It was a seemingly devastating quarter for the Mavs, as they even fell behind by double digits at one point. They were able to salvage things bit at the end of the period, but stilled trailed the Knicks 74-67 heading into the final 12 minutes.
12. The Mavs have to find a way to get more opportunities at the free-throw line moving forward. They haven't been nearly as aggressive in getting to the basket as they should be in the last couple of games, and it shows on the scoreboard. This team is very good from the line, and we say they have to find a way to take advantage of that strength if they are going to make a playoff push.
13. Surprisingly, after a game in which they were extremely efficient in taking care of the basketball against Denver, the Mavs followed up by turning the ball over 15 times. While they forced the Knicks into 20 turnovers of their own, it was still disappointing to see that regression from Dallas.
14. Wes Matthews is the ultimate example of a basketball warrior. He has overcome so much over the last 12 months, and it's great to see him have success. His play in the fourth quarter on both ends helped vault the Mavs to victory late, most notably his ferocious defense on Carmelo Anthony in the final 30 seconds of regulation. Matthews finished the game with 16 points on 44-percent shooting.
https://twitter.com/dallasmavs/status/715368072723365894
He's not as healthy as you hope him to be, maybe, and that max contract resonates as a negative to some. But last year's Mavs lacked "basketball soul.'' No one can ever say that about Wes.
15. Ultimately, the Mavs were able to hold off the Knicks and earn an absolutely huge game at home by a score of 91-89. The Mavs needed this one big time, and J.J., Wes, and Justin Anderson were able to find a way to make that happen.
"We have to keep moving forward,'' Carlisle said. "We have a group of guys that are committed and going at it hard and that's what we have to keep doing."
The Dirkie/Player of the game:. We say it's J.J. Barea. The Mavs guard stepped up in the absence of D-Will yet again, scoring 26 points, handing out seven assists and pulling down five boards. But this is a democracy, so head over to the DB.com Boards and give us your choice for the Dirkie! Oh, and you can discuss the game there and with Fish on Twitter at @FishSports and with @MattGalatzan, too!
Stat(s) of the night: Turnovers. The Mavs had their fair share of turnovers (15), but were able to force New York into 20 giveaways on the other end.
The Knicks shot just 17.6 percent from beyond the arc, thanks in large part to stellar defense by the Mavs, especially late in the game.
This game was over when... Langston Galloway missed a three in the final seconds of regulation. This one was a fight all the way to the end, and the Mavs were fortunate to be on the winning side of it.
Should have seen coming... Carmelo Anthony. The dude gets clowned on a lot, and DB.com has had fun piling on over the year, but Melo been an elite scorer in this league for over a decade now ... so it should be no surprise that he showed those talents here yet again.
Still, Dallas has now won five straight and 24 of the last 29 against the Knicks, however they're constructed.
Couldn't see coming... J.J. Barea. Yet again, JJB stepped up at the right time, scoring 26 points and dishing out seven dimes in the process.  That was really helpful given that Dirk struggled again here as he did in Denver, hitting only 5-of-23 from the floor for 11 points. (Dirk did pass David Robinson for 30th place in all-time NBA rebounding.)
As JJB goes, so go the Mavs? Well, not quite. But when he scores 25+, Dallas is 3-0. And when he hands out seven assists or more, Dallas is 7-2.
Quotable: "I'm probably gonna get a call from Holger tomorrow after going 9 for 45 or whatever." - Dirk, who did hit that above-video buzzer-beater.
More Mavs-Knicks QUOTEBOARD is here.
What's next?: After this short one-game homestand, the Mavs head north to the Motor City to take on Andre Drummond and the Detroit Pistons at 6:30 p.m. on Friday  from The Palace of Auburn Hills. Dallas does so with a 37-38 record ... the same record that Utah and Houston now have, all three clubs knotted in the No. 7 spot.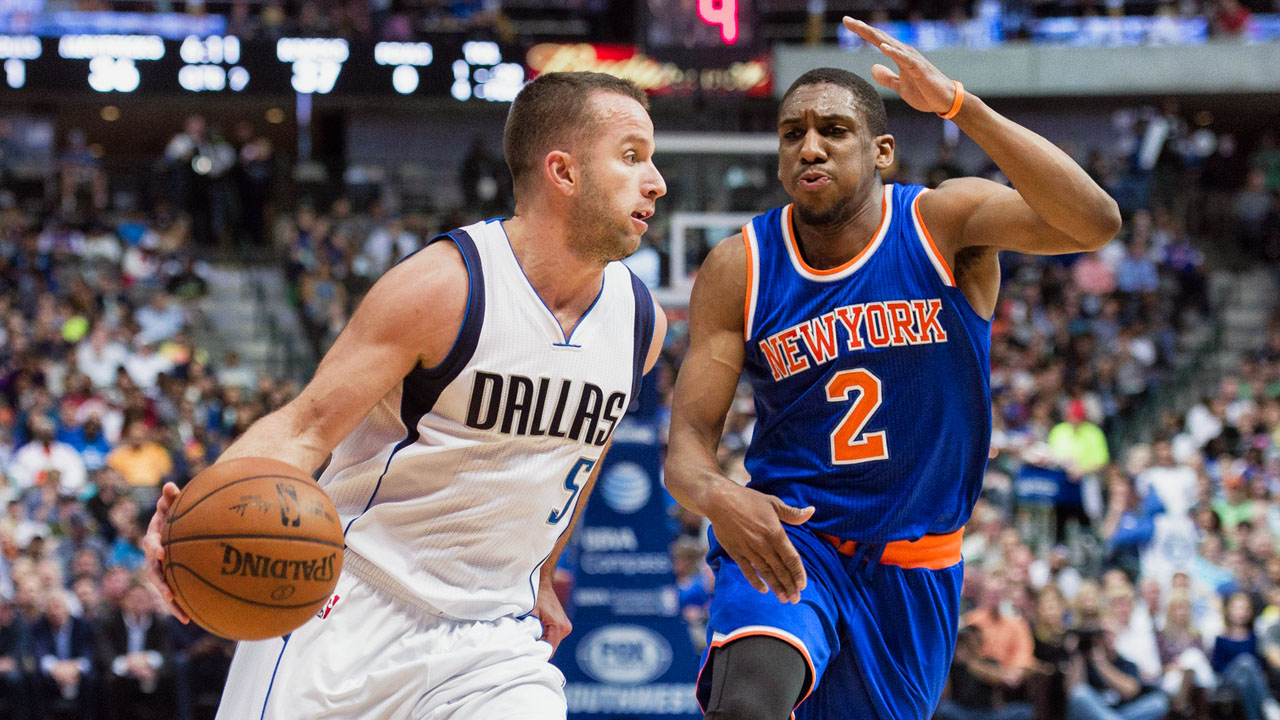 The Final Word: "He's cold-blooded, he's a killer. And he's doing this all at five feet (tall)." - The very bold Justin Anderson on the very short J.J. Barea.