Justin Anderson failed to hit double figures for the first time in four games as the Dallas Mavericks defeated the New York Knicks, 91-89, Wednesday night. (Our in-depth game coverage is here.) But for a young NBA player, the points in the box score don't always define contribution.
J.J. Barea filled the basket up, leading the Mavericks with 26 points. But Anderson played nearly 29 minutes, including key time in the fourth quarter, when rookies who haven't yet proven themselves as consistent performers don't normally see playing time.
But there was Anderson, late in the game, hitting a layup off a cut and a pass from Wesley Matthews to give the Mavs an 88-86 lead with 1:42 remaining in the game, part of his seven points. Add in his nine rebounds, two steals and a blocked shot and Anderson put together his fourth strong outing, even if he didn't hit double figures.
"He's just all-out competing, all-out playing hard," Mavs forward Dirk Nowitzki said. "Obviously, as a rookie, he's making some mistakes. But he's playing hard for us."
Anderson has been part of a two-man youth movement the past few games, as both Anderson and Dwight Powell have received larger chunks of playing time and both have started each of the last two games. Their performances were markedly different from one another on Wednesday, and that's just part of being a young player in the NBA.
Anderson played steady and flourished late. Powell — after scoring a career-high 16 points in Denver on Monday — struggled, played only 17 minutes and scored just two points.
Mavs head coach Rick Carlisle said before Wednesday's game that he wants Anderson to be a solid offensive player and just play within Dallas' system. His recognition in simple sets, in terms of creating plays, has improved. The Mavs had allowed Anderson to toggle between Dallas and the D-League's Texas Legends all season, a move that appears to have accelerated Anderson's learning curve.
But the shots didn't come early on Wednesday. In fact, Anderson said he figures he took just one shot in the first half. That didn't require an attitude adjustment on his part.
"You don't want to let shotmaking determine your level of play or your effort," Anderson said. "There's no need to (shoot). We've got six all-time(rs) on our team. We've got Wesley (Matthews) who's set 3-point records and J.J. (Barea) is just balling right now. We just need me to continue to stick to bringing energy, doing little things, like being on the glass tonight."
https://twitter.com/dallasmavs/status/714645435562999808
The little things aren't little when Anderson does them. They seem to be attached to something vital, even if it's early in the game. There was his steal in the first quarter, where he picked the pocket of a Knicks player, had the ball fly into the air and he grabbed it in midair and saved it before he flew out of bounds. Or his third-quarter block of the Knicks' Derrick Williams, as Anderson flew down the floor and capped Williams' layup from behind to save an easy basket.
Those are the types of plays that Carlisle loves to see from Anderson.
"There were going to be some balls flying around and he (Anderson) is one of the best guys we have at pursuing them," Carlisle said.
Carlisle said the Mavs need Anderson's strength, quickness, toughness and size right now. Anderson's emotion isn't a bad thing either. It spilled over a bit during a fourth-quarter conversation with assistant coach Melvin Hunt while the Mavs were shooting free throws. It was an animated conversation, with Anderson throwing his hands in the air at one point. A few minutes later, when Anderson went to the bench for a short break, he took the time to go back to Hunt and shake hands.
"(Hunt has) been huge for me defensively, teaching me different things, allowing me to use my athleticism but at the same time he's teaching me how to play smarter," Anderson said. "We were just talking about switching something up and putting more pressure on the ball."
The veterans notice what Anderson has brought lately.
"He's been a great rebounder for us," Nowitzki said. "He made a big drive and laid it in there with the lefty. He's just playing hard and giving us a physical presence on the wing."                              
Powell was on the flip side Wednesday night. Powell has developed into a nice future piece for the Mavericks since he arrived as the throw-in player in the Rajon Rondo trade. His playing time has been inconsistent all season, but since he received nearly 24 minutes in the loss to Golden State last Friday, Carlisle seems committed to giving him more playing time. Sure, the injuries to Chandler Parsons and Deron Williams have played a part. But up until the Knicks game, Powell rewarded the commitment with points.
Powell scored 11 points and grabbed six rebounds in the loss to Sacramento, and followed that with the 16 points and seven rebounds in the win over Denver on Monday.
Then came the Knicks. Powell called it a "different team and a different matchup," but early he gave the Mavs a lift with a terrific dunk off an alley-oop pass. Unfortunately that was his only basket of the night, and as the game wore on Powell made more of an imprint on the bench rather than on the floor.
But that's life as a youngster. One night the game seems to flow through you and the next the game seems to flow away from you.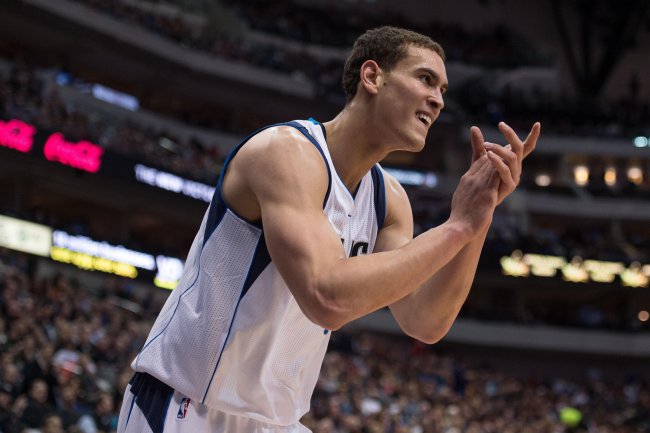 "Poorly, obviously," Powell said about his performance. "I think it was a negative-12 plus/minus. I think I could have done a lot better."
It's hard to say if Wednesday's performance will impact Powell's spot in the starting lineup on Friday in Detroit. Carlisle is not a reactionary coach, but he also knows this Mavs team is in desperation mode. After the win the Mavs were tied with Utah and Houston for the seventh, eighth and ninth places in the Western Conference.
But Carlisle knows this — Powell's impressive work ethic won't change. It hasn't since he arrived in Dallas.
"He's such a hard worker that he's going to continue to get better," Carlisle said. "He's the first guy in the building almost every day. He's an early riser and a stay-after type of guy. He always comes in with boundless enthusiasm to work and help his team. It's a great component to have on the team."
On Friday night the script could flip completely. It could be Powell with the big minutes and Anderson slipping into the background. But both seem to have the right attitude for two players that are clearly a part of the team's future but are needed right now if the Mavs hope to make the playoffs.
"I don't really think about it too much (playing time), I just think about getting in there and playing hard," Anderson said. "I don't put a lot into whether I'm playing a lot or not, whether I'm making shots or not. I just want to play each possession hard. If that's defending, if that's rebounding, if that's diving on the floor — whatever I have to do. We're in a fragile spot right now. Every win counts, each game is like a championship and right now I just have to keep bringing effort."
Thanks for being a Premium Mavs Fan! Want to talk more about the Mavs? Head to the DallasBasketball.com Boards and hit up Postins at @PostinsPostcard or Mike Fisher at @FishSports.