Donut 1: Magic Number Reached
One more. That's all the Mavs needed to clinch a berth in the 2016 Western Conference Playoffs. After an up-and-down season overloaded with injuries, bad luck, and frustration (especially after the All-Star Break and then again just before a wild late win streak), the Mavs somehow managed to battle themselves into good position to guarantee a spot with a win at Utah ... and maybe climb from there. But first, the Mavs would have to win a very tough game in Salt Lake City, against a scrappy young Jazz squad, that has been causing headaches all over the league.
Mavs win. They're in. They come back to Dallas for regular-season Game No. 82 packing a playoff-clinching win, 101-92.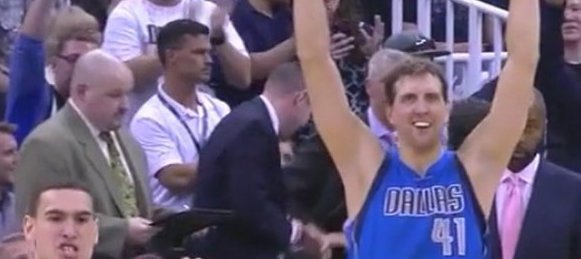 "It didn't look pretty there about two weeks ago," said Dirk Nowitzki, referencing a the Mavs' stretch where they lost 10 of 12 games and briefly fell out of the Western Conference's Top 8. "But the playoffs are always a fun time. Our franchise deserves this."
Matt Galatzan and I break it down with Mavs Donuts ...
Donut 2: D-Will and Wes Return to Where it All Began
Deron Williams was welcomed home to a bevy of boos at the Vivint Smart Home Arena, but it didn't seem to impact his game too much. Instead, D-Will came out and put on a show, scoring 23 points and dishing out six assists in the game. Williams seems to enjoy matchups against his former teams, and this was no different here.
Mavs coach Rick Carlisle -- who orchestrated a pre-game meeting with ailing former Utah coach Jerry Sloan, maybe healing old wounds with Williams -- was not a fan of the booing.
"The booing of Deron Williams is nonsense," Carlisle said. "He was focused, he was determined and he showed what a great player he is. The kind of game he played after being down (hurt) for two weeks was big time."
Added Deron: "I guess they needed a villain. ... I'll be that."
Wes Matthews also began his career in Salt Lake City as an undrafted free agent. Matthews' time under Jerry Sloan in Utah was brief, but he's the kind of guy that gets excited for games like this one, and he came up big for the Mavs here. Matthews scored 20 points on seven-of-14 shooting, seemingly hitting a big shot every time the Mavs needed it down the stretch.
"We knew what kind of game this was going to be, and we counted on our experience to get us over the hump in a hostile environment," Matthews said. "We held the fort together, and we came out with a win."
Donut 3: First-Quarter Review
The first quarter went according to script for the most part, with both teams employing a slow-paced, defensive game plan. The Mavs would lead 22-20 at the end of the period, thanks to 10 points on 3-of-3 shooting from Nowitzki. The Jazz meanwhile, spread things out a bit more, with seven different players scoring in the quarter, including six points from Joe Ingles.
Donut 4: Second-Quarter Review
The second quarter was a bit more on the offensive-minded side, with the Mavs outscoring the Jazz 28-26 in the quarter, and holding a 50-46 lead going into the locker room. D-Will exploded in the second, scoring 16 points on seven of 10 shooting for Dallas, while Gordon Hayward tried to keep pace with 10 points of his own.
Donut 5: Third-Quarter Review
The Jazz would push the Mavs to the brink in the third, with the Mavs surviving a 10-0 Utah run in the final minutes of the quarter. Wes Matthews hit a big-time fade-away three late as the shot clock expired in the quarter to extinguish the Jazz run, and help the Mavs retake control of the game, and showing us some more of that "Basketball Soul'' of his in the process. The Mavs would stretch the lead back out to seven to close things out, holding a 71-64 lead heading into the final 12 minutes.
"We talked about keeping our composure,'' Dirk said. "It's obviously not easy sometimes, but I thought we responded with big shots.''
Donut 6: Final-Round Breakdown
Given Dallas' veteran status -- and Utah's lack thereof -- "composure'' should be an advantage. And if was. Despite being forced to play on the defensive for the majority of the quarter, the Mavs were able to hold on in the end, defeating the Utah Jazz 101-92 and sealing a playoff berth in the process. Justin Anderson would seal the deal for the Mavs with a thunderous Simba dunk in the middle of the lane just under 30 seconds to go in the game. The win gives the Mavs a 15th playoff berth in the last 16 years, a remarkable accomplishment, especially considering the tailspin they were seemingly in just over two weeks ago.
https://twitter.com/dallasmavs/status/719726673378328581
"It's been a lot of work," Carlisle said after his team recorded a seventh win in the last eight games, including this one on a back-to-back after a Sunday loss at the Clippers. "It's been an amazing two weeks for our guys. They were down-and-out, and we all dug in. Everybody dug in, especially the players, and we found a way to get into the playoffs. And tonight was Game 7. That's the way we approached it. We did not want to back our way into this. We wanted to win a hard game in a hard environment, and we played the kind of game you have to play."
Donut 7: A Look at the Competition
The Jazz have turned into a very frustrating bunch to play against this season. They are tenacious defensively, scrappy on the boards, and good enough offensively to compete with any team they're matched up against, especially on their home floor. The Jazz, who were six games below .500 at one point in March, had battled their way back to a 40-40 record coming into last night after winning 11 of their last 16 games.
Utah has built a very impressive young core in recent years between Rudy Gobert, Gordon Hayward and Derrick Favors. Gobert's length and athleticism on defense and Favor's offense and rebounding make this a very formidable tandem in the West. Hayward meanwhile, has been a model of consistency and versatility for Utah, leading them in points (19.7), assists (3.7), and steals (1.2). If Utah had more consistent play in the backcourt, they could be a scary team to deal with in this year's playoffs.
Instead, they will be a scary team some other time. And Dallas will try to be "scary'' as a first-round underdog.
Donut 8: Dirk's Big Night
Is there a guy you'd rather have in your corner than Dirk in a game like this?
Nowitzki thrives in these kinds of situations, and has for years, so it should come as no surprise that he stepped up big yet again for the Mavs. Dirk finished the game with 22 points and 11 rebounds. Dirk also became just the 15th player in NBA history to make 1,700 threes in a career. Just another feather in Dirk's Hall-of-Fame cap.
Oh, and speaking of "caps,'' he put one on Utah via his defense ...
https://twitter.com/HGomez_Chile/status/719730951174168578
"It helped,'' Dirk said self-effacingly, "that it was a white guy.''
Donut 9: Good Clean Basketball
The Mavs did a pretty good job of taking care of the ball on Monday, turning the ball over just nine times, while dishing out 19 assists. The Mavs would also force Utah into 10 turnovers of their own in the game.
Donut 10: Winning the Boards
Dallas did a great job on the boards in the first half, out0rebounding Utah 24-19. Considering the talent Utah has down low, and the Mavs rebounding woes this season, it's a surprise Dallas was able to hold its ground in that area of the floor. Dallas was able to continue that trend into the second half, and finished the game ahead of Utah on the boards by a mark of 47-38. While the injury to Gobert obviously helped in that front, it was impressive none the less, Zaza and Salah both pitching in to help Dirk upfront.
Donut 11: Who Deserves the Dirkie?
Wes Matthews is our choice, scoring 20 points on 50-percent shooting and hitting some big-time shots in his return to Utah.

But this is a democracy, so head over to DB.com Boards and give us your choice for the Dirkie!
Donut 12: Mavsellaneous
"We knew it was going to be like a playoff atmosphere,'' Deron said, "nd it essentially was a playoff game, because there was so much at stake.'' ... Dallas held the Jazz to just 27.3 percent from three, including forcing Utah into 14 straight misses from beyond the arc at one point in the game. The Jazz also shot just 72 percent from the free-throw line, while Dallas was a solid 82 percent. ... The Mavs are taking today off from practice ... The Mavs will return to the friendly confines of the American Airlines Center for their final game of the season, where they will take on their arch-rivals, the San Antonio Spurs. Game 82 of the year will tip off at 7 p.m. on Wednesday, with playoff seeding on the line for the Dallas, and nothing of consequence on the line for the Spurs. In short: Dallas' win means the Mavs are no worse than the seventh seed. Nos. 5 and 6 remain in play. Check out the various scenarios here. ... For more Mavs at the touch of a button, go here to Mavs News Archives!
Donut 13: The Final Word
"I'm happy for our organization and happy for the fans. But we've still got a job to do." - Wesley Matthews.