After clinching a playoff berth with their win over Utah on Monday, the Mavs were able to breathe a collective sigh of relief, knowing their season had been extended, and that they had reached the goal that they had set for themselves at the beginning of the season.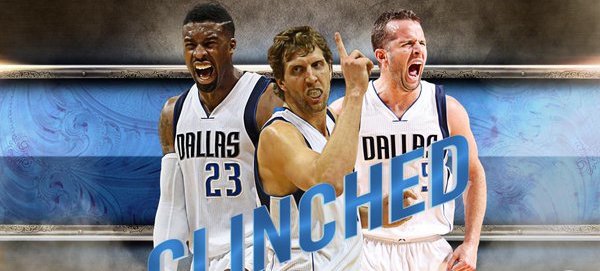 Clinched! And deserved, says Dirk Nowitzki.
"It didn't look pretty there about two weeks ago," said Dirk Nowitzki, referencing a stretch during which the Mavs lost 10 of 12 games and briefly fell out of the Western Conference's Top 8. "But the playoffs are always a fun time. Our franchise deserves this."
Unfortunately, they didn't have too much time to enjoy it. With the San Antonio Spurs coming to town, and playoff seeding on the line, tonight's matchup would figure as must-win for the Mavs, who would love to grab a hold of the five or six seed, and avoid the Spurs in the first round. With that said -- and with some questions that go with that assumption -- here are five things every DB.com reader needs to know heading into tonight's 7 p.m. matchup between Dallas and San Antonio. 
1. No Matter the Outcome of Tonight's Game, the Mavs Will Avoid Golden State in Round One 
Well, it's official: with the Mavs win over Utah, and the Grizzlies' loss to the Clippers, the Mavs can finish no lower than the seventh seed in the Western Conference. While it's fantastic news for Mavs fans that they will avoid arguably the best regular-season team of all time in Golden State, there is still a possibility that they will have to face a darn good Spurs team in Round 1 instead. (Of course, as Vince Carter reminds you above, that can be fun!) But, at 42-39, the Mavs still have a shot to move up to the five seed, with a win over the Spurs and a Portland loss. We would suggest the Mavs would much rather face the Clippers than OKC or San Antonio, ... but anyway you slice it, it's going to be a tough first round. 
How do the Mavs "slice it''? 
"This team wants to be as high of a seed as possible, and that's what we're going to try to do,'' Deron Williams said. "And we'll try to take care of business at home against San Antonio."
"Keep it simple.'' That might be the best approach. Or ...
2. The Spurs Are Much More Beatable On the Road Than at Home
Seems like an obvious statement, but after finishing 40-1 at home this season (with the one loss come to Golden State, shocking I know), the Spurs are nearly unbeatable at the AT&T Center. Put them on the road, and they are 26-14, which is good for a 65-percent winning percentage. Still a good number, but outside of the safe confines of their home crowd, even the mighty Spurs become a tad more vulnerable. And while the last time the Mavs hosted the Spurs, they lost by a whopping 26 points, this is a much different Mavs team than the Spurs faced in early February, so anything is possible. 
And how might a Spurs road loss tonight become even more possible?
https://twitter.com/fishsports/status/720259406022123521
Yup, that would do it. At least that first part about who Pop might sit. (Heck, San Antonio didn't even bother having a morning shootaround at the AAC today, and now it's official:  Listed as "out for rest'' are Aldridge, Duncan, Ginobili. Leonard, Parker and West. But what about that second part?
3. The Spurs Kind of Own the Mavs Right Now
Since the 2013-14 season, the Spurs are 13-5 against the Mavs including the playoffs, and the Mavs haven't beaten them yet this season. In fact, the Spurs' average margin of victory against Dallas this season has been a colossal 20 points per. Not only that, but Kawhi Leonard always seems to be at his best against the Mavs, averaging 21.3 points points against the Boys in Blue this season (just over his season average of 21.2). Needless to say, the Mavs are going to need some things to go their way if they are going to steal one ... 
But not counting Leonard and company sitting, health-wise, things aren't "going Dallas' way.'' Or, at least, Rick Carlisle is playing it safe. The Mavs say Devin Harris (thumb) and J.J. Barea (groin) are out tonite. They are "ailing,'' for sure. But they might also be "saving'' for better health come this weekend.
4. The Mavs are a Different than the One San Antonio Faced Earlier in the Season
Let's face it, for a long chunk of season before March 28th, the Mavs were a bad basketball team. They were wildly inconsistent on both ends of the floor, and their season was spiraling out of control after a 22-point loss to Sacto team that is 15 games under .500. Post March 28th, the Mavs have a 7-1 record, with four of those wins coming against playoff contenders, and are holding opponents to an average of 89.1 points. That's a far cry from where they were less than a month ago. 
There's a reason fro hope for tonight ... along with the lineup changes, of course.
5. The Spurs Defense is the Best in the NBA Right Now
Fans can expect a low-scoring affair tonight, with the Mavs new, slower-paced offense and improved defense. But it's the Spurs defense that will make the biggest impact in this game -- and yes, that can even be true with their resting guys resting, because Pop oversees a style of play that, at least on the defense end, can translate way down his bench. As a team, the Spurs are holding opponents to a league best 92.9 points on 43.7 percent-shooting (fourth-best), and 33.2-percent from three (also a league-best). They are also fourth in the league in rebound differential, and tied for third in the NBA in blocks per game with 6.0 per. Suffice it to say, the mad scientist that is Pop has his machine operating at a high level ... and Carlisle and staff must match all of that. ... and they plan to.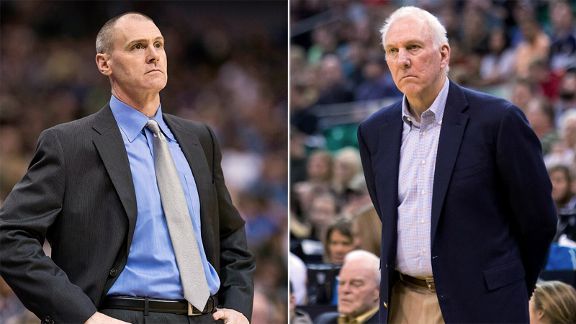 "We've got to get through the game tonight and get healthy for the playoffs,'' said Rick, with a philosophical overview for Game 82. "That said, we're trying to win."