DONUT 1: What Sticks
After clinching a playoff berth with their win over Utah on Monday, the Mavs were able to breathe a collective sigh of relief, knowing their season had been extended, and that they had reached the goal that they had set for themselves at the beginning of the season.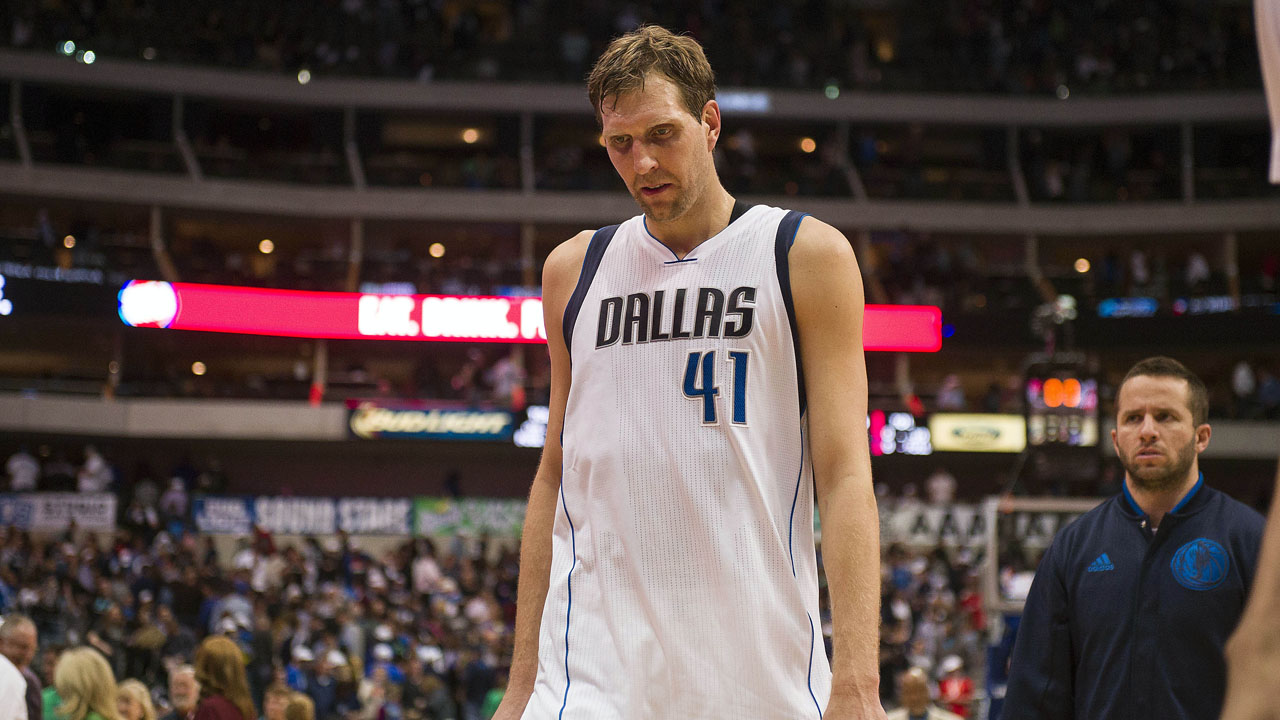 Maybe they breathed too easy.
The Mavs found a way to lose at home on Wednesday to a San Antonio Summer League Team, 96-91 at the American Airlines Center, and then watched the seedings unfold into the night, with Dallas drawing OKC in Round 1 of the NBA Playoffs.
"Disappointing,'' coach Rick Carlisle said of the loss that ends the regular season for the Mavs at 42-40. "But we've got to flush it and get ready for the playoffs.''
Before we hit "push'' on the toilet tank, though, Matt Galatzan and I guide you through a night starring no Spurs, too few Mavs, an attention-grabbing mention of Kobe ... and a hope that Casey Smith's masking tape sticks.
DONUT 2: Props To SA
It's kind of amazing that even with all the players taking rest for San Antonio, Pop still has them playing at high level. It just goes to show his quality and the ability of his coaching, that he can put that kind of product on the floor, with Danny Green the only regular, and still button-push his guys to a win that gives the second-seeded Spurs a  67-15 regular-season mark.
Any team that draws San Antonio in the playoffs is going to have one heck of test in front of them.
Of course, as Dirk Nowitzki concedes, all the teams that the No. 6-seeded Mavs look up to -- including their first-round foe from OKC -- are tests.
"All of the teams up there are incredibly good," said Nowitzki, who will lead Dallas  into the postseason for the 15th time in 16 seasons. "It's going to be an uphill battle ... But we're going to sure try, battle like we did the last few weeks and see what happens."
DONUT 3: First Quarter
Dallas got off to a slow start at the beginning of the game, but finished strong in large part to a 10-point quarter from Raymond Felton. Seven different Mavs ended up on the score sheet in the quarter as the Mavs shot almost 48 percent from the field. Danny Green led the way for the Spurs with seven points of his own, but was lacking a bit of help on that end of the floor, as the Mavs led 27-20 at the end of one quarter of play.
With four Spurs starters sitting, you'd think that would've been enough for Dallas to build on towards a win. You would be wrong.
 DONUT 4: Second Quarter
The Mavs remained in control in throughout the second quarter, outscoring the Spurs 25-14 in the period. Felton remained the Mavs leading scorer, ending the half with 16 points, including a couple of threes towards the end of the quarter. Jonathan Simmons ended the half as the Spurs leading scorer with 10 points, while Boban Marjanovic contributed eight points.
The Mavs would take a 52-34 lead into halftime, 24 minutes away from sealing at least the sixth seed in the Western Conference Playoffs. ...
DONUT 5: Third Quarter
After taking an 18-point lead into the third quarter -- surely that would be enough, right? -- the Mavs would let the Spurs charge back, and they outscored Dallas 31-15. Dallas would hold a slim 67-65 lead heading into the final quarter, with Marjanovic leading the way for San Antonio with 16 points and nine rebounds.
With Dirk struggling from the floor, and Felton garnering a lot of attention from the Spurs defenders, the Mavs struggled to put together a decent offensive quarter.
DONUT 6: Fourth Quarter
In the end, the Mavs blew a big halftime lead and then didn't get much of a good look at the end, Ray-Ray heaving up a 3 off an awkward inbounds exchange with Dirk ...
... all of it leading to a defeat at the hands of the Spurs B-team by a score of 96-91.
"We got bombed," Carlisle said.
With the loss, and the night's other jostling, the Mavs' landing spot is the sixth seed. This is pretty lofty, in a sense, predicted by few. But it's also where they will be matched up against Russell Westbrook, Kevin Durant  and the Oklahoma City Thunder. A much more favorable matchup than San Antonio (which would've been Dallas' fate had it landed in seventh)? Sure. But OKC will still be that "uphill battle'' cited by Dirk.
We can get "cute'' and note, though, that maybe Dallas will be so impressive in its work against the Thunder that free-agent-to-be KD will take notes ...
DONUT 7: The Mavs-OKC Schedule
The Mavericks' first-round schedule is as follows:
Game 1 – Saturday,  April 16 
Dallas at Oklahoma City at 8:30 pm. CT on ESPN/TXA 21
Game 2 – Monday,  April 18 
Dallas at Oklahoma City at 7 p.m. CT  on  TNT/TXA 21
Game 3 – Thursday,  April 21 
Oklahoma City at Dallas at 6 p.m. CT  on TNT/TXA 21
Game 4 – Saturday,  April 23 
Oklahoma City at Dallas at 7 p.m. CT  on ESPN/TXA 21
*Game 5 — Monday,  April 25 
Dallas at Oklahoma City  TBD on TBD/TXA21
*Game 6 — Thursday,  April 28 
Oklahoma City at Dallas TBD on TBD/TXA21
*Game 7 — Saturday,  April 30 
Dallas at Oklahoma City  TBD on TNT/TXA21
*If necessary
DONUT 8: Young And Old
Salah Mejri and Justin Anderson have set themselves up to be big parts of this lineup come playoff time. ... we think.
The youth and energy that they have injected into this lineup cannot be understated. Both of them, in their own way, have carved out a role on both ends of the floor that give the Mavs multiple options both immediately and as the offseason approaches.
We're sure Rick agrees with us on Justin. We think there are no promises on the 29-year-old rookie Salah.
Meanwhile, Raymond Felton has been invaluable to the Mavericks this season. If not for Felton, the Mavs would more than likely not be preparing for the playoffs right now. Felton entered the night as the Mavs sixth-leading scorer, and third-leading assist man, averaging 9.4 points and 3.6 dimes per contest. Before the season began, Felton was being discussed as a throw-in piece for potential trades. Now, the Mavs would be hard pressed to find a reason to part with him at all, as he leads Dallas in games played, is a pivotal part of SmallBall, has enough experience to control pace for the now-trudging Mavs, and certainly doesn't shy away from big moments.
DONUT 9: 'The Masking-Tape Mavs'
David Lee went down for the game with a foot injury in the second quarter, giving way to a Charlie Villanueva sighting for the Mavs. Charlie V responded with eight solid minutes of action, scoring nine points on 3-of-4 shooting from downtown. But this isn't what you want here. You want good news on Lee's foot, the hope that he is essentially "resting'' it in preparation for Saturday.
And we view the absence of J.J. Barea (groin) and Devin Harris (thumb) in this game the same way. Them being in street clothes really hurt the Mavs chances in this one. However, those guys are too important to this team's success right now to risk any further complications with their health. 
Barea and Devin sitting is the point of Rick's pregame quote:  "We've got to get through the game ... and get healthy for the playoffs. That said, we're trying to win."
We hope Lee's foot comes under that same "Yes, But'' heading.
And this is where Carlisle's quote about being "The Masking-Tape Mavs'' comes into play. Read our Matthew Postins' column on the game here ...
And know that there is something about 'masking tape' and the NBA Playoffs that appeals to Rick Carlisle. That doesn't mean we find the OKC matchup "appealing.'' But it beats most of the alternatives.
DONUT 10: Mavsellaneous
Nowitzki was 8-of-10 from the line and became the seventh NBA player with 7,000 career free throws ... Yes, in case you were wondering, Andre Miller is STILL playing basketball. ... Couldn't see coming? Boban Marjanovic. The Serbian Giant had 22 points and 12 rebounds. .... For the 15th time in 16 years, it's playoff time in Big D. Why is it worth cherishing for you? Because it's clearly worth cherishing for Dirk. ... Having said that, Nowitzki can go ahad and get hot now. He scored 19 against the Spurs, but did so while missing eight of his first nine shots and finishing 5-of-17. ... Talk Mavs basketball with your free membership on DB.com Boards, for 16 years the go-to spot for Mavs fans! ... 
DONUT 11: Thanks to Our Sponsors!
DONUT 12: The Final Word
On a night when Kobe Bryant would score 60 in his farewell-to-basketball game, Mavs owner Mark Cuban would insert into the conversation the news that he once almost brought Bryant to Dallas.
"I could have sworn that we had a deal done for Josh Howard and Jet," Cuban told the media.