There is a fresh new banner hanging from the broad architectural shoulders of the AAC meant to celebrate the Dallas Stars' plunge into the NHL Playoffs and the Dallas Mavericks' plunge into the NBA Playoffs.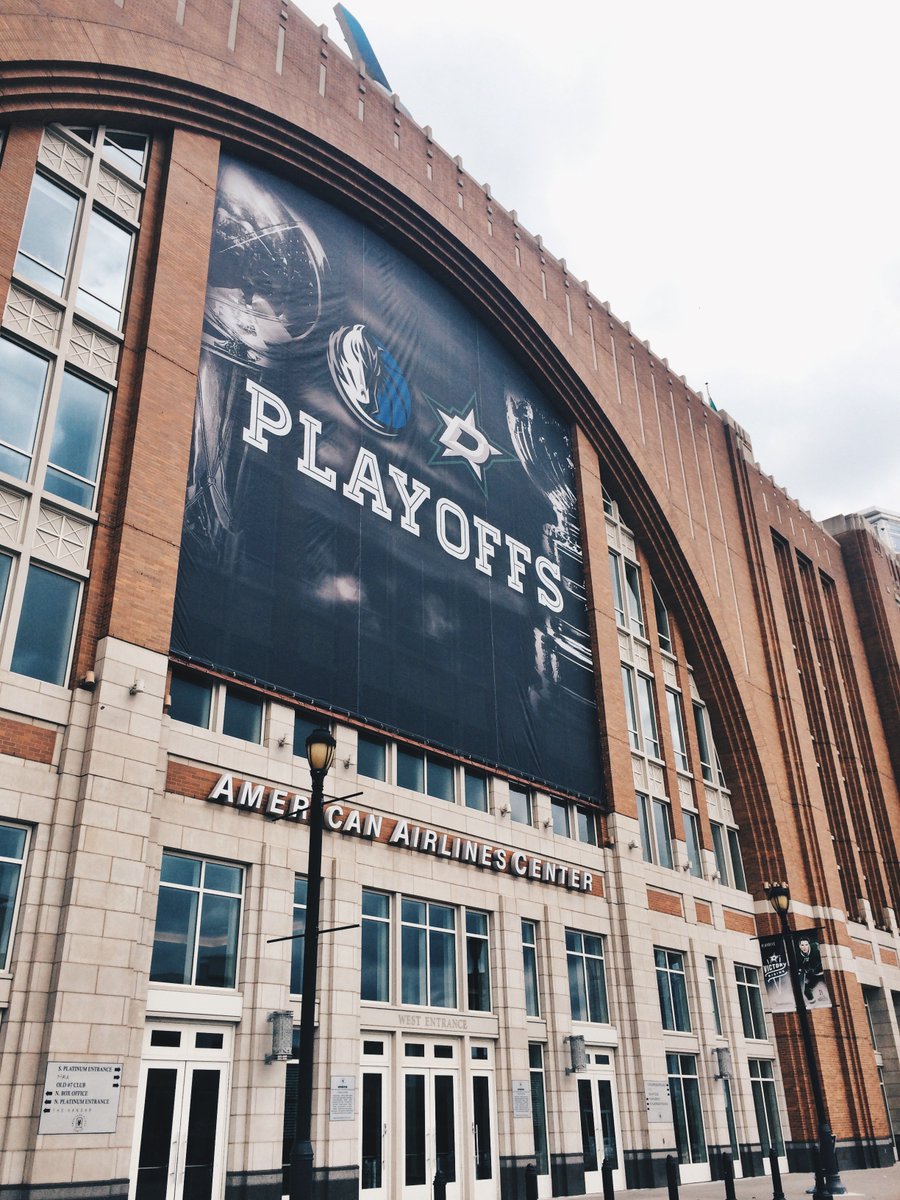 But there is a difference. The Stars are the West' No. 1 seed in the NHL Playoffs and are bubbling over with youth, hope and promise. The Mavs are the West's No. 6 seed in the NBA Playoffs and are buoyed by few of those same attributes. But maybe it's the "been-there-done-that'' realities of the Mavs that give them whatever small ledge upon which to grip here before the fall.
"We've been playing 'big games,' really, since February," Mavs coach Carlisle says. "It's been so tight, and there were four teams going for three spots, essentially. It sharpens your edge and those kinds of things. I don't see a downside to it, just in terms of heading into the playoffs. I think it's more of a positive than a negative.''
Indeed, it was a game of Twitter with the Mavs intertwined with one too many contenders for one too few spots. To Dallas' credit, it could've easily been the odd-team-out, especially after Chandler Parsons was lost to another knee injury. But instead, the Mavs finished 42-40 -- four games over the bettors' preseason over/under -- and previous to the glorified scrimmage that was the Game No. 82 loss to the Spurs, won seven of eight games. That's the math on how they vaulted to the sixth seed in the Western Conference standings,  setting up a first-round playoff matchup against the No. 3-seeded Thunder that commences on Saturday night in OKC.
But this was about more than "math'' ... and will need to continue to be about more than math if Dallas is to truly contend, in any way, with the vastly superior Thunder.
This will be about "masking tape,'' Carlisle's fun term for what trainer Casey Smith is using to hold together a club that lost Parsons back on March 25 and now trudges forward with some injury concerns with David Lee, Devin Harris and J.J. Barea.
This will be about pace -- and more trudging. From March 28 to April 8, following a loss at Sacramento in which Dallas allowed a ridiculous 133 points, Carlisle shifted into low gear. The Mavs started to play kids like Justin Anderson, and to minimize rookie-level mistakes, they slowed the pace, thus lessening the number of possessions in a game ... and therefore, the number of chances to err.
As a result, the Mavs held opponents to just 87.2 points per game during that span while limiting the opposing teams to 42.1-percent shooting. This is being billed as "Dallas playing good defense,'' and that's mixed into the gumbo, sure. But mostly, it's about Barea taking seven seconds to cross midcourt, about passing on the perimeter to patiently find a good shot, and about running when it's a no-brainer rather than running by rote and without thought.
"We were down three games under .500, lost at Sacramento (on March 27), and the intensity wasn't there,'' says Dirk Nowitzki, the biggest reason Dallas is making a 15th postseason appearance in 16 years. "We just picked it up a notch, even though we had some injuries, and just played hard and competed on defense. Defensive rebounding was the key, and offensively we played a slower, grind-it-out type of game. That should carry over into the playoffs, so we'll see how it goes."
We will see how it goes, but we cannot be certain it will "carry over into the playoffs.'' Oh, Dallas' intentions will carry over. But OKC boast the scoring duo of Kevin Durant and Russell Westbrook, who alone combined to average 51.7 points per game this season. Are we all amazed by Golden State's league-leading offense? Sure. But we should therefore be similarly impressed by the No. 2 scoring team in the NBA, the Thunder at 110 points per. (See the DB.com News Archives on all our Mavs-OKC stuff this year, here.)
Does 55-27 OKC have flaws? Yes, especially this year when it comes to closing out games. As a veteran team, Dallas has a reputation for "clutch play'' and "close-out skill.'' On paper, Dirk and Deron Williams and Raymond Felton and Zaza Pachulia and Raymond Felton and Barea ... well, that's a lot of basketball-battle skins on the wall. But when these two teams actually play? OKC swept the season series, Durant roasting Dallas in three meetings this season by averaging 25.7 points on 52-percent shooting, and Westy did a lot of everything, averaging 17.8 points, 9.8 assists, 6.8 rebounds and 2.3 steals.
Maybe it all comes down to  13-time All-Star Nowitzki experiencing a crazily successful offensive game or two in order to make this series close. Or maybe it's a lesser light, like 29-year-old rookie center Salah Mejri, who suggests he's up to the shot-block challenge when he says, "I think (Durant and Westbook) will try to challenge me. ... I don't think they're happy w/ me blocking their shots every time we meet."
Or maybe Mavs Nation will have to settle for "feistiness'' as the highlight of this series, for if Dirk goes for 35 on a given night, KD is likely to do so twice., and if Mejri blocks a shot, it's likely Serge Ibaka blocks two (his per-game average).
"We're fighting for something,'' says Felton, and that's the right attitude.
"I think they like me,'' jokes Barea, harkening back to so many Mavs-OKC moments in his career when he's rendered himself highly unlikeable to the Thunder. "They're gonna see a lot of me. They're going to see a lot of me in this series."
And that'd the right attitude.
"Basically, our playoffs started two weeks ago,'' says Dirk, and that's the right attitude -- along with an attitude adjustment that recognizes that the "re-start,'' the real NBA Playoffs, is ... now.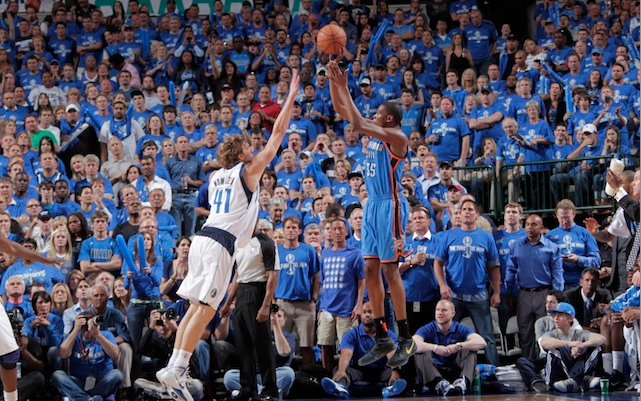 The Mavericks' first-round play schedule is as follows:
Game 1 – Saturday,  April 16 Dallas at OKC at 8:30 pm. CT on ESPN/TXA 21
Game 2 – Monday,  April 18 Dallas at OKC at 7 p.m. CT  on  TNT/TXA 21
Game 3 – Thursday,  April 21 OKC at Dallas at 6 p.m. CT  on TNT/TXA 21
Game 4 – Saturday,  April 23 OKC at Dallas at 7 p.m. CT  on ESPN/TXA 21
*Game 5 — Monday,  April 25 Dallas at OKC TBD on TBD/TXA21
*Game 6 — Thursday,  April 28 OKC at Dallas TBD on TBD/TXA21
*Game 7 — Saturday,  April 30 Dallas at OKC  TBD on TNT/TXA21