The Mavs Four Horsemen of The Point-Guard Position (And Avoiding The Apocalypse) 
Veteran point guards are one of the most expendable commodities in the NBA right now. There are plenty of All-Star-caliber point guards to go around and the teams that don't have one are usually giving minutes to young ones with high ceilings. 
It's a bit of a maddening proposal to try to win games with a steady rotation of Deron Williams, Devin Harris, Raymond Felton, and JJ Barea, but it's what the Mavericks have done all season. Those players are going to be key in their series with Oklahoma City, which opens at OKC on Saturday night. (Get the full schedule, and Fish's column on how "grit and guts'' probably won't be enough, here.)  In order to beat the Thunder, Dallas is going to have to play very smart and very disciplined. ... almost surely a focus of Friday's practice inside the AAC.
If these four players didn't have potential to do that, they wouldn't still be in the league. 
To say that Rick Carlisle can outcoach Billy Donovan isn't necessarily untrue, but it is probably a little overstated, at least in terms of tactical decisions. There aren't a lot of things that Carlisle can do that will make Russell Westbrook and Kevin Durant any less dangerous. 
If the coaching advantage manifests itself then it will be a result of a season's worth of determinations on what each coach values and expects from his roster. The Thunder is an undisciplined defensive team. This isn't all Donovan's fault; his stars are who they are, but their coach has done little to correct it. Let's make something clear: undisciplined defense isn't the same thing as bad defense. The Thunder players are so athletic that they can get away with a lot of gambling. They dive into passing lanes for steals, rely on shot-blocking at the rim, and play physical man defense whenever momentum inclines them to do so. When it works they can absolutely crush a team like Dallas, whose players are too slow to make up for mistakes like that. 
Execution will always have a chance to beat a gambling defense. Dallas has shooters and players that can finish at the rim. Veteran point guards understand extra passes, strategic pump fakes (as opposed to a pump fake followed by no immediate plan), and how to dribble into a better passing lane. These things are simple. Not all skilled players have the patience to utilize them. Against the Thunder these things will get you open looks. Dallas can score a lot of points on Oklahoma City, who likewise can score a lot of points on Dallas. The Mavericks have to expect to be involved in some high-scoring affairs. But smart half-court sets will be key. If Wes Matthews is going to be open two or three passes away, the ball has to find him, and missed shots are much better than turnovers against the Thunder. 
Harris, Barea, Williams, and Felton seem like unlikely kryptonite to Westbrook and Durant, but the talent is already lopsided. Maybe, just maybe, those four -- The are suited to take advantage of what the Thunder struggle at. They'll have to if they want to give Dirk Nowitzki a chance to win games for them in crunch time. Here are some specific areas each guy can contribute:
Barea and Williams:
These guys have to do all of the creating. Really, they have to do all of it. They are in a tough spot because they will find themselves in situations where they have to aggressively create their own shots, but have to be very selective about doing so since the Thunder are bound to lapse defensively somewhere on the court. 
Williams will need to score in a number of ways. He can get off a decent shot in isolation situations, even against Westbrook. He can also be a spot-up shooter when the ball is moving around. But there CANNOT be any lazy passes. Right, Dirk?
https://twitter.com/dallasmavs/status/721053275206914048
Williams has a tendency to make a few quick moves to gauge the possibility of taking his defender one-on-one and then carelessly pass to the wing. Everything has to be sharp. A healthy, mistake-free Williams could score a lot of points in this series. He might be the most important player for the Mavericks. If he can average 20 points per game, Dallas might actually have a chance at a competitive series. 
Barea will not be a well-liked man in Oklahoma by series' end. He knows this, of course. ...
"I think they like me,'' jokes Barea. "They're gonna see a lot of me. They're going to see a lot of me in this series."
If JJB is healthy (and he worked through the entire practice on Friday), he'll have every opportunity to pick up where he left off as Dallas' primary scorer. The problem with being so much bigger and stronger than your opponent is that you don't get away with much from the referees when you play unnecessarily physical. Westbrook will look to body Barea on defense and Barea is crafty enough to make him pay for it. The flip side of this is that Westbrook can also annihilate Barea offensively. But that's the problem Dallas faces in the series overall: Oklahoma City -- at 110 points per this season the No. 2 scoring team in the NBA -- is not worried about whether it can score points on the Mavericks. 
Health, by the way, is a lingering issue here. Deron, Devin and Barea have their issues, and Carlisle says David Lee (foot) is "very doubtful'' for Game 1.
Harris:
Harris is going to have to hit three-pointers. When he's on the floor with another point guard he usually plays off the ball, where he'll often end up sliding to the corner for three-point shots. He isn't the most reliable long-distance shooter out there, but he's come a long way from where he started his career in this department and he's capable, so whether or not he's knocking them down could swing the momentum of a quarter. 
Devin also has some deceptive speed left from his younger days. He's the type of guy that Westbrook might think he can pressure full-court, but this wouldn't be a gamble that would pay off. Harris doesn't show them off much, but he still has handles and jets, and he wouldn't have much trouble getting by Westbrook and giving Dallas a potential numbers advantage. 
Most importantly, though, Harris will typically be one of the two best perimeter defenders on the floor at any given moment, which means he is going to have to guard Westbrook and even Durant at times. That's a lot to ask of him, but Carlisle has been known to stick smaller veterans on elite scorers in the past. Harris can't contain someone like Durant, but a few well-defended plays can go a long way for Dallas.
Raymond Felton:
Felton will spend a lot of times against the Thunder's second unit. He'll have to be aggressive because that unit can be atrociously bad on defense. Enes Kanter might have a field day against the Mavs on offense, but he's pretty much a revolving door on defense. There will be lanes to the basket, and Felton loves attacking the rim from the right side and finishing with contact. He's strong enough to absorb physicality on the perimeter and find lanes to the rim.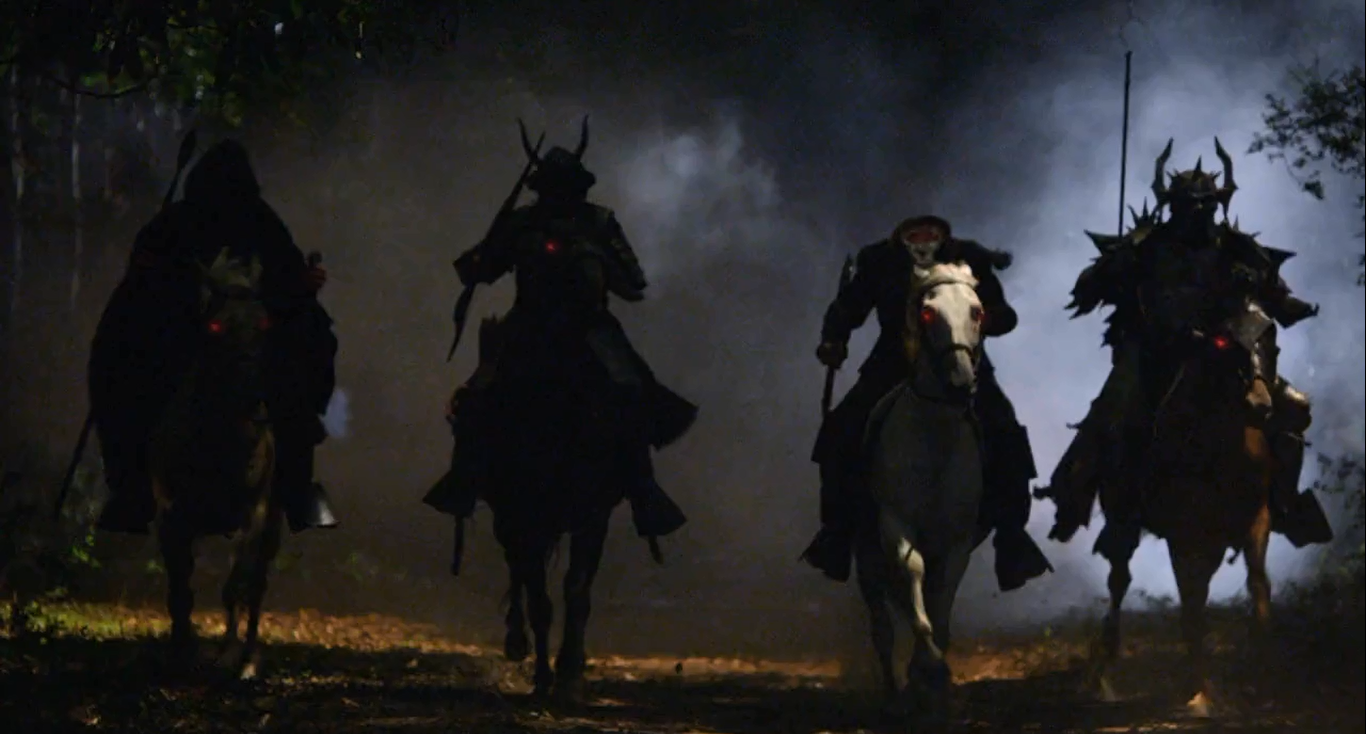 "It's time to lock in now," Felton says. "It's playoff time. It's the postseason, so now it's time to really get after it. We're fighting for something. You know, each and every game means a whole lot more than the regular season, so we've just got to lock in and get ready."
Smart take. And Oklahoma City is a team that's vulnerable to get beat by teams that make smart decisions. In order for a team like Dallas to compete against them, these Mavs will need to act quickly, and play mistake-free basketball. They need to capitalize on every little mistake their opponents make. Carlisle is going to put players on the floor that he thinks can do that. His Four Horsemen at Point Guard might be the most capable of avoiding a first-round Apocalypse.