Thirteen victories separate the Oklahoma City Thunder and the Dallas Mavericks entering their first-round Western Conference playoff series. But it feels like more.
Perhaps it's because, nationally, few are giving these Mavericks (42-40) much of a chance of defeating the Thunder (55-27). Oklahoma City swept Dallas in the regular season, so it's hard to blame anyone for taking the Thunder.
The Mavs get it. They're the more mature team (read: older) and the Thunder has a solid young core built around two of the game's most dynamic players in Kevin Durant and Russell Westbrook.
Mavs head coach Rick Carlisle knows they're a handful.
"They're an elite team," Carlisle said. "Really, if you look at the statistics, they're in that group of four or five [teams] that are considered to be the championship contenders."
The Mavericks are not considered championship contenders. In fact, they haven't won a first-round playoff series since winning the NBA title in 2011. These Mavs are still led by Dirk Nowitzki, now 37, and their second-best offensive threat, Chandler Parsons, will miss the series. The Thunder is about as healthy as an NBA team can be going into the postseason.
The Mavs beating the Thunder would be a huge upset. Not monumental, but huge. Perhaps the one thing the Mavs have going for them is expectations. Few expect anything from these Mavs. That's not the case with Oklahoma City. Along with being one of those championship contenders, Durant is entering free agency after this season and this could be his final season in OKC. The time is now if the Thunder — which went to the NBA Finals in 2012 — want to win a championship with Durant and Westbrook.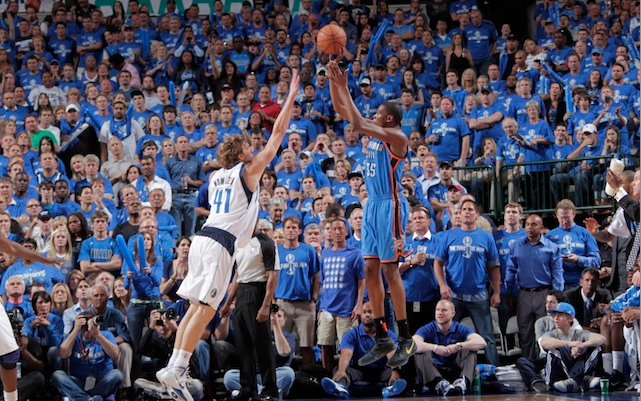 "That's my goal every year, to win [a title] but I don't put pressure on myself," Durant told reporters on Friday.
Don't worry, Kevin. We'll handle that for you.
So let's preview this series, shall we?
Series Schedule
Game 1: OKC 108, Mavs 70. Our game review is here. Fish's Monday Donuts on The 12 Things Going Wrong is here.
Game 2: Dallas at Oklahoma City, today, 7 p.m., TNT/TXA 21
Game 3: Oklahoma City at Dallas, Thursday, April 21, 6 p.m., TNT/TXA 21
Game 4: Oklahoma City at Dallas, Saturday, April 23, 7 p.m., ESPN/TXA 21
Game 5: Dallas at Oklahoma City, Monday, April 25, TBD/TXA 21
Game 6: Oklahoma City at Dallas, Thursday, April 28, TBD/TXA 21
Game 7: Dallas at Oklahoma City, Saturday, April 30, TBD, TNT/TXA 21
Injuries
Mavericks: F Chandler Parsons (knee) is out. F David Lee (heel) is doubtful for Game 1. Guard J.J. Barea (groin) is likely to play in Game 1. G Devin Harris (finger) is likely to play in Game 1. All of this, of course, is why Carlisle has come to label his team "The Masking-Tape Mavs.'' Read about it here.
Thunder: No reported injuries as of Friday.
Season series: Oklahoma City won series, 4-0. Results: Nov. 22, Oklahoma City 117, Dallas 114 (at Oklahoma City); Jan. 13, Oklahoma City 108, Dallas 89 (at Oklahoma City); Jan. 22, Oklahoma City 109, Dallas 106 (at Dallas); Feb. 26, Oklahoma City 116, Dallas 103 (at Dallas).
Previous postseason meetings: Series tied, 1-1: 2012, first round, Oklahoma City won series, 4-0; 2011, Western Conference finals, Dallas won series, 4-1.
Note: Mavericks met the franchise in the postseason twice when it was located in Seattle (1987, first round, Seattle won series, 3-1; 1984, first round, Dallas won series, 3-2).
X-Factors
Jerome Miron-USA TODAY Sports
Dallas: G J.J. Barea
If Barea is fully over his groin issue, the Mavericks are hoping he can recapture the form that saw him average 21.3 points per game in an eight-game stretch that helped the Mavs get into the postseason. Of course, he received plenty of playing time due to the injury to Deron Williams. But if Barea shows early in the series that he can be the sparkplug he was during that stretch, it will be up to head coach Rick Carlisle to get him the minutes. Barea went a full practice on Friday, so he should play. Effectiveness is the question now.
In fact, we could stretch the Dallas key to each and every one of the Mavs four points guards --"The Four Horsemen To Prevent The Apocalypse,'' as Jonny Auping writes here in Mavs Premium.
Writes Auping: Execution will always have a chance to beat a gambling defense. Dallas has shooters and players that can finish at the rim. Veteran point guards understand extra passes, strategic pump fakes (as opposed to a pump fake followed by no immediate plan), and how to dribble into a better passing lane. These things are simple. Not all skilled players have the patience to utilize them. Against the Thunder these things will get you open looks.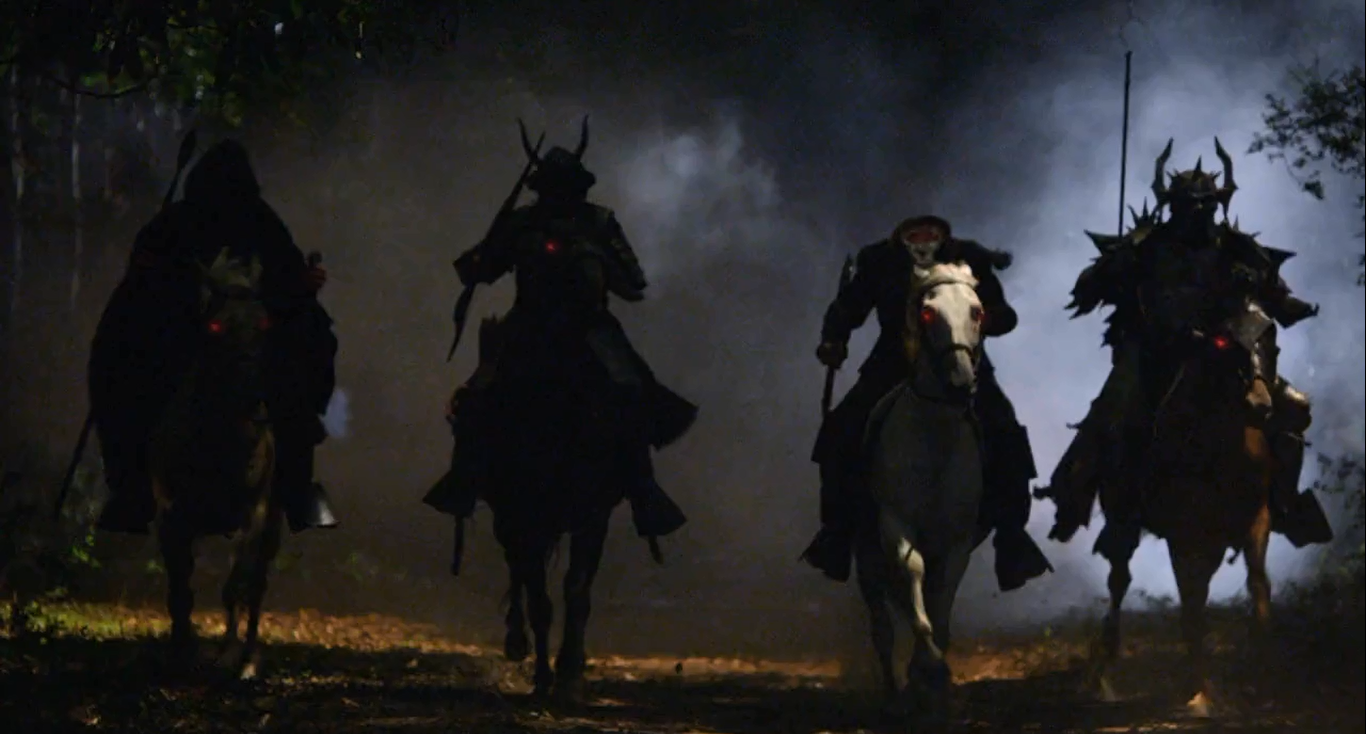 It's terrific work. "The Four Horsemen To Prevent The Apocalypse'' -- click on it here.
Oklahoma City: G Dion Waiters
Against the Mavs Waiters has been a real irritant. Carlisle said the Mavs have to treat Waiters like one of the Thunder's biggest stars. Why? This season he averaged 14.8 points per game, shot 48.8 percent from the floor and 54.5 percent from the 3-point line against Dallas. In fact, he has more threes against the Mavs (12) than any other OKC player this year. Waiters primarily came off the bench for the Thunder against the Mavs, with just one start. But he maximizes his time on the floor and the Mavs can't afford to let him get on track, considering that just opens the floor for Durant and Westbrook.
How the Mavericks can win
If you've watched the past three weeks, you've seen the template. The Mavericks have to slow the game down, reduce the number of total possessions, crash the defensive boards and play tough situational defense. The Mavs haven't allowed more than 100 points in any of their last nine games and that has to continue. Rebounding, as mentioned, is critical, and OKC has won that battle all season against Dallas. The Thunder has a 136-115 overall edge and a 58-37 edge on the offensive glass. Zaza Pachulia has to have a big series, but he also needs help from Dirk Nowitzki and Salah Mejri to mend that gap. The Mavs need to shoot a higher percentage and avoid those quarters that put them in a bind, such as the third quarter against San Antonio on Wednesday night when they were outscored 31-15. The Mavs shot 44.7 percent against OKC this season, a full five percentage points behind the Thunder. That must improve to make this a competitive series.
Fish writes more about that "template'' in his column predicting an OKC win in the series based on this premise: Most everything the "grit-and-guts'' Mavs do, the Thunder do better. Read Fish's column here.
How the Thunder can win
In a phrase, be themselves. They're a team that has advantages over the Mavericks in athleticism, size inside and scoring ability. For the season they've averaged a full eight points better than the Mavs, and in their four meetings the Thunder outscored the Mavericks by an average of nine points. With six different players averaging double figures against Dallas, the Thunder has enough scoring balance to keep the Mavericks guessing defensively. So there are no serious adjustments to make, frankly. If the Thunder get great scoring from Kevin Durant and Russell Westbrook, get the rebounds they need from Serge Ibaka, Enes Kanter and Steven Adams, and get Dion Waiters to keep filling it up from long range, it will be a short series for both teams.
Westy, by the way, is feeling pretty good about himself ...
https://twitter.com/royceyoung/status/721036161452380160
Stat to watch
It's about the turnovers.
The Mavericks actually had fewer turnovers (51) in the four meetings than the Thunder (62). If the Mavs can keep forcing turnovers and boost their shooting percentage a bit, they can close on the Thunder.
A good way to keep the turnovers down? Keep the pace down. And vice-versa.
I don't think it's a secret that you want to force them sort of into a halfcourt game," Dirk said. "If you turn the ball over against them, Westbrook is probably the most athletic guard there is ever in this league. Durant is unbelievable in transition, their shooters get loose in transition, and so we want to play a smart game. You know, control the pace, if we can, and don't turn the ball over much.''
Get linked up
Here is your DB.com Boards GameThread (membership is free!).
The DB.com News Archives. Everything you want to know about Mavs-OKC and the Mavs season in general, game-by-game, story-by-story, scoop-by-scoop.
Follow our guys on Twitter thusly: Matthew Postins, Mike Fisher, Johnny Auping, David Lord and Matt Galatzan.
The place to watch the game (and watch the Stars and Rangers, and listen to live music, too): The Maverick Bar!
Prediction
 Thunder in 5. The Mavs will find a way to win one at home, but the Thunder simply have too much offensive ammunition to overcome the Mavs' defense, despite its improved play.
The Final Word
"It's very important to an NBA franchise to be a playoff team, and of course we want to win in the playoffs. It's not just getting here to get here, but there's a certain status to being a playoff team. You want to be playing in the postseason, and that's the most precious time of the year to play. It's the highest level of competition, it's everything on the line, and every team that gets in has an opportunity."