We all knew — or at least we thought we knew — the reputation of Deron Williams coming into this season.
Drove a coach into retirement in Utah.
Clashed with teammates and lost his will to play in Brooklyn.
The toxic contract and injuries that led the Nets to buy out his contract.
None of that lines up with the Deron Williams we've seen the past few weeks.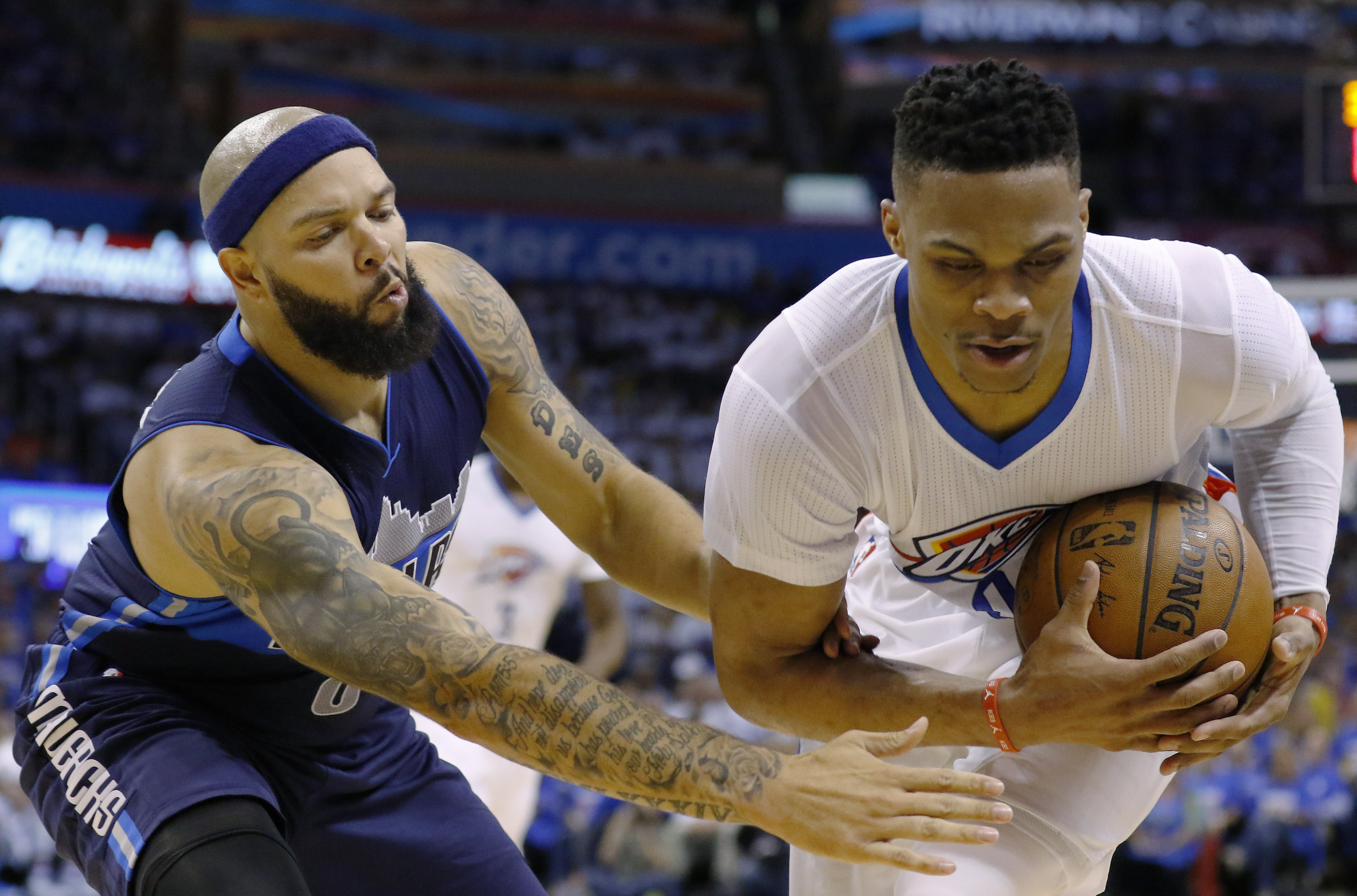 Williams didn't lead the Dallas Mavericks in scoring Monday night against Oklahoma City. He ended up with 13 points, 11 of which came in the first quarter. In fact, after scoring his final points of the game midway through the third quarter, Williams left the game and never came back, sitting in near-agony on the Mavericks bench.
On this night Raymond Felton was the star, logging a ridiculous 42 minutes while scoring 21 points and grabbing 11 rebounds as the Mavericks stole one from the Oklahoma City Thunder in Game 2 of the NBA Playoffs, 85-84.
But Felton was following the path to victory that Williams built in the first half, if you ask Mavericks head coach Rick Carlisle.
"None of this would be possible without Deron Williams," Carlisle said after Game 2. "His effort a week ago against Utah, the second game back after two weeks dealing with his injury and his effort got us into the playoffs. Had he not played the first 26 minutes of the game we wouldn't be in a position to win."
Williams isn't at full strength, as you know. He's dealing with a sports hernia, which is a fancy sports medicine way of saying he has torn tissue in his lower abdomen. That's why he missed those two weeks leading up to the Utah game, and it's why he was a game-time decision for Monday's game.
Williams admitted that he thought he was fine before Game 1, but that changed as that contest went on and the pain returned. To play on Monday he took a Toradol shot before the game, something that made the pain manageable. His final points, a driving layup, finally did him in.
While he could play with pain, others could not, which tells you the severity of their injuries. J.J. Barea missed the game with a persistent groin injury. David Lee has his heel injury. Others are banged up too. So Carlisle had to empty the playbook.
He re-installed Zaza Pachulia back in the starting lineup because he needed his physicality. He used plenty of zone defense early in the game in an attempt to slow the game and make the Thunder more passive. Finally, he went to a three-guard set, but in order to do it he needed Williams to hit the floor.
https://twitter.com/dallasmavs/status/722220084505092097
And he hit it running, as a driving layup two minutes into the game seemed to get him going. Then we went off from long range, drilling three 3-pointers in a matter of minutes to give the Mavericks a 15-7 lead midway through the first quarter.
"He was hot early and he got us going," Carlisle said. "He kept our confidence up. I was impressed with his willingness to give it a go. He's hurting."
Williams' hot start from the floor kept this game from getting away from Dallas, unlike Game 1. These Mavs came out angry, as Justin Anderson said after the game. He sensed it from Williams.
"You could see it on his face, the pain he's going through, trying to play and putting this team on his back," Anderson said.
Embarrassed by their Game 1 performance, the bench set the tone even before the game, as Charlie Villanueva and Anderson "wandered" into Russell Westbrook's and Cameron Payne's pre-game dance-off, which didn't make Westbrook one bit happy when the rookie bumped into him from behind.
https://twitter.com/royceyoung/status/722215906869248000
The Mavs got physical inside and out. They didn't win the rebounding battle, but they only lost it by nine, which is manageable if you shoot the ball better than your opponent and play good defense, both of which Dallas did. The Mavs shot just 42.7 percent from the floor, but held the Thunder to 33.7 percent shooting as Kevin Durant endured the worst night of shooting of his playoff career (7-for-33), thanks in large part to Wesley Matthews.
Matthews defended Durant all night, and while he only scored six points that didn't matter, given the job he did on Durant. Every hard pick Matthews took from OKC's Steven Adams was rendered worth it every time Durant missed a basket, including a trio down the stretch that might have meant the victory.
It was tough. It was physical. It was painful. It was ugly at times. In other words, it was the playoffs.
"Playoff games frequently are not pretty to watch," said Carlisle.
But upsetting a team like Oklahoma City requires more than just a hot-shooting guard with a bum abdomen. They need some things that don't normally happen to happen. (Which we said before Game 1 as well ... but nothing abnormal happened in Dallas' favor there.)
Such as Felton playing at least 42 minutes for the first time since Feb. 21, 2014, when he logged nearly 45 minutes for the Knicks.
Or Salah Mejri logging 28 minutes, scoring 12 points and blocking three shots in his second NBA playoff game.
Or Justin Anderson playing 14 energetic minutes, scoring six points and logging a key block down the stretch.
The Mavs played nine Monday night and squeezed every bit of effort they could from each player. Heck, Dirk Nowitzki scored 17 points in 38 minutes and was darn near an afterthought.
"That was a great team win," Williams said (leading us into your vote for the Player of the Game "Dirkie'' here). "It would be hard to give the game ball to someone tonight. So many people stepped up."
Let's be honest — Oklahoma City didn't get a few calls that they should have gotten. Felton's missed free throws opened the door for the Thunder to win and had Adams' tip in gotten away one-tenth of a second earlier we'd be writing about how this was such a great effort, but the Mavericks were still down 2-0.
But we're talking about an even series now. We're talking about possibly extending this series past five games, which is about as long as I was expecting this series to go in the first place.
Forget the masking tape. It's all about guts now. And these Mavericks have plenty to spare, thanks in part of the point guard whose past reputation seems exactly that — the past.
null