After a brutal Game 1 in which the Mavs were run off the floor from the start, (see our Game 1 coverage here) Dallas looked to rebound against a vastly superior Oklahoma City team that seems to be hitting its stride at the right point of the season. However, in a shocking turnaround, the Mavs came into Chesapeake Energy Arena and knocked OKC off-stride -- and off their dance steps -- and stole one in an 85-84 win over the Thunder.
Donut 1: The Walking Wounded
J.J. Barea would be forced out of action thanks to a groin strain that he re-aggravated in Game 1. Additionally, with Chandler Parsons and David Lee out, and Deron Williams playing through the pain of a sports hernia, you have the makings of what coach Rick Carlisle has termed "The Masking-Tape Mavs.''
One thing that's clear in this mess: the Mavs almost certainly cannot survive another injury if they want any hope at salvaging something out of a series in which they are already severely outmatched.  
And ... right on time, a mid-afternoon ALERT from Fish on 105.3 The Fan: 
The Mavs are elated with Monday's Game 2 results of their first-round playoff visit to OKC but are today concerned with the physical condition of star Dirk Nowitzki. 
"We hope this is not something that's going to cause him to miss any time," coach Rick Carlisle said of the bruised knee Nowitzki sustained in 
the Mavs' 85-84 Game 2 victory over the
 Thunder and now has him listed as day-to-day.
The Mavs are also dealing with injury issues with Deron Williams, JJ Barea and David Lee. They took Tuesday off from practice and Don play Game 3 until Thursday in Dallas.
So we DO have another injury. But they salvaged something Monday, and Carlisle gives loads of credit to D-Will.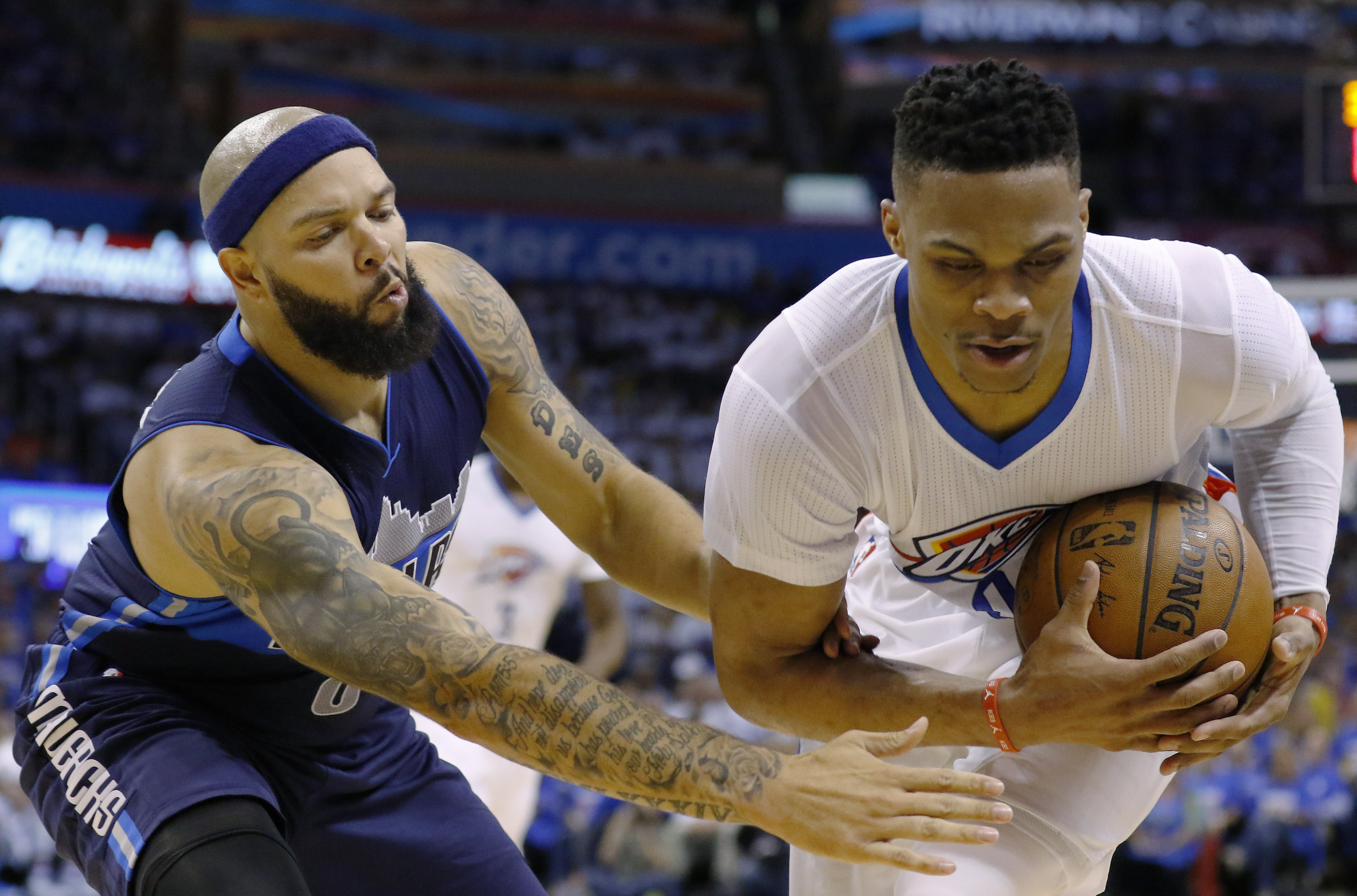 "None of this would be possible without Deron Williams," Carlisle said after Game 2. "Had he not played the first 26 minutes of the game we wouldn't be in a position to win."
Read Matthew Postins' fine Deron-centric column on Game 2 here.
Donut 2: A Little Chippiness Goes a Long Way
Before the game started and as Russell Westbrook was going through his ridiculous pre-fab pregame ritual with Cameron Payne, Charlie V and Justin Anderson decided to get in the way, and Westbrook didn't take it kindly …
One could argue in favor of OKC here: Westbrook has always been a bulldog of a player, and surely this would give him a little added motivation to start out Game 2.
Or ... Westy is a goofball, and getting into his dance moves might get into his head. Even afterwards, he was still talking about it ... 
Still with Mavs personnel in his head. Hopefully.
Donut 3: Simba and Mejri's Pride
You've got to love the passion the passion that rookie Justin Anderson plays with every night. He's all over the floor and equally tenacious on both ends. He very well might be the best athlete on this team. In any case, he continues to come up big for Dallas, and frankly they would be in big trouble without him. Simba finished things up with six points and five boards in 14 minutes.
Justin also gets credit for a blocked shot in the frenzied final sequence that ended with a trio of OKC misses, troubling Adams and further ruining KD's line.
Oh, and Salah Mejri also turned in a valiant performance of his own, proving that Simba isn't the only young gun on the Mavs roster that can be relied upon. Mejri ended up with 12 points and three big blocked shots on Monday, as he continues to show that he's the Mavs best rim protector on the roster.
Donut 4: First-Quarter Recap
The first quarter of Game 2 was a substantially better showing for the Mavs than in Game 1. Thanks to big quarters by Deron Williams (11 points) and Ray Felton (seven points), the Mavs were able to get out to an early lead, and hold on throughout the quarter to take a 24-20 lead into the second. Oklahoma City would struggle from the floor in the first, shooting just 33 percent from the floor, with Durant leading the way with seven points. ... numbers that would be a sign of things to come.
"We addressed the start," Dirk Nowitzki said. "I think they're a very good first-quarter team. We mentioned it after Game 1. And for us to be there and even have a lead after the first quarter kind of set us up to be in the game for the rest of the night."
Donut 5: Second-Quarter Recap
The Mavs were able to hold onto the lead in the second quarter, and take a 45-43 lead into halftime behind a strong quarter from Dirk, who had 10 points at intermission. Defense continued to play a big part in the Mavs success, as they continued to hold Oklahoma City in check, holding them to just 35.7 percent from the field. Oklahoma City would still hold the edge on the boards 26-20, however, showing that the Mavs still desperately miss David Lee on the interior.
Something to keep checking, in this game and in this series: Dallas' ability to at least survive on the glass.
Donut 6: Third-Quarter Recap
The Thunder were able to take control of things to an extent in the third, outscoring the Mavs 19-14 in the quarter. It was a balanced effort for OKC with seven different players contributing to the box score, while Dallas was held in check, shooting just 27 percent. Dirk finished the quarter 2-of-7 and scored just five points, as he struggled against OKC's defensive pressure. Deron Williams' injury obviously continued to bother him as well, as he scored just two points in the frame. ... and seemed to be fading.
Donut 7: The Final Quarter
Somehow, the Mavs were able to dig deep and stave off the Oklahoma City attack, outscoring the Thunder 26-22 in the final quarter. Six points from Wes Matthews and some big-time play from veteran guard Ray Felton helped Dallas steal it from the Thunder in Game 2. Kevin Durant would hit a big-time three to cut it the Mavs lead down to one, but it was too little too late. Steven Adams' putback shot near the buzzer would fail to leave his hands as the clock expired, allowing the Mavs to escape OKC with an 85-84 win.
Not before, however, the good people of OKC assumed a win ...
https://twitter.com/ChandlerParsons/status/722258451410382853
Oops.
Donut 8: Dirk's Steady Hand
Dirk is doing his best to keep his Mavs in this series, but one has to wonder how long he can keep this up. There just aren't enough guys making shots consistently for the Mavs right now for them to keep up what they did in the first half over a seven-game series. Felton has been solid, and other guys have had spurts here and there, but Dirk has been the one constant for Dallas through the early stages of this series.
The Big German finished the game with 17 points, continuing to do his part in a big win for the Mavs. ... and to the credit of his teammates, continuing to feel inspired by their efforts.
Said Dirk: "We let (OKC) know we're here to fight. Obviously, with their talent, with their team and with their roster, they're still the heavy favorites. But we let them know this is not going to be an easy walkover."
Donut 9: Durant and Westbrook Struggle
Both that Westbrook and Durant combo is something special. Despite the narrative that they hinder each other's games due to them both being players that demand the ball, these two sure do manage to play well off of each other. Truthfully, it's a lazy narrative, championed by the imbecilic  Skip Bayless on ESPN. If anything, the two make each other better, and drive one another to be the best that they can be.
The duo would struggle here, however. They combined for 40 points, but did it the hard way, allowing the Mavs to take advantage of one of KD's rare cold games. ... and the rest of OKC's offense is largely boom-or-bust.
KD and Westy combined for 52 points a game this year and led their team to the No. 3 seed. We can "sports hate'' them for fun, but they are a nasty pair, as good as it gets, and a Dallas challenge that won't go away.
Donut 10: Just Enough from Wes
Wes Matthews has had a rough go of it in his first playoff series as a Maverick, scoring just seven points in Game 1, and following that up with six points on Monday night. As an integral part of the Mavs heart this season, Matthews has been invaluable on multiple occasions. But lately, Wes just hasn't been there on offense.
Of course, maybe that's because he's so busy on defense corralling Kevin Durant, as was the case here, as Wes helped limit KD to 7-of-33 shooting.
Luckily, Wes' work included a big-time bucket late in the game to give the Mavs a four-point lead. A little offense but a lot of defense? Dallas might have to settle for this and hope it's enough.
Donut 11: Ray Does His Part for the Dirkie
Raymond Felton handed in a Dirkie performance, finishing with a double-double of 21 points and 11 rebounds. Felton stepped up in a big way after D-Will was unable to fight through his nagging hernia injury, and gave the Mavs a fight shot at the end of this game. It's still It's still amazing that Felton has been able to revitalize his career in Dallas, after he was once an after though on this roster. On a night where a bunch of guys struggled, Felton was the driving force behind the Mavs upset in Game 2. 
This is a democracy, though, so head on over to DB.com Boards and give us your pick for the Dirkie!
Donut 12: A Much Better Showing
Somehow, someway, the Mavs were able to find a way to forget the utter embarrassment of Game 1, and turn in a fantastic fourth-quarter performance to upset OKC on Monday. It just goes to show that despite the obvious talent gap between these two teams, there is no substitute for strong coaching and veteran leadership and Basketball Soul in the locker room. Before this game started, nobody gave the Mavs a chance in this series. And while it still might be a serious long shot for the Mavs to move on to Round 2, they were able to turn this series on its head ... at least for the moment.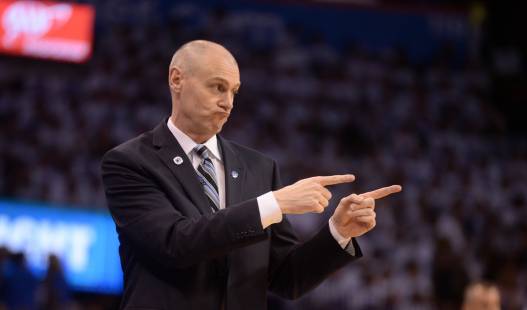 Now returning home, the Mavs must capitalize at the American Airlines Center to keep the pressure on the Thunder as this series continues. (Game 3 is Thursday; Carlisle has given his players today off.) Truth be told, the Mavs have already exceeded expectations with this win, and the burden is solely on Oklahoma City to answer the bell and prove that they can rebound from a disappointment such as this.
The Final Word
"I'm very proud of our guys for the way they responded after one of the most disappointing games in franchise history. It's a group with a lot of pride and obviously a lot of resilience. … It's a great opponent and we're a very humble team, so we're very resilient and very proud. We're very proud to win this game, but we know that now it's on." - Rick Carlisle.
null