The Thunder's Kevin Durant planted the elbow in Game 3. And the Mavs' Rick Carlisle planted the seed for Game 4.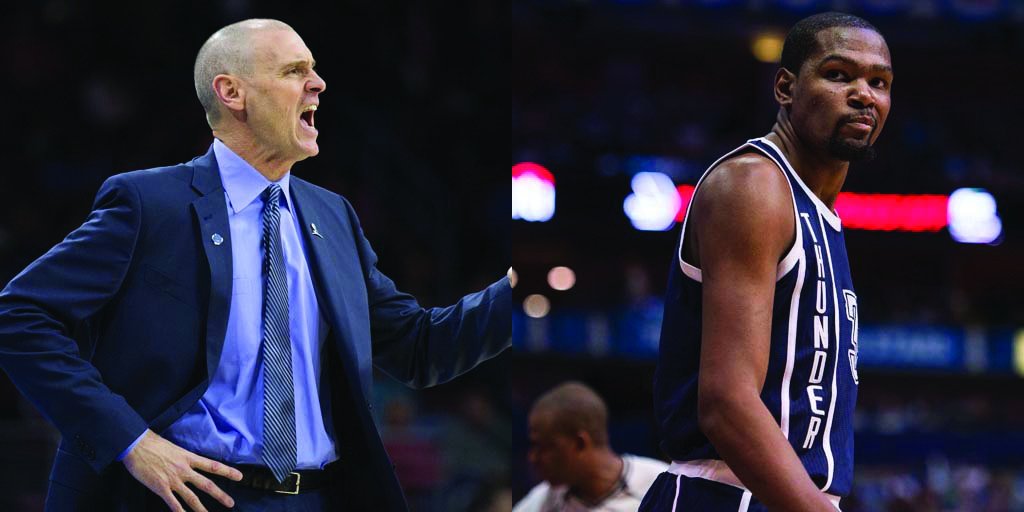 I knew it wouldn't be the Mavs night when in Game 3 officials seemed to seriously be considering calling a foul on Salah Mejri's testicles for having the audacity to get in the way of assorted errant OKC elbows.
"There were four (of) what I would categorize as 'non-basketball physical escalations' that were initiated by them," Mavs coach Rick Carlisle said of the Thunder, 133-101 winners in Thursday's Game 3, "including one intentional, unprovoked elbow at the free-throw line that I didn't understand — and I've never seen a guy like Kevin Durant ever do that to a player.
"Ultimately, that led to two more escalations between the teams," Carlisle added. "So I'm concerned about that. There's no place for that in our game."
Carlisle is right about the "non-basketball physical escalations'' but this verbal assault on an OKC team that holds a 2-1 series lead going into tonight's Game 4 at Dallas is about more than "protecting the integrity of the game,'' or somesuch. (That's actually the job of the NBA itself, which on Friday did indeed retroactively issue a technical foul for a "physical taunt" against Durant.)
No, Carlisle's point is largely about seed-planting, about the Thunder feeling cautioned against future violence and about the officiating crew feeling alerted to same.
Watching one free-throw assault live, I thought it was Serge Ibaka who elbowed Mejri's nuts. Above, we see it was Durant with a bony elbow to the chest (and maybe some theatrics from Salah, too).
But heck, maybe the Ibaka elbow came on another sketchy confrontation. Or another one. Or another one.
Is this an excuse for an inferior Dallas' team's inferiority? Not at all.
As Rick himself said, "Look, we didn't play well. They played great. We've got to do more things to keep them from playing great.''
But then he added: "And we've got to be ready for physical play because they are initiating a lot of things out there."
There is a subtle skill to what Carlisle is attempting to do here. On Thursday night, he triggered this talk by terming OKC's actions "taking liberties.'' By Friday, the seed had taken root and sprouted branches. 
Consider this day-off exchange with venerable OKC columnist Berry Tramel:
https://twitter.com/anthonyVslater/status/723591292203098113
https://twitter.com/anthonyVslater/status/723591802758930432
https://twitter.com/anthonyVslater/status/723592090534318080
A transcription:
Tramel: "When you first played them, they were sort of fresh-faced sweethearts. Now they got guys like [Steven] Adams and [Serge] Ibaka -- they get pretty dirty inside."
Carlisle: "What's your name again?"
Tramel: "Berry Tramel."
Carlisle: "Berry Tramel from The Oklahoman? And you just said that  ... [the Thunder] are dirty and what?"
Tramel: "I said now they get down and dirty."
Carlisle: "They get down and dirty? Just want to make sure you were on record as saying that -- you cover the team every day?"
Tramel: "Not every day."
Carlisle: "You said Adams and Ibaka are the two ..."
Tramel: "... and Ibaka are the two -- I mean, they got --"
Carlisle: "They're initiators?"
Tramel: "Initiators is a good word. Instigators."
Carlisle: "This is Berry Tramel from The Oklahoman, covers the team every day that's saying this. How about anybody else on their team that does that?"
Tramel: "Probably everybody does it. But those two guys get on some lists.''
Carlisle: "So those guys are on 'lists'?''
Tramel: "At least one I've seen.''
Carlisle: "What list is that?''
Tramel: "The LA Times did a poll of the five dirtiest players in the league and Adams and Ibaka were in the top five.''
Carlisle: "Interesting information.''
This exchange has been mischaracterized as "Carlisle Ripping Reporter'' and the like.
It is nothing of the sort. Carlisle (overseeing a beat-up team; see the latest injury update and tonight's ref assignments here) is implementing one of the oldest tools of the trade, the planting of a mental seed, the dictation of a storyline, the grasping at psychological straws.
If you don't believe me, listen to Dirk Nowitzki.
"You're not going to get an award for gamesmanship in the playoffs," said Dirk.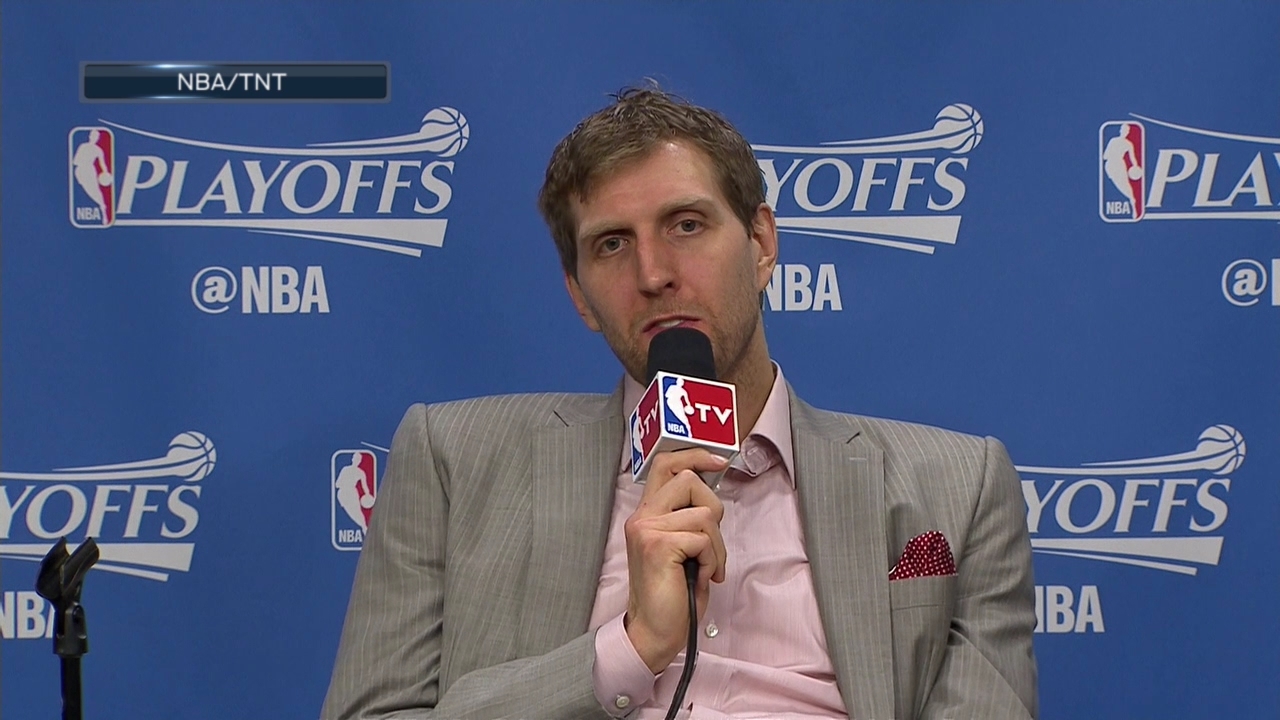 But you aren't going to be punished for trying, either. So Rick Carlisle is craftily trying to get the Thunder punished ... for being the Thunder.