Mavs suits Rick Carlisle and Donnie Nelson want you to know that this year in free agency, nothing will be taken for granted long – not even Dirk Nowitzki.
"All road go through The Big German right now," said Donnie, aware that technically the icon could opt out of his final year and bring ruin to Mavs Civilization.
Happily, as long as Mark Cuban and Company are in go-for-it mode, Nowitzki -- speaking 
at Mavs Exit Interviews on Tuesday at the AAC following OKC's first-round playoff elimination of Dallas - is going nowhere. And Carlisle and Donnie's respectful caution notwithstanding, he's damn sure not retiring.
 "That's out of the question," Dirk said. "I felt great this year. No, retirement is no question at all."
It's clear given Chandler Parsons' Exit Interview that despite his impending shot at free agency, he intends on agreeing to a Dallas deal (yes, likely for his max because that's how this industry works) before hitting the recruiting trail.
Said his buddy Parsons: "I 
think he's gonna leave Houston. so why not come here?"
(There is important Dwight-to-Dallas story to be told and it includes Dirk's view; stick with DallasBasketball.com and we will bring you that in the next 24 hours.)
But while counting on Dirk
, and while planning on Parsons, and while debating on Dwight ... There is a big-fish philosophy in Dallas that trumps most everything.
Which brings us to a Mavs pursuit of Kevin Durant.
Scoff if you will, but the Mavericks wouldn't be doing their job if they didn't look into KD, and we wouldn't be doing our job if we didn't look into the same.
So here goes:
If the Mavs were somehow able to persuade Durant to join the Mavs this summer -- pipedream'y as we have been saying these sort of things are for the past decade  – would they have  enough cap room to pay him what he wants? And if so, would that signal an end to Chief-Recruiter Chandler in Dallas? How would it all fit?
As a practical matter, we believe the Mavs' first move this summer will be to make a handshake deal with Parsons. (Donnie hinted on Tuesday that "the money'' is an issue here, but in one-on-one talks with DB.com, Donnie has suggested he knows that the max is what it's going to take to retain Parsons.) That step would be a necessity if they wish to utilize his assistance in recruiting another key player or two, and we know they do want him in that team-friendly role.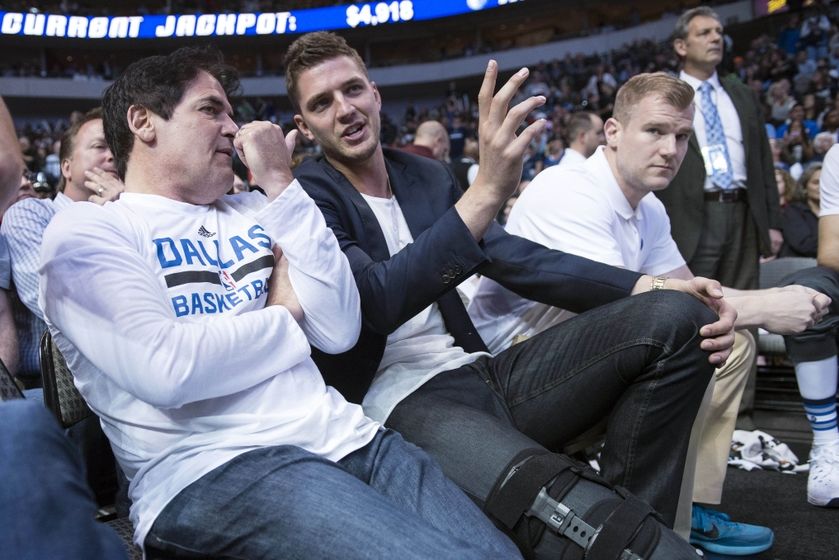 Fancy recruiting of CP, who is beloved in this locker room? As Wes Matthews joked of the rehabbing Parsons, "There'll be no wining-and-dining, just get your ass back in the gym."
Plugging a CP deal into the mix, and assuming a $92-mil 2016-17 salary cap as the NBA recently estimated, where would that put the Mavs in a quest for Durant? 
First, we will assume: 
1) Deron Williams declines his option
2) Dirk exercises his for another year
3) Powell's (and Parsons') Early Bird rights are held onto
4) No other free-agent holds are held onto
5) The Mavs waive McGee (even though Carlisle praised McGee on Tuesday.)
Together, that would put the Mavs at right around $32 mil available to use on two players, with the following cast of players in place:
C - Mejri, (and Powell, available to be signed using Early Bird hold)
PF - Dirk, Evans
SF - (Parsons, set to sign using Early Bird rights), Anderson
SG - Matthews
PG - Barea, Harris
From that, here's where Durant would fit. ...
First, his max contract would total over $110 million, but start at less than $26 mil, which - tight as it is - there's room for. That then leaves the Mavs room for a $6-mil starting salary for a second player, and a $2.9-mil Room-MLE starting salary for a third, with those two being, we would hope, being a big man and a point guard, in no particular order. Dwight is obviously out of the picture here. If Deron wants a huge payday, so is he.
The last three roster spots under the KD-to-Dallas concept then get filled with minimum-salary players, one of whom may be their second-rounder or a rookie free agent.
The result would be a team in the Golden State model, with long score-anywhere players in abundance. Ideally ...
a) The team's most lethal lineup would feature Dirk at C, Parsons at PF, Durant at SF, and Matthews at SG, all able to attack from anywhere and in a variety of ways. (Talked about him being a center on Tuesday and while he's not madly in love with the idea he'll do whatever makes wins happen.)
b) Anderson, another long, athletic multi-dimensional player, would be a primary backup for SG and SF
c)  Mejri, Powell, and one other big body get used at center when a bigger lineup is needed, and as backups to allow minutes for Dirk, Parsons, and Durant to rest.
d) The PG position can be ably manned by Barea and Harris, and maybe one other of that ilk, with so many other long multi-dimensional players alongside. 
We can plug other names into this sort of financial formula. Harrison Barnes. Nick Batum. Mike Conley. Dwight himself.
But as it regards KD? The money -- tight as it is - can work. (You will note that we are skimming right over how this roster is a bit depleted compared to other places Durrant could sign onto.) The team model might work as well. The obstacles are many, including Durant having to be convinced that Cuban isn't an idiot, but rather an "idiot like a fox."
As always, Durant-to-Dallas isn't our prediction, but rather our first offseason "homework project" - and as the Mavericks sort through their options, potential Durant paths to the Mavs will be among will be among their prioritized projects as well.