DONUT 1:  A Discomfort Level
If you sense a certain level of "discomfort'' with Dirk Nowitzki's plunge into this Dallas Mavericks offseason, you are not alone.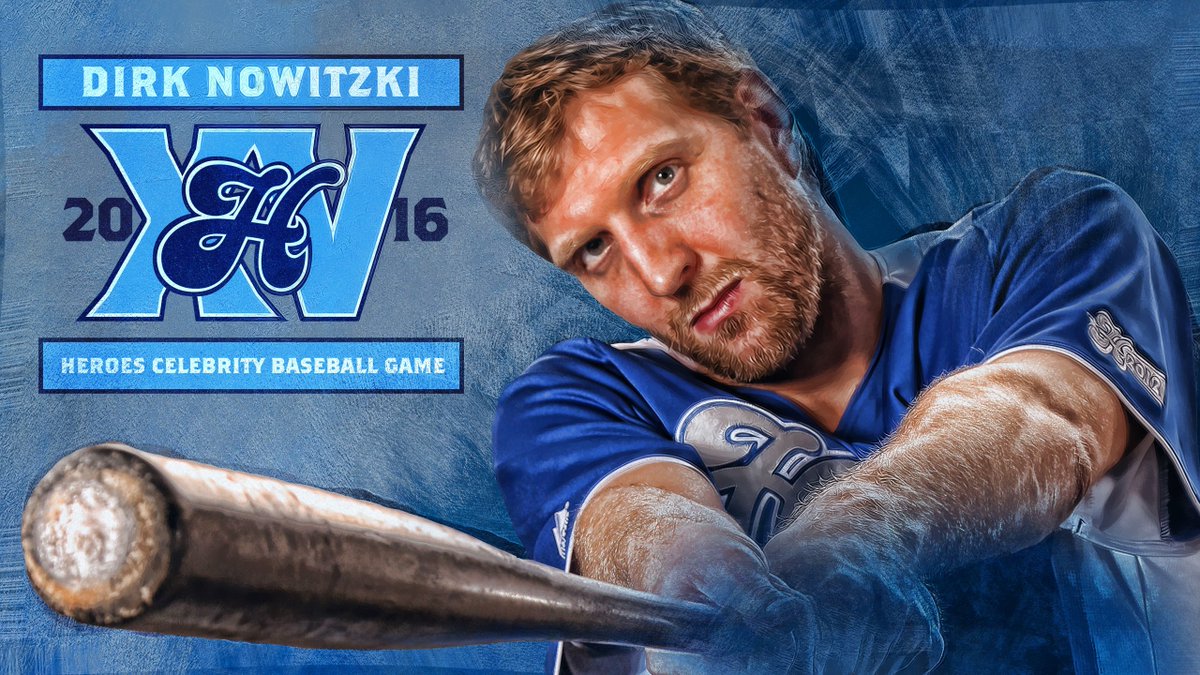 And maybe all of that -- even the "discomfort'' -- is a positive thing.
DONUT 2: First, The Easy Part
Nowitzki's commitment to the Mavs is unbreakable ... as is his commitment to the community. So let's get the pleasantries out of the way first.
Tickets are now on sale for The Dirk Nowitzki Heroes Baseball Game, a festive and fun event with proceeds from the game benefitting the Dirk Nowitzki Foundation and the Heroes Foundation.
In recent years, Dallas Cowboys luminaries Tony Romo and Jason Witten and Dez Bryant have participated. Charles Barkley might be the biggest hit of any participant. Mavs owner Mark Cuban is usually involved, and over the years, guys like basketball's Tyson Chandler and Steve Nash, baseball's Michael Young and hockey's Mike Modano (the former host of the event) and Tyler Seguin have played.
\
So far this year, Dirk has commits from Cowboys Cole Beasley, Tyrone Crawford and Byron Jones, Mavericks Deron Williams, Chandler Parsons, J.J. Barea, David Lee, Devin Harris, Wesley Matthews, JaVale McGee, Salah Mejri, Justin Anderson, Jeremy Evans, Raymond Felton, Dwight Powell and coach Rick Carlisle, old NBA pals Jason Terry Brian Cardinal and Jason Terry, ex-Rangers: David Murphy and Young and actors: Chace Crawford and Geoff Stults.
The Dirk Nowitzki 2016 Heroes Celebrity Baseball Game tickets ($9, $13, $17 and $20) are available via Ticketmaster (800-745-3000) and more information is available at Dirk Nowitzki Foundation and at the Heroes Foundation.
DONUT 3: Tired, Not Re-Tired
Some buzz was generated regarding Dirk's future in Dallas, maybe innocently enough, when after a first-round Game 4 loss to OKC some media members wrote and said things to the effect, "this might mark the last home playoff game we'll ever see from him'' or even "this might mark the last home game we'll ever see from him.''
I say now what I said then: Dirk was tired — not retired.
And thinking that the Dirk Era Mavs are "done'' with playoff contention is not only a bet against Mark Cuban but also a bet against Nowitzki.
And even if you are dissatisfied enough right now with Mavs management to bet against it, you are a fool to bet against The UberMan.
So why were we acting like this is the over-the-cliff end of The Dirk Era?
As recently as a month ago, Nowitzki reiterated what was accepted as his plan in Dallas: He wanted to finish this existing contract (which expires after the 2016-17 season) and then sign on for one or two final seasons.
Playing an even "20 years would sound really, really great,'' he told Marc Stein.
So, he's not done with basketball. He doesn't want to play anywhere else. And as to whether this year's postseason appearance (as a No. 6 seed) will be the last time the Mavs with Dirk on the roster ever make the playoffs? That's as silly as guaranteeing that other teams in the West like the Lakers, Jazz, Pelicans and Timberwolves will automatically vault above Dallas in semi-permanent fashion.
It's possible. But if you are guaranteeing a Nowitzki-led team will be bad, you aren't paying close enough attention.
DONUT 4: A Not-Subtle Change
It is my contention that Mavs suits Cuban, Donnie and Carlisle pour great effort in to helping Nowitzki realize his wish of remaining in contention as often as possible — and that's meant 15 postseason berths in the last 16 years. With only one title to show for it, it can be argued that Cuban and Company haven't done enough, or at least haven't been successful enough.
It can especially be argued that way when Nowitzki himself hints at such a thing.
Dirk's money quote: "We've only won a few playoff games, and obviously the goal was to compete at the highest level in my last couple of years, so there is some moving to do, some thinking, some putting our heads together the next few weeks heading into free agency, heading into the draft. So this (opt-out)  is just one move that hopefully starts a chain reaction for us to get better again, to compete really at a high level. We'll see how it goes."
DONUT 5: Fidgeting Yet?
Dirk now finds himself answering questions about retiring (he's not) ... and that's been put to bed. But following the postseason interview on The Ticket, we have questions about him opting out (he is) ... and when you click that link, you'll discover all the reasons why -- and a David Lord-designed plan to provide Dirk with a massive contract at a tiny cap price to the Mavs. Click that link and get smarter about your Mavs!
DONUT 6: The catch-22
The Nowitzki contract issue seems easy, on the surface, where the duck swims so smoothly: He's the greatest player in Mavs history, one of the greatest NBA players of all time, even, as coach Rick Carlisle says, one of the greatest people and athletes of all time in any sport.
So just "Pay The Man!''
But if Dirk wants Mavs management to use the resources to buy him better teammates ("so we don't have to just compete for the seventh and eighth playoff spots in the West,'' to paraphrase Nowitzki) ... AND he wants more money (which he does) ...
Well, you've got yourself a catch-22. Because more Dirk money means less money for someone else. And if you don't give some to someone else, you end up "just competing for the seventh and eighth playoff spots in the West.''
And you remain on Cuban's old "Just-Above-Mediocre Treadmill of Mediocrity.''
Dirk tried to create a "chain reaction'' by taking less in the past. Now he's trying to create a "chain reaction'' by not accepting less?
DONUT 7: Where Dirk Fits
I advise smart Mavs fans do the work to understand Dallas' cap-and-roster decisions by looking here to see where Dirk fits in for the future. We name some free-agent names and we suggest some upcoming paths, but mostly this is nuts-and-bolts stuff: What assets do the Mavs have to help them get better? How challenging is it to provide Nowitzki what he wants (and even deserves), what Mavs fans want (and maybe even deserve), what Cuban and Donnie and Carlisle and everyone wants?
(PS: One good reason to not lock into names just yet is the fluidity of some situations. Like what's happening with the Hawks, where Dennis Schroder seems to be taking over at PG, leaving Jeff Teague and his $8 million salary conceivably available to trade-minded suitors this summer.)
DONUT 8: Be Like Them
Hey, let's admit it: We're envious of the Cavs, storming through the East. We're envious of the Warriors with their freshly-minted two-time MVP Steph Curry. We're envious of the machine-like Spurs, who have developed a Generation Now featuring Leonard as such a superior player that Duncan and his generation of Spurs stars can confidently pass the torch. And even the Thunder -- for the moment Dallas' Public Enemy No. 1 -- evokes envy because they have two of something we do not have. Argue if you wish about KD and Westbrook and use words like "insolence'' and "selfishness'' if you wish ... but don't do wish even more than they werte insolent and selfish members of your favorite team?
Here, by the way, we break down the hows and whys of a Dallas pursuit of Kevin Durant. Again, this is nuts-and-bolts stuff here, not a KD-to-Dallas prediction. So don't hate on it ... unless you are of the opinion that the pipedream thing is a waste of valuable time and resources that could be better spent, a good argument for another day.
DONUT 9: Be Like Dirk
In Dirk's younger days, we used to ask him who his favorite German athlete was. (He used to say Formula 1 racer Michael Schumacher, and I always thought he said that to be polite.) Nowadays, German kids' favorite athlete is, of course, Dirk.
"My ultimate goal is to be the Dirk Nowitzki of football," says Moritz Boehringer, a German wide receiver with football experience only via playing for the Swäbisch Hall Unicorns but now a Minnesota Vikings sixth-round rookie.
DONUT 10: A Perfect Role Model
Join the club, kid. That works for me. It works for all of us. Who among us doesn't wish to be "The Dirk Nowitzki of (Whatever It Is We Do Or Dream Of Doing)?''
Gifted but humble. Self-effacing but confident. Relaxed but driven. Comfortable ... but desirous of more. "The Two Hands of Dirk Nowitzki,'' as I once wrote it.
A blemish? Sure, I can touch on one, especially now that Nowitzki is clearly pushing the organization to do more and do better: While Dirk's time with his family is the most important thing in his world, and obviously justifiably so ... maybe his laissez-faire attitude toward being a "lead recruiter'' in free agency should change?
DONUT 11: The Four Fundamentals of Dirk's Desires
I've written these before, and I find them to be so fundamental and so essential to where we're going with Dirk's deal that I've scribbled them down on a piece of paper that's stuck in my wallet.
DONUT 12: The Final Word
Nowitzki has decisions to make (June 22 is the opt-out deadline and free agency opens on July 1). And Dallas has decisions to make around him. 
"Just Do Something!'' is a panicky way to look at Nowitzki's tenuous situation, because action for the sake of action will not pacify him and will not satisfy the desire of the player or his organization to be "better than a seventh or eighth seed.'' (Worth noting, out of respect for Carlisle's 2015-16 Mavs: They were actually a No. 6 seed. But Dirk's point remains.)
After that OKC Game 4, in which Nowitzki was battling to the end of a lost cause, he explained why:
"I play to win. I compete to win.''
That's a simple, clear, fundamental on-court plan. A simple, clear, fundamental off-court plan? That's infinitely harder ... and why there is more discomfort inside Mavs HQ than ever -- not necessarily in a bad way.