DONUT 1: PARSONS' FREE-AGENCY QUEST
By now you have an understanding of the wrasslin' match that exists between the Dallas Mavericks and Chandler Parsons. The team wanted Parsons to opt-in to his $16-mil deal for 2016-17 as part of the Dirk Nowitzki-led "Shared Sacrifice'' movement. Parsons instead opted out, in search of a new deal that can max him out at a first-year salary of $22 mil. DB.com has the story here from last Wednesday night on Dallas' disinterest in maxing out CP ... and we have the story here on how the Mavs are in a sense turning the page to a "Double Pipedream'' featuring Mike Conley and Hassan Whiteside.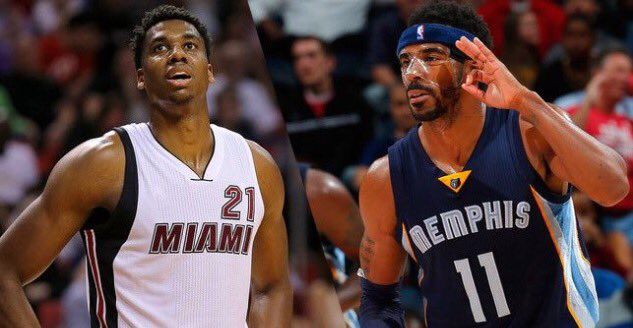 Parsons -- who enjoys being cute on Instagram and Twitter -- posted a photo of himself holding his hands to his ears ... almost certainly meaning, "I'm listening to all offers.''
https://twitter.com/fishsports/status/746741484917952512
One of his buddies put up a post featuring palm trees (in emoji form, of course), meaning ... Well, I dunno. They have palm trees in his hometown of Orlando, they have them in his adopted hangtown of LA and, I guess we have palm trees in Dallas, too, kinda.             
DONUT 2: FROM 'QUEST' TO 'FEST'
As in, "TweetFest.''
Early Tuesday morning, Parsons took to Twitter to campaign ... errrr, to have fun ... with his fans. And his detractors, too. The message (outside of the fact that he acknowledges that he's "hot'' because he got his good looks from his mom, who is a "babe''): is clear:
He believes he "deserves'' a max contract.
https://twitter.com/ChandlerParsons/status/747731474749788160
"Because I'm good at basketball,'' and it's true. Indeed, I've argued here that "max'' doesn't mean "best'' -- it just means what the market bears, and if the market allows someone who is "good at basketball'' to get $22 mil, well, that's the cost of doing business.
Wanna argue with that? Know that it's an argument inside Mavs HQ, too ... just as it was the last time Dallas paid Parsons the at-the-time max of $16 mil to steal him from Houston.
DONUT 3: 'I DESERVE THE MAX'
"Deserve,'' though, is a tricky word. Do the oil companies "deserve'' my $2 a gallon? Should bread really cost $2 a loaf? But I need gas. And I need bread. So if I've got the $2, I pay.
Dallas, of course, has the room to do Parsons "right.'' There is the $19.9 mil cap hold so there is room for him, and Dirk, and one more big fish. (I believe Conley would've been that singular guy; here is the exclusive look at the DB.com news that Dallas has a July 1 meeting with Conley -- and the story includes the Mavs' pitch points).
I mean, look at the DB.com Mavs Cap Chart. There's $19.9 mil. ... and room to inch up to $22 mil. So what's the problem?
DONUT 4: THE INJURIES
CP's reluctance to play along with "Shared Sacrifice'' definitely rankles Mavs management. And maybe, as much as they love his playboy personality in the good times, they wish he'd be a bit more buttoned-down in some ways. (A contradiction, I know; Mark Cuban signed Parsons to his leave-Houston offer sheet in a Florida nightclub two years ago, and last summer celebrated the ill-fated agreement with DeAndre Jordan with morning drinks on a California beach alongside chief recruiter Parsons. And yeah, Cuban was all about releasing those party photos on social media.)
But there is another issue whispered about in the Mavs basement. Health.
https://twitter.com/ChandlerParsons/status/747728436295262208
CP tweets loudly about it. The Mavs whisper quietly about it.
DONUT 5: A MONSTER?!
A "monster"?! So ... CP, you're back to full health?
https://twitter.com/ChandlerParsons/status/747727210711232513
The Mavs give Parsons a great deal of credit for his work ethic in coming back from injury. But "I'm a monster'' and "I'll be ready for the opener'' could be construed as conflicting. It'd be more comforting to be giving the max to a player who IS a "monster'' rather than one who in reality is simply projecting himself to be one.
DONUT 6: ANY OTHER PROBLEMS HERE?
Any problem with Dirk?
https://twitter.com/ChandlerParsons/status/747728268422451200
 Check.
DONUT 7: PROBLEMS WITH THE CITY?
DFW treat you OK? 
https://twitter.com/ChandlerParsons/status/747729673812054016
Some might interpret that as a break-up chestnut ("It's not you, it's me'') But ... Check.
DONUT 8: PROBLEMS WITH THE HATERS?
https://twitter.com/ChandlerParsons/status/747727296535072768
https://twitter.com/ChandlerParsons/status/747730801488465921
The "haters'' are so "irrelevant'' that CP feels obliged to address them.
Twice.
DONUT 9: SO, WHAT'S LEFT?
https://twitter.com/ChandlerParsons/status/747730801488465921
Oh.
DONUT 10: STILL A MAVS CHANCE?
Skin Wade and I discussed this on Sunday's FISHNATO on 105.3 The Fan. It's certainly possible that Conley and Whiteside say "no'' so quickly that Dallas reverses field on Parsons ... or that Parsons inches down from his max demand. Or that either side gets cold feet on a change, or warm fuzzies on the status quo. So ...
https://twitter.com/ChandlerParsons/status/747726653665742848
Sure. Let's keep the door ajar. Smart.
DONUT 11: BUT ... THE MAX?!
Do we like cocksuredness?
When asked if he really thinks he's max-worthy, CP answers, "Sure do.''
I'm "sure'' of something, too: If Dallas doesn't give it to him -- and again, I've sensed no bend since first writing that story six days ago -- somebody else will. Maybe lots of somebodies.
Still ... what about "Shared Sacrifice'' and loyalty and bromance? Why would you opt-out, dear friend?
https://twitter.com/ChandlerParsons/status/747730240340955136
DONUT 12: THE FINAL WORD
https://twitter.com/ChandlerParsons/status/747734748441755648
Ah, the cute emojis again. A Chandsome trademark ... as he travels from Italy to London to LA, likely Ground Zero of his free-agency plunge ... and also where hot chicks hang out.