THE FREE-AGENCY SCOOP
Kevin Durant's season in OKC is over.
Is Kevin Durant's career in OKC also over? 
"I mean, we just lost like 30 minutes ago, so I haven't even thought about it," Durant said Monday night. "I'm just embracing my teammates and just reflecting on the season. I'll think about that stuff, I don't know when. But we just lost an hour ago, 30 minutes ago, so I don't know."
The Thunder's Western Conference Finals ouster at the hands of the Warriors, to many, marks such a valiant effort by OKC that Durant -- this summer's free-agent prize -- will be motivated to remain with the only franchise he's ever known, spurning offers from virtually every team in the NBA, all wishing to court him in one way or another.
The Dallas Mavericks are on that list. That is to say, Durant is on the Mavs' list ... and not necessarily the other way around.
I've been told the Mavs will absolutely make a "courtesy call'' to Kevin Durant once the clock strikes July 1. This phrasing -- "courtesy call'' -- sounds like a near-concession that it's a virtual non-starter, that Dallas had better also be July 1-focused on re-upping Dirk Nowitzki and Chandler Parsons and then turning the page to the likes of Mike Conley, who sources tell me is on Dallas' wish list and might end up being the most realistic Mavs target. (That DB.com scoop is here.)
But just in case, a "courtesy call'' to Durant. And just in case, the financial homework to accommodate such an acquisition -- because remember, the following calculations work for anyone of KD's NBA tenure who Dallas deems a "big fish'':
THE FINANCIAL PLAN
In the wildly-unlikely event Mavs were somehow able to persuade Durant, 27, to join the Mavs this summer, would they have  enough cap room to pay him what he wants? And if so, would that signal an end to Chief-Recruiter Chandler in Dallas? Oh, and what about the Dirk opt-out? How would it all fit?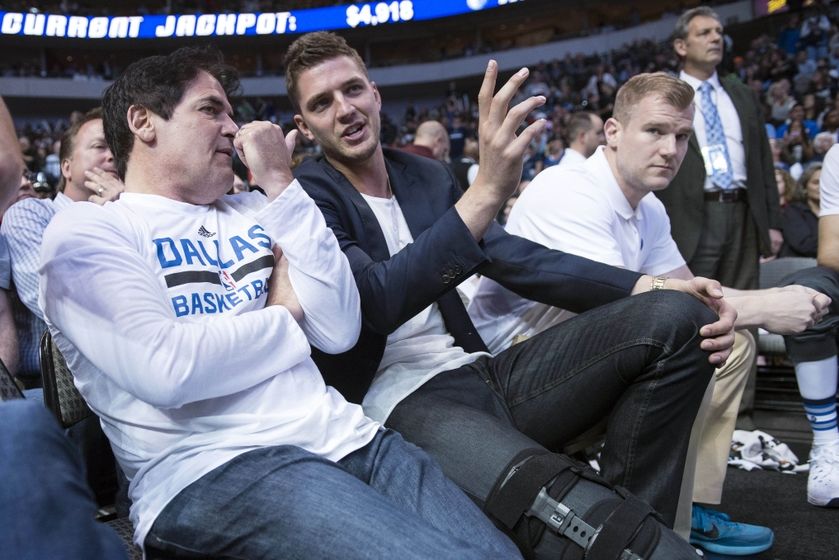 Wes Matthews joked of the rehabbing Parsons, "There'll be no wining-and-dining, just get your ass back in the gym." But in reality, the Mavs cannot take things for granted here. Owner Mark Cuban will indeed "wine-and-dine'' Nowitzki to make certain he feels valued (with a re-up salary that reflects that, as we write here) and CP can have some sips and some bites, too ...
While calls are also being placed elsewhere, starting with Durant.
So let's plug a CP max deal into the mix, and assuming a $92-mil 2016-17 salary cap as the NBA recently estimated, where would that put the Mavs in a quest for Durant? A handful of moves would position the Mavs at right around $32 mil available to use on two players. Durant gets about $26 mil of that to start (as part of a four-year contract that would total over $110 million).
That then leaves the Mavs room for a $6-mil starting salary for a second player, and a $2.9-mil Room-MLE starting salary for a third, with those two being, we would hope, being a big man and a point guard, in no particular order.
Do you want to make that big Dwight Howard? He certainly has no plans to sign for such a cheap deal, but DB.com has reported exclusively that Dallas has no plans to pay him his "retail price,'' either. (Read the goods here). Do you want to make that point guard Deron Williams? You can assume he's looking for more than $6 mil, and if you read our piece on Dallas' thoughts on Conley, you know that the Mavs aren't at all married to D-Will.
So the truth is, KD-to-Dallas means a roster than is well shy of the talent already assembled around him in OKC (which can give him a five-year deal totaling about $150 mil) and well shy of what other suitors like San Antonio and Golden State can offer, too.
So the obstacles aren't about money. And they aren't about Durant thinking Cuban is an "idiot," ... the more you pay attention here, the more you understand that Cuban's comments regarding KD's teammate Russell Westbrook were all about gamesmanship, that KD's responsive attack on Cuban was all about being a Thunder loyalist ... and that as the OKC season ends with the clock about to strike July 1, that "loyalty'' gets tested by business. (Want further Mavs-related understanding on this concept? Read and check out Chandler hanging out with the "hated'' DeAndre here, or just remember Steve Nash leaving Dallas. And you'll get it.)

THE MAVS' REALITIES
Durant-to-Dallas isn't my prediction. It's not even the Mavs' prediction. The Mike Conley idea is far more viable for the Mavs, and OKC deserves to be considered the leader for Durant, and the idea of KD manipulating the system of free agency, LeBron-style, by signing not a four- or five-year deal but rather a short-termer that could make him as much as $176 mil over five years and two contracts elsewhere or $228 mil over six years and two contracts in OKC is also in play here. That system, by the way, is also, accidentally, one that has caused the NBA rich to stay rich. Parity isn't working under this CBA, as the teams with the great players are discovering ways to find room to add more great players. (An example is the Spurs. The CBA doesn't really stop them from acquiring whomever they want; once they have their talent, they can carve out room for one big acquisition and trade old talent for a second new big acquisition. The Mavs' record isn't what puts Dallas on its "treadmill of mediocrity''; it's the Mavs' relatively bare cupboard talent that does so.)
I've written how Dallas essentially needs not one but two "miracle'' offseasons to right its path. This summer's attempt at a miracle will begin with the KD "courtesy call,'' and that will be a common theme across the NBA landscape. You'll not that Joel Embiid, the comedian on the worst team in basketball, is tweeting that even for his Sixers, it's "Time to RECRUIT KD.''
Durant's response to all of this may be laughter. And the public may think the same thing when Dallas takes its long, longshot. But the "courtesy call'' will be a serious attempt ... however brief.
null