Tyson Chandler has twice been a Dallas Mavericks stalwart and has twice felt spurned by the Mavs in free agency.
Coming once ... Coming twice ... Coming three times?
A source close to the situation tells DallasBasketball.com that Chandler -- a hero of Dallas' 2011 championship team but a member of the Knicks, the Mavs again and the Suns since then -- would prefer to close his career by playing for a contender. ... and that if he decides to try to engineer an exit from Phoenix, the Mavs are among the desired destinations.
Now, there are an assortment of moving parts here (as a scan of our recent Mavs free-agency and roster-building stories, assembled here, tell you.) For instance:

*Chandler, moving quickly (and with some "salty'' bitterness) after realizing Dallas was prioritizing DeAndre Jordan over him, signed a four-year, $52-million contract with Suns last July. He made that choice, and the fact that the Suns haven't positioned themselves as a winner is their fault ... but his, too. Chandler, a fine center and team leader, did far too little to help the Suns. They finished 23-59 last year, and that means TY finished 23-59, too.
So feel free to have no sympathy for him.
*Chandler told ESPN last February that he wasn't "jumping ship'' in Phoenix. But more recently he told the Arizona Republic, "I want to win now. I'm not in any kind of rebuilding stage. So if that's the case, it ain't where I'm supposed to be."
Again, TY talks as if he has a large say in this. But at 33, nearing the end of his 15th season and coming off a year during which he averaged 7.2 points and 8.7 rebounds (his lowest marks in a half-decade), he's not calling the shots in this thing. 
How attractive would teams consider him to be in a trade?
*Not very, according to an NBA source who suggests the only way Dallas ends up being receptive to the idea of a Chandler return is under the terms of a Phoenix buyout, which would relieve the Mavs' salary cap from a $13-mil-a-year responsibility.
With Alex Len prepped to take over as the Phoenix starting center, Chandler may be viewed as expendable in Phoenix, and of course, in the event of a buyout, they get some financial relief as well. 
The Mavs have a hole in the middle, where Zaza Pachulia is a free agent, Salah Mejri remains a prospect and JaVale McGee exists as an enigma who we suggest might be released for maximum cap flexibility. Tyson Chandler might be a more "comfortable'' answer than a perfect answer, and there are an assortment of cogs that have to turn just-so to make it viable. But the bitterness have obviously faded (this is a basketball business, as I've tried to explain often) and the possibility of a third TY-to-Mavs marriage is, at the very least, compelling.
But ... while the TY story is compelling, and while the Dwight Howard idea is a headline-grabber in every day (from Jet's thoughts on Dwight-to-Dallas to the DB.com scoop on being only willing to pay Howard one-third of his retail price, there are increasingly smart reasons to make sure Hassan Whiteside's name has a place in our discussions.
Whiteside toiled in the D-League before exploding onto the NBA scene, where he's now just 26 years old and is a premier shot-blocker (the best blocked-shot average in the league) and rebounder (fourth in the league) with an offensive game that surely makes him a double-digit scorer. Maybe Detroit's Andre Drummond is better (and Detroit, we're told, plans on locking him up quickly to keep him), but Whiteside is an on-paper star with upside. Yes, that means he's a $21.6-mil to start guy, just like Chandler Parsons will be ... yes, he's going to be offered that by multiple teams, with Miami almost certain to prioritize retaining him.
"He's a game-changer,'' Heat boss Pat Riley says, pledging that Miami will have him as its No. 1 priority and be on his doorstep at 12:01 on July 1. "I don't think he's even reached his real ceiling in a couple areas of the game.''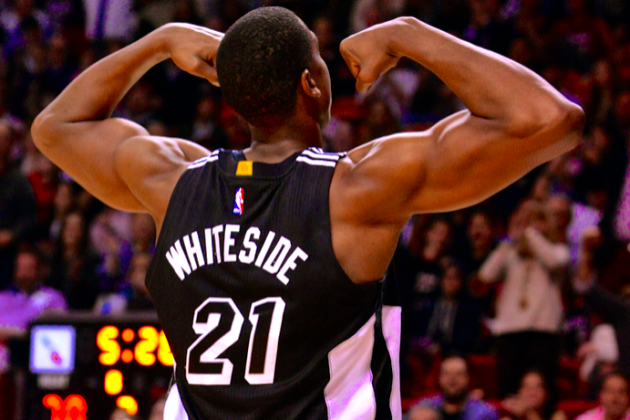 Is there a risk here, for Dallas and any other suitor? Whiteside has the reputation of being a knucklehead ... or something worse than that. One smart NBA voice tells DB.com that there are "hints of Larry Sanders here'' -- meaning that Whiteside, even though he worked so hard to get to this point -- will be challenged to keep the pedal to the metal once get gets his huge payday.
In a sense, Tyson Chandler and Hassan Whiteside are polar opposites: One is old, reliable and focused. ... but fading. The other is young, promising and pricy ... but tempting. We think Tyson wants to be in a Mavs conversation that Whiteside might end up topping.