DONUT 1: 'PROUD TEARS'
'Oh my God... They're going to win!' 
I must have yelled that 10 times, each holler louder than the last, and within 30 seconds, as Dirk Nowitzki's face showed that he was experiencing the same thought, I cried. ... On the five-year anniversary of the Mavs' world title, a reminder of how it all felt …
And a reminder of how DB.com has offered the best in Mavs journalism for 17 years … and how proud I am of how many of you have supported us along this ride. Click on Glenn Yoder's classic piece to recapture the feeling.
DONUT 2: BUT, THERE'S A BUT
If Dwight Howard opts out from Houston and "If he comes to Dallas,'' said Jason Terry, "they'll be talking about Dallas in the likes of winning a championship.''
Jet -- a Dwight teammate in Houston now and of course a Mavs personality forever -- gave rave reviews to the idea of Howard as a still-elite force in the NBA. If you watched this year's Rockets closely, you didn't always see that ... and if you watched Terry's interactions with him closely, you didn't always know that Jet was a supporter of Howard's behavioral style. But this week at Dirk Nowitzki's Heroes Baseball Game, Terry suggested that Howard could be the missing piece to Dallas' return to true contention. That story is here, complete with Jet video …
But …
There's a "but.'' As Premium Mavs fans know, Mavs management's opinion of Dwight is about "one-third'' as positive as the opinions of Jet and Parsons.
DONUT 3: CENTERS AND POINT GUARDS
Dallas will engage in a chase for improvement at center, in some fashion. And same thing at point guard, too.
Shall we name names?
Here, we give you the straight dope on the idea of tossing a future first-round pick onto the pile in pursuit of Hawks guard Jeff Teague and Bulls guard Derrick Rose, which has been discussed by various media outlets, but … well, click the link and get the truth.
The Mavs thoughts on Hassan Whiteside? I'm working on that story and it seems there is more "fear'' of what he might become than there is optimism. But the Heat center is still about to be a source of Dallas speculation because as of just now, Mark Cuban has followed Whiteside on Twitter.
DONUT 4: CONLEY IS YOUR GUY
The point guard that might just fit? In the eyes of the Mavs, sources tell DB.com, it's Mike Conley of the Grizzlies. Now, as always, there are assorted moving parts here.
But when you read our exclusive on the Mavs' view of free-agent point guard Conley, you'll have a glimpse into Dallas' summer plans.
DONUT 5: VALUING THE DRAFT
There are a lot of ways to interpret this quote from Mark Cuban, but I believe its purpose is about more than shock value or comedy.
Cuban says of the draft, "There will be a lot of options. We'll look to get in the first round (Boston owns Dallas' pick at No. 16) if there's somebody we like and there's a pick for sale. We won't trade a future pick unless there's a deal good enough that they would fire the other general manager for making it. And we think we can get a decent player either this year or in the future at 46 (in the second round). We know we need to get younger.''
OK, OK, giggle if you will about the idea of hitting at 46. But take stock in the idea that for the first time in years (well, the second time, because Justin Anderson counts), Dallas seems to see the NBA Draft as a valuable tool. 
This matters because draft picks can be more than clear-out rakes and shovels and hoes to create cap room. Maybe, just maybe, they can create young talent. 
DONUT 6: TO THE WHITE HOUSE!
Vice President Cuban? Well, it's worth smart conversation ... here.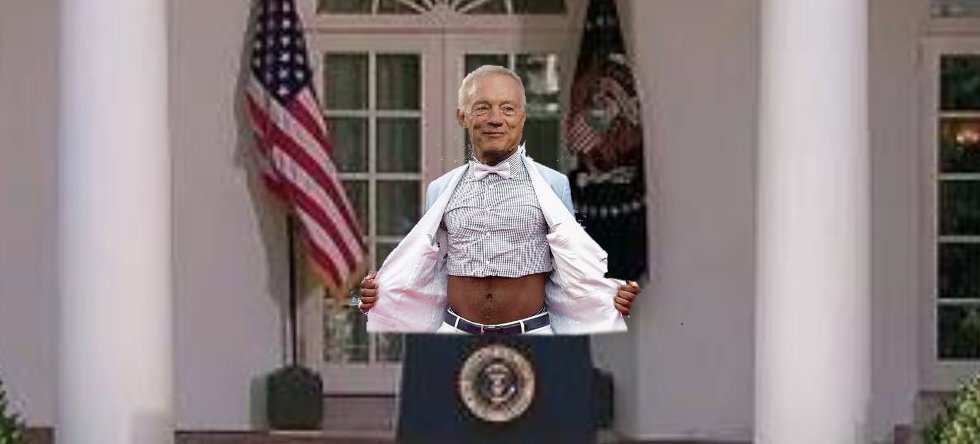 President Jerry Jones? Well, it's worth me writing this fun story ... here.
DONUT 7: POT OR NOT?
The NBA wisely quit fighting the pot argument years ago, maybe when it learned that a large percentage of its players were smoking on the afternoons before games and … opponents of that behavior were destined to lose the argument.
The NFL Players Association hasn't quite figured out how to flex that muscle yet, so we still have assorted NFL players (Cowboys and beyond) tippy-toeing around drug tests … and smoking pot
I know all about the argument that pot isn't addictive at all. But I'm no doctor, just a student of human behavior, so if it's not addictive, it causes me to wonder why people who need to quit it, don't.
DONUT 8: WHAT THE MAVS NEED FROM …
Salah Mejri holds a great deal of intrigue for Mavs management. What do they have there? What do they need?
Our Matthew Postins answers that question for all three of the Mavs kids … 
*What Do The Mavs Need From Mejri?
*What Do The Mavs Need From Justin Anderson?
*What Do The Mavs Need From Dwight Powell?
DONUT 9: POLITICIZING TRAGEDY
It's happened again. And before we all sprint to our corners to engage in arguments about the shootings in Orlando, arguments that seem to focus on "us'' and our political, social, spiritual, racial and financial bent, maybe we should not retreat to those corners. Maybe we should all gather in the middle, and disarm ourselves of our preconceived notions about politics, society, religion, race and finance.
Because I liked "us'' better when a terrorist enemy unified us rather than caused us to search for enemies among us.
DONUT 10: ANALYTICS
Michael Wilbon writes that black people don't buy into sports analytics.
It's an outrageous take in the sense that a) It's an impossible thesis to prove and b) If you take out the word "black'' and replace it with most anything else, or if the author himself wasn't African-American, you'd view it as racist.
Most of the people I know who aren't into sports analytics take that position because they're scared of math, and failing to realize that all stats — hell, even the final score of a game — is "math,'' and at the core, "sports analytics.'' But I bet they are the same percentage of folks who aren't into the salary cap, or aren't into zone-vs.-man, or aren't into any other single wrinkle of sports.
I'd argue, as a person who is of the same generation as the 57-year-old Wilbon, the line that puts some on one side of liking analytics and others on the other side is not race, but age.
DONUT 11: SPEAKING OF NUMBERS …
Through the first three games of these NBA Finals, the average margin of victory was 26 points per game -- greater even than the 24.7 average margin of victory for 1-vs.-16 matchups in the NCAA tournament. And in total, of course, Golden State is up 3-1 on Cleveland, a blowout of sorts in that sense, too.
This doesn't say anything bad about the NBA, about "the future of the sport'' or about the quality of the teams.
The only thing it says is ABC/ESPN would maybe like Bennett Salvatore to ref tonight's Game 5 in order to stretch this series out a ways.
Oh, and what might some ABC/ESPN viewers wish for? 
https://twitter.com/fishsports/status/742117212714991616
More TRAVESTY would have its rewards.
DONUT 12: THE FINAL WORD
Because I have the look of someone who's "been around'' (meaning, "old'') I often am asked about how to deal with a hangover. The partying after the Dirk baseball game brings another round of these questions, and July 4 will sure bring another round.
So, "I'm dealing with a hangover, Fish. Any suggestions on cures to try?''
Yup. Sobriety.