THE AVENUES
The NBA Draft. Trades. Buyouts. Scrap-heap reclamation projects. And big-fish free agency.
All avenues to the Dallas Mavericks returning to the level of "true contention'' that this organization was at for more than a decade … and needs a massively successful summer (or two) to fuel a return. That's right; Dallas needs to accomplish the near-impossible ... TWICE.
The NBA free-agency window opens tonight, at July 1 at 12:01 (Eastern) ... 11:01 Dallas time. Mavs Summer Shopping, we always call it, because the Mavs are always "players'' in it … even when the "play'' ends up being unsuccessful.
Dallas isn't alone here, by the way; almost every team that's ever tried to land a big fish is unsuccessful. But we are Mavs-centric here; when the Grizzlies or Blazers or Suns fail to land a big fish, is doesn't undergo our scrutiny (and maybe, because of Mark Cuban's high-profile approach to the process, the Mavs' failures get more coast-to-coast scrutiny). 
So let's Banana-Boat this thing!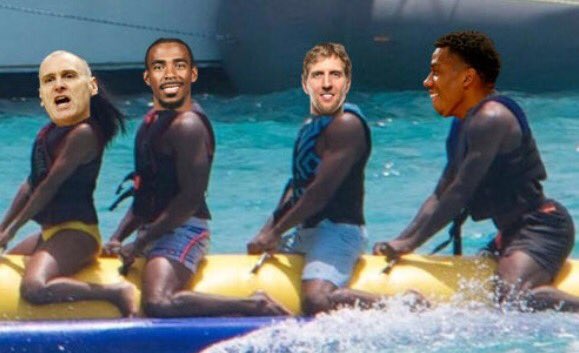 Teams will attempt to get commitments in the coming days/hours and then with the new moratorium (thanks, DeAndre, ya dope) will be able to actually put pen to paper with players on July 6 at 12:01 (Eastern) ... 11:01 Dallas time.
In preparation for tonight, DallasBasketball.com with tidbits and links and scoops meant to get you informed and ready for what's about to go down …
THE REAL CENTER TARGET
This took awhile, because there was a time — a little over a month ago — when smart voices who whispered about Hassan Whiteside sometimes whispered the words "Larry Sanders'' in the same breath.
That is to say, is Hassan a knucklehead who will turn away from being serious about basketball as soon as he gets the big payday?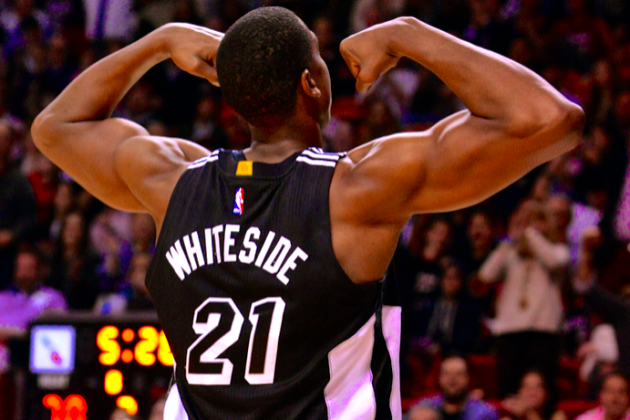 But then I wrote, a few of weeks ago, that Dallas was "Warming To Whiteside.''
And now? "warm'' is hotter than the bottom of Tony Robbins' feet.
Lots of moving parts here. Max money? (Yes.) Does he wish to stay in Miami? (Sure, if they can convince him he's "No. 1.'') Can the Heat prioritize him and also prioritize Wade and also satisfy Deng? (Tough. Miami has $40 mil in cap room and Wade wants his $30 mil so, you do the math.)
But the knucklehead factor is now dead. Paying Whiteside is the cost of Dallas doing business here. It's a priority chase. Dallas (and all his other suitors, and they are many) can pay him $94 mil over four years while Miami can do the same with $98 mil. (And no, you shouldn't bother spending too much time factoring in state taxes when it comes to Hassan and Texas.
Speaking of Miami: What's this Dwyane Wade-calling-Dallas business? It's true -- but DB.com has the scoop on WHY Wade contacted the Mavs and WHY the Mavs answered the phone and it's all about "muddying the waters of South Beach'' in Dallas' true pursuit of Whiteside.
By the way: Amid reports of the Whiteside meeting definitively being staged in New York ... nope. As of 6:09 p.m., sources close to the dealings tell DB.com the locale is "to be determined.''
DWIGHTMARE
Dwight Howard is NOT a priority here. The Mavs' four biggest voices (Cuban, Carlisle, Donnie and Dirk) are, I believe, on the same page here: A $30-mil-a-year deal invites Howard to goof and sulk as he's too often done in his otherwise tantalizing career.
But if Chandler Parsons' buddy from Houston sits on the sales shelf long enough? If Dwight's price shrinks to a fraction of retail? (One-third the money? One-third the years?) If his contract leaves him with something to chase and something to prove? 
Maybe. Read the details of Dallas' thoughts on The Dwightmare here.
It seems like the rest of the NBA is now becoming aware of the Mavs-like thinking from our May 16 story that has Dallas thinking he might be worth one-third of his retail price, in one form or another.
Other centers, if Whiteside doesn't land here? Dallas personnel people are not madly in love with the likes of Bismack Biyombo or (surprising to me) ex-Mav Ian Mahinmi. If the Suns want to buy-out Tyson Chandler? Sources close to TY tell me he'd consider a return. Zaza Pachulia? Good player, great teammate ... but a "treadmill-of-mediocrity'' symbol for a franchise trying to get way better than it was last year.
THE DOUBLE-PIPEDREAM
Sources first told me Dallas was working on the idea of committing max money to Mike Conley back on May 26. Conley is a very good point guard and Memphis is wrestling with the same max-money issues regarding keeping him. He's five-years and $154 mil to stay, four-years and $114 mil to go.
Rest assured: Conley gets his max, somewhere. The Grizzlies aren't letting go here, and in fact are trying to appease him by adding young pieces of their own (thus the Memphis flirtation with Chandler Parsons, who we'll get to in a moment.)

But wait: Dallas can do Conley AND Whiteside? Really?
Really. In fact, the Mavs can do that easily, in terms of finance. (Actually getting big fish to move? That's the One-Percent Chance thing.) But the money is not complicated here. 
Conley starts at $26,440,000. Whiteside starts at $22,033,000. That's well under Dallas' cap room (based on the new $94-mil cap) of $58,969,302 ... and leaves eight figures for Dirk, too. That's The Mavs Double-Pipedream. Check it out.
UPDATE: at 9:50, DB.com is told the Conley meeting will be IN Dallas - which is why our report on Cuban HQ'ing here is so significant.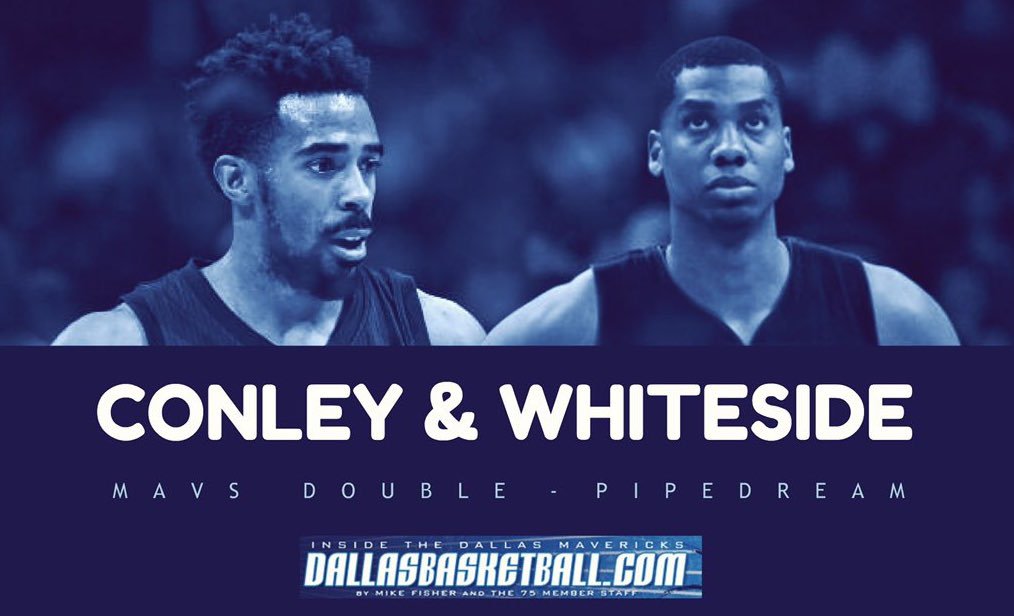 The math is easy. The recruiting is hard. Memphis doesn't want to let him go, so many this is a two-team race. Other clubs (Portland and Miami?) want to get their hands on Hassan, so maybe this is a three-team race. The Double-Pipedream is doubly difficult.
One more note: DB.com learned on Thursday that while the national media was reporting Dallas' meeting with Whitehead is set for New York, in fact, the Mavs and Whiteside's people were still working on the locale and the set-up. "To be determined,'' a source told me at 6 p.m. Can "fluidity and flexibility'' in so many ways help the Mavs land this big fish? They have some optimism.
PARSONS PROJECT
We're frequently speaking of "the cost of doing business''; that's the phrase Donnie Nelson has used with me when discussing retaining Chandler Parsons.
But suddenly, the cost of doing CP is too pricy, as we reported a week ago. The Mavs have concerns about the injury thing and have concerns about the "Shared Sacrifice'' thing (Dallas wanted Parsons to opt-in at his $16 mil, and when he balked, both sides moved toward turning the page.)
CP recruiting other guys to Dallas? Forget it. At this moment, he's not even recruiting himself to Dallas.
Will it take the $22-mil max (to start) to get Parsons signed somewhere? He has announced he's a "max'' player and he's also announced he's gonna be a "monster'' in 2016-17. 
And along come the Lakers and the Grizzlies and the Magic and whomever and it looks like he's gonna be somebody else's monster, though.
THE COURTESY CALL
Is there a singular big fish that stands above all others?
DB.com was the first to write about Dallas' intentions of giving a "courtesy call'' to Kevin Durant. So, yeah, but …
PRIORITY ONE
The very first big fish is Dirk Nowitzki.
Yeah, the Dirk who will never leave. Yeah, the Dirk who is as married to the Mavs as Mark Cuban himself. Yeah, the Dirk who is one of The Four Pillars.
Nevertheless, Carlisle smartly stated, as the season was ending, that he would be "recruiting'' Dirk as to not "take him for granted.''
Wise, wise, wise.
Dirk's intentions? Remain in Dallas, but work to juggle the money in a way that benefits not only his team, but also himself. 
The most ingenious way to do this? Our exclusive on the "Dirk Min/Max Contract Idea'' is here. (Trust me: There's A Way For Dallas To Give Dirk $37 Million Over Two Years - With NO Cap Impact! Yup.)
But one way or another — even with the Warriors and whomever blowing up his phone — Dirk stays, as long as the Mavs don't intentionally tank. … which, as Dirk himself says, is simply not in the DNA of this player, this owner and this franchise.
THE LITTLE FISH
You start at the top, with your big-fish targets. In Dallas' case, they will do this with an intriguing shift in strategy, a Pitch Switch: I'm told Mark Cuban's homebase tonight will be in Dallas, rather than in Agentland, California.
But know this: The little fish will go quickly. We can write about Jamal Crawford, but he's not waiting around for sloppy seconds. Nor are the likes of Nic Batum. Evan Fournier might be a level down at forward. Incumbent Deron Williams might be a patient candidate at point guard. But even, say, Jeremy Lin is not obliged to wait on the Mavs as they court the prettiest girl in the bar before settling on something less attractive at closin' time.
https://twitter.com/fishsports/status/748541733017817088
There are a hundred names about to be tossed about and connected to Dallas. We'll do our best, here on Twitter at @FishSports and here on DB.com Boards, to filter through to the truths. ... as we did this morning, with our sources helping us to get to the bottom of the Nic Batum connection and/or connecting flight. ... and the more we chase, the more we realize that in a $94-mil cap world, medium fish become big fish. And Nic Batum's passport becomes big news. ... leading to our "affirmative'' report of a July 1 meeting between Batum and the Mavs in Dallas.
TWO SUCCESSFUL SUMMERS
I alluded to this above and invite you to click the link to my analysis piece: "Dallas Actually Needs TWO 'Impossibly Successful Summers.'''
It's not a very rose-colored-glasses look at the Mavs' circumstance, I promise you that. Really, it's about the pain and the patience that will be a part of Twilight Dirk's final years and Dallas' continuing efforts.
But as we sit here? Lose Parsons but net two of the following three - Conley, Whiteside, Batum -- and along with retaining Dirk, you've pulled off one of the greatest summers ever.
Note: Players with 7-9 years experience can sign an initial contract of $26.6 million. That means Conley and Batum both come at that price ... making that duo all the more tight to squeeze in, should Batum want that max.
DB.com broke the story this afternoon of Dallas extending the Qualifying Offer of $1,180,432 to Dwight Powell. So ... Summer Shopping is off on the right foot!
WHY IS CUBAN SO CHEAP?
We see this nonsense pop up on occasion. The reason Dallas can't "sign all the free agents'' is because the rules preclude that. In the case, for instance, of Parsons, you need to possess his $19,969,959 cap hold in order to eventually "go over the cap'' to sign him. But by possessing that $19,969,959 cap hold, you've erased $19,969,959 from your available $58,969,302 ... and that leaves you without the ability to sign two new guys.
Cuban's Mavs have, in fact, frequently operated as an "over-the-cap'' team and also as a team that operates without making an annual profit. It's not "cheapness''; it's rules. Our only hope is that Dallas is as clever as it thinks it is when it comes to exploiting and stretching and bending those rules.
THE FINAL WORD
Beware of the fake accounts, the bogus sources and this gambling guy Bob. Beware of the idea of "front-runners,'' because that's often a team/agent using a reporter as a trial-balloon runner ... and there really is no "favorite'' or "front-runner'' until there's actually a "winner.'' ... and until there's an agreement, there's not even that.
Or were you asleep at this very time 365 days ago?