Being a Mavs fan is a struggle sometimes. Not because of the first-round exits, nor the free-agent bad luck. That stuff is what makes it tough to be a SPORTS fan in any city—watching any sport.
No, the struggle over the last five years has been the shifting identity of the team. The almost supernatural uncertainty of the roster as we head into every new July. We don't know what to root for, because we don't always know WHO to root for.
Is Chandler Parsons gonna rehab one more time in Dallas? Will he pick up where he left off and deliver career high statistical prowess as he ascends to the next tier of NBA stardom? Will he take a max contract from another panicked Mavs front office and then tear all of his knee muscles at once?
Will he play better, for whatever money, in some rival city?
I want him to get healthy, and I'd love to see him play here for another 5-10 years. But based on Fish's hints here on Wednesday night and on ensuing reports after that at DB.com and elsewhere, CP long-term in Dallas is increasingly unlikely to happen. And that possibility means I can't be invested in Parsons. I wish the best for him because I'm a human being and I love other human beings—but that doesn't help me weigh my loyalty to MY Dallas Mavericks (team) against my loyalty to INDIVIDUAL Dallas Mavericks (people).
Last year, in the span of a single week, DeAndre Jordan went from a superhero to a super villain. In that same week, Tyson Chandler bolted to an inferior Phoenix team just to prove that someone wanted him more than the Mavs wanted him.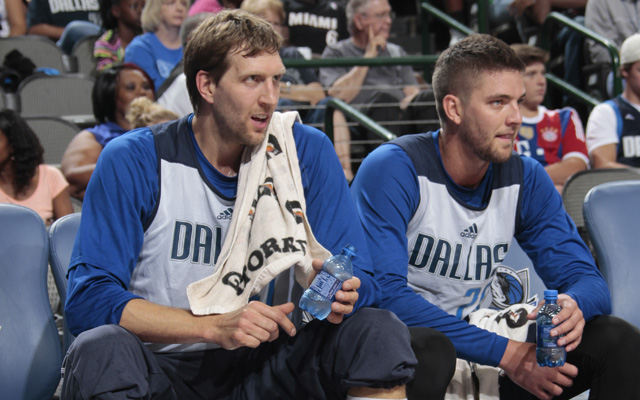 The Mavs made the playoffs, nestled in a second-tier spot in a tough West, without either of those mercurial big men. That's nice. That helps. But the only constants in Dallas over the last six years: a first-round series on someone else's home court, and a Dirk Nowitzki that isn't getting any younger. That requires a lot of love for a logo to help the average fan push through uncertainty—or worse: mediocrity.
Was it a chore to watch Jason "J.E.T." Terry morph into "Irrational Confidence Man" on a night when he didn't have it? Yeah. For sure. But, the thing is, we knew J.E.T. He was OUR irrational three-point machine. He was OUR "waterfall over Tim Duncan against all odds" playmaker. When he got the Larry O'Brien trophy tattooed on his arm before the 2011 season, Mavs fans knew Terry well enough to go, "Well, yeah. Of course he did."
And, for those of you paying attention, J.E.T. was almost the best player in the 2011 Finals series against the Miami Heat. He put that irrational confidence up against LeBron James more than once, and won that argument with a championship. Dirk won Finals MVP—and he deserved it—but Jason Terry was as good as almost anyone on the floor for six games. 
If you were a Mavs fan from the moment Terry arrived from Atlanta, to the moment he dropped a game high 27 points (on 11 of 16 shooting) to clinch the NBA title—you earned every single moment of his triumph. You walked a path that included a desperate three pointer that wouldn't go down, that wouldn't tie things up, that deferred the 2006 title to another version of the Miami Heat.
His failures were ours. So his almost supernaturally perfect game six was also ours. We suffered and exhaled together.
Which brings us back to 2016. 
I know it's incredibly unlikely that Dirk is going anywhere, despite his recent opt-out. That said, we have very little certainty going into the 2016-2017 season. Excluding Dirk, there's a long list of people who may not come back: Parsons, Williams, Pachulia, and Felton are the most notable unrestricted Free Agents. 
Each of those players is a viable starter somewhere. Yeah, Zaza got chewed up thanks to all those minutes he played last year—and maybe he'd prefer to back someone up at this stage in his career—but in a league with very few outstanding big men, Zaza is still going to field calls from multiple teams.

What happens in the nightmare scenario? The one where Dirk decides he'd love to play center for a small Golden State team for a couple of years and sniff one or two more championships?

Who do we root for?
Hell, who do we roll our eyes at?
The myth is that the body replaces all of its cells every seven years—making us essentially new people. It hasn't taken the Mavs nearly as long to become something out of the mind of David Cronenberg. The logo still says these are the Dallas Mavericks—the steady arc of a Dirk Nowitzki jump shot hints at the familiar. But, there's also a lot missing.
Mayo, Ellis, Vince Carter, Tyson Chandler, Rondo—over 50 different guys have played for the Mavs in a four-year span. Can you even name half of them?
Dirk is the face of the franchise—but can you tell me which guy is the right or left hand right now? Can you even imagine the Frankenstein's Monster that might eventually suit up for that first pre-season game?
We're about to move into what DallasBasketball.com is (again) calling "The Mavs Double-Pipedream'' of July 1 free agency. ... a chance to find some Frankensteinian parts. The concept: Move away from Parsons while keeping Dirk happy by signing Memphis point guard Mike Conley and Miami center Hassan Whiteside. I'll let this link handle the dollars and over the course of this week, DB.com will handle the "sense.''
But in this space, we reach for something/someone to root for ... and we cling to ... air.
Take Whiteside. He is now on-record as saying he wants the deal to come quickly and mentions the lack of state income taxes as worthy of consideration. Said Whiteside this weekend:
"We're going to see what happens. So it's not that I'm really counting the Heat off or I'm counting on another team. It's just open. … It's just a couple of variations: How will I fit with the team? How they utilize the offense and defense and just different things like that. And living. There's a lot that goes into it. (No state-income tax) factors in. It factors in when it comes to no state tax. But, you know, you can get traded. Nothing is guaranteed."
"I really don't think it's about loyalty. It's about the best situation for myself.''
Man, Hassan, you've got that right. Loyalty is fleeting. Nothing is guaranteed, including promises of allowing Texas' lack of income tax drive moves. (By the way, the Heat play in Florida, where's there's also no state-income tax. And as Fish has pointed out often, lots of people talk about this concept, but in the end, unless it's O.J. Simpson moving from California to Florida, it really isn't historically much of a jock motivation.)
https://twitter.com/fishsports/status/747238632361074688
I'm an unapologetic homer. I will cheer for the Mavs until I die. But it's a lot more fun to cheer for the team AND the men who roam the court. It's a lot more fun to care about the men in uniform and not just the uniform.
It's tough to do that when so many lockers are empty—when so few jerseys house familiar hearts.
I'd rather scream "C'mon J.E.T., you can't take that shot," than turn to my friend and say, "Who's wearing number 41 now that Dirk is gone?"
Whether he sticks around (he will) for his last contract or not, the No. 41 jersey being vacant is on the horizon. Luckily, it'll hang from the rafters, and not on the shoulders of another player, but it will be empty. 
I wonder what we'll fill that space with. Hopefully Hassan. Or Conley. Or both. Hopefully more than another strange man draped in a familiar logo.
Steven Kilpatrick (here on Twitter) has a Masters Degree in writing, is a stand-up comic, a DB.com contributor and a passionate MFFL. Obviously.