Sources tell DallasBasketball.com that the Dallas Mavericks are breaking with tradition by having their NBA free-agency recruiting pivotman, owner Mark Cuban, not stationed in L.A. Instead, we've learned, Cuban will headquarter in Dallas as the club gets to its July 1 business involving Dirk Nowitzki, Kevin Durant (with that "courtesy call'') and then top targets Mike Conley and Hassan Whiteside. (Click link for all the Mavs free-agency news stacked neatly.)
Additionally, we're told, the July 1 meetings with Conley and Whiteside will be staged separate from one another.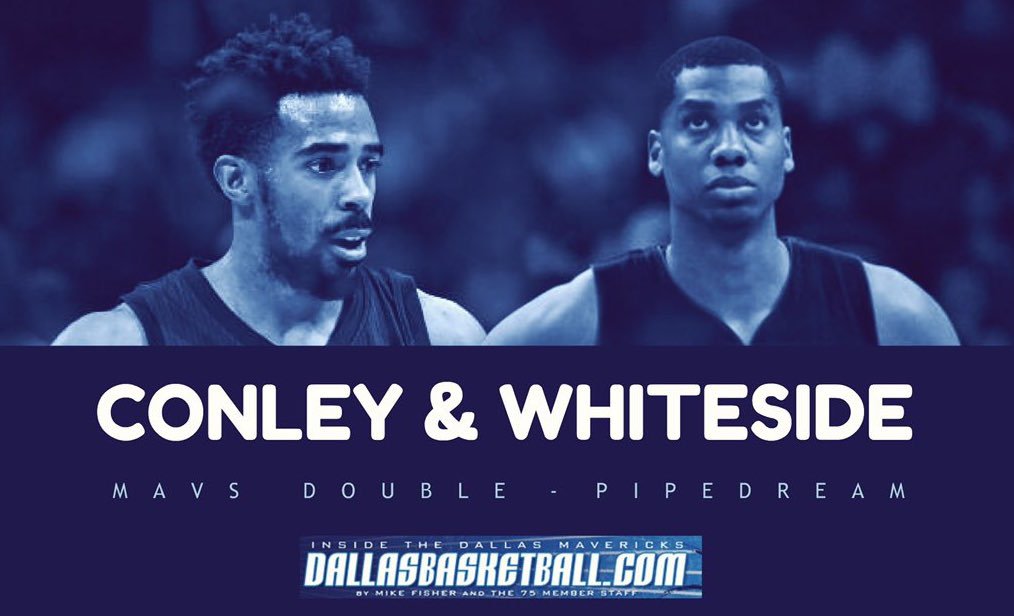 That's not unusual. But why the change in Cuban locale? L.A.'s served as his HQ in the past largely because that is where the NBA's most powerful agents are based. But the Mavs do not necessarily need to be in L.A. to pitch Conley, who spends his time in this half of the U.S., in Memphis, Arkansas and Indiana. (With his dad as his main representative.) Maybe that's also true of Whiteside. Durant is meeting teams (not Dallas) in The Hamptons. And while coach Rick Carlisle has said he's willing to fly to Germany to recruit Dirk, the actual travel isn't as necessary as is the approach to make certain Dirk understands what The Four Pillars are trying to accomplish together here.
Dallas, by the way, can legally do some business with Dirk and with Chandler Parsons before July 1. That business should mean a continuation in Dallas for Twilight Dirk and, given CP's desire for the max and our report that the Mavs do not wish to go there, that business could mean the end of Parsons' two-year injury-plagued time in Dallas. (We keep writing that the Mavs are "turning the page.'')
Key guys in this pitch process: Carlisle and Mavs staffer Michael Finley, with his increased muscle inside the organization.
And what happens if the page has turned from Parsons … and then Conley and Whiteside opt to pass on the Mavs' max bids? Multiple reports list Dallas as a team with interest in Jamal Crawford, the three-time Sixth Man of the Year who tells the Orange County Register, "My preference, like I've said from the get-go, is to go back to the Clippers. But, I'm definitely very, very open-minded about the whole free-agency process."
Crawford is 36 and therefore belies the team's privately-stated desire to get younger. But Crawford on the bench of a good team does make you better.
DB.com has also learned that Orlando swingman Evan Fournier will pop on Dallas' wish list depending on how the more prioritized dominoes fall. (Parsons goes home to Orlando and the wing clog on the Magic roster pushes Fournier here?) Fournier is in a similar class, in the Mavs' minds, with the likes of Crabbe, Turner and Bazemore.
Sources also tell DallasBasketball.com that while the Mavs are definitely targeting centers as a priority, starting of course with Whiteside, that not only is Dwight Howard not a top desire, but also that ex-Mav Ian Mahinmi (solid in Indiana) is not greatly coveted here by Cuban's people. (We're a little surprised at the Mahinmi thoughts. And if you read DB.com, you know all about Dallas' "one-third-of-retail'' reservations on Dwightmare.)
Point guard is another position on the wishlist, and while there is no one available who compares to Conley, a pair of boomerang Mavs — Jeremy Lin and Deron Williams — will be candidates. Beyond that? We will continue to research names and will continue to resist randomly connecting Dallas to people without justification. But know that on July 1, the process of bringing new talent to Dallas will mean two separate meetings with the two top targets, with Mark Cuban pushing the buttons from Dallas itself.