Would it really be the worst thing in the world if Dirk Nowitzki left the Dallas Mavericks in free agency?
Don't throw anything at this story. You're just going to break your laptop or your tablet or your phone. But, yes, I get it. It's Dirk and we don't want to think about that. Dirk's a Maverick and that's all he ever should be. And yes, like many of you, I believe the odds are better of him staying with Dallas for the two more seasons he wants to play than of going somewhere else.
But he wants to play for titles. When you're 38 and you've already won a ring and you're headed for the Hall of Fame one day, rings are all you really have left to play for. Nowitzki has two more years, he says, and he doesn't want to play with "five rookies."
As always, the Mavs are doing all they can to put a great team around him but the Mavs have tried and failed before in that regard. That's part of the reason he opted out of his contract — he wanted to see it happen before he committed to two more years. And there's all the trickery Dallas might just be using to make good things happen. 
This offseason our Mike Fisher, as you would expect, has been on top of it. There's Kevin Durant (the courtesy call). There's Chandler Parsons (wants the max but the Mavs aren't likely to give him the max as the "page is turning,'' DB.com writes). There's Dwight Howard ("One-Third of Retail''). There's Mike Conley and Hassan Whiteside, the so-called "Double Pipedream." (oh and check out this intriguing scoop from Fish on the Dwyane Wade phone call to the Mavs.)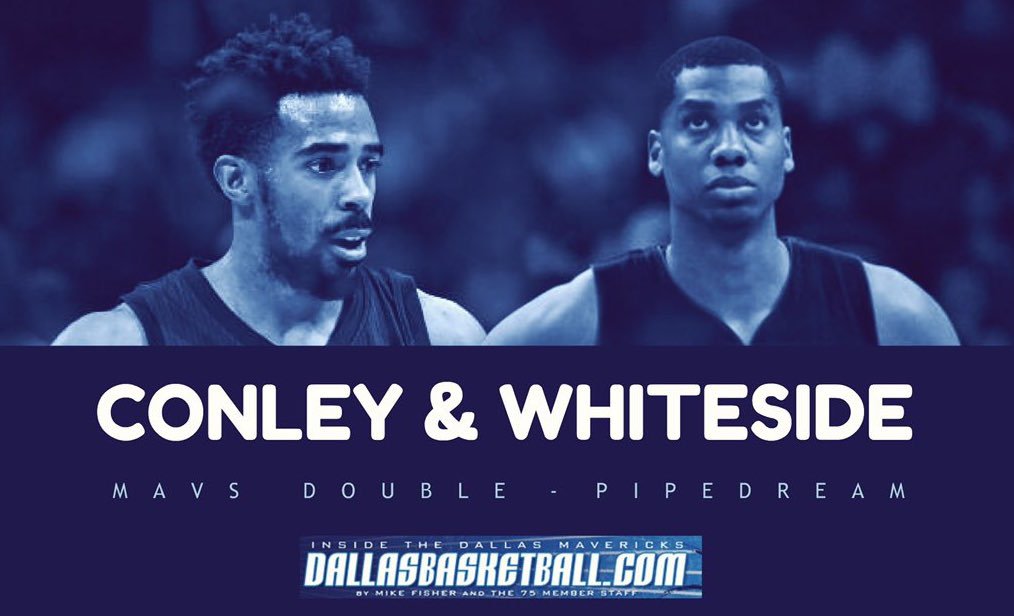 In a perfect world you would manage to get some combination of two of these players (Conley and Whiteside, yeah, but it's a "Double Pipedream, as Fish writes). Nowitzki re-signs in a heartbeat in that scenario. Sign one and it might require a bit of a Mark Cuban sales job, but I think it can get done.
But what if the Mavs sign none of them? What if a Top Five becomes a Top None after contracts can be agreed upon starting July 1 and signed on July 6?
Well, let's assume the Mavs swing and miss. Based upon who is under contract your starting five would be Wesley Matthews, Justin Anderson, Salah Mejri, J.J. Barea and Devin Harris. You scramble to retain Ray Felton. You "upgrade'' by selling the public on Jeremy Lin. You overpay to keep Zaza. You make a clever trade that salvages your rep a little bit.
Put yourself in Nowitzki's shoes for a minute. Would you want to be the headliner on that team if your ultimate goal is to win a title? No offense to those guys, but no. I can't imagine he would.
Free agency moves fast. Nowitzki will know in about a week if the Mavs were successful in luring some top talent to Dallas. If the Mavs aren't then I think Nowitzki starts getting a wandering eye. And it would be hard to blame him.
The advantage he has in this situation is that if his desire is to win a title and he has to leave Dallas to do it, he's won't be asking his new team for a max contract. So teams that might be an attractive spot for him to land can go about their business, collect their free agents and then come back to Dirk about a week into free agency and make a pitch. I just don't see Nowitzki agreeing to a deal or signing with anyone before he knows whether or not the Mavs are able to execute their plan. As we learned with DeAndre Jordan last year, "agreed" is different than "signed." It wouldn't surprise me at all if Nowitzki waited until the ink was dry on all contracts before he re-signed with Dallas — or chose to go somewhere else.
In an exit scenario, I say Nowitzki would have his choice of five suitors that, before free agency moves, can make a claim to being a legit title contender:
Golden State: You've heard the report. Believe it. The best shooting 7-footer in league history would fit oh-so-well there.
San Antonio: As much as that would be a stake through the hearts of Mavs fans, imagine a season or two of the Big German playing alongside the Big Fundamental (and Tim Duncan, despite executing his own player option, is on the fence about coming back).
Oklahoma City: This assumes Durant stays in OKC for at least a season.
Cleveland: I wonder if LeBron James still has nightmares about that Nowitzki drive late in Game 2 of the 2011 NBA Finals?
Toronto: Demar DeRozan wants to stay in Toronto and I don't think this is a fluke team.
Aside from just the opportunity to win a ring, these teams offer Nowitzki one other important inducement — rest. He doesn't have to be the man in any of these cities. He could be limited to 20 to 25 minutes a night. He's proven the past two seasons that, as his minutes have been trimmed, he can remain efficient offensively. He, in my mind, could be a Sixth Man of the Year candidate with any of those teams.
There are other teams in the NBA that are on the ascendancy. Boston is among them. But to me, those five teams are his best shot at a ring in the next two years. If he wants one, and the Mavs swing and miss in free agency again, I honestly believe Nowitzki will take a phone call. He STILL might not leave, though. Why? It's Dirk. He's not only a Top-25 NBA player all-time but he's a Top-25 character guy. He may wake up one day after all of these potential free-agency flirtations and realize he just can't leave Dallas, no matter what. I could totally see that happening.
But one must plan for the nightmare scenario of Dirk playing only a time or two in the American Airlines Center next year, as opposed to 40 or 50 times.
So let's say the unthinkable happens. Let's say he leaves. What happens next?
Well, 2016-17 will be bad. Not Quinn Buckner bad, but you won't enjoy it. Cuban won't enjoy it. Head coach Rick Carlisle won't enjoy it. The Mavs would have to reboot. Carlisle would have to play younger players far more than he wants. The Mavs would stick with one-year contracts to "keep their powder dry," as the mantra goes. Assuming the Mavs attract the sort of free agents they've attracted in years past, I think the most one could expect would be 25 to 30 wins. That's a lot of ping-pong balls in the NBA Draft Lottery.
And that's where things start to look better, because according to some reporting post-NBA Draft the 2017 NBA Draft Lottery has the makings of a fantastic affair. It's filled with potentially great incoming one-and-doners like Duke F/C Harry Giles, Duke G Jayson Tatum, Washington G Markelle Fultz, Florida State F Jonathan Isaac and Kentucky G Malik Monk; foreign gems like France PG Frank Ntilikina; and guys with actual collegiate experience like Indiana F OG Anunoby, Cal PF/C Ivan Rabb and Duke G Grayson Allen. In other words, there are several potential building blocks for a lottery team.
Let's assume the Mavs end up in the lottery next season without Nowitzki. Last season 25 to 30 wins netted a potential Top-6 pick. That would provide the Mavs an opportunity to pair a Top-6 prospect with Anderson, A.J. Hammons and whatever other youngsters the Mavs were able to accumulate. It won't make the Mavericks winners in 2017-18 most likely. But if you're thinking about a post-Nowitzki world, that could be the difference between just a couple of years of losing and several years of losing.
The decision is in Nowitzki's hands, as it should be. He's earned the right to determine his future. If his future remains in Dallas, then we'll enjoy watching him play out his career where we all know he should.
I know Fish is of the opinion that Dirk will stay because he's one of The Four Pillars ... as long as he is convinced the other Three Pillars are attempting to continue to "go for it.'' will keep trying to win now, and that will probably reup for $8 mil or $11 mil or $14 mil or whatever (all of it a bargain.) His roots are here. His friends are here. His wife and babies are here.
 But I'll counter by saying we shouldn't be surprised, if things go sideways, when Nowitzki flirts with going another direction. After all, he wants to win a title. And even the most faithful MFFL knows that object is much further away than it actually appears.
Want to talk more Mavs? Head to the DallasBasketball.com Boards or catch up with Matthew Postins on Twitter at @PostinsPostcard or Mike Fisher @FishSports.