DB.com contributor Steven Kilpatrick wonders: Do The Mavs Misunderstand The Max?
We have to stop pretending that there's a threshold for player worth in the NBA, because from fans to broadcasters (and even some front offices) we seem to have no clue.
Two summers ago, when the Mavs partied with Chandler Parsons, and signed him away from the Rockets, the narrative coming out of every mouth was this: The Mavs overpaid for Parsons because they had to.
Parsons made $14.7 million in year one of his contract. He made $15.3 million in year two. Cuban and the Mavs front office hoped he'd opt-in to year three of his deal, which would have paid him just north of $16 million a year.
It also would've been a massive discount to the Mavericks, since Parsons will make about $6 million MORE next year on a new max deal that he's signed with Memphis. ... where he'll be joined by Mike Conley, who had his meeting with Dallas on Friday that probably went better than Chandler's last meeting with the Mavs ... but not good enough to keep Conley from staying with Memphis for -- you guessed it -- the max.
Yes, the injuries upend the on-the-court metrics on Parsons' time in Dallas, but the market's metrics are clear: The Mavs got a huge deal on Parsons for the two years he was in Dallas. You can like that, or you can hate it, but you can't change the math.
If Parsons stays healthy, the Mavs are going to wish they'd given the guy a max deal this off season. He can play two positions. He's an improving shooter AND defender. And his "bro'ness'' aside, has a work ethic that is blistering.
Yeah, he got hurt in Dallas—but at no point did you sense a guy who wanted to shut it down. He was a guy who tried to play through a debilitating tear in his knee TWICE. He's a guy who worked back from knee surgery to post fantastic numbers—until he got hurt again of course.
As the Mavs are unwilling to pay Parsons, it most certainly hinged on the fact that he's played one playoff game in two years, and they worry he might have annual knee surgeries to look forward to. (That and Fish's much-touted lack of willingness to do "Shared Sacrifice.'')
Nicolas Batum (reported by DB.com as a target of the Mavs) is going to ink a deal for $120 million to stay with the Hornets. (Oh, and of course, Hassan Whiteside, another target, is also a "stayer'' in Miami.) When compared to Parsons, Batum needed two more shots per game to average about 1 more point per game. While Parsons' shooting has improved over his career, Batum's has gotten worse. Chandler has a better true shooting percentage, he's more efficient, and he's got size.
If the Mavs were comfortable going after Batum, then what makes Parsons anything less than a max player? 
The answer is most certainly his knees. The same thing that kept him out of fourth quarters last year as he worked back into shape. The same thing that kept him out of two straight post seasons. The same thing that kept him out of the Mavs day-one plans this free agent season.
But, make no mistake: Parsons is worth a max deal. A healthy Parsons on this max deal will make his year four costs seem negligible. Just like his year three costs in the last deal seems like weightless chaff compared to what he'll make next year instead.
You can let any number of people spin this so that the Mavs are making the right decision and being financially savvy. But, they aren't. They paid Wes Matthews more than Parsons last year, and for less production. If they believe in rewarding Wes for loyalty—they ought to remember that Parsons did everything asked of him, worked his way back, played his best ball. If his knees are the only logical concern, then Wes should never have been signed last year at all.


Personally, I think it would've been wise to see them both suit up in Dallas next year. Maybe we'll hear some rumble later that Parsons wasn't a good locker room guy—that he didn't mesh with Dirk or Rick. I don't know. I certainly hope not. I like the guy. Probably, the Mavs will offer a negative spin on them just as Parsons has, through media pals, thrown shade at the Mavs.
All that aside, the market says Parsons is worth the max. The numbers and the talent says he's worth the max.  That doesn't mean he was ever staying in Dallas. 
It just means that he should've.
Especially over options like Batum. (Don't forget that Parsons is still under the six-year threshold, so he's in the lowest tier for max level players. Batum, on the other hand, has eight years of experience, so his max number is higher). We can argue with Dallas' decisions in a number of areas (Fish is reporting that the Mavs have no interest in paying Dwight Howard, either, because "Culture Matters.'' (And off Dwight goes to Atlanta for three years and $70 mil.) But are all these other spending teams doing "culture'' wrong?)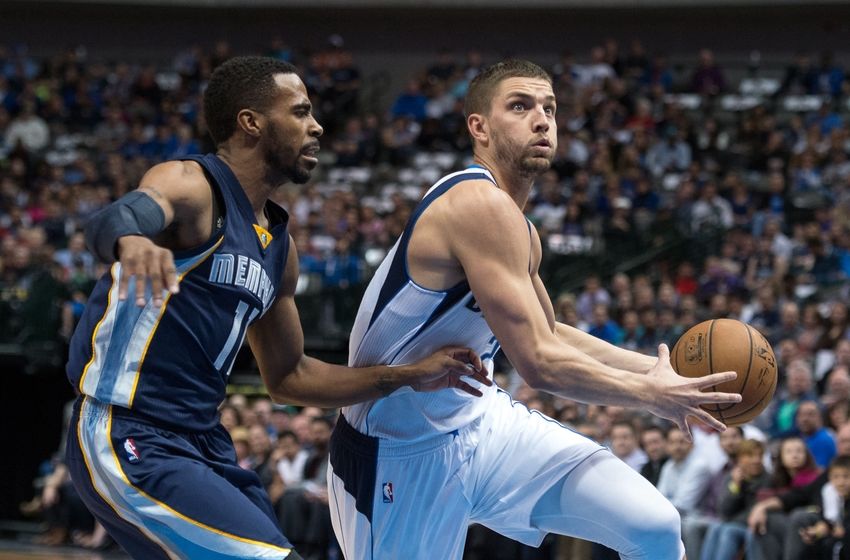 The cap keeps climbing northward. There's about to be another CBA that'll make sure of that. In four years there is a very real danger that the Mavs get dominated by a Grizzlies team that's starring Conley and Parsons, at their prime peak, on what's become a pair of max-but-team-friendly contract.
And I'll be weeping too loudly to say, "I told you so."