The Mavs personnel department was high-fiving over the holiday weekend as Dallas moved a step closer to filling out their rotation on Tuesday when they used their mid-level exception ($2.9 mil) to sign Seth Curry (yes that's Seth, not Steph) to a two-year $6-mil deal. And a lot of fun was had in the Mavs AAC basement on Wednesday when old pal Roddy Beaubois showed up and hung out.
A "solid move,'' new teammate Dirk Nowitzki calls the acquisition of Curry, even though Curry certainly isn't, and most certainly will never be the player that his older brother is. (And how sick of the comparisons he must be!) Seth does bring some valuable traits to the table for a Dallas team that could use an upgrade in the shooting department.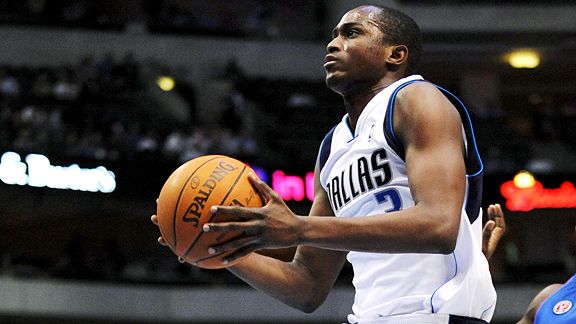 And speaking of perimeter players ... Roddy B is probably sick of the comparisons that exist between the player he almost was and the oft-injured ("soft?!'') NBA player he became. ... before he wasn't an NBA player at all.
The Seth-Steph comparisons are inevitable. Let's do this first. So, here's STEPH in 2015-16 ...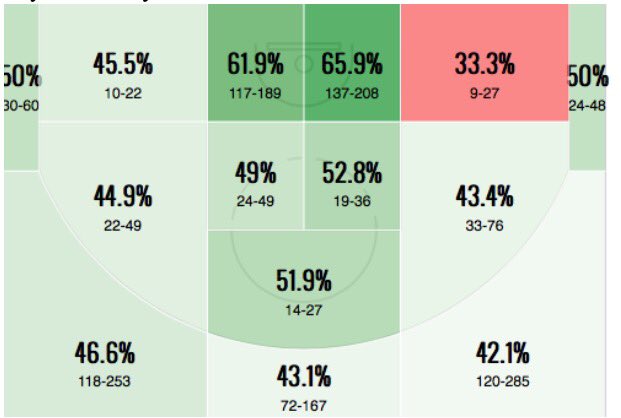 And here's SETH last season in the NBA ...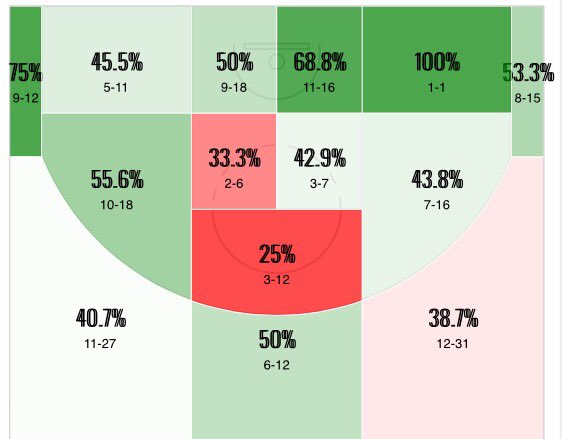 That second chart reflects Seth's shooting percentages from each area of the floor from last season, and yes, there are parts of that that are eye-popping in same way his brother's chart is eye-popping.
Seth began his career scooting around the D-League (where he was an All-Star), and bouncing from 10-day contract to 10-day contract. Finally, last season, he caught on in Sacramento, where he averaged career highs in minutes (15.7), points (6.8), and shooting percentage (45.5). Curry was a valuable part of the Kings offense towards the end of the year, averaging 16.4 points in the month of April. His best game of the season game against the Suns on April 11th, when his 20 points and 15 assists helped lead the Kings to a 105-101 victory in Phoenix.
What happened in Sacto? It seems the Kings moved on three-year deal with free-agent guard Garrett Temple and essentially replaced Curry in their plans. He'd been a restricted free agent, which means the Kings could've matched any offer ... but that was rescinded, setting the 25-year-old free.
Curry is obviously an excellent shooter, and while not on the same level as his brother, he has deep range from anywhere beyond the arc.  Curry also isn't a liability on the defensive perimeter, as he does a decent job defending guards, though his 6-2 185-pound frame doesn't work in his favor. Seth also doesn't excel at ball-handling like his brother does, but ... who does?
The Mavs wanted to add "youth.'' They've done that here and elsewhere. They desperately needed to add some shooters after the loss of Chandler Parsons, and Curry fits, on paper. Really, it's a "perimeter game'' thing that attracts the Mavs here. A sort of "wave-of-the-NBA future'' thing.
Now, as Dallas envisions him as a "range-finder'' off the bench,  the question is: Even though Seth will never be Steph, can he remind us a little bit of Jason Terry? Or will his time here make him more reminiscent of another good-guy/good-shooter in John Jenkins? And then comes another question: As the Mavs seek a trio of Merry Minimums to fill out the bench (with McGee and Evans out), can Roddy B be a reclamation project that makes sense?
Beaubois was an almost-star in Dallas a half-decade ago, when DB.com started the "Free Roddy B'' campaign. (Yes, Fish still has a few of those T-shirt in the garage, I bet.) Beaubois, who still lives in DFW part-time, was a visitor at the Mavericks' summer-league practice Wednesday morning. The 6-0 guard hasn't played in the NBA since 2012-13 but has played overseas the last three seasons. Beaubois averaged seven points in 182 games for the Mavericks over four years, highlighted by a 40-point game at Golden State.
Can he still electrify at age 28? He can. ...
Would be fit into the "Culture'' the Mavs are presently so concerned about. He would. Would he help Dallas more than other candidates for those last three roster spots, young Vegas guys like Collinsworth, Gibson or Finney-Smith? Or maybe a vet or two to play upfront? That's all up for debate. But the "Free Roddy B'' attraction is, in a way, the same as the Seth Curry attraction in that they might be ... Range-Finders.''