When you hear the word "rebuild" in professional sports it comes with exactly the negative connotation you think it does. It means it's going to be a while before your team wins again.
Look at the Philadelphia 76ers. They've taken rebuilding to a whole new level the past few years, collecting high lottery picks in an effort to get better. It didn't work, to the point where the Sixers have brought in the ultimate fixer, Jerry Colangelo, to right the ship. Good luck.
I've felt the past few years that the Dallas Mavericks were heading that way, toward an inevitable slide that would be exacerbated when Dirk Nowitzki finally retired, especially when you consider the makeup of the roster the past few years (read: old) and the dearth of first-round picks (read: Rajon Rondo). I imagined it would be like falling off a cliff. The vision was captured in the piece I wrote last week in which I wondered aloud if Nowitzki walking away from the Mavericks now might not be the worst thing in the world. My logic? Nowitzki walking away now would allow the Mavs to focus fully on retooling its roster and getting younger. In other words, rebuilding. Because, without Nowitzki, who was really going to come here?
"Plan Powder," as our Mike Fisher has called it, deserved some blame here, too. The Mavs' break-neck chase for younger big-fish free agents seemed to keep failing (see DeAndre Jordan), and in a desire to hang onto space to keep trying and failing the Mavs kept collecting older free agents on short deals. Eventually that catches up to you.
Take last year's roster. Seven of their players had 10 or more years of experience in the NBA. Take a closer look and nine of those players are 30 or older, and a tenth — Wesley Matthews — turns 30 in October. That's a plan that simply cannot work, especially when your No. 1 option is one of them.
So, at some point, you fall off the cliff, right? The Mavericks looked like they were headed there after July 1, when both Hassan Whiteside and Mike Conley — players that fit the profile of the kinds of younger players the Mavs want to sign — went elsewhere.
Perhaps the best thing those two players could have done was make their decision quickly, because doing so allowed the Mavericks to head for Plan B or Plan C or whatever letter you want to attach to it. And a funny thing happened.
The Mavs actually became a younger team without sacrificing Nowitzki or its precious future cap space.
It started with Golden State's Harrison Barnes, a forward who was the fourth option on an NBA champion in 2015 and an NBA finalist in 2016. The Mavs offered him a four-year max contract. Now, you may disagree with the money involved. That's your right and you might have a good point about spending $94 million over four years for a player that averaged 10 points per game. But he's coming to Dallas ... "handcuffed'' to do so at 11:01 on July 6 in Ames, Iowa, and yeah, the Mavs have a sense of humor about not finding the cuffs for DeAndre Jordan last year ...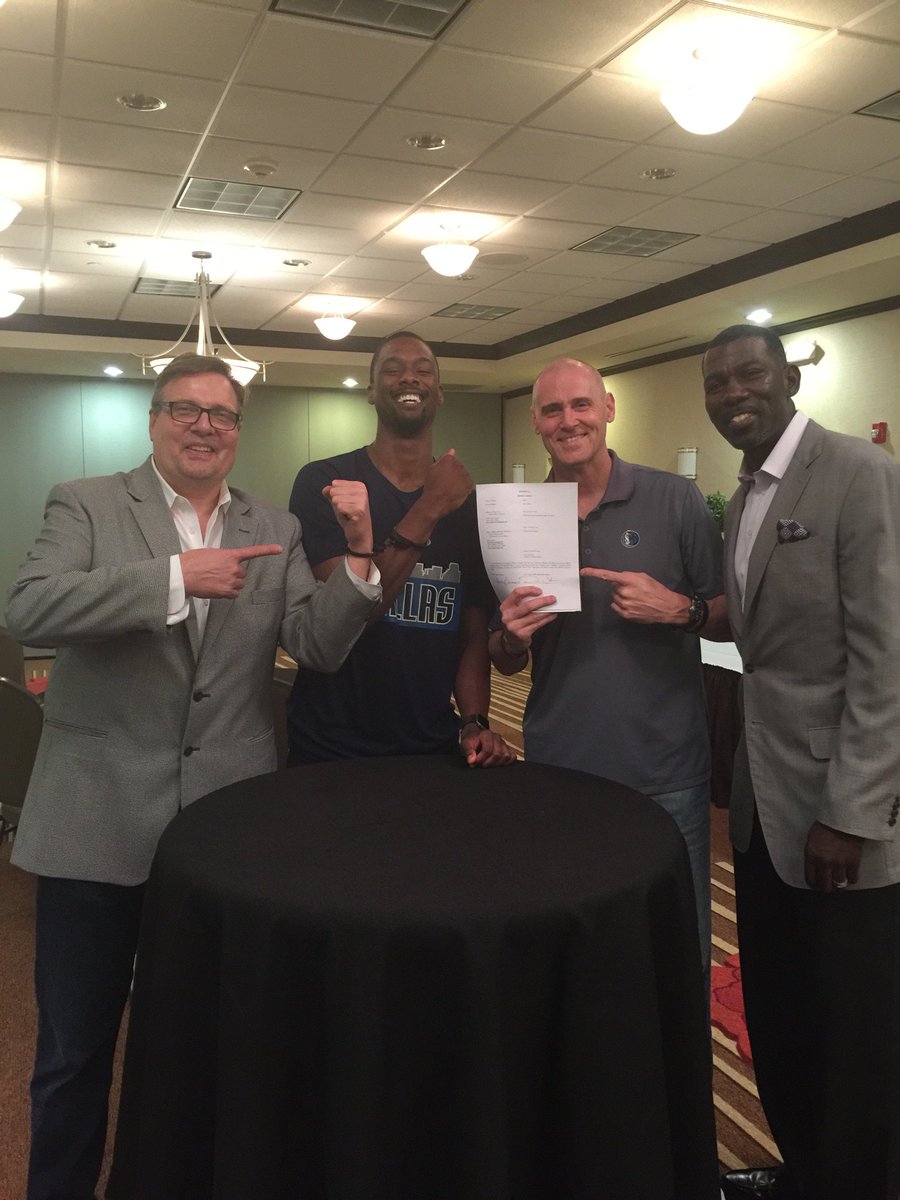 ... and that contract, along with his skill and the opening created by the departure of Chandler Parsons, makes him an instant starter, and even what Dirk is saying is a hoped-for "go-to guy.''
Next came Seth Curry, the younger brother of Steph Curry and a player who may or may not have had your attention going into free agency. Don't blame yourself. He was in NBA prison in Sacramento last year, but NBA prison was good to Curry, who finally received some consistent playing time and put up 6.8 points per game in 44 contests last year. As we write here in Mavs Premium, Dallas envisions Curry as a "range-finder.''
Finally, you have the youth the Mavs had already, quietly, accumulated, while many of us were yelling about this team's age. Last year's first-rounder, Justin Anderson; this year's second-rounder, A.J. Hammons; and the best thing to come out of the Rondo deal from a Mavs perspective, Dwight Powell. All are under contract or, in Powell's case, are back under contract. Anderson and Hammons come cheap and are under contract for at least two more years.
Powell signed a four-year, $37 million deal with the Mavs, which is, frankly, insane when you consider his per-game production (5.8 ppg, 4.0 rpg last year). Sure, his numbers are a heckuva lot better when you look at his per-36 minute numbers (14.5 ppg, 9.5 rpg), but his production must improve dramatically, in my opinion, to make the deal worth it. But given the crazy money tossed around this summer, who knows? He may turn into a bargain, if he develops and produces.
So now, suddenly, there is less to complain about, in terms of this team's youth, as Fish highlighted a couple of days ago:
https://twitter.com/fishsports/status/750188208529354752
The Mavericks now have a player 25 or younger at each position on the floor, something that I felt would take them years to accomplish at the rate they were going. The Mavericks actually have a core of younger players to test the next couple of years to see if they're worth keeping as part of their future. Will all of them pan out? No, that's unlikely. But at least the Mavs have some young pieces to work with, which is much better than they had last year.
And it can get better quicker than you might imagine.
First, the Mavs haven't dealt away their first-round pick next year. In fact, the Mavs have every first-round pick through 2024 (no one tell Cuban that). So they should have another opportunity to get another solid young piece next year.
Second, there is affordability. Barnes is signed to huge money, but Powell's contract, by NBA standards, is actually somewhat reasonable (yeah, I can't believe I'm typing that, either). The other three players are under contract for at least the next two years, as mentioned, and together their entire contracts don't add up to one year of Barnes' deal. Even if they don't pan out, the Mavs aren't out too much.
Third, there is flexibility. Andrew Bogut's deal is for just one year at $11 million, so assuming he doesn't come back after next season the Mavs get that money back to shop around for another young player. Same goes for the new Deron Williams contract, a one-year, $10 million deal. Nowitzki's deal has an opt-out as well after next season, so there's potential for more cap space.
Fourth, there is even MORE guaranteed cap room coming. The NBA salary cap is expected to go up to $107 million in the summer of 2017, which would be an increase of $15 million. Add that to the expiring contracts of Bogut and Williams, and Nowitzki's opt-out, and the Mavs can go chasing another young player for a max deal next summer. (Meanwhile, the financial totem pole in the locker room now makes sense ... something not so true when Rondo and Monta and Parsons were all a part of that totem pole.)
Now, none of this means it will work, of course. Identifying, drafting and developing young talent is a crapshoot and I think that's part of the reason the Mavs' brain trust chases free agent talent the way they do. They're more finished products and easier to know what you're getting. This also assumes the Mavs finally land a player they consider to be a Plan A target, which just seems to be too much to ask. But when you swing and miss so many times to lure top-flight free agents, the Mavs had to make a change. They had to get younger.
And with a few days' work in July, the Mavs did. We just won't know for a while if the following is true:
https://twitter.com/fishsports/status/750371995305385984
But at least the Mavericks appear to be trying now.
Want to talk more Mavs? Check out DB.com Boards or hit up Postins @PostinsPostcard or Mike Fisher @FishSports.