If you are human and an observer of other humans, you've seen the vision and you've wondered: Why is that flawlessly beautiful person married to that irritatingly imperfect spouse? "What does she see in him?!'' Or, "He's too good for her!''
We are doing this now with the pure-of-heart Dirk Nowitzki, pondering why he settles for being the gorgeous wife married to the oafish husband.
"Oafish,'' because the Dallas Mavericks once again swung big in an attempt to hit a five-run homer and predictably missed before grabbing their second wind and recovering with a respectable Tier-2 take of summer talent.
What does the Beautiful Dirk see in this relationship?
To those who fail to understand The Four Pillars, he sees increasingly little, even as he's signing on for a deal that in 2016-17 will double his pre-opt-out salary, paying him around $19 million this season with a player's option to step into another contractual go-around next year.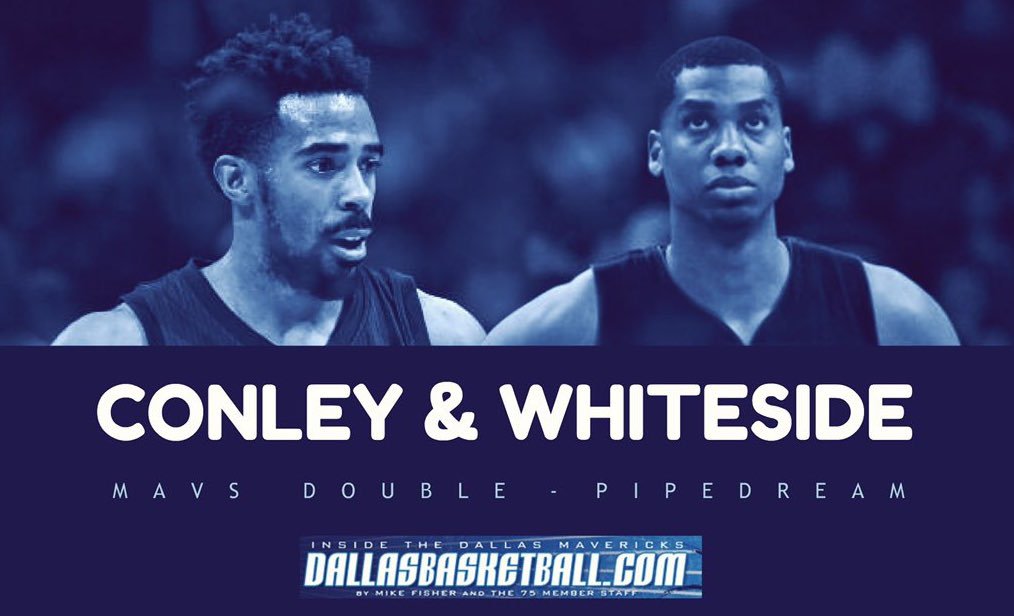 Look at the headlines following the non-gets of Hassan Whiteside and Mike Conley and following Dirk's reflective comments:
*"Dirk Nowitzki lays into the Dallas Mavericks organization''
*"Frustrated' Dirk Nowitzki wants out of Dallas Mavericks? Celtics, Bulls or Rockets possible trade partners?''
*"Dirk Nowitzki is fed up and doesn't know who to blame''
Whoa. He's "laying into'' the Mavs and is so "frustrated'' and "fed up'' that he wants to be "traded''?
When did that happen? It happened after Nowitzki said this to the German newspaper Spiegel:
"We, as an organization, really have to begin to question everything. Is it me people don't want to play with? Is it Rick (Carlisle)? Is it Mark (Cuban) and some agents and players hold a grudge because he blew up the 2011 champions? Nobody truly knows. Over the last five years, we have been continuously in for the truly big names in free agency, but all we achieved in the end was that we got them more money and a better contract elsewhere.''
"Question everything.''
This is a psychological philosophy, not an expression of "get-me-the-hell-out-of-DFW'' anger from the face of DFW sports. And Dirk is right to take this approach, as his very precise words should carry weight. Is there something more than just the "One-Percent Chance'' that big-fish free agency represents that allowed the Mavs to land, via Summer Shopping, Harrison Barnes instead of LeBron, Seth Curry instead of Kevin Durant and  Andrew Bogut instead of in-his-prime Shaquille O'Neal?
But in addition to Dirk's remarks about "Cuban and agents'' (a worthy question) and Carlisle's style (a worthy question) or anyone's evaluation of Dallas as a city that is simply an ocean, some mountains and a gaggle of movie stars away from being a free-agent destination, anyone freaking over his collection of words seems to be skipping over the first word.
"We.''
"We as an organization.'' 
Dirk isn't throwing shade at THEM here; he is questioning HIS Mavericks. He isn't "frustrated'' and "fed up'' with THEM; He is questioning HIMSELF. (Well, and THEM, too.) This is a commonplace business exercise, and the Mavs should not be exempt from such self-analysis. We are, in fact, sometimes worried that Cuban's Mavs are a bit too cocksure about their "Shark-Tanking,'' deal-making charms, and we are sometimes concerned that Dallas' front office is as obsessed with appearing to be smart as it is actually being smart, sometimes as stubborn as it is arrogant.
So "change'' -- or even discussion about change, consideration of change -- is important. Why do you think we made such an issue of Cuban headquartering in Dallas for this shopping season? Because it was a change from his previous M.O. What about our story on the Mavs deciding they wouldn't give Chandler Parsons the max? It was huge because it reflected a change as the result of self-analysis (not to mention a change in the entire recruitment blueprint). The details matter, as they did when Carlisle was the guy on Marcin Gortat's doorstep, as they did when we asked Jason Kidd about double-agenting Dallas on his Deron Williams recruiting trip, as they did when Cuban sensed that the nightclub scene would be a fitting backdrop to a Parsons offer sheet, as they did when the Mavs attempted to shift organizational gears by giving Gersson Rosas a key to the executive washroom and quickly retracting the gift.
The story here isn't about Dirk Nowitzki being a disgruntled employee who is "frustrated'' or "fed up'' or desirous of a 2016-17 escape. These spouses, homely or lovely, depending on the beholder, belong together. So no, the story here -- what Dirk Nowitzki is saying and what the other members of The Four Pillars need to hear -- is about the importance of self-evaluation, the value of growth, the honesty necessary to "question everything.''