DONUT 1: The Double-Pipedream - 'People misconstrue our approach to free agency,' Dallas Mavericks owner Mark Cuban told "Ben & Skin'' on 105.3 The Fan last week. "We go out there and make a presentation knowing it's a long shot but trying to develop a relationship with those players. It's a chance to present our team and tell people about the organization. We understand going in it's going to be tough for Mike Conley to turn down the biggest contract in NBA history or for Hassan Whiteside to turn down the team that turned him into a star.''
More: Cuban is being honest here with comments that reflect the realities we've reported about The Double-Pipedream from its inception ... and similar Dallas plans over the years.
DONUT 2: Barnes And 'A Pretty Good Summer' - 'Harrison Barnes made it clear we were his first choice but it depended on what KD (Kevin Durant) was going to do. But I wasn't surprised when he left OKC ... and when he did, the dominoes started to fall.
"And we think we had a pretty good summer.''
More: DB.com takes you step-by-step and dollar-by-dollar through Dallas' summer shopping.

DONUT 3: Barnes Eval - "He's obviously very talented and athletic and a really, really good defender. I think he hasn't really had the chance to see his offensive game develop. In order to add features to his game, you've got to add them and use them in the game. Under (previous Warriors coach) Mark Jackson and then coach (Steve) Kerr, they didn't really look to highlight him, but we know he's willing to work hard with Rick (Carlisle) to work on his game. We think he's really going to be able to develop a lot of skills.''
More: Here's Dirk on Barnes' potential as a "go-to guy.''

DONUT 4: A DeAndre-Like Call To Hassan? - "That (re-approaching Whiteside after Dwyane Wade left Miami) never crossed on minds. We were we were happy with the direction we were going in. We made a pitch to Hassan knowing he probably wasn't going to leave them. But no, we did not go back to him and bring it up.''
DONUT 5: On The Chandler Parsons Bromance - "I'm still good friends with Chandler. We exchanged texts. I like him a lot but there are other things that went into the decision. We were aware of them and Chandler was aware of them and he made his decision. When we gave him some options, he went in a different direction and I respect that. He's a great guy and I hope he has a great season other than the four games we play (against Memphis and) him.''
More: Cuban's initial reaction to DB.com regarding Parsons video saying the owner is "still his boy'' is here.

DONUT 6: On Dirk Nowitzki's New Contract - "I just wanted to pay him a dollar more than what Kobe got last year! No, just kidding. What the process was, Dirk gets what Dirk wants. So Holger (Geschwindner) would come back with numbers and we weould offer him more. And Dirk was like, 'We want what 'so-and-so' gets.' And so we were like, 'OK, just tell us what you want.'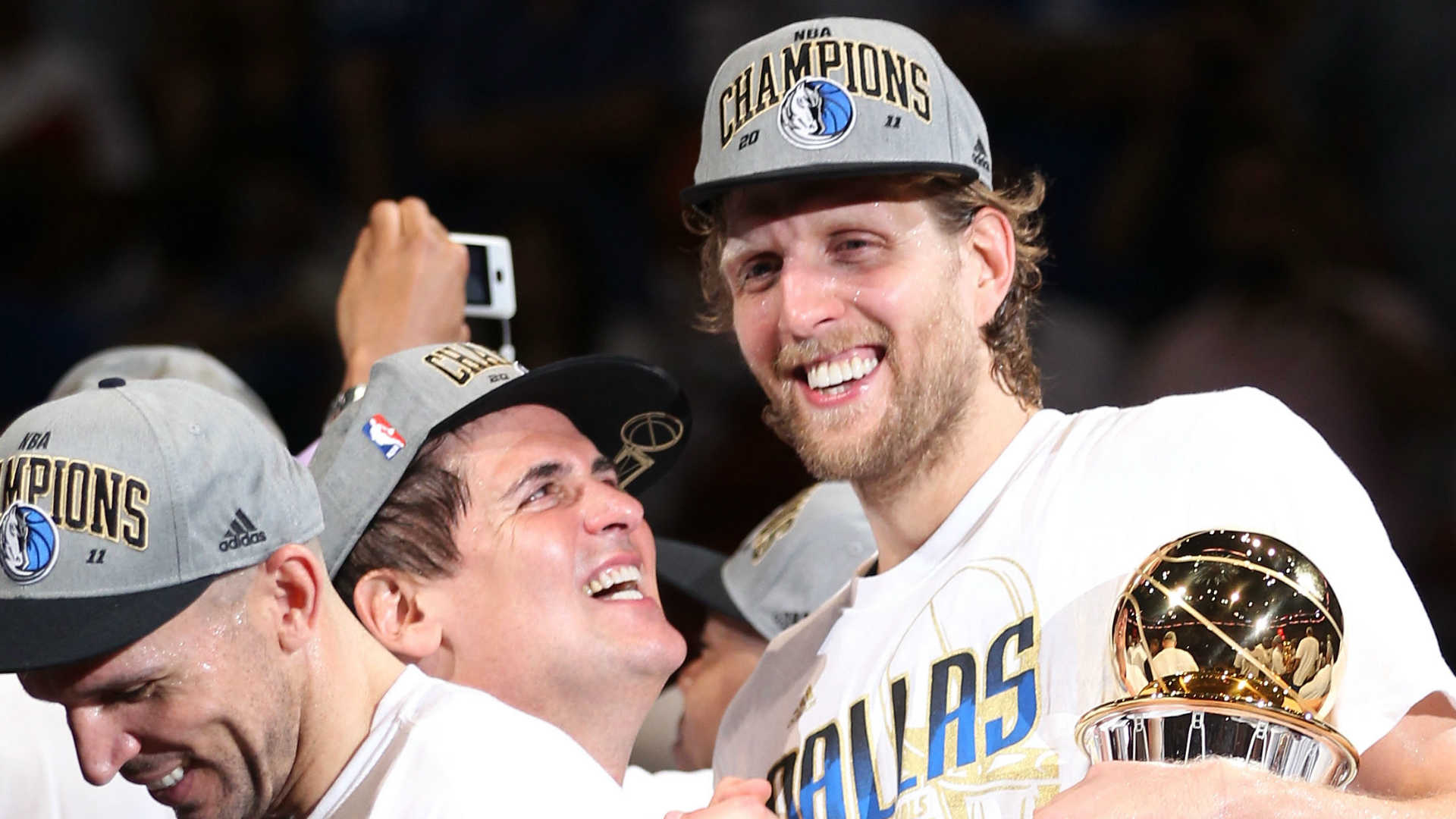 "That was the process. I made it clear to him and we made it clear to Holger that Dirk gets what Dirk wants and that's where we went.''
More: Cuban makes this "two-year, $50-mil contract'' sound so simple. We think there are complexities worth asking about and worth studying. Click here as we continue to work on the story.

DONUT 7: On Seth Curry for the MLE - "He was restricted (before the Kings eventually removed that tag) so it wasn't until he became free that we had a chance to talk to him. He's an instant offense guy. He's been in situations where only at the end of last season did he get a chance to start and get a lot of minutes, and when he got those minutes, he did really well.
"He can shoot, obviously. He can create his own shot. And his quick release and his ability to knock down three-pointers ... we thought that was something we needed.''
More: Here's our analysis of Curry using last year's shot chart ... which looks remarkably similar to that of his brother, or at least that of Jet Terry.
DONUT 8: Why Not Tank? - "The first thing you have to look at is, with your current roster, we've got this German guy that even if we tried to tank he's too good. If you have a superstar who ... makes the game easier for every else around him -- Dirk's one of the few players in the league who literally makes everyone around him better -- and you have a coach Carlisle ... You put those two things together and even if you put Moe, Larry and Curly around them, or Ben and Skin next to them, it's going to be hard to tank because we're still going to be good because Dirk and Rick are that great.''

DONUT 9: Youth And 'Culture Matters' - "We started going younger last year and even more so this year, knowing that Dirk is going to define the culture for the young guys and set examples for those guys and teach them how to be pros. Hopefully we can develop all the young guys we brought in and be special.''
More: How we think the Mavs bowed to a trio of masters this summer, including the demand to "get younger.''

DONUT 10: 'We've Gotten Better' - "We've gotten better. We're more athletic, and our second five to continue to get better ... We wanted to transition, we wanted to leverage Dirk because it's impossible to not compete with Dirk on your team ... and we wanted young players we could develop and we've done that.

"Rick is going to play to our strengths. When guys got hurt at the end of last season, we became a grind-it-out team and won some important games to get into the playoffs as Rick leveraged our skill set. And this year will be a better defensive team just because of the athleticism. Andrew Bogut is a great center and playcaller on the defensive end. ... And we have JJ (Barea) and Devin (Harris) coming off the bench to get us some scoring punch. (And UDFA guard) Jonathan Gibson is an instant-offense-type guy.''
More: Here's our analysis, with the help of Dirk's words, of Andrew Bogut as a "fun fit.''

DONUT 11: On The NBA All-Star Game Pulling Out of Carolina - 'I think it's the right move. I know it's controversial, but I think it's the right move.' 
DONUT 12: Would You Ever Run For President? - "President of what?''