Mavs coach Rick Carlisle has spent the offseason as a recruiter, a dinner-time roaster, a dodgeball trainee and more.
Now, it's time to teach. ... with a challenge to teach his increasingly younger Dallas Mavericks squad how to succeed at a time that he says "may be the best the NBA's ever been.''
"It is a different time,'' Carlisle tells me as he preps for the start of another Mavs camp, launching on Monday with Media Day and then the first practice on Tuesday. "The collective-bargaining agreement has made this a different game ... a different league. But it is a better league.''
How so, I ask?
"Well,'' he grins, "there is a $24-billion TV deal in place. So it must be better.''
Carlisle, who turns 57 in October, is himself a beneficiary of the NBA's financial health. Last fall, he signed a five-year extension (reportedly worth $35 mil) to remain with the Mavs. That deal is expected to take him through the 2021-22 season, which, if it works out, would figure to make him even more iconic in DFW than he now is as a result of the Mavs' 2011 title.
He credits Mark Cuban, Donnie Nelson and Dirk Nowitzki for making all of this work to this point, and these "Four Pillars'' are part of Dallas' hoped-for continued success. Is Rick willing to look forward in that way?
Predictably, no.
"Hey, in this league right now we're all year-to-year we're all day-to-day,'' he says.
In one sense, he's talking specifically about Deron Williams and the one-year deal he signed to stay in his hometown. In my discussions with D-Will, he would've preferred some long-term security. Indeed, the Mavs -- having followed up that glorious title with an almost ever-present "Dry-Powder'' philosophy that's driven them to sign players to short-term deals, maybe at the risk of team chemistry -- might be close to Cuban's dreaded "Treadmill of Mediocrity'' exactly because of that approach.
"The game is in good health; it is in a good place, perhaps a better place than it's ever been,'' Rick says. "And our job is to change along with the changes, with with changes in the CBA and the changes in the rules. All of it. I think we're doing that.''
The NBA is "healthy'' for a number of reasons. The Golden State Warriors are among them. So is LeBron James. So is the presence of commissioner Adam Silver.
Meanwhile, Dallas' "keep-up changes'' include the acquisition of starters Andrew Bogut and Harrison Barnes, and an assortment of "kids'' populating this roster who are in Barnes' age range. 
Look at 'em. Take out the outlier that is the 38-year-old Dirk and 12 of the other 19 training-camp roster members were born after 1990. Nevertheless, the critics see Dallas as a 39-game winner, a contender for nothing but eighth place, a contender for the lottery.
As he's been in DFW since 2008, you know Rick -- and you Rick accepts no concession to that, no "tank'' talk,'' no acceptance of anything but building to a championship level.
"Barnes and Bogut being here is going to make a big difference; We're talking about two starters from a recent championship team, and that's a substantial addition for us,'' Rick says. "And then we grow from there and we have a lot of room to grow and develop. And that's part of our job and part of a challenge this year is to develop young players.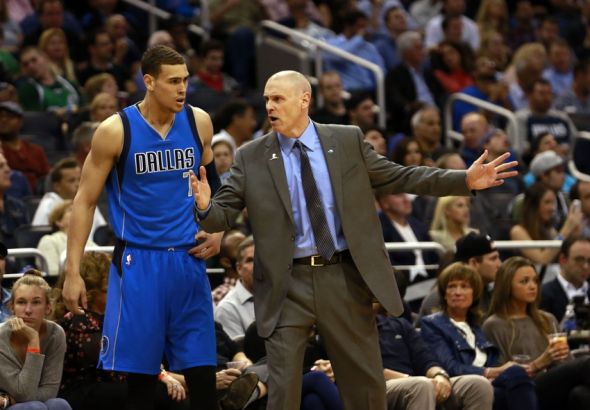 "So it's been exciting and it's going to continue to be exciting.''
Part of the excitement is the overall "health'' of the NBA ... and Rick Carlisle's Mavs trying to keep pace without losing their breath.