The vision was always ours (and maybe his family's) more than it was Deron Williams'. The DFW kid who'd grown up to be an NBA superstar would, as of the summer of 2012, turn down more money to play with his latest team, in Brooklyn, to return to Dallas, help Dirk Nowitzki to another grasp at greatness, and then accept the reins of cover-guy leadership when Dirk was through.
"Prodigal Son,'' I'm pretty sure a bunch of us wrote hopefully, striving for some measure of journalistic depth rather than any measure of true Biblical accuracy.
The Biblical parable is about a father with two sons, about the the younger one blowing his inheritance (the word "prodigal" meaning "wastefully extravagant") but then returning home with humility. He offers to be a servant to the family but the father re-institutes him as an heir, much to the chagrin of the more devoted elder brother. ... at which point Dad tells the older son to celebrate the fact that junior is back because "He was lost but now he is found!''
We would like to think of the Dallas Mavericks as some oasis of peace and prosperity. But beyond the "coach killer'' rep, Williams hasn't really "blown'' anything (financially or otherwise) on this path through the NBA. He turned down the Mavs in 2012 and took the Nets' $100-mil deal because the Mavs weren't as precous to him as they are precious to us. He was not especially "lost'' before becoming a Mav last year as a scrap-heap reclamation project. And to be honest, he is not especially "found'' now as he works here under the terms of yet another one-year "play-and-let's-see'' contract.
He is with the Mavs now not because he is a "son'' of Dallas, "prodigal'' or otherwise, but rather because he's a professional basketball player still in the state, even at age 31 with three NBA All-Star appearances on his resume, of rebuilding his career.
"My injury created this situation, for the most part,'' Williams tells me with a brutal frankness. "My focus this year is to be healthy ... and believe me I am aware of the ramifications (of not being healthy). I am here for the year and I want to be here and then ...''
And then?
Williams' voice trails off, but not because he's unwilling to continue to speak honestly about the business of basketball, not because he's unwilling to discuss how the sports hernia he sustained last year derailed the intended plan to use 2015-16 with Dallas as a springboard to one more big payday here or elsewhere, not because he's concerned that the reader will wrongly consider him anything but grateful for his blessings.
No, Williams' voice trails off because he's realized sweat is dripping from his post-workout body onto the 7-year-old boy cradled in his lap.
"Oh, D.J., I'm sorry, I'm getting you all wet!'' Deron says tenderly to the adorable half-asleep kid -- the third of the Williams' quartet of children -- adorned in a T-shirt that reads, "BUCKETS NEVER STOP.''
Lucky kid, eh? Growing up a long skip pass from where Dad grew up in The Colony and where Mom grew up in Carrollton ... the beneficiary not only of being cocooned by a loving set of parents but also of being born into comfort and wealth ...
"We adopted D.J. when he was four days old,'' Deron tells me, gently wiping the father's perspiration from the son's brow. "What we've learned is that there are no set answers from the medical community, no set answers from the experts. So you try different things, and you do it constantly. You try to explore different trends. You never give up trying to find the best fit.''
We talk about "fit'' as it relates to Deron scoring 20 points in a game, as he used to do on average (he was pretty much a 21 points/9 assists guy over the course of 2010-11 and 2011-12) when he was a star in Utah and in Brooklyn. When he scored 20 in Dallas last year? The Mavs were 10-5. They wanted big-money free agent Mike Conley to leave Memphis this summer to ostensibly take D-Will's place, but that didn't happen, and now they need him again. They need him to play well in excess of his new one-year, $10-million deal, which comes on the back of last year performing beyond his $5-mil deal (which he did).
But that's not the kind of "fit'' that Williams is talking about here. D.J. is autistic. He is "blessed'' and "lucky'' in so many ways, to be sure, but he is autistic and neither the power of Deron's personality nor intellect nor resources can easily solve that.
"Amy and I have four kids,'' D-Will tells me with a soft smile, "and they are all different and they are all special. All four have different personalities. All four I love in special and different ways. All four have different challenges. I love them all and they all drive me crazy and I wouldn't trade any of them for the world.''
Is there "comfort'' in being in DFW? Certainly, on a personal level. And maybe, in at least one sense, on a basketball level as well.
"Did you know this is the first time in five years I'll be playing with the same coach in back-to-back seasons?'' D-Will asks me, and yeah, even if you account for the "coach-killer'' thing, the instability of leadership with the Nets exists in sharp contrast with Williams' supervisors in Dallas.
Coach Rick Carlisle tells me, "He's one of our best players. And his availability makes a big difference for us and a big impact for us. The good thing is he has fought through his physical problems and looks ready to go (for training camp, which started this week).''
Williams can't quite play more than 70 games a year over the course of the last half-decade, but when he did play for the Mavs last year -- despite an early-season problem with a knee and a hamstring and the late-season hernia that required off-season surgery -- he was sound and he was clutch. If he didn't care, he could've begged out of the late-March game at Utah, his old stomping grounds, when he put up 23 points and six assists in a Mavs win that secured a Dallas postseason berth. 
He cares, but this isn't just a game. 
"The short-term contract,'' he tells me, "is something I just don't worry about. I am here for the year and I want to be here. And then I'm a free agent after that and we will see.  If I'm not here for whatever reason, that's the nature of the business.''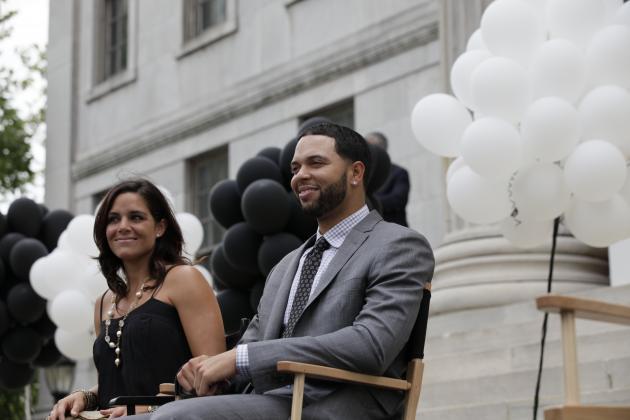 Deron Williams, you see, isn't just an employee, a player, a son, "prodigal'' or otherwise. Deron Williams is, among many other things, a protector, a provider, a father.