DONUT 1: Straight News, But ...
Billionaire Dallas Mavericks owner Mark Cuban is offering Republican presidential nominee Donald Trump $10 million - which Trump can either donate to a charity or pocket himself - in exchange for an interview that would focus on questions about Trump's policies.
My story on the subject is here, and it's pretty much a "news story.'' Not a column, not an opinion piece. Written "straight.'' because in my judgment, based on 33 years of doing "news judgment'' for a living, I believe it merits your attention. (At the same time, I understand the passion and the sensitivity; here, I started a thread on DB.com Boards about my story and my own mods moved it out of the "Mavs'' section and into "The Rest Of The World'' section. Oh well!)
What I do not include in the piece are the questions that I will soon ask of Cuban, and those questions might come with both a working understanding of his motives and an MFFL-style desire to know more.
For instance?
DONUT 2: For Instance ...
*At what point, Mark, do you drop your "Citizen Cuban'' push? When the election is over? Ever?
*I know that you are involved in dozens, maybe hundreds of businesses and projects and interests, with your family and your Mavs at the top of that list, but ... Can you be spreading yourself too thin? As the owner/de facto GM of the Mavs, should you demand of yourself an "obsession'' with getting the Mavs right? Or are you simply multi-tasking, as, realistically, most of us do?
*Do you care that taking a political side might cause some MFFLs to separate themselves from your, their, our, beloved Mavs? And is that simply the price you pay as a businessman for taking an action you believe is right, despite its unpopularity with, theoretically, 50 percent of the customers?
I promise I will ask these questions soon. I trust that I will get answers as well.
DONUT 3: Dirk's Racquet
Dirk Nowitzki had little trouble luring his Dallas Mavericks teammates, J.J. Barea and Harrison Barnes, to his first Pro Celebrity Tennis Classic held at the SMU Tennis Center on Sunday morning.
Nowitzki also managed to snag 2003 US Open champion Andy Roddick and actor Ben Stiller, most recently seen in Zoolander 2.
So how did Nowitzki manage to lure Stiller, a comic actor who has anchored three different successful film franchises, to his event? Begging? Pleading? Months of negotiation?
Our Matthew Postins takes you inside Dirk's tennis event with video, photos and interviews here. ... including Stiller's answer.
DONUT 4: Accident in Europe
You'll recognize the name of Petteri Koponen a Mavs "Euro-Stash.'' He's been involved in a serious car accident overseas. We'll keep you posted here as we gather information.
DONUT 5: Podcast Point Guard Preview
 Is point guard the one position group where the Mavs have the least upside? Our guys examine in the start-of-the-week "Locked On Mavs'' podcast here  ... and ...
DONUT 6: Today's Podcast: Wesley's Snap-Back?
Our Tuesday "Locked On Mavs'' podcast focuses on Wesley Matthews and the hoped-for "snap-back'' to his game.
Dig in!
DONUT 7: Our Dinner With Simba
Before Justin Anderson attempts to feast on the NBA competition in 2016-17, the dynamic Dallas Mavericks swingman dined with us at a specially-designed six-course dinner menu with wine pairings overseen by Texas Land & Cattle Executive Chef John Imbriolo and inspired by "Simba'' himself.
So on Monday night we hung out at the Texas Land & Cattle in Dallas at the Uptown location on Lemmon Ave, where Justin -- who considers himself a "big-time foodie'' -- held court while overseeing a menu that featured "the culinary influences from Justin's childhood states of Virginia and Maryland, and his newly adopted home of Texas.''
https://twitter.com/bobbykaralla/status/778044768081154048
"I really do like to cook,'' Justin told me. "But I'm also still just a big kid. So yeah, there's a peanut-butter-and-jelly item on my menu!''
Marcia and I had a blast ...
Rick Carlisle MC'ed and roasted most of the attendees (yeah, including me) ...
https://twitter.com/hbarnes/status/778293594536943616
And Justin, along with Stars ex Marty Turco, did the bonding thing with the "new Mavs'' while also raising money for C5Texas. Wonderful deal all around.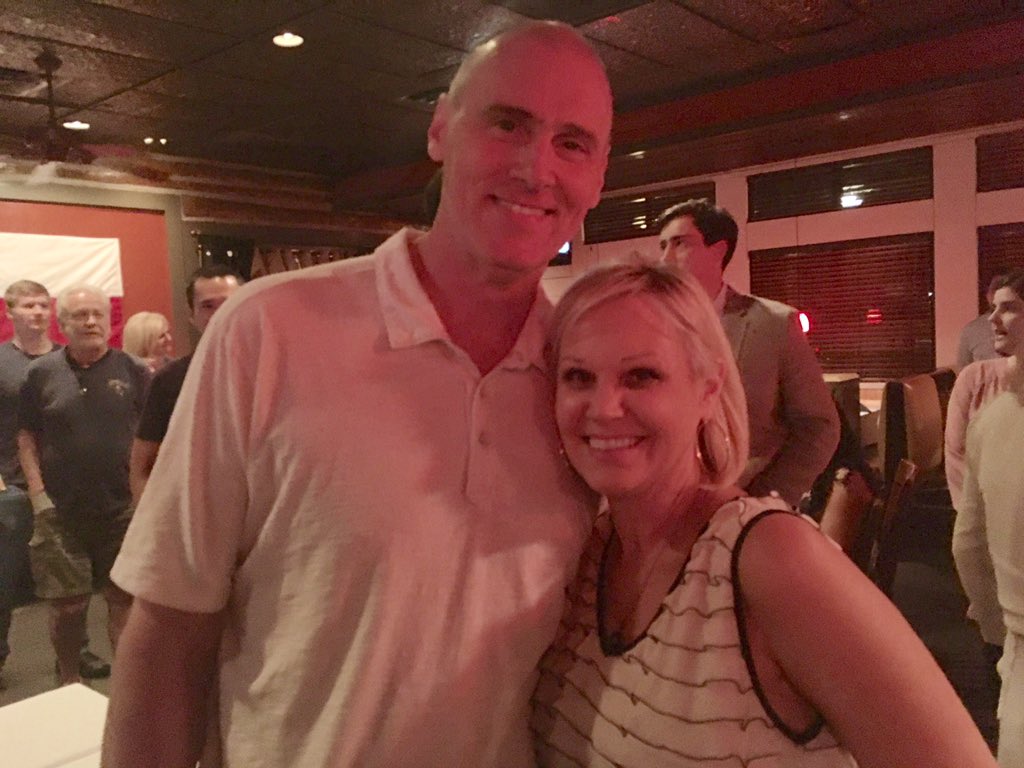 DONUT 8: The Voice
Yes, that Dana Harper is the gifted daughter of our own Derek Harper, and she nailed it on "The Voice'' ...
Proud Papa!
DONUT 9: The Greatest?
D Magazine has Cuban and Dirk as candidates for The Greatest Dallasites of All Time. And you get to vote. Heads up for Landry and Staubach here, I would think.
DONUT 10: 
DallasBasketball.com begins its 17th season covering the Mavs like a blanket ... and the whole deal accelerates starting next week! Key dates:
Monday, Sept. 26: Media Day
Tuesday: Camp starts
Wednesday: Open practice (cool deal; midday hoops at the AAC ... link for info is here.)
Oct. 1: Preseason opener
Oct. 24: Cut down roster to 15
Oct. 26: Opening night
DONUT 11: Tweet Sober
MFFL's, below is the complete 20-man roster for Mavs training camp, which begins on Sept. 27. You will see it includes the players' Twitter handles.
https://twitter.com/fishsports/status/777894575469842432 
I repeat: This is not the time, nor the place, to send late-night drunk tweets to players who goof up.
That's a Cowboys Nation thing, sadly. Don't make it yours.
DONUT 12: The Final Word