DONUT 1: Your Training Camp Roster
It begins today, Media Day in the basement at the AAC, featuring these 20 guys ...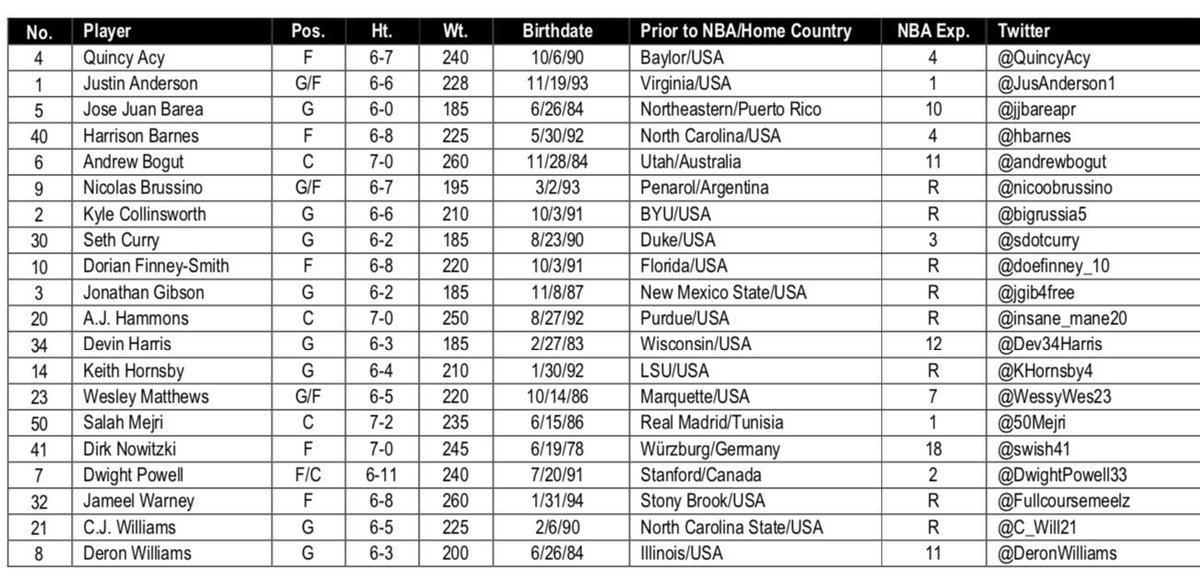 ... And DallasBasketball.com will be there, bright and early this morning and all day long, for our 17th season on the beat. Join us at Media Day by reading the DB.com home page, by checking in here on DB.com Boards (membership is free!) and by following me on Twitter @FishSports ...
DONUT 2: The Unusual Suspect
There are some familiar names there, and there are a dozen or so locks.
The Unusual Suspect to make the team? Give me Jonathan Gibson. 
Gibson signed a three-year deal for a minimum salary, and a fully-guaranteed Year 1. Now, an NBA roster spot that does not make. Still involved here is the promise of a big-league chance (which in the case of 28-year-old Gibson, who came from nowhere/New Mexico State to tear it up overseas last season and did it again in Vegas at 20 points per, would make for a heckuva story) ... but a connection to the Texas Legends should that chance fade.
The Mavs get D-League dibs on players cut from their camp, assuming those guys want to play in the D-League. Frisco offers about as attractive a D-League option as they is, even though the money is a fraction of what a guy can earn in Europe. But once the Mavs have guaranteed some salary? There is at least a relationship there. (Yes, DB.com covers the D-League Texas Legends, too, and that includes my work as the TV analyst for a series of increasingly higher-profile games this year. Stay tuned ... and read up on our recent Legends coverage here.)
I think that will end up applying to two or three of the above lesser-knowns. But in Gibson's case? I believe the Mavs have higher hopes there -- real big-league hopes.
Read more about the dollars and sense of this Mavs roster here.
DONUT 3: Do You 'Believe' In Wesley?
Wesley Matthews, in the privacy of the Dallas Mavericks locker room, is beyond reproach. He has nothing but disciples when it comes to leadership and work ethic and personality and "setting a culture tone for us,'' as coach Rick Carlisle puts it.
"He's a beast,'' says Mavs owner Mark Cuban.
"Our fighter,'' says Mavs icon Dirk Nowitzki.
And this is all well and good. But Matthews wants more.
"My message to Mavs fans, and one of my goals,'' Wes tells me, "is, 'I am going to make you a believer.''
DB.com's exclusive 1-on-1 with Wesley Matthews will get you fired up for today and for Tuesday's start to camp. Get it here.
DONUT 4: Mavs Podcast: Lightened Load?
DallasBasketball.com presents the'Locked On Mavs' Podcast, Mike Marshall and Jake Kemp  ... as we get ready for the start of training camp on Sept. 27, with the roster now 20 guys full ... And an exploration here on "How To Lighten Dirk's Load.'' Click it; it's good, smart, fun stuff, and our guys will bring it to you daily in this space.
Discuss the 'Locked On Mavs' Podcast here on DB.com Boards!
DONUT 5: Exclusive - Rick's Challenge
"It is a different time,'' Carlisle tells me as he preps for the start of another Mavs camp. "The collective-bargaining agreement has made this a different game ... a different league. But it is a better league.''
How so, I ask?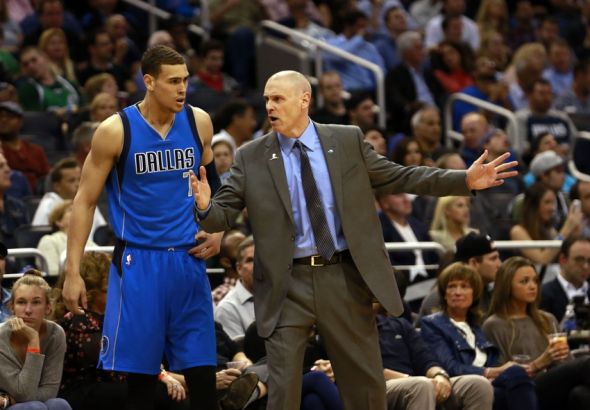 "Well,'' he grins, "there is a $24-billion TV deal in place. So it must be better.''
It's smart and funny and it's all Rick ... Mavs Premium coverage here, for just a dime a day. And I promise -- with work like this, every day, we'll work tirelessly to earn your dime! Take our 7-day free trial today!
DONUT 6: A Dirk Change In Plans?
Depending on when Dirk Nowitzki talks, and to whom he talks, and how it's interpreted, you can be left with an assortment of takes on the end of his career. Sometimes we are looking for negativity that probably isn't there. But if you've followed Dirk all these years -- and I'm assuming, because you are here, you have -- you understand that his idea of "commitment'' is to-the-letter. See that discussion here on DB.com Boards while noting that David Lord and I continue to gently suggest, as we have all along, that this "two-year, $50-million contract'' might not end up being exactly, to-the-letter, what so many think it is.
DONUT 7: What Dallas Did Right
It's part of being a Mavs fan now: Pining for what was and lamenting over what could've been. But this is a time for positivism, too (right?) and so we wonder: Didn't Dallas do a lot of things right this offseason?
For instance:
You want Dallas to "take the draft seriously,'' to view even second-round-level talent as potential value. You want Dallas to somehow find ways to take lots of shots at this level of player, because so much is unknown.
Sometimes, to get your first date, you have to ask out 100 women, right?
So here goes ... And because you can't get more than one or two second-round picks in a draft, how about if you use other ways to accumulate, say, nine such prospects?
Go back above and look at that 20-man again.
Seth Curry is beyond being a prospect, I think, but he qualifies as a "second-round-type'' shot. So does Quincy Acy, Salah Mejri and Dwight Powell (now getting paid way beyond "prospect'' money, so this had better work.) I mentioned  Gibson above, and we can count Kyle Collinsworth, Dorian Finney-Smith, Jameel Warney and Nicolas Brussino here, too. Young guys. With some promise. With maybe, at least one skill that is NBA-level. (Warney, for instance, is a natural rebounder.)
So let's pretend we got our wish, and that Dallas "took the draft seriously'' in a way that netted the Mavs this bundle of second-round types. And if it works, you have gotten younger and fortified the organization with talent by finding cheap gems.
You still need superstars, of course. That's another discussion entirely. But you want kid prospects? You got 'em.
You want more of what I think Dallas did right this offseason? I've got a Top 10 List here.
DONUT 8: Bogut, Done Right
Dallas' acquisition of ex-Golden Stater Harrison Barnes was the headline-grabber. But at least as clever was the trade for Andrew Bogut - and the vet center figures to be impactful in a big way, too.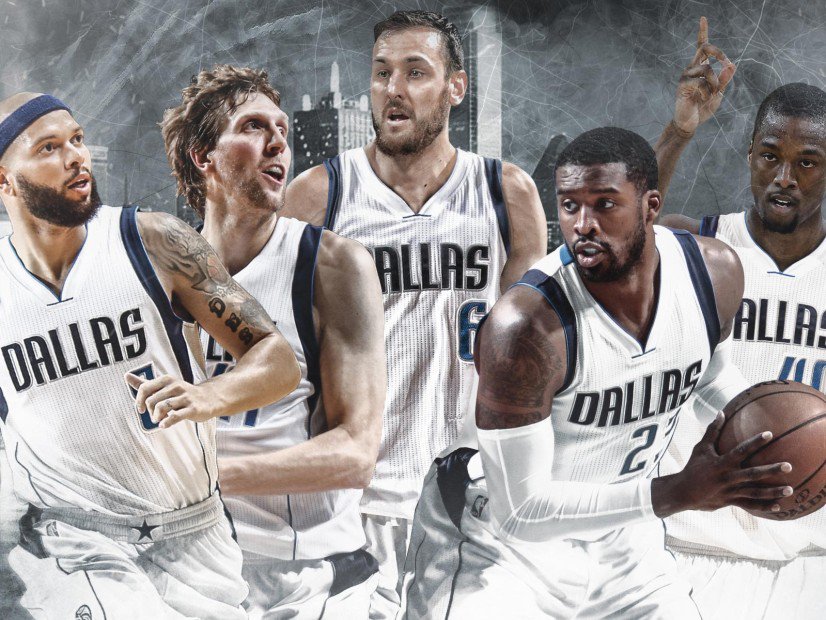 "I think Bogut will be a great player for us," Nowitzki told Mavs.com. "He's a smart player. He can defend, obviously, and defend the rim. He's a great passer, and probably one of the best passing big men there is in this league, so it should be fun playing with him."
Dirk and the Mavs had fun with Zaza last year. But Bogut represents the same sort of heart in a more gifted all-around body.
DONUT 9:
I've got a frank visit with Deron Williams coming up this week on DB.com ... "frank'' as he talks about the unique challenges of fatherhood, "frank'' as he tells me about the imperfect one-year deal he signed to stay in Dallas.
D-Will is a fit here in so many ways -- Carlisle considers him one of the team's best and most reliable players -- but "reliable'' only when he's, you know, "available.''
When he was in Brooklyn, Williams' numbers spiraled downward for a variety of reasons. Injury was one of those; he hasn't played more than 70 games in a season since '12-'13. But in my talk with him, he pinpoints another factor, and we'll discuss it exclusively with him coming up soon.
It's "frank,'' I promise you.
DONUT 10: Stat O' The Day
Via our buddy Bobby Karalla, a reminder of the Dirkness that is about to unfold:
With the retirements of Kobe, Garnett and Duncan, Nowitzki is now the NBA's active leader in games played, minutes played, field goals, defensive boards, points, and win shares.
Dirk is Dirk ... and climbing.
DONUT 11: Key Dates
How you view the Mavs' 2015-16 season likely forms your views of what is about to unfold this season. They have Dirk, and that's enough? They were surprisingly good last year and need to be again? They need to make real noise in the postseason, more than they did last year when they lost in five games to the Oklahoma City Thunder in Round One?
The release of the 2016-17 Mavericks regular-season schedule gives us all a chance to forecast some of these views, not to mention to plan our lives for the next half-a-year.  The Mavs open the season on October 26th on the road against the Indiana Pacers, where they will face star Paul George and former Maverick Monta Ellis. It will mark the first time we will see Dallas's newly constructed roster on the floor together. But the Mavs aren't the only ones boasting a revamped roster. Indiana will introduce Jeff Teague and Al Jefferson to the home crowd as well. ... and seeing the unveiling of the Mavs, and their opposition, is all part of the fun.
Our story on the top dates to circle for 2016-17 is here.
DONUT 12: The Final Word
"I think Mavericks fans don't yet know what I am fully about and how much I can help in every way,. They only saw me two times a year before I came here over the course of five years. And that's not a knock on Mavericks fans. But what they're about to see is what impact I can make, an impact beyond anybody thinking that the story of me is my contract.'' - Wesley Matthews, to DB.com, part of this 1-on-1 exclusive with the Ironman.