DONUT 1: DEFENSE FIRST
The Dallas Mavericks used their first day of training camp to go all defense. Then, in their first preseason game, Saturday at New Orleans, there was, relatively speaking, no defense.
Monday's preseason home opener against Charlotte marked a return to what Dallas thinks it can be -- a top-10 NBA defense -- with a 95-88 win over Charlotte.
The highlight reel ...
"We gave up a lot of points in New Orleans, and we weren't happy with that," Seth Curry said after the win. "We focused on it, and we went out there and were better this game. I think it was a matter of focus, being in the right spots and communicating the right way, and we put a better performance on."
DONUT 2: PERSONNEL-DRIVEN?
Part of the defensive success involved personnel.  Wesley Matthews, the Mavs' defensive stopper a year ago, made his preseason debut in the backcourt along with JJ Barea. Top offseason signee Harrison Barnes, a quality defender, started in the front court with "kick-ass'' newcomer Quincy Acy and Dwight Powell at center.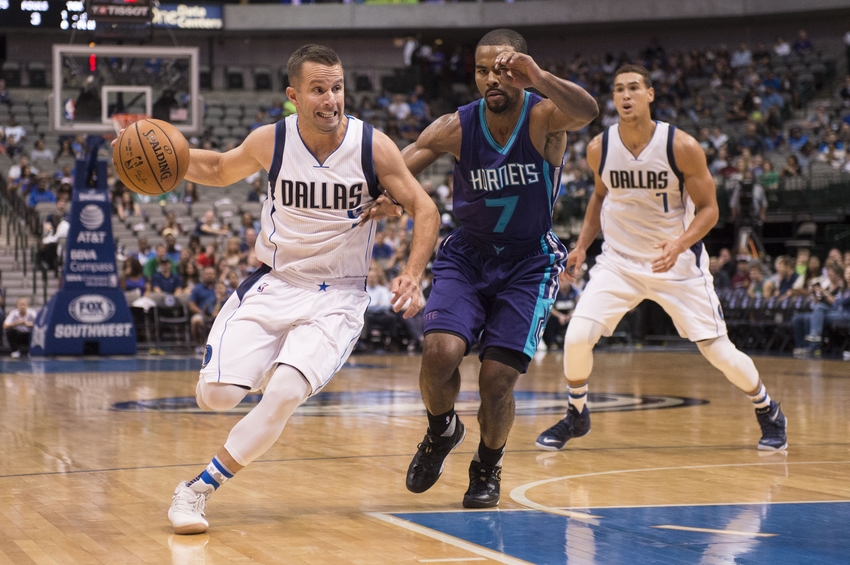 By halftime, and a 48-38 lead, coach Rick Carlisle shifted gears to lineups that included the likes of Argentinian wing Nicolas Brussino (five points, three assists) and second-round draft pick A.J. Hammons .)siox points, nine rebounds)  ... but the first group had made its mark, limiting the visitors to 31.7-percent shooting while flipping six takeaways into 10 points.
"It was better (than Saturday night),'' Carlisle said "I've got to look at the film first. You know, they missed a lot of shots, but it was certainly better.''
Yeah, go look at the film. But Coach, it was better. That's what you'll see. You'll be right.
DONUT 3: REST AND REHAB
I'll beat this drum, as I do every fall: Rest and rehab. Injuries and health. That's what training camp is about for a large number of Mavs, and you don't really know what you have, what you are, until we progress beyond that. So here, not available were Dirk Nowitzki and Andrew Bogut (rest), Devin Harris (toe), Salah Mejri (knee) and Deron Williams (sports hernia surgery). There are no long-term problems here; better to look at it as "opportunity'' for others and as a showcase for a player who had his injury disaster but yet keeps coming back from it with strength and determination.
"I felt good," said Wesley Matthews. "I got tired in stretches, but I was pleasantly surprised with the conditioning. You know, we did extended minutes. ... it felt good to be out there with the guys."
Matthews finished 4-of-6 with nine points in 17 minutes (Has Wes "Made You A Believer'' yet?) And his backcourt buddy JJB scored 11 points on 5-of-9 shooting, with four rebounds and two assists in 16 minutes.
But ...
DONUT 3: SHOOTING STAR
The real shooting star of this game is the same guy who jumped off the page in last week's Blue-White Scrimmage and the same guy who stood out in the New Orleans loss.
Seth Curry, Carlisle said, "can get it going quick. I love his aggression, and he's showing he can play both guard positions, so there's a lot of positives. And he's gearing up his posture and disposition on defense. … You know, he's making a stronger stand defensively, and I think he's going to continue getting stronger."
Curry -- and stop me if you've heard this before but he's got a famous basketball dad and an iconic basketball brother -- can play defense, too? Not ready to go there, but Rick's really talking about "effort'' on the defensive end, and if Seth supplements that with what he can do on offense? He becomes more than just "this year's Charlie V.'' He starts threatening the likes of Barea and Devin for minutes, in that case.
https://twitter.com/dallasmavs/status/783131366695116800
Curry had a great third quarter that meshes into everything the former King/vagabond has done this fall for Dallas. He scored 20 points on 7-of-13 shooting and 5-of-6 from the arc in 22 minutes. In the two games for the 1-1 Mavs, Seth now has 32 points, eight rebounds and one turnover in 40 minutes and is 7-of-9 from three.
"I'm just trying to get better every game, going out there and make an impact when I'm on the floor — both ends of the floor," Curry said. "Just continue to get better defensively, and just be who I am offensively."
A few days ago, we wrote and talked about being "cautiously giddy'' about Seth. The "caution'' is fading. The "giddy'' remains.
DONUT 4: SIMBA'S 'HOOK'
In Saturday's loss, Justin Anderson totaled 14 points on 4-of-7 shooting with five rebounds and three assists. Here, he was 4-of-11 for nine points with three rebounds and what you're seeing, I think, is the crystallization of his role: Beyond just the numbers, when Dallas needs an energy boost, he is that guy -- and he can do it on both ends of the floor, with an electricity and a personality that other Mavs feed off. He makes a left-handed hook shot and ... it feels like it's bigger than just two points, you know?
DONUT 5: BROAD SIDE OF A BARNES
Harrison Barnes was on display for the first time for the home folks and ... shot 1-of-10 from the field.
"I got a lot of good looks and I'm confident I'll make those shots going forward," Barnes said. "We'll continue to get more comfortable with each other, and it'll look better. For me, it's going to be about being aggressive whenever the opportunity arises."
Carlisle does not disagree.
"I love the shots he got,'' Rick said. "He's going to make those. The important thing is to stick to the process. ... keep stepping into them."
Meanwhile, Harrison, keep work on those handles, too!
https://twitter.com/bobbykaralla/status/783081224805847040
DONUT 6: PULLING AWAY ...
The Mavs jumped ahead 74-61 as they advanced to the fourth period, and then pushed the gas pedal even more when Summer-League discovery Jonathan Gibson (slated to be this team's 14th man, as I write here) joined Curry in making back-to-back treys to open the quarter. At 80-61 with 11:22, it really should've been enough to seal the deal (and you do prefer, as meaningless as these games are, relatively-speaking, to win) ...
DONUT 7: AND THEN ALMOST NOT
But then Carlisle emptied his bench and we got to see what is essentially the competition for the 15th spot, the pre-Texas Legends practice, and the film to be observed by overseas teams looking to sign NBA "16th men.''
In large part due to the personnel change, the Hornets got to within a point near the final buzzer.
And then C.J. Williams -- with his path to Frisco largely already mapped -- made a Mavs difference on offense ...
https://twitter.com/AgentJCK/status/783162797572120578
(That's a retweet from Bob McKinnon, the Legends coach) ... and then Dallas' third-stringers and fourth-stringers repeated what the top-level Mavs had done earlier in winning on D.
"We're happy to win," Carlisle said. "Those guys at the end, they could have folded when Charlotte got it going, but we got a couple of big stops. … And we closed it out, so that's good."
DONUT 8: ABOUT THOSE 15th MEN
From Carlisle: "A lot of it is positional and how we're stocked at certain positions. That will be part of it, and then it's about daily production in practice and then in the games.''
And it's true. When I break down who the Mavs think will have those last two jobs (again, get that info here), know that it's written in pencil, not carved in stone. Nevertheless, Carlisle acknowledged that those last handful of guys on this 20-man roster are also trying out for the entire world.
"A lot of people are watching these games," Carlisle said. "In (Bossier City) the other night (site of the Dallas-Pelicans game) there were at least a half dozen scouts. ...  Those young players that are playing extremely well, and somebody has the numbers crunched, they got a chance to hook on with another team, so every minute and every second really counts."
DONUT 9: QUOTABLE
 "I mean, he's a Curry. It's in his blood.'' --
Wesley Matthews on Seth
.
DONUT 10: STAT O' THE DAY
As DB.com buddy Mark Followill points out, Seth Curry last year in Sacto -- where they eventually made him a starter --"can build'' on how he closed there, when in the last 11 games he hit 48 percent of his threes and averaged 15 points per game.
Yes, I think we're now beyond what Mavs brass once envisioned as that "Charlie V'' role.
DONUT 11: THE SCHEDULE
The Mavericks are back at practice today and don't play again until Saturday with a 7:30 tip at  Madison, Wis., to take on the Milwaukee Bucks. (Devin Harris will be KING!) Looks like radio only there, airing locally on 103.3 FM ESPN. 
The Mavs are back at home -- and back on TV -- next Tuesday when the Thunder come to the AAC for a 7:30 p.m. tip and TV on Fox Sports Southwest.
DONUT 12: THE FINAL WORD