DONUT 1: DERON'S DOUBLE
No, not a "double-double." There weren't enough minutes allotted to Deron Williams in Tuesday's 114-109 preseason win over visiting OKC for him to accumulate fat numbers.
No, here's the "double" Dallas is counting on from D-Will: He will be the first point guard to start two consecutive seasons for the Mavs since Jason Kidd in 2012.
Consistency. Familiarity. Comfortability.
As Deron noted to me in our one-on-one Mavs Premium visit, this avoidance of change is a two-way street: this will be the first time that Williams has played for the same head coach in back-to-back seasons in five years.
There is also clearly a consistent/familiar/comfortable relationship growing between Deron and the guy who matters most, Dirk Nowitzki. The two of them were part of the starting lineup Tuesday (along with Barnes, Bogut and 15-point-scorer Barea), Dirk making his fall debut (3-of-6 shooting for 8 points in 16 minutes) and D-Will putting up 11 points, three assists and a steal in 21 minutes. 
Oh, and then Devin Harris debuted as well, testing the toe after surgery.
Said coach Rick Carlisle: "I thought it went well with Dirk. We had Barea in there to start the game, so it gave us a little bit more penetration and playmaking, which just helps open up the floor a little bit. I thought he and (Deron Williams) played well together. I wanted to push those six guys, the five starters and Harris, to play, to really get their wind going. We're off (Wednesday). Dirk hadn't played a game, Harris hadn't played a game, and I thought everyone did a good job." 
The Mavs move to 2-2 in the preseason thanks not to fat numbers, but more to ... Consistency. Familiarity. Comfortability.
DONUT 2: THE VIDEO HIGHLIGHT REEL
You will have to deal with some Russell Westbrook highlights  here (and a funny lowlight)  ...
DONUT 3: INJURY AND REST
As DB.com reported on Monday, Quincy Acy is in a walking boot with a right foot sprain that should sideline him for only a couple of days. In this game, Wes Matthews and Seth Curry sat for what Carlisle called "precautionary reasons.'' ("Rest'' is what I'll go with.) 
But the most notable injury-related news is Devin's successful return to the floor. He played 10 minutes, with four points, two rebounds and an assist.
"I felt good," Harris said. "I was able to cut and get to my spots, and I didn't get too winded out there. You know, I thought the 10 minutes I played were pretty solid for me and something to build on."
DONUT 4: BENCH EXPLOSION
One developing pattern: The energy and explosiveness of the second unit -- almost no matter who makes up that second unit.
Here, in addition to Devin, three guys are worth mentioning:
*A beefed-up Dwight Powell, who continues to impress, this time with  16 points on 6-of-10 shooting and seven rebounds. (And yeah, Deron seems to be "comfortable'' with an airborne Dwight, too) ...
*A jovial Justin Anderson, who we see as this team's sixth man, with seven points and five rebounds in 20 minutes ... working inside and out ...
*A tiger-in-his-tank AJ Hammons, the second-round pick who is slated to make the roster as a backup center but hasn't much put himself on the map (or in the boxscore) until now. He finished with eight points, five rebounds and a block in 14 minutes ... and tucked in there was an important late-game jumper that was the talk of the post-game locker room.
"It's just something I have in my game; it's just low-volume, really low-volume,'' AJ said of his perimeter game. "I just have to keep staying on my form, get my legs more into it. It's not like my mid-range, I'm still working on it. I would say I will definitely hit more corner threes than top of key threes."
Get more from Hammons in Mavs Quoteboard here on DB.com Boards.
DONUT 5: THE THIRD LEVEL
Hammons is technically a third-level guy, when a healthy Salah Mejri (right knee) becomes Bogut's backup. Same with Nicolas Brussino, who is learning English and learning how to maybe stick with the Mavs as a 15th man.
He remains painfully skinny but he can create on the wing, here shooting 4-of-5 for 11 points in 12 minutes.
https://twitter.com/dallasmavs/status/786030065347760128
One level down from there -- meaning, "not a true candidate to make the 15-man roster'' -- is Keith Hornsby, the son of the music man who is the buddy of the music man who coaches the Mavs. Hornsby is slated to land in Frisco with the D-League Legends, but for one night anyway, he wouldn't be sent to the JVs without making some beautiful noise, with 12 points in 11 minutes.
Toss some nice offensive work in from Jonathan Gibson (with the inside track on the 14th-man job) and some defensive work from Dorian Finney-Smith (one of three guys in position for the No. 15 job) and you have yourself a long and successful Tuesday night bench.
DONUT 6: BOGUT'S BOUNCE
Bogut keeps talking about how ugly his work against the Bucks was the other night, and clearly, he wanted that repaired.
Consider it done.
"I thought Bogut was great,'' Carlisle said. "Not a lot of scoring but a huge impact at both ends; the rim protection, the charges taken, rebounding, starting our break. He's really an unusual playmaker at the center position on offense – just really amazing feel for the game, vision, just a very, very unique player.''
An example of what Rick's talking about? You saw the Powell oop above. Here's how that play actually started:
Want another?
https://twitter.com/KikeGarciaL/status/786161196130938880
The "unique'' Bogut totaled 11 rebounds, three assists, three blocks and four points in 16 minutes.
DONUT 7: QUOTABLE
Dirk Nowitzki on Andrew Bogut from a few days ago: "He wants to share the ball and he's fun to play with. One of the smartest players I've ever played with."
And ever since that quote, I've been lured into watching Bogut, separate from the rest of the flow, away from the ball ... and I see it, all the time. With good health, we should have some "unique'' fun seeing it 80 or so times this year.
DONUT 8: MINNIE'S FUN (AND FUNDS)
Marcia and I had the pleasure of attending the Monday night gala to celebrate the fund raising work of Minnie's Pantry. The boss lady, Cheryl "Action" Jackson, was obviously elated add the participation of the Devin Harris-led Mavs and big-money donations to the cause by Oprah Winfrey and Mark Cuban.
https://twitter.com/ohsocynthia/status/785675686392451072
For our money? A highlight of the night was getting to hobnob with two candidates for the DFW sports Mount Rushmore ...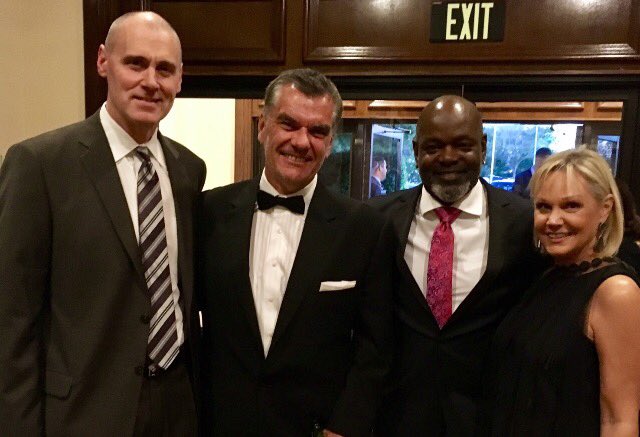 Rick Carlisle and Emmitt Smith ... two of the very best-ever at what they do.
DONUT 9: HEIR-ISON BARNES
Harrison Barnes is a target of Mavs fans' angst, in large part because we want him to be something he may never be. Like, a superstar, or something. He was 1-of-4 from the floor on Tuesday, and so ... more angst.
Here, with the help of "The Ringer's'' Jonathan Tjarks, we podcast on the subject of Barnes as the heir to Dirk ... and whether we're asking too much.
DONUT 10: STAT O' THE DAY
Our buddy Mark Followill bumps into something fun ...
https://twitter.com/MFollowill/status/785854517376004096
DONUT 11: THE CLAP
The Phoenix Suns are tracking the team's high-fives this year, the evidence apparently suggesting winning teams do it more than losing teams do.
I believe in science and sports analytics and all ... but what if teams aren't high-fiving in a way that leads to win this… But rather win and then high-five because of it?
Or what if the hi5 is a symbol of chemistry I'm on the team and friendship among two or more players ... but that that does not necessarily translate into victories?
Assuming the Suns aren't very good this year… They probably high-five less than they otherwise would.
Meanwhile, the Mavericks clearly have chemistry and currently have friendships ... answer while I guess I would like to grab the data on Mavericks' team enthusiasm, this might be one of those situations where The Eye Test is superior to the data.
You and I can tell when a team is having fun, right? 
And if it is the other way around, and high-fives lead to victories ... shouldn't the Suns and the Mavericks and every other team intentionally increase their high five quota as if it is some sort of Aladdin's Lamp?
Anyway, we get to hear about everybody high-fiving in Phoenix on Friday, as that marks Dallas' next game, a 9 p.m. tip, on radio only on 103.3 FM ESPN.
DONUT 12: THE FINAL WORD
Remember when Mark Cuban tried to impact the Mavs-OKC playoff series by saying Westbrook "isn't a superstar''? Smart folks understood it wasn't a basketball observation; it was a failed attempt at a psyche job.
Westy was asked about the comments.
"I don't care,'' he said. "I consider myself a basketball player.''
And -- as Cuban damn-well knows -- a superstar-level basketball player.