Donut 1: Lob City Limits
There is big-picture stuff from Game 1, the Mavs' 130-121 OT loss at Indy on Wednesday ... and there is Donut-sized stuff. Matt Galatzan handles the game story well here ... Let's use Donuts for some scattershooting ...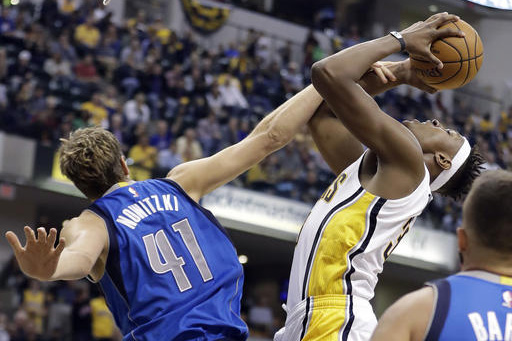 J.J. Barea had a pretty good day against the Pacers (more on that later), but he also had a couple of plays that showed an inability to recognize the moment.
I know that the lob play is a popular weapon these days, but it can also be style over substance.
A layup is worth as many points as a tomahawk slam, and even the Clippers can tell you: Lob City is a lot of fun to watch, but it's never made it past the second round of the NBA Playoffs.
So, when I see J.J. miss a lob in the early part of a game, I'm frustrated, but I understand the instinct. When I see him miss the same lob in a tight overtime period, I wonder if he's considering the climate of the game, or the skill of his opponent.
Lobs are a cute play to get crowds fired up at home in the first half, and they work against defenses that are sleeping. Lobs are not the right weapon to break out against a feisty and opportunistic set of defenders in OT.

Unless they work, of course.
Donut 2: Harrison Barnes Part 1
We've talked about Harrison Barnes a lot here at DallasBasketball.com over the last few months. Barnes has been a pariah in Golden State, where he seemed to shrink in the Finals at a time when he was needed most. He signed a giant $94-mil deal with the Mavs, and followed up a tough post-season with a relative no-show at the Olympics.
He shot under 30 percent from the floor during the Mavs rough pre-season, and it was fair to ask: what have we gotten ourselves into.
So, how did Barnes start his first regular season game as a Dallas Maverick? 2 of 6 in the first half. 33 percent  is better than 26.6 percent, but I doubt anyone in Dallas was exhaling in relief.
Yet.
Donut 3: J.J. Barea Can Ball
I go back and forth on Barnes in these Donuts, and I do the same on JJB. And don't we all? And won't we all, all season?
J.J Barea had a pretty impressive run at the end of last season. Some might argue (and I'm one of them) that without his offensive output in the last few weeks, that Mavs team might've fallen to 9th in the West, instead of claiming a 6th seed.
An unfortunate groin injury slowed him down during the playoffs, and we were left wondering what might have been if he'd been 100 percent (we could say the same thing about backcourt buddy D-Will).
With time to recover, J.J. picked up pretty much where he left off. Time and time again he found the right guy, and hit the big shot. Yes, there were a couple of questionable lobs against an opportunistic defense -- but the Mavs aren't even in this contest without Barea's 22 points and six assists off the bench. 7 of 17 shooting is something to worry about, but the overall impact -- especially as JJB was playing with a bum elbow -- is a positive.
Donut 4: What Happens in the First Half, Stays in the First Half
We already talked about Barnes' rough start—but he wasn't the only Maverick who struggled over two quarters. ... It was sloppy, for one thing ...
Dirk was 4 of 10, Matthews started 0 for six before finishing the first half 1 of 7.
All told, those three Mavs starters went 7 of 23 over two quarters—and somehow the game was still within 7 points.
The Mavs aren't going to see a lot of OT games if three of their starters play that poorly for a half—an obvious thing to say—but those numbers sort of demand that we say it.
Donut 5: Deron Williams Had Two Good Halves
The one guy who seemed ready to play, from start to finish, was the often under-appreciated Deron Williams. I encourage everyone to read the fantastic piece we did about Deron and his family once you've finished these Donuts. It's Fish, 1-on-1 with a very honest Deron ... Deron as Daddy. You'll like it.
D-Will was 5 of 8 with 13 points in the first half, and had 4 assists to go with it. Like Barea, those assist numbers might've been higher if some of his teammates had remembered where the basket lives.
Williams would finish the game 10 of 18 with 3 rebounds and 7 assists to go along with a block. Unfortunately, he also had some really costly turnovers (one in OT at the hands of former Mav Monta Ellis).
Still, if D-Will shows up like this for 81 more games, the Mavs are going to be a better team than people think. And Williams will turn out to be a steal at 10 million for the season.
Donut 6: Wes Matthews Had Two Bad Halves
When people dig up the corpse of this overtime loss, they're gonna find Wes Matthews stat-line all over the place. He pulled down 5 boards, with 3 assists and 3 steals, while taking care of the ball—but he also shot 3 of 16 (including 2 of 10 from behind the arc).

His 1 of 7 in the first half somehow looked better than his 2 of 9 in the second half and OT.

He was not the Maverick I expected to pour in a .188 FG percentage, and I'm not sure that I understand his green light from three.

He did score 13 points thanks to going 5 of 6 from the stripe—which begs the question: Why doesn't he drive for the higher-percentage shot, and put pressure on the defense? I know he's supposed to be a 3 and D guard. Right now, he isn't. ... and man, does Dallas need some help creating its way to the rim. ... maybe like Justin did it?
Basketball is about adjustments. Missing 13 out of 16 shots needs to be adjusted quickly.
Donut 7: Harrison Barnes Part 2
If Harrison was miserable in the first half of Game 1, he was nearly a savior by the end.
After starting out 2 of 6, Barnes would go 6 of 8 to finish the game. His biggest shot? A clutch 3 pointer with 2.3 seconds left in regulation to tie the game 115-115 and give the Mavs a chance in OT.
They didn't complete the comeback, but Barnes gave the Mavs a lot to hope for with 19 points, 9 rebounds, and a clutch shot that got me off of my couch.
And it sorta has coach Rick Carlisle saying, "I told you so.''
From Rick: "Harrison Barnes played a great game. He's a champion. He's a big-time player. I knew he was going to play well."
Donut 8: Welcome Back to Overtime
When the Mavs forced overtime, I knew I'd make a note about it. Some might call me obsessive about basketball. That's part of why I do this. So, as my brother-in-law read over my shoulder, I typed, "Mavs had 12 OT games in 2015-2016 season, which is among the most ever—didn't wait long to start chasing the record."
About 20 seconds later, the Fox Sports Southwest broadcast comes back from commercial with the graphic showing that the Mavs had more OT games in 2015-2016 than any other team, and were among the list of most OT games in a single NBA season.
My brother-in-law leaned over and said, "So, where did they hide the camera? Do they just watch your Word documents?"

No—they're just obsessive about this stuff, too. And I imagine if you follow the coverage here at DallasBasketball.com, you were ALSO quoting those OT stats at your TV before they got around to it.
Donut 9: I Hear They Took Some Three Pointers
The Mavericks shot 48 three-point attempts in the opening game of the season. The Mavs hold the NBA record for 49 three point attempts back in 1996. They look great when you make 'em ...
But the Mavs only converted 18 of those threes—which is why they barely forced overtime with 115 points, instead of running away with the game.
There are a couple of possibilities with this Mavericks team: Either they're good enough to make more of those shots than they did today, which will make them a frightening and dangerous offensive team by the end of the year—or, they might want to learn how to drive to the basket once in a while.
By the way, if you're looking for contrast: The Pacers only took 19 threes, hit 10 of them, and won by 9 points. Either that's a testament to Indiana's workman-like effort, or a reminder that going 21 of 48 is all it might've taken for the Mavs to win on opening night. 
Donut 10: Dirty Dirk Part 1
There were three kinds of Dirty Dirk on opening night. The guy was 8-19 from the floor with 22 points and 8 rebounds.
Two of those points came with the Mavs down 105-103 and Thad Young right in his face. Dirty Dirk ignored the hand in his grill, put up the shot, tied the game at 105. Just gritty, nasty, and beautiful.
Of course, on the very next possession, we got the wrong kind of Dirty Dirk. While taking a three that would've given the Mavs a lead, his eyes got bigger than some of the rookies on this year's squad, and he missed the shot by as much as I've ever seen him miss. 
Where was Thad Young when you needed him?
It's worth noting that Dirk trudged back to the locker room with a tick left on the clock, probably a combination of disappointment and his Achilles tightening up. Those 38 minutes will do that to you.
Donut 11: Seth Curry—They Done You Wrong
I'm not going to pretend that Seth Curry didn't earn 4 or 5 of those fouls that eventually led to him fouling out of the game—but I am absolutely frustrated by the foul he picked up when Paul George raked the smaller player across the back.
George finished with two fouls—but he should've been saddled with at least four. Once on the Curry phantom foul (which not only contributed to Curry's foul trouble, but sent George to the line for a couple of free throws in an ever-tightening contest), and also once when George got the benefit of the doubt when he clearly raked his elbow into the face of his opponent. 
It's  not always fair to point at bad calls—but I'm going to make an exception in this case, since those types of calls do double-damage to the team on the wrong end.
In Curry's case, he fouled out right after he helped get the Mavs a lead on a great sequence that included an amazing assist to Dirk for a three, a situationally brilliant break-away bucket, and a steal that led to another assist for three points (this time by Barea).
His 6th foul sent ex-Mav Monta Ellis to the line, and he drained both shots for a 98-97 Pacer lead.
Said Seth: "I don't remember ever fouling out of a game in my entire life."
Donut 12: Dirty Dirk Part 2
Earlier on Wednesday I tweeted at @TheMadSpin that the Mavs would have a pretty solid set of guys if they just needed one or two stops. D-Will, Barnes, Matthews and Bogut would all do a great job—but they still needed that final person out there—and I wasn't sure who that would be.

Fish suggested that it might be Acy or Justin Anderson—but I had another Maverick in mind.
I tweeted this video from last season against Houston—and suggested that one of the sneaky-good defenders, despite reputation, might be this dude from Germany:
https://twitter.com/TheMadSpin/status/791337445178552320
Well, let me tell you about Dirty Dirk—he may still not be the guy you want chasing C.J. Miles during a wide open corner three—but Dirk has proven that he knows how to play interior defense at a pretty fantastic level. That maybe Fish was right about Acy and Anderson—but maybe I was wrong about Bogut, who was not much of a force in Game 1.
It's possible that Dirk is still a fantastic 4 on the offensive end of the court—but a 5 on the defensive end of the court (and if you're a team shooting 48 three pointers—maybe going big on the offensive end is never going to be your priority).
Here, Dirk picked up a couple of really nice steals, he added a couple of blocks, and he had his hand in a lot of really sneaky moments (including a couple of crafty interior strips that wound up going to his teammates).

My least favorite may have been the late strip that wound up in the hands of Williams—and then unfortunately bounced loose right into Dirk's face.

My favorite, however, was when Dirk made a leaping block, and then sky-hooked a pass, in mid-air, to a waiting teammate.
I can deal with a couple of air-ball threes from that Dirty Dirk, if we can also expect this new Dirk to show up and defend at the 5 as well as he did in Game 1.
Tell someone else to guard C.J. Miles, though. Oh, and someone needs to guard Myles Turner, too.