Perhaps no team in the NBA needed, or wanted, a win more than the Dallas Mavericks on Friday, as they came in to the game as one of just three teams in the NBA without a win. Wesley Matthews talked about playing "as if our lives depend on it.'' Serious stuff.
But with Andrew Bogut missing the game as a late scratch for "personal reasons'' and then the ominous loss of Dirk Nowitzki -- forced to leave the game after logging 16 minutes of play with a nagging Achilles problem that is now expected to sideline him for at least a week -- this was going to be a tall order against a gifted offensive team in the Portland Trailblazers.
And despite an impassioned and hard-fought performance though out, the Mavs fell to Portland 105-95, marking this, at 0-5, the worst start to a season in the history of the franchise. 
"He's going to be out for awhile," coach Rick Carlisle said of Dirk. "We'll update you guys in about seven days. He's not going to play at least until then."
Added The UberMan: "It makes no sense to keep dragging this for weeks. It hasn't really gotten better, so we're going to take a few days off. ... I'm already, at 38, not moving great as it is. To be out there on one leg is really not helping myself. It's not helping the team."
In one sense, the absence of Bogut actually didn't have too much of an effect on the games outcome, with the Mavs out-rebounding and outscoring the the opposition inside for the first time all season. Salah Mejri was a big reason for that, as the lanky Tunisian came into the game in the second half and made a couple of big plays on both ends of the floor, and finished the game with eight points and six rebounds in 13 minutes. 
But with no Nowitzki, Matthews in foul trouble, and Deron Williams struggling to find his shot, the Mavs were forced to find other avenues to score. They attempted to do that by looking to J.J. Barea (23 points) and Harrison Barnes, who recorded his first double-double of the season with 17 points and 10 boards.
For a while, it looked as though that the Mavs were finally going to get that elusive first win. But as the game progressed, it every time the Mavs built a lead or fought back from a deficit, the Blazers would take control right back from them. 
A lot of that had to do with Damian Lillard, who continued his "I'm An All-Star F*** The World Tour'' and poured in 42 points on 12-of-18 shooting, including 5 of 6 from downtown. When Lillard is on, he is one of the most unstoppable scorers on the planet, and he was most definitely "on'' on Friday. ... and yes, this guy is snubbed from an NBA All-Star Game is a puzzler that probably gets solved here real soon.
Said Carlisle: "It's pretty clear he was left off the All-Star team last year and he's making a statement. He's establishing himself as an early MVP candidate with performances like whatever he's averaging now. ... He's a great player and we didn't do a good job on him either, and that's on me. We didn't have a good enough plan, and so next time we've got to do better with him."
The Mavs also got beat up by Mason Plumlee and their former teammate Al-Farouq Aminu, with the duo combining for 31 points and 14 rebounds. 
A loss is a loss, but for the Mavs, the big issue at the moment is the uncertainty of the status of Nowitzki. Through all of the ups and downs of the franchise in the last 18 years, the Big German has been the one constant for the team to rely on. And now, there is no telling how long they will be without him. Will it be the seven days Rick Carlisle mentioned in the presser? Or will it be weeks? Or ...
Even before that is determined, this team is facing some serious questions. Getting off to the worst start of the season in the history of the franchise is not a good look, especially considering how bad some of the Mavs teams in the 90's were. But this team is vastly more talented than those, which probably lends to the obvious frustration emanating from the locker room. 
This team is desperate to find its identity, but without Dirk, that is going to be extremely difficult. We don't yet know who will step up in his absence, but the obvious answer would be Harrison Barnes. Considering the max deal he just signed, he has to get the first look, but there is no telling whether or not he is ready to shoulder that kind of a burden just yet. 
At any rate, the Mavs will have to get it figured out quickly, as they have a tough matchup with Giannis Antetokounmpo  and the young and athletic Milwaukee Bucks of coach Jason Kidd on Sunday. If they don't, this thing could start to get ugly pretty quickly .... Well, uglier, I guess I should say.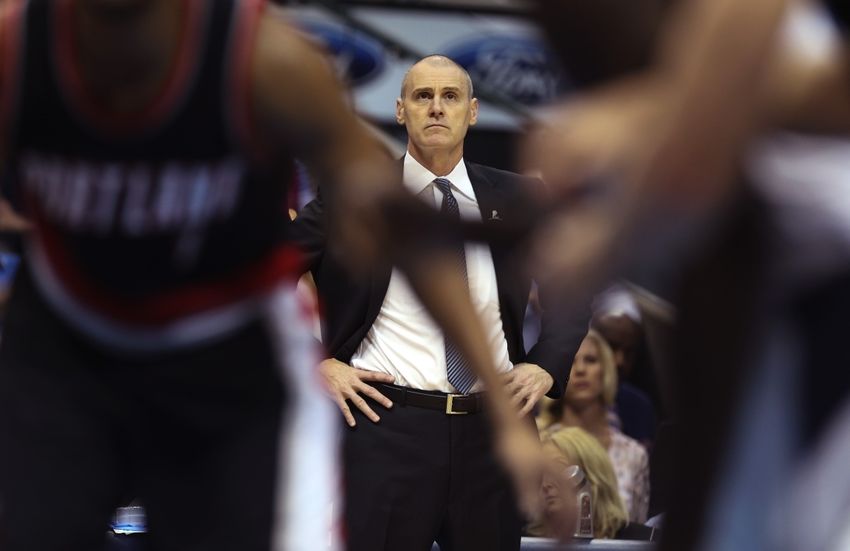 "We're having struggles, but when you're down some guys, and guys are banged up and so on, this is what happens and just every day is a 'Circle-The-Wagons' day," Carlisle said. "It's 'hold the line and find a way.' I like our locker room. Our guys, to me, categorically, are fighters. And we'll fight our way through this."