After a dismal start to the season during which they dropped five straight games, the Dallas Mavericks added a second straight W to the win column on Tuesday night, defeating the Los Angeles Lakers 109-97 at the Staples Center. It was a big win for the Mavs, who have a true gauntlet of a schedule facing them in the month of November, and who might have just begun to figure out their new identity along the way.  
Coming off of a career-high 34 points against the Bucks on Sunday, Harrison Barnes put together his second straight 30-point outing, scoring 31 points on 11-of-18 shooting. Barnes was a controversial pick-up for the Mavs this offseason, as people questioned his ability to key a team's offense, and whether or not he deserved to be paid his $94-mil max deal. Obviously the Bucks and Lakers are not the Cavs and Warriors, but it seems that Barnes has done a lot of things to answer those questions over the last two games.
And not just as a go-to ... but also as a creative go-through:
https://twitter.com/bobbykaralla/status/796211335163953153
"I'm just being aggressive," Barnes said. "That was the biggest thing in my first few games (with the Mavs), figuring out when to be aggressive and when not to. You just kind of have to leave the switch on, and if you fail, fail aggressively."
After spending most of his NBA career as a high-profile role player in Golden State, Barnes is playing with confidence and swagger that we have not seen out of him since he was a sophomore a North Carolina. That year, he was the Tar Heels' go-to guy, averaging 17.1 points per game and being named First-Team All-ACC on the way to an Elite Eight appearance. Four years later, he is relishing the opportunity to be a leader, and it's showing in his play. 
https://twitter.com/bobbykaralla/status/796224242673156096
Oh, these back-to-back 30-point outings? Harrison is the first Maverick to accomplish that since Nowitzki did it in 2013-14, and he's just the third Mav to do it since 2008 season.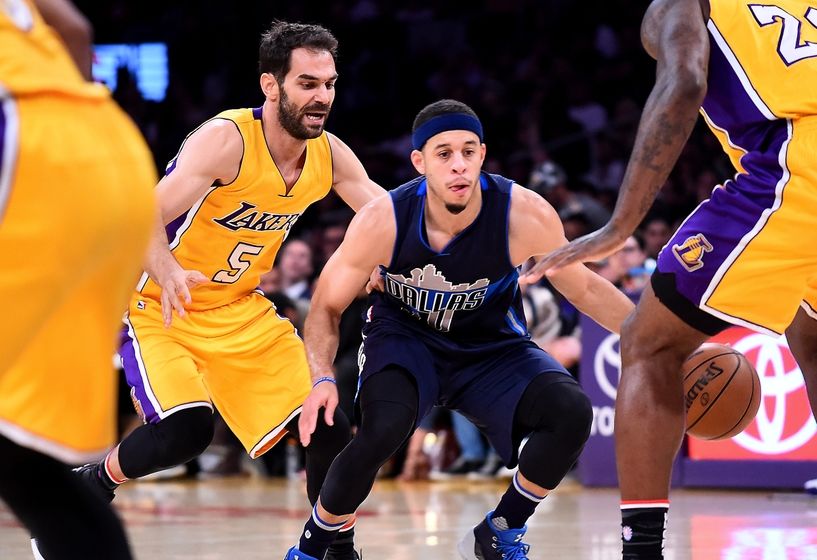 Barnes wasn't the only one who showed up for the Mavs on Tuesday though, as Seth Curry (after averaging just over five points per game over the last four) poured in 23 points, a career-high. With Deron Williams and Devin Harris both out once again (along with Dirk Nowitzki, as we write about here in "Point Of No Return?''), Curry took advantage of the opportunity, shooting 9-of-15 from the floor, to go along with four assists and three steals.
J.J. Barea also came up big on the offensive end, adding 18 points, seven boards and eight assists of his own, as he continues to fill in nicely for the injured D-Will.
Andrew Bogut, meanwhile, put together his second consecutive fine performance on the defensive end for the Mavs, as he continued to be good on the boards and at protecting the rim for Carlisle's defense. Bogut (eight rebounds and two blocks) was instrumental in altering shots and cleaning the glass for the Mavs, and while he didn't fill up the stat book, he presence was felt throughout the game. 
Thanks to Bogut and Barnes and the rest of the defense, the Mavs were able to hold off a Lakers comeback bid, led by Lou Williams (15 points) and Jordan Clarkson (22), in which L.A. made up an 11-point second half hole in the fourth quarter. Ultimately though, the Mavs sealed things away on a Barea three-ball, putting them up 11 with just under two minutes to go in the game. ... and they were able to finish with some of the same oomph they got from the start due to the hustle of surprise starter Dorian Finney-Smith, the undrafted rookie who received his first career start here and contributed five points and three boards in 20 minutes.
Said Barnes (the obvious choice for "The Dirkie,'' but YOU vote here): We're "just scrappy. We're grinding, and I think everyone is getting in the mix offensively and defensively. You know, it's not always pretty basketball, but we're getting it done. And I think that's what is the most rewarding thing about it."
The significance of the last two wins for the Mavs cannot be understated, because as we said before the schedule facing them in the month of November is as unforgiving as Mark Cuban's new ESPN credential policy (see Fish's Q-and-A with Cuban here) and it all starts tonight against Barnes' former team, the Golden State Warriors. 
"It's just another game,'' Barnes said. "We're 2-5 right now, trying to go back home 3-5."
Barnes seems to be up to the challenge of facing his former teammates, at least as of now, but we won't truly know until things tip off at Oracle Arena. (See the discussion on this game and that one, pitting the 2-5 Mavs against the 5-2 Warriors with a 9:30 p.m. tip here on DB.com Boards.) As for the rest of the Mavs? That's another question entirely. What we do know, is that over the last couple of games, this team has begun to discover its new identity. And for Mavs fans who'd feared the worst about Dallas ... a "new identity'' may be worth a look.
Said Carlisle: "It's a character group.''